ISSUE 70: Yard Salers: Issue 70: Amazon Vs. eBay: What's Selling Well for Me; Flips Contest: Cowboy Boots, Eskimos, Surprising Shells & More
Subscribe at: www.yardsalers.net

Please forward to a friend!
Hello, all!
Can it be we are in another holiday season? Why yes, since the morning after Halloween I walked into CVS and saw them taking down all the orange stuff and putting up the red stuff.
From eBay to Amazon: Books and Games
Since September, I've been moving more of my inventory off eBay and on to amazon. Most of it is collectible books that take a while to move, such as yearbooks; popular books such as cookbooks and textbooks; board games, video games, including the ones my son doesn't use much anymore; dvd's, and cd's. In the feature article in this issue, I write more about specific things that have done well for me on amazon and how I've found them.
The reason for this is I can list things much more quickly on amazon, and also by shipping some of my inventory to amazon, I 1) get the stuff out of my house and 2) it sells more quickly, in general, with amazon's FBA ("Fulfillment by Amazon") program.
Amazon has really been investing in this program, and even has been spending more on its inventory storing and warehouse centers.
I still use eBay for many things such as pre-owned designer clothing, collectible plates and dishes, art, etc.; but in terms of volume, more of my stuff has shifted to amazon.
If you have not tried selling on amazon yet, I urge you to give it a try.
We also have plenty of great flips in this issue.
Moving Yard Salers Newsletter Mailing List off Topica - Please Follow Us!
In other news, as rates for Topica go up, I am moving this newsletter to another email newsletter program -- Aweber. To that end, you can resubscribe (or subscribe for the first time if someone forwarded you this newsletter) using the below form:
If you choose not to sign up today, if you get a request later to re-subscribe to the new mail server, I hope you will take a moment to do so, so we don't lose you as a subscriber.
(And of course, the new signup form will also be accessible from the yardsalers.net web site).
I will not make the transition right away...it will be a move that will take place over two or more upcoming issues, so you should get reminders from me to move to the new mailing list. And of course the newsletter will still be posted to the web site. But one of the things I am hoping as a result is it will make it easier for me to put out more issues which need less maintenance and can be cranked out more quickly.
Yard Salers Message Boards on Facebook, and Also a Fan Page
Remember that Yard Salers message boards are now on facebook. (We moved the Yard Salers Ning group). So if you were on Yard Salers Ning, stop by the Facebook group and introduce yourself. I'd like to get everyone's stories on the "This Week's Finds" topic, which you can find on the main Yard Salers facebook group site at Yard Salers Facebook Group.

There is also a facebook "fan" page at:
This page is not as interactive as the facebook discussion group, but I'm trying to make it the "go to" place for Yard Salers announcements and short info tidbits.
Great New Flips Contest Prize: Facebook Ads for Dummies Book
Speaking of facebook, I am happy to announce that this month's Flips contest prize is a hot-off-the-press copy of "Facebook Advertising for Dummies" by my friend Joel Elad, as well as Paul Dunay and Richard Krueger. (Joel has signed the copy).
If you didn't win the contest, you can still buy a copy via my affiliate link below, or just go to amazon to buy it:
That's all the housekeeping for this issue. Now let's get to it!
******
Follow me on Twitter:
juliawww on Twitter
**********************************************
Does Your eBay Store Need a Facelift?
Dzine-hub (at dzine-hub.com) is offering Yard Salers and Bidbits.net readers a 5% off the store design - use coupon code bidbits.
***********************************************
You can make good money selling dishes, pottery, and other dinnerware and servingware on eBay. But you need to know what brands and patterns are best to buy, and at what price point to buy.
Now there's a new resource from eBay expert Lynn Dralle, who specializes in this area. I've read the first few chapters of her new ebook: "Dinnerware Success" -- and was amazed by the amount of information and detail in this work.
Get Your Copy of Dinnerware Success Here.
**********************************************
What Sells on eBay for What: Half Price for Subscribers -- is Out! Click here.
**********************************************
How to Make Money Blogging from Home
Skip McGrath earns about $2000-$7000 per month from his blogs and he only posts 2-3 times a week. His latest ebook tells how. Only $27.00! Skip's latest: click here.
**********************************************

**********************************************
Articles in this Issue:
**********************************************
1) Amazon Vs. eBay: What's Selling Well for Me
2) Flips Contest: Cowboy Boots, Eskimos, Surprising Shells & More
3) Reader Mail: New Yard Sale Tool ***********************************************
Big Bucks Flips 2.0: The half price version of Big Bucks Flips for Yard Salers subscribers is here: Click here to order.
Yard Salers' Readers best flips, and accompanying tips and rules of thumb, all in one convenient package. Plus, now you can make money reselling the book! To find out how to resell it for 50% of each sale, go here.
************************************
1) Amazon Vs. eBay: What's Selling Well for Me
************************************

What kinds of things are selling well as we ramp up into the biggest selling season of the year? For me, what sells on amazon and what sells on eBay re becoming more and more disparate. Below is a rundown, so you can add them to your mental list as you're out and about. Beneath some of these general categories I'll list one or more specific titles I've recently sold.
Amazon
Books
- Cookbooks
(e.g. La Technique: An Illustrated Guide to the Fundamental Techniques of Cooking, The Stinking Rose Restaurant Cookbook)
- Textbooks & Educational titles
(Barron's AP Computer Science A with CD-ROM, Kaplan AP Calculus AB & BC 2009; Kaplan AP U.S. History 2009)
- Books about specific, obscure topics
Games - New board games/puzzles
(Scene It? Music Edition DVD Game; Scattergories Junior)
- Vintage, hard-to-find games or games that are no longer made
(Vintage 1968 ACQUIRE Game By 3m Company)
Video Games
(The Legendary Starfy DS, Pokemon Platinum DS)
Music
- new cd's - used cd's that are hard to find - dvd's of concerts or specific bands
I went to a thrift store yesterday, for example, and found two new in shrinkwrap games: "SceneIt?" the DVD Game, and "SceneIt?" Music. The "SceneIt? Music" game sells for prices starting at $55 for a new game.
Where do you find these items to sell? I have found them at yard sales, library book sales, estate sales, thrift stores, and, not least importantly, my own home (my son has a huge stash of DS games and he does get bored with them!).
My theory about the cookbooks and educational titles is that their sales have spiked due to the recession: people are looking for comfort food and also to further their education to make more money or get a better job.
One could even argue that the games sales are due to the recession, as more people may be looking for an escape. (I know, some studies said the recession was officially over, but I don't believe it).
eBay
So how about eBay?
eBay is still the best place, I believe, to sell most unique or high-end items, such as first edition books of which buyers may want to see lots of photos.
As I write this, I was checking to see if certain kinds of things I sold only on eBay, such as Meissen porcelain, could be sold on amazon. And sure enough, there are some Meissen china items on amazon. I even saw a listing for a Blue Onion platter from the company Replacements, Ltd. on amazon. Indeed, the diversity gap between amazon and eBay seems to be closing. I don't know if amazon will (or should) ever turn into the big online garage sale that eBay is, even as eBay might want to become more like amazon.
But if you've been thinking of selling on amazon, or have stuff sitting around you haven't listed, now is the time to tack your butt to the chair and get it up there. Happy sales!
**********************************************
Zero to $2000 a month on Amazon.com. Possible?
Steve Lindhorst has done it..his PayPal account is the proof. His new "Quick and Dirty Guide" tells you how you can get similar results:
Quick & Dirty Guide

"Over the past few years, I've found many things that work, and many things that do not. I have finally found a "recipe" that consistently works for me." **************************************
Garage sale and wholesaler expert Pat Bateman has put together a fabulous ebook about making regular income with yard sales, finding wholesale goods to sell, using drop shippers, and more. Right now I'm offering it at a special preview price for $8.95. PayPal me at juliawilk@aol.com and you will receive the ebook via email, usually within hours.
***************************************
Succeed as an eBay Affiliate:
Click Here!
Build A Niche Store (BANS) is a store / website development platform which enables you to create content-based sites that generate income through the eBay affiliate programs.

************************************
2) Flips Contest: Cowboy Boots and a Strange UPS Story, Netsilik Eskimos, and More
************************************

This first story comes to as us a "Weird Things that Happen with the Mail" tale, but I am entering Barbara in the contest as well because it is also a good flip and a type of item that resells well. Read on for her strange story of mail gone terribly wrong:
Boots and a Strange UPS Story
Hi Julia!
I have an interesting story. The only negative feedback I have ever received on Ebay came from a guy in Pennslyvania mad about not receiving his Olsen Stelzer boots that were "lost" by USPS in April of 2008. (and he was really MEAN about it!)
Of course they were not insured so Paypal took money from my account and refunded the guy. It cost me about $50 with the $12.95 shipping, not to mention the $5 I paid for the boots. This was a reminder to me to just automatically insure anything that goes for more than $30 on Ebay.
Well..... in June of 2010, my mailman delivered two Priority Mail boxes to my door. My first thought was, "Great, someone gave me an invalid address or is returning something without telling me first." The postman said, "No these are from us."
I was confused as I recognized my weight and note scribbling on the side of one of the boxes. Come to find the boxes contained those boots from April 26, 2008 AND a pair of shoes from Feb. 2 of 2008 that I did not know never reached the buyer!
(I am in the process of remailing the shoes to the lady who never got them, hoping she is still at that address. She paid less that $12 including shipping for those). Enclosed was a letter stating the mail was recently recovered from an abandoned storage unit in my hometown of Sioux Falls, used by a suspect in a mail theft case who had already been sentenced to one year in prison!
Turns out he had stolen over 25,000 parcels and letters over 1.5 years. He was suppose to be driving the mail from the Annex where I frequently drop my packages if I miss the mailman, to the airport just 2 miles away. How's that for a surprise!
I finally relisted the boots and they sold for $39.99 just the other day with several other watchers but no more bids. I am assuming the suspect never got around to opening my packages otherwise they would of never known how to get them back to me!
http://cgi.ebay.com/ws/eBayISAPI.dll?ViewItem&item=160475377853&ssPageName=STRK:MESOX:IT
Barbara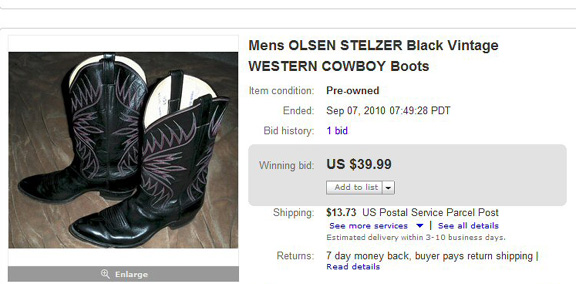 ~~~

Hi Barbara!
Thanks so much for sending that in!
Wow, I've heard a lot of postal "gone wrong" stories, but never one like that! That's as bad as Cher's story about the Oscar delivery guy stealing her statue!
Thanks so much for sharing. What a pain that the guy never got it! And then to find that something that bizarre went wrong! Insuring can give you peace of mind..but what about just tracking it; did you have a tracking number? At least that is free.
What I've been doing is not insuring items worth not much...as you say, $30 is about the cutoff, or sometimes a bit more, for me..but then I insure stuff worth more. You have to weigh the cost of all that insurance against the odds of something getting lost (or in your case, stolen!).
I once had a lady claim she never got a necklace, and my tracking info said she did get it. But she insisted she did not so I felt I had to give her a refund..sigh.
Thx again...I love the story. And the boots are beautiful, too! (Readers, as many of you probably know, classic Western boots, such as the brand Frye, can resell very well, even in used condition).
Take a look at these beauties, which recently were the most expensive cowboy boots to sell on eBay: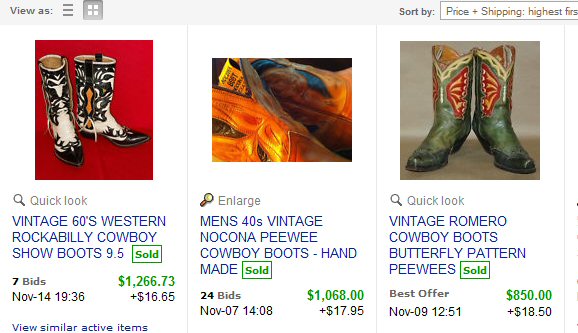 Those of course are the highest end. You may not find some quite that elaborate, but you may find plenty in the $50-$100. The average price for vintage cowboy boots in the last 90 day from this writing was around $23, which of course means quite a few sold for more than that.
Thanks so much and best of luck (and better luck) to you! :) (I think as eBay sellers we have to expect a certain percentage of things to go wrong..lol). ;)
Julia
~~~
Netsilik Eskimos Book
I was yard saling a few weekends ago and saw a box with some books in. Most didn't look like they wouldn't bring in much, but one looked interesting called the Netsilik Eskimos. I bought it for a dime, yes I said 10 cents. Listed it on Amazon on Saturday and it sold three days later for $17.99 and after fees/shipping I got $14.27. Not a huge amount, but a good profit nonetheless!
Gail
7000+ New, Uncut Sewing Patterns! Stores:
http://MoonwishesStore.ecrater.com
Blogs:
http://sipandsew.blogspot.com/
http://MoonwishesReads.blogspot.com
Website:
http://www.MoonwishesSewing.com
Facebook:
http://www.facebook.com/MoonwishesSewing

[Below is a screen shot of several Netsilik books selling on amazon with their accompanying prices:]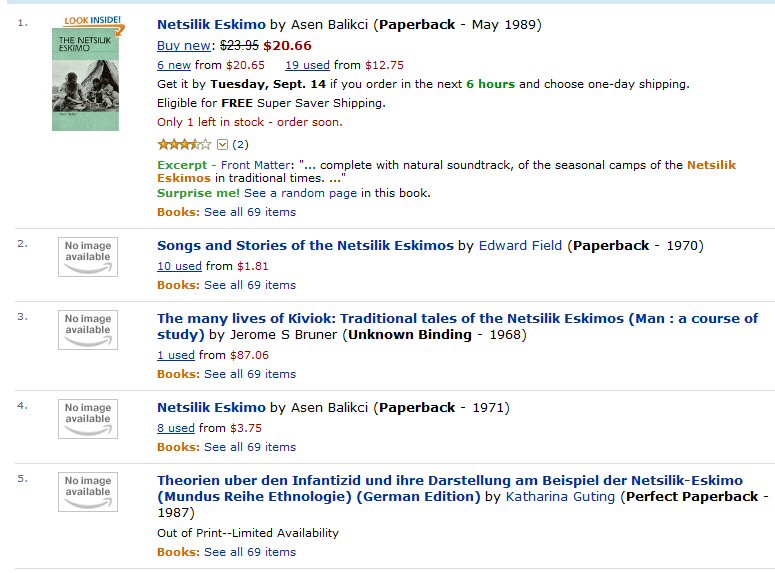 ~~~
Hi Gail!
Love it! I'm so glad you wrote about it, because it gives the opportunity to remind people that Native American stuff can do very well. Also highlights an amazon sale. Yes that is good profit for amazon, esp. as amazon stuff can really add up! If you keep an eye out for books about Eskimos in general, say, you can profit off that niche again and again.
(I'll never forget the beat-up old native American deerskin moccasins I dug out of a trash bag at an estate sale set-up that fetched over $200 on eBay!).
I think one of the keys there is volume and reasonable prices..those do add up. And as it's easier to list there it's easier to do volume.
Thanks so much for sending that in, and you are entered into the next contest. :)
Happy sale-ing!
Julia
~~~
In this next flip, we find more Native American items -- these ones that really went sky-high!
String of Shells from $1 to $540 and Native American Figurines
This next one from Carol originally came to me as a site link swap request, and along with it came another email with some pretty whopping flips. Read on for both letters:
Hi,
I recently subscribed to your newsletter, and I am impressed.
Thought I would see if you would be interested in swapping links. At the moment I am reworking my dreamspinnercreations.com website and adding a section for yard sale finds and information. Your site would be a great link for me to add to my site.
Also, I have some good stories to tell about some of my finds.
Carol
http://dreamspinnercreations.com
http://www.bonanzle.com/booths/TheDreamspinner
I replied:
Hey Carol,
Thanks so much! Sure..I can add your site to my Links page. :) Cool site.
Also would love to hear about your finds whenever you get a chance! You can also post them on our facebook group (if you are on facebook).
Thx again and welcome to Yard Salers!
Julia
~~~
Julia,
Sounds good. I am in the middle of reworking my site, so will be pretty tied up for a day or two.
Have a good story about a string of shells I bought for $1 that went to a lady in Tasmania for $540 (she was thrilled to get them at that price).
Guess my best story is about two pottery Native American figures that I bought for $2.50 that went to a dealer for $1400.
Your site has a great wealth of information. As a yard sale addict, I am looking forward to really checking it out.
Carol
Well, shucks; I neglected to ask Carol more about those shells and native American figures. Carol, if you are able to write to me again, please share with us more about what kind of shells they were, and the Native American statues..were they signed by the artist?
~~~~
Flips Contest Winners! OK everyone, it's time to pick the winners and almost-winners!
Carol wins the big prize of the signed copy of "Facebook Advertising for Dummies" by Joel Elad, Paul Dunay and Richard Krueger; and Barbara and Gail win the free ebook of their choice.
Carol, please email me your physical mailing address to juliawilk@aol.com when you get a chance.
Barbara and Gail, please email me which ebook you'd like or what is on your "eBay trinket" wish list (and I'll see if I have it in inventory).
Next month's prizes are going to more great new products, so send those flips in!
Just email your story of something you recently sold for a nice profit to juliawilk@aol.com.
**************************************
What Sells on eBay for What
**************************************
Take a year of research and collecting data from every eBay category, and you get the latest version of "What Sells on eBay for What," the first and bestselling ebook of eBay prices.
And, you can get it for half price as a Yard Salers subscriber.
Click here
to get your copy!
~~
*********************
What's the PERFECT eBay product? Learn How To Make Money with information products on ebay.
*********************

Julia Recommends: EasyAuctionsTracker
I tried the EasyAuctionsTracker accounting spreadsheet for eBay and loved it. It is an eBay seller's accounting dream! With a few clicks you can be looking at all your eBay sales data, costs and even keep track of your commissions. EasyAuctionsTracker uses an eBay token and imports all of your eBay transaction information into an Excel spreadsheet.
www.EasyAuctionsTracker.com.
*********************
Reader Mail
*********************

I got a note about a new yard sale tool (this one more for yard sale sellers than buyers, but this tool also works as an alternative way to sell your stuff online:
Hi Julia,
I just thought you might like to pass on our tool to your yard sale readers. We've built a tool which I think helps people who are doing yard sales to promote themselves in the digital age.
A garage seller can create a digital flyer for free containing samples of some of the stuff they want to sell. It's all drag, drop, and format easy, no coding required.
Then, they can promote their yard sale through a rich html email, on their favorite social network, and even embed it in their own blog or website. We do all the hosting as well so they can even just pass on a short URL to anyone they want.
Here's an example of a garage sale flyer.
Hope you like it and find its worth passing onto your readers.
Thanks,
Scott
simplebooklet.com
~~~~~
That's it for this month, all! See you next time!
Do you like this newsletter? Please forward it (in its entirety) to a friend! Just go to http://www.yardsalers.net and see the "Subscribe" box on top.

**Don't have five minutes to read the newsletter now? Print it out and read later.**
[For more writing and photos throughout the month, check out Julia's bidbits blog at http://www.bidbits.net ]
******************************
"Selling on 'The River': Hedging Your Bets on Amazon"
Between eBay and amazon, you're looking at over 100 million visitors per month. Why not harness the power of both?
At $29.97, I think it's a good value. And you also get:
- "25 Things eBay Sellers Must Know about Selling on Amazon" and
- SPECIAL BONUS - "How to Scout for Top Sellers with Your Cell Phone."
******************************

******************************
The eBay Seller's Guide to Finding Profitable Hidden Bargains at Garage Sales
Find out here.
*******************
Would you like your own fully customisable ebook website pulling in profits day after day, month after month, year after year, complete with video tutorials showing you EXACTLY how to get set up and running? Find out here.
*******************

------------------

Questions about My eBooks Ordering
You can certainly purchase from me directly, as can anyone. Most of my ebooks are now available via the website's bookstore at www.yardsalers.net/bookstore. Any others you have questions about, all you have to do is email me and let me know which ebook(s) you want, if you are a subscriber and thus eligible for the discount, and then PayPal me to my PayPal id at juliawilk@aol.com. I'll be tweaking and updating the ebooks page on my web site soon.

-----------------------------------------------

Do you have a Flip of the Week? I'd love to hear about it! Email me at juliawilk@aol.com and let me know.
-----------------------------------------------
Nonfiction Books that Sell for $50 - $250 on eBay:


or
Buy Now
*********************

I am always open to reader articles, so if you want to write about something relating to yard sale-ing and eBaying, just flag me down! I will of course give you credit, using your eBay ID, web site, or any other contact info.
------------------------------------
eBooks by Julia L. Wilkinson:
[All my ebooks are offered at 1/2 price from their regular prices to the subscribers of this newsletter. If interested in any of them, please email me at juliawilk@aol.com.]
- How to Spot Fakes: email me!
*********************

Blogs, Blogs, and More Blogs
Check out My amazon.com Author Blog

Those of you who just can't get enough of my writing (are there any of you?) will be happy to know I now have a new blog on amazon.com. Amazon.com has created an "author blog" tool for authors to...well, blog. You'll see it if you bring up either of my books on the amazon site, but for good measure, it's at: http://www.amazon.com/gp/product/1593270550. (Scroll down to "amazonConnect").
My TypePad Blog, "Bidbits"
You can also check out my typepad blog, "bidbits": bidbits

********************************

Do you have your copy of Julia's book, eBay Top 100 Simplified Tips & Tricks?

It's available on amazon.com and barnesandnoble.com. If you do want to order the book, I'd appreciate if you'd support Yard Salers and eBayers by using my affiliate link below.

********************************


----------------------
Copyright 2010 J.L. Wilkinson LLC
----------------------

Thank you for subscribing to Yard Salers. Yard Salers email newsletter may be freely distributed in its entirety, so please pass it on. You may reprint any of the articles in this newsletter for any purpose as long as no portion of the article is modified without permission, and this tagline is included:
Yard Salers, www.yardsalers.net
Publisher, Julia Wilkinson, author of the award-winning "eBay Price Guide." and "What Sells on eBay for What"

No part of this publication may be reproduced or stored in a retrieval system, in any form or by any means, electronic, mechanical, photocopy, recording, or otherwise, without the prior written permission of the publisher. Yard Salers makes diligent efforts to obtain accurate and timely information. However, Yard Salers disclaims any liability to any party for any loss or damage caused by errors or omissions in Yard Salers, whether or not such errors or omissions result from negligence, accident or any other cause.
End