ISSUE 69: Yard Salers: Sept. 2010: Amazon's FBA, Little Mouse Leads to Big Profit and More
Subscribe at: www.yardsalers.net

Please forward to a friend!
Hello, all!
Thanks to all of you with your patience in waiting for this issue. I've heard personally from several of you asking about me and my mom (who has advanced Parkinson's and dementia), and I really appreciate it. My mom is hanging in there, and though much of her memory is gone, she still has moments of lucidity. The other day we were looking at one of her teenage scrapbooks and I was reading the captions out loud...she pointed to a man in a photo and said "he was our driver in Greece." (Mom was a foreign service "brat"). Amazing which details the mind retains.
Moving a Life
We've also had to deal as a family with a lifetime accumulation of stuff that's 3000 miles away, in California. After years of going to estate sales, and some clearout sales, I used to marvel at the stuff that some people left behind in houses. Now I see, sometimes it just isn't physically possible to be there to do the job yourself, or to move all the stuff you'd like, even if you move some of it. And sometimes there are other extenuating circumstances, such as if the house was shared by other people.
So for months now I've been coordinating moving items out of her home in California, consigning what can be sold, and moving the rest.
And with my Mom living here, I've had less free time than ever. But along with taking in many family scrapbooks, books and other heirlooms, I've just had to free up other space in the house and the bookshelves.
Among other things, that prompted me to use Amazon.com's "Fulfillment by Amazon," or FBA, program, to get some of my own book inventory out of the house. The nice thing is, books fulfilled by amazon tend to sell faster than merchant-fulfilled ones, and when something sells, I don't have to deal with it.
I must say, it's a nice feeling to be on vacation, as I was in August, to see that I've sold a book, and that someone else is taking care of the packing and shipping.
More about that later in the feature article in this issue.
We also have plenty of great flips.
Moving Yard Salers Newsletter Mailing List off Topica - Please Follow Us!
In other news, as rates for Topica go up, I am considering moving this newsletter to another email newsletter program -- most likely aweber. To that end, if you get a request to re-subscribe to the new mail server, I hope you will take a moment to do so, so we don't lose you as a subscriber.
It's not likely I will make the transition right away..more likely it will be a move that will take place over two or more upcoming issues, so you should get reminders from me to move to the new mailing list. And of course the newsletter will still be posted to the web site. But one of the things I am hoping as a result is it will make it easier for me to put out more issues which need less maintenance and can be cranked out more quickly.
The Latest on Yard Salers Message Boards
Another company that is charging more (or in their case, starting to charge after being free), is the message board site Ning. Although I really liked Ning's tools, I am now focusing our messaging on the Yard Salers Facebook group.
So if you were on Yard Salers Ning, stop by the Facebook group and introduce yourself. I'd like to get everyone's stories on the "This Week's Finds" topic, which you can find on the main Yard Salers facebook group site at Yard Salers Facebook Group.


Faithful reader and friend Susan has posted some of her great discoveries. Check out her eBay profile at http://myworld.ebay.com/susanc7818.
UPDATE on Ning since I first started this issue: I have until Monday to decide whether to buy a plan. Since I'd need to accommodate 2000+ members who are already there, I'd have to buy a plan for @ $50/month. I may try this option to keep the forum there alive if I can sell ads on it. Will definitely keep you all posted. If you've used the Yard Salers Ning forum and want to see it keep going (or not), please email me and let me know!
After those housekeeping notes, I just have a couple of questions for you before we get to the meat of the issue.
- Have you changed your online selling srategies or sites where you sell from in the wake of the recession and eBay's changes? If so, would love to hear about them. Email me at juliawilk@aol.com.
- What topic would you like to see me cover for a future eBay-related ebook? A specific price guide? Packing guide? Specific types of collectibles? Etc.
Thanks for reading!
Now let's get to it.
******
Follow me on Twitter:
juliawww on Twitter
**********************************************
Does Your eBay Store Need a Facelift?
Dzine-hub (at dzine-hub.com) is offering Yard Salers and Bidbits.net readers a 5% off the store design - use coupon code bidbits.
***********************************************
You can make good money selling dishes, pottery, and other dinnerware and servingware on eBay. But you need to know what brands and patterns are best to buy, and at what price point to buy.
Now there's a new resource from eBay expert Lynn Dralle, who specializes in this area. I've read the first few chapters of her new ebook: "Dinnerware Success" -- and was amazed by the amount of information and detail in this work.
Get Your Copy of Dinnerware Success Here.
**********************************************
What Sells on eBay for What: Half Price for Subscribers -- is Out! Click here.
**********************************************
How to Make Money Blogging from Home
Skip McGrath earns about $2000-$7000 per month from his blogs and he only posts 2-3 times a week. His latest ebook tells how. Only $27.00! Skip's latest: click here.
**********************************************

**********************************************
Articles in this Issue:
**********************************************
1) Amazon's FBA: Let Them Ship for You
2) Flips Contest
3) Reader Mail: Imogene Shares Her Amazon FBA Success Stories ***********************************************
Big Bucks Flips 2.0: The half price version of Big Bucks Flips for Yard Salers subscribers is here: Click here to order.
Yard Salers' Readers best flips, and accompanying tips and rules of thumb, all in one convenient package. Plus, now you can make money reselling the book! To find out how to resell it for 50% of each sale, go here.
************************************
1) Amazon's FBA: Let them Ship for You
************************************

I recently had to cry "uncle" on many of the beloved old yearbooks I have sold regularly on eBay for the past several years. While they didn't sell frequently, they did sell eventually, in general, and they usually gave people some very happy memories I enjoyed hearing about.
There was the 80something lady who was a sponsor of a fraternity at Virginia Tech, meaning she had a large photo and dedication on a page, whose daughter bought it for her upcoming birthday. It really put a smile on her face.
There was the guy who was thinking about his beauty queen former girlfriend at a DC college. I still get notes of gratitude from him, and he even sent me a couple free samples of the product he sells.
And many other stories. But lately the yearbooks were just not moving, and they started taking over too much space in the house. (OK, so my son wanted his bookshelves back. As if!) ;)
This is one thing that got me moving some stuff off eBay and onto amazon's Fulfillment by Amazon, aka FBA, program.
What are the advantages of FBA?
- Your stuff (not just books, but CDs, DVD's, games, etc.) sells more quickly.
- You get the stuff out of your house
- You don't have to pack and ship individual items when they sell. Amazon ships them for you, and you get a nice little email telling you that you just made some money.
- You can have the funds deposited directly into your bank account.
- You can sell stuff while you're on vacation; you don't have to pause your inventory.

While you are not packing and shipping each individual item, you do need to pack many books, etc. in bulk in one box and affix little labels to each. But the FBA web site guides you through the process and it's quite easy,
You can set up multiple boxes/shipments at one time and only ship them when they're ready to roll. Amazon has partnered with UPS to offer deeply discounted shipping rates for your boxes of stuff. I have simply been using media mail for the most part, though. (Any of you who use FBA and UPS, I would love to hear about your experiences, especially whether they come to your door to pick up a single box or not).
Because you are sending books to amazon, you can sell more items than you have been able to fit in your house (unless you have a huge place, like Harry Rinker, and live in an old schoolhouse).
Amazon does charge a storage fee, however. So I am going to have to keep an eye on my stuff and see how it does. They charge: for January through September - $.45/cubic foot per month; October through December- $.60/cubic foot per month.
But they do keep you informed of what's selling well. I recently got an email from someone at amazon telling sellers what was selling really well and they needed more of. It included:
The Girl with the Dragon Tattoo
Eat, Pray, Love: One Woman's Search for Everything Across Italy, India and Indonesia
The Great Gatsby
The Help
The Secret
Three Cups of Tea: One Man's Mission to Promote Peace...One School at a Time
Good to Great: Why Some Companies Make the Leap...and Others Don't
The Girl Who Played with Fire (Vintage)
Publication Manual of the American Psychological Association, Sixth Edition
Breaking Dawn (The Twilight Saga, Book 4)
Night (Oprah's Book Club)
The Glass Castle: A Memoir
Biology with Mastering Biology (8th Edition)
The Lost Symbol (Robert Langdon, No. 3)
Water for Elephants: A Novel
The Kite Runner
The Art of Racing in the Rain: A Novel
Sookie Stackhouse 8-copy Boxed Set (Sookie Stackhouse/True Blood)
The Girl Who Kicked the Hornet's Nest
Who Moved My Cheese?: An Amazing Way to Deal with Change in Your Work and in Your Life

Well, you get the idea. The spreadsheet goes on and on. Many of those books don't sell for big bucks, but if you find a lot of them in pristine condition, it adds up. And the textbooks (they must be recent) and reference books can be golden.
So consider giving FBA a shot. I'd love to hear your experiences if you do.
**********************************************
Zero to $2000 a month on Amazon.com. Possible?
Steve Lindhorst has done it..his PayPal account is the proof. His new "Quick and Dirty Guide" tells you how you can get similar results:
Quick & Dirty Guide

"Over the past few years, I've found many things that work, and many things that do not. I have finally found a "recipe" that consistently works for me." **************************************
Garage sale and wholesaler expert Pat Bateman has put together a fabulous ebook about making regular income with yard sales, finding wholesale goods to sell, using drop shippers, and more. Right now I'm offering it at a special preview price for $8.95. PayPal me at juliawilk@aol.com and you will receive the ebook via email, usually within hours.
***************************************
Succeed as an eBay Affiliate:
Click Here!
Build A Niche Store (BANS) is a store / website development platform which enables you to create content-based sites that generate income through the eBay affiliate programs.

************************************
2) Flips Contest: A Money Mouse, Perfume Bottle, Bathing Suit, and More
************************************

The Mouse that Roared
Dear Julia,
This is the story of a little mouse. This little mouse was sitting on a table at a yard sale with all kinds of nick knacks!
When I pulled up to the yard sale, I start looking immediately to see what direction I am going in when I get out of my truck. This particular table drew me, as I was walking towards it -- I saw the most amazing little mouse.
I walked straight to him and picked him up without even looking around me. I placed him in my pocket, because I had not looked around yet. I ended up buying over $100.00 in items - Toy Story Dolls in original boxes, etc.
Anyway, I am very, very honest and as he was adding up my total, I said "Oh, I have this little mouse." The man said oh I'll throw that in, I said no, let me pay for it. He said "Is .50 okay?" I said no problem.
To shorten this story of the little mouse, I bought him home and washed him, holding my breath while I did it, hoping that there wasn't any damage.
Whew - No Damage. Because I knew what I had, I listed him in what was my store for $450.00. I knew it was one of those items that I needed just the right buyer for. I did not mind waiting. I was offered $375.00 and the "Little Mouse" went to England. Where he is living happily ever after.
PS. This manufacturer is rare to find here, this mouse is retired - the current mouse that they have is $1,200.00.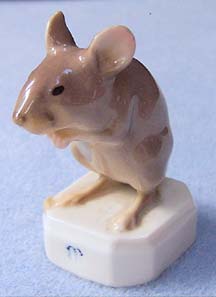 [ Porzellan Manufaktur Nymphenburg Retired Mouse RARE
Sale price: $375.00 ]

Carolyn
~~~

Hey there Miss Carolyn!
Whew! Oh my goodness..what an exquisite little mouse! And I am also amazed because I had not heard of Nymphenburg before..it sounds a lot like Meissen porcelain, after I noodled around and looked at their web site.
According to wikipedia: "the Nymphenburg Porcelain Manufactory (in German: Porzellanmanufaktur Nymphenburg), manufacturer of Nymphenburg porcelain, is situated in the Nymphenburg Palace in Munich, capital of Bavaria, and since the mid-eighteenth century has been manufacturing porcelain of high artistic value."
After looking at more completed items listings for Nymphenburg, it reinforced my thought that the company produces items similar to Meissen: finely sculpted figurines and other china such as vases and dinnerware.
Readers: How can you tell if something is Nymphenburg while you are out and about? Turn it over and look for the mark (or even on the bottom side as in the case of Carolyn's mouse): the mark over the years has various combinations of a crown and a shield. Check this web page to see different iterations of it: http://www.antique-china-porcelain-collectibles.com/nymphenburg-marks-china-porcelain-markings.htm
Back to Carolyn. That one is definitely in the running for the next contest! You are doing super well..I think I'm going to troll your store to get some ideas!
I may put that entry in my bidbits blog too, if u don't mind. :)
Thanks again for reading, and entering the contests!
Julia
~~~
Rare Perfume Bottle
Hi Julia,
Have I got a flip for you! Read on...
I went to a small country auction house with my dad and my uncle one evening. There were not many items up for auction and I wasn't very hopeful. I did see a box lid with a few small trinkets inside and it had a perfume bottle that looked old. I bought the box lid for $2.00.
After I got home and looked it up, I kept finding the perfume company listed as desirable but could find the actual bottle anywhere. I started it at $9.99. It jumped to $49.00 the first night. I received a few emails from perfume bottle collectors telling me it was rare and to not accept any offers from buyers. It was selling for about $2,000 and jumped up another $600.00 the last 6 seconds! Very exciting to watch!
End price: $2,651.99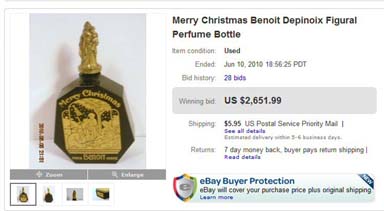 Amy
http://stores.ebay.com/Collectibilities
My Ebay Store: Collectibilities

~~~
David Cassidy and Bobby Vinton Move Magazines
We heard from our beloved Audrey, in Lake Havasu, home of the London Bridge (really!). This time she comes at us with one that really took me back.
Do you remember David Cassisy, Bobby Vinton, and Bobby Sherman? Or any combination thereof? I used to be both a David Cassidy and a Bobby Sherman fan. (It helped that I went by "Julie" back then and Bobby Sherman's big song was "Julie, Julie, Julie Do You Love Me?").
She also shares with us a selling strategy you probably haven't thought of.
~~~
Hi Julia,
Forgot to tell you something that has been working for me. Don't know why, but it's happening to often to just be a coincidence.
I have been revising about 10 my eBay store auctions a day (catching mistakes, adding things that didn't get added when they were listed, etc, etc).
And more than once or twice, a few days after revising the item, it sells, and quite often at the full price. I've also been adjusting my selling prices upwards - not a lot, just $.50 cents or so - and they have been selling at the new prices.
It must have something to do with the way eBay is now showing ALL items listed, not just auctions, but sure don't know what that has to do with it. I've also speculated that maybe the computer thinks it's a NEW auction and gives it a better placement. But anyway, it seems to work! So you might want to tell your readers to try revising their auctions a little and see what happens.
Gotta tell you! A friend and I went garage saling a few weeks ago and I think I'm going to have great luck with what I found. We were at one that a lady and her son were running, and while we were looking at things (priced too high, mostly), the son speaks up and says we're having a $5.00 box sale. Everything you can put in a box for $5.00.
Well guess what! I put four teen magazines from the 70's with David Cassidy on the cover in the box, and they just sold for almost $20.00. They were just the first things I listed.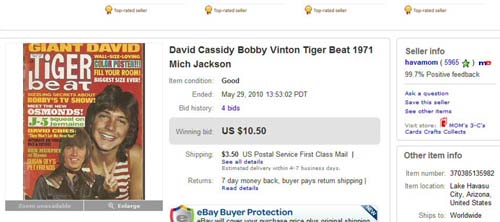 Also in the box went a Barbie as Marilyn Monroe doll with CofA, two pyrex casserole dishes (vintage), several shot glasses, a tequila flask with shot glasses from Mexico (these are unique with little Mexican guys on them), three pewter Avon boys, a small pewter angel sitting on a red heart, a ceramic Oreo cookie glass, etc. Have been a little slow taking pictures and getting these listed, but I'm already ahead of the game! Love these kind of bargains!
Today I picked up a full box of military service oriented mugs for $5.00, will either sell these on eBay or give them to the local American Legion for a fundraiser. But along with the mugs I got 2 unusual books. 3 new CD's and an Australian hat, that looks almost new. Can't wait to see what I get for these!
I do have to go now and get some of these things listed, they'll never sell in my garage!
Keep those newsletters coming.
Havamom
Audrey
~~~
Curb Alert Leads to Serious Walking Around Money

Here's a flip story for you. My neighbors across the street moved out several months ago and recently I noticed that there was a "for rent" sign in the yard and a bunch stuff piled on the curb for garbage pickup. Apparently the landlord had decided to clean out what they had left behind.
I decided to take a good look at what was there so I could post a "curb alert" on the local Freecycle group that I moderate and try to keep this stuff out of the landfill.
As I was going through the boxes of dishes and clothes I found these 3 wooden figurines marked "ANRI." I'd never heard of that brand before but I decided to take them home and look them up on eBay to see if they'd be worth listing.
Well, long story short, I made over $100 on items that I found in the garbage! Not a huge flip like most of the stories I read in your newsletter, but you can't beat the price I paid!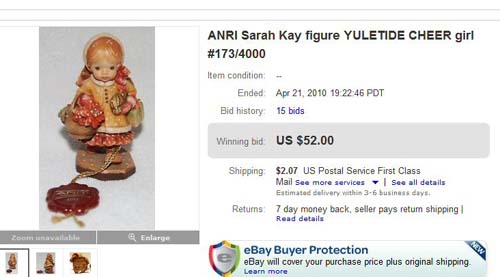 ANRI Sarah Kay figure YULETIDE CHEER girl #173/4000 http://cgi.ebay.com/ws/eBayISAPI.dll?ViewItem&item=380224714140 Sold for $52 [shown in pic, above]
ANRI Romantic Notions Sarah Kay 1986 club figure http://cgi.ebay.com/ws/eBayISAPI.dll?ViewItem&item=380224714099 Sold for $43.50
ANRI miniature figure boy watermelon dog MINI Sarah Kay http://cgi.ebay.com/ws/eBayISAPI.dll?ViewItem&item=380224714062 Sold for $8.03
Sally
~~~
Bathing Suit for a Buck

The aforementioned Susan, who writes a very inspiring fitness blog at www.susansjourneytokeepfit.blogspot.com, shares two of her recent scores with us. (The first one she sent me back when it was still the thick of summer so you may want to save those bathing suits for next May. Weight Watchers booklets, of course, you can sell year-round!).
Hi Julia,
This just sold yesterday. I bought it at my new favorite thrift store for $1.00 and sold it for $15.00 -- how cool is that? It's the time of year again where summer items are really in demand and this just caught my eye being so bold and all. Swim suits should be new though who wants to buy a used one yuck...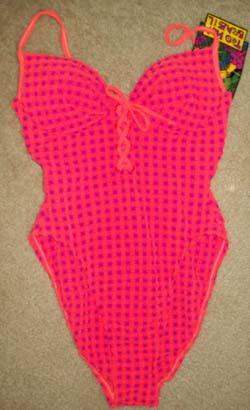 My dishes didn't sell at auction so I have re-listed them as a bin along with my Starbucks cup so we will see. I hope you and your family are well your still in my prayers daily and I am here for you and you can check out my blog to see my latest antics. www.susansjourneytokeepfit.blogspot.com.
I am back to my "ebaying" working on it most days for 4 hours never let anyone tell you its not a job.. LOL.
Take care,
Susan
~~
She wrote me again later and added this other flip:
Hi Julia,

This flip didn't make a fortune but it was a good score non the less. I was at my favorite church thrift shop looking at the books feeling discouraged when I saw this bubble wrap mailer on top of the books so I looked inside and immediately I felt excited:) There were 9 or 10 Weight Watchers Momentum 2009 booklets, calculator, and a dining out guide. I paid a dollar for the stuff it recently sold at auction for 15.51. The eBay Item number: 220605552412 for you to check it out if you like. This was very cool -- not a lot of work for 15.51 thought I would pass it on. If you need a pic. just ask.
Thanks, Susan
~~~
Flips Contest Winners! OK everyone, it's time to pick the winners and almost-winners!
All the flips were great, but we're gonna have to give the main prize to Amy for her $2600 perfume bottle! But everyone wins..Carolyn, Audrey, Susan, and Sally get a free ebook of their choice OR if they already have all my ebooks (lol) they can request an eBay collectible or eBay-related paperback from my collection. (My eBay Live stash is dwindling but I still have some trinkets).
I'm also expending that offer to Imogene (see all her great amazon tips in the Reader Mail section) because she's been so generous with sharing her experiences.
Amy, please email me your physical mailing address to juliawilk@aol.com when you get a chance.
Everyone, please email me which ebook you'd like or what else is on your "eBay trinket" wish list.
Next month's prizes are going to include discounts on some great new services and free new products, so send those flips in!
Just email your story of something you recently sold for a nice profit to juliawilk@aol.com.
**************************************
What Sells on eBay for What
**************************************
Take a year of research and collecting data from every eBay category, and you get the latest version of "What Sells on eBay for What," the first and bestselling ebook of eBay prices.
And, you can get it for half price as a Yard Salers subscriber.
Click here
to get your copy!
~~
*********************
What's the PERFECT eBay product? Learn How To Make Money with information products on ebay.
*********************

Julia Recommends: EasyAuctionsTracker
I tried the EasyAuctionsTracker accounting spreadsheet for eBay and loved it. It is an eBay seller's accounting dream! With a few clicks you can be looking at all your eBay sales data, costs and even keep track of your commissions. EasyAuctionsTracker uses an eBay token and imports all of your eBay transaction information into an Excel spreadsheet.
www.EasyAuctionsTracker.com.
*********************
Reader Mail
*********************

Imogene is a reader in Maryland who I got to chatting with in email. We discussed our experiences with FBA, area thrift stores, and other choice topics. I thought you all would like reading about how she's been successful with FBA:
Imogene's Experience with FBA
Hi Julia,
I went to a great estate sale last Sunday and they had over 2000 CDs, CD collections, DVDs and DVD collections. It was the best sale. I think I stayed there 4-5 hours. I bought probably 200 CDs, DVDs, and books.
A lot of them have already sold and I still have more CDs to list. The lady also had a lot of Salvatore Feragamo shoes. Only the really worn ones were left when I finally made it upstairs.
I usually go to the sale on the last day when everything is 50% off. There was such nice stuff there I wish I had gone on Sat too. It seems people cleaned out the food pantry. One lady left with a box of Progresso soups which had not expired ($0.50 a can) I did get an unopened box of brown rice.
In your last email you asked about the thrift stores I go to. I basically go to 4 thrift stores, and 2 of them regularly. I use to go several times a week but because of the amount of stuff I have I only go once a week. I try to only buy Amazon stuff because I have too much stuff to list on eBay and you know it is so easy to list on Amazon.
I used to go to the Library sales for books, I would go to Woodbridge, Fairfax, Alexandria, (not sure if I told you I lived in VA for over 25 years) but not anymore because the sales are too busy for me. Everyone and their mother is there trying to scan books.
I really mean that because one of the last ones I went to there was this mother and son team, they had already worked as volunteers the night before. People are running around at those sales like crazy. When I first started selling those sales were great. I still go to a church book sale in Crofton MD once a year but even that sale is crazy now.
I think I told you I love FBA. I just sent 4 boxes last week (177 items). It does take a lot of work to complete a box, for instance I worked on a box all day yesterday and the items are labeled and in two boxes.
Your stuff sells quicker with FBA, you probably already know that. I try not to send heavy items. I did the very first time I tried FBA last year, but I had no idea what I was doing. I sent the boxes USPS. There is probably a way so it does not take me so long to ship a box. Yesterday I labeled 90 items, and most of them were CDs but I had to lay them out and then find the correct label.
Take care, TTYL
Jean
P.S. Here is an example sale from the estate DVDs that I purchase, I think I paid $2 or $4 for this one.
Product charges
Titus - Season 3
Qty: 1 $57.90

Amazon fees
Commission: $-8.69
FBA per unit fulfillment fee: $-1.00
FBA weight based fee: $-0.07
Shipping chargeback: $-2.98
Variable closing fee: $-0.80
Other
Shipping: $2.98
Transaction Total $47.34

Imogene ~~~~~
That's it for this month, all! See you next time!
Do you like this newsletter? Please forward it (in its entirety) to a friend! Just go to http://www.yardsalers.net and see the "Subscribe" box on top.

**Don't have five minutes to read the newsletter now? Print it out and read later.**
[For more writing and photos throughout the month, check out Julia's bidbits blog at http://www.bidbits.net ]
******************************
"Selling on 'The River': Hedging Your Bets on Amazon"
Between eBay and amazon, you're looking at over 100 million visitors per month. Why not harness the power of both?
At $29.97, I think it's a good value. And you also get:
- "25 Things eBay Sellers Must Know about Selling on Amazon" and
- SPECIAL BONUS - "How to Scout for Top Sellers with Your Cell Phone."
******************************

******************************
The eBay Seller's Guide to Finding Profitable Hidden Bargains at Garage Sales
Find out here.
*******************
Would you like your own fully customisable ebook website pulling in profits day after day, month after month, year after year, complete with video tutorials showing you EXACTLY how to get set up and running? Find out here.
*******************

------------------

Questions about My eBooks Ordering
You can certainly purchase from me directly, as can anyone. Most of my ebooks are now available via the website's bookstore at www.yardsalers.net/bookstore. Any others you have questions about, all you have to do is email me and let me know which ebook(s) you want, if you are a subscriber and thus eligible for the discount, and then PayPal me to my PayPal id at juliawilk@aol.com. I'll be tweaking and updating the ebooks page on my web site soon.

-----------------------------------------------

Do you have a Flip of the Week? I'd love to hear about it! Email me at juliawilk@aol.com and let me know.
-----------------------------------------------
Nonfiction Books that Sell for $50 - $250 on eBay:


or
Buy Now
*********************

I am always open to reader articles, so if you want to write about something relating to yard sale-ing and eBaying, just flag me down! I will of course give you credit, using your eBay ID, web site, or any other contact info.
------------------------------------
eBooks by Julia L. Wilkinson:
[All my ebooks are offered at 1/2 price from their regular prices to the subscribers of this newsletter. If interested in any of them, please email me at juliawilk@aol.com.]
- How to Spot Fakes: email me!
*********************

Blogs, Blogs, and More Blogs
Check out My amazon.com Author Blog

Those of you who just can't get enough of my writing (are there any of you?) will be happy to know I now have a new blog on amazon.com. Amazon.com has created an "author blog" tool for authors to...well, blog. You'll see it if you bring up either of my books on the amazon site, but for good measure, it's at: http://www.amazon.com/gp/product/1593270550. (Scroll down to "amazonConnect").
My TypePad Blog, "Bidbits"
You can also check out my typepad blog, "bidbits": bidbits

********************************

Do you have your copy of Julia's book, eBay Top 100 Simplified Tips & Tricks?

It's available on amazon.com and barnesandnoble.com. If you do want to order the book, I'd appreciate if you'd support Yard Salers and eBayers by using my affiliate link below.

********************************


----------------------
Copyright 2010 J.L. Wilkinson LLC
----------------------

Thank you for subscribing to Yard Salers. Yard Salers email newsletter may be freely distributed in its entirety, so please pass it on. You may reprint any of the articles in this newsletter for any purpose as long as no portion of the article is modified without permission, and this tagline is included:
Yard Salers, www.yardsalers.net
Publisher, Julia Wilkinson, author of the award-winning "eBay Price Guide." and "What Sells on eBay for What"

No part of this publication may be reproduced or stored in a retrieval system, in any form or by any means, electronic, mechanical, photocopy, recording, or otherwise, without the prior written permission of the publisher. Yard Salers makes diligent efforts to obtain accurate and timely information. However, Yard Salers disclaims any liability to any party for any loss or damage caused by errors or omissions in Yard Salers, whether or not such errors or omissions result from negligence, accident or any other cause.
End