ISSUE 68: Yard Salers: Late May 2010: Apps, eBay Changes, Flatware Tips & Flips
Yard Salers: Late May 2010: Apps, eBay Changes, Flatware Tips & Flips
Subscribe at: www.yardsalers.net

Please forward to a friend!
Hello, all!
"Apps," these nifty little, well, applications, you can run on your iPhone or other smartphone, are all the buzz lately. In fact they have been called the new gold rush for investors as some scrappy little companies make millions on them.
How can you benefit from them?
In many ways. In addition to the regular eBay app I recently downloaded to the iPhone (many of these apps are free), there is an eBay selling app, price scanning apps that let you check out prices of items at yard sales and the like by scanning bar codes, and one of my favorites, a craigslist app that lets you view thumbnail photos while you browse craigslist categories.
The main article in this issue is about these apps and the new world of eBay and online selling on "smartphones." We also have some great tips on under-the-radar items to look for courtesy of some of our devoted readers.
Speaking of iPhones and apps, if you are curious about Apple's latest all-the-rage gadget, the iPad, you can read my review of its eBay app and also see it in action in a video in the article I wrote for AuctionBytes:
The iPad eBay Selling App: Fun & Easy, but No Heavy Lifting
Then we'll get right to the next Flips contest, and save Reader Mail for the next issue so I can finally get this thing out the door!
In other news, as you no doubt heard, eBay has more changes coming this summer. One of them is that more detail will be required in item descriptions. I don't have a problem with that one from what I can tell.
The one that concerns me a bit is the new rule that the number of item not received or item not as described cases opened with eBay or PayPal will count toward seller status. As eBay puts it, "Many buyers who open cases never get to the point of leaving detailed seller ratings (DSRs). That's why, starting in September, along with low DSRs (1s and 2s), these cases will be used in evaluating seller performance and determining seller status."
Further, per eBay's page describing the changes:
- "An opened case is any claim filed through eBay Buyer Protection or PayPal Buyer Protection that passes checks for eligibility and buyer abuse or fraud."
- "Starting in September, Top-rated sellers can have opened cases on no more than 0.5%of transactions, and all other sellers on no more than 1.0% of transactions."
- "To ensure lower volume sellers are not penalized as a result of a single case, it will take at least 3 cases for eBay Top-rated sellers and at least 4 cases for all other sellers before consequences such as demotion in search or loss of Top-rated status are enforced."
[This last bit probably caused the most controversy among sellers:]
- "All opened cases are included in this count regardless of how the case is finally resolved."
So people are worried that even if the case is resolved in favor of the seller, it will count against a seller's rating.
I'll have to see how it goes with the new policy actually in effect. Meantime, my sense is that for sellers, notes in the packing materials about contacting us first if there is any problem at all, may be helpful.
What do you think about the latest changes? Email me at juliawilk@aol.com.
Thanks for reading!
Now let's get to it.
******
Follow me on Twitter:
juliawww on Twitter
**********************************************
Zero to $2000 a month on Amazon.com. Possible?
Steve Lindhorst has done it..his PayPal account is the proof. His new "Quick and Dirty Guide" tells you how you can get similar results:
Quick & Dirty Guide

"Over the past few years, I've found many things that work, and many things that do not. I have finally found a "recipe" that consistently works for me, as you can see from the screenshot. The "recipe" doesn't just apply to books though, it applies to most anything you sell on Amazon. Even so, books and other media products seem to be the favorites - they certainly are for me." **********************************************
You can make good money selling dishes, pottery, and other dinnerware and servingware on eBay. But you need to know what brands and patterns are best to buy, and at what price point to buy.
Now there's a new resource from eBay expert Lynn Dralle, who specializes in this area. I've read the first few chapters of her new ebook, "Dinnerware Success," and was amazed by the amount of information and detail in this work.
Get Your Copy of Dinnerware Success Here
**********************************************
What Sells on eBay for What: Half Price for Subscribers -- is Out! Click here.
**********************************************
How to Make Money Blogging from Home
Skip McGrath earns about $2000-$7000 per month from his blogs and he only posts 2-3 times a week. His latest ebook tells how. Only $17.00! Skip's latest: click here.
**********************************************

**********************************************
Articles in this Issue:
**********************************************
1) It's an Apps World: How Apps Can Help You Find Inventory and Sell
2) Flatware Niche Tip from a Reader: Midcentury Modern
3) Flips Contest
[Reader Mail Returns Next Issue]
***********************************************
Big Bucks Flips 2.0: The half price version of Big Bucks Flips for Yard Salers subscribers is here: Click here to order.
Yard Salers' Readers best flips, and accompanying tips and rules of thumb, all in one convenient package.
Plus, now you can make money reselling the book! To find out how to resell it for 50% of each sale, go here.
************************************
1) It's an Apps World: How Apps Can Help You Find Inventory and Sell
************************************

You've probably seen the ubiquitous ass on tv: "Droid Does," with examples of the kinds of things you can do with apps, i.e. "applications," nifty little programs you can download to your smartphone.
What are the kinds of things apps can let you do?
- Sell stuff on eBay (eBay selling app)
- Check the prices of items with bar codes (PricePad and other apps)
- Monitor your eBay auctions, respond quickly to buyer and bidder emails and questions (eBay app)
- Look up prices and information on the Internet while you're on the go. (Safari browser, PricePad etc.)
- Pull up maps of yard sales, estate sales, and shops in your area (YardSaleMapper and other Apps)
- Take photos for your listing or blog
- Grab coupons from stores (Coupons, Groupon)
- Just plain fun stuff like playing music. (PlaySafe and others)

Some of the yard sale finder apps seem to have a ways to go, though they are definitely fun. You put in your address or zip code and they show the sales nearby as points on a map. The app I downloaded, YardSaleMapper, pulls the ads from Craigslist, which is where I and I suspect most of us get our yard sale listing information.
I really think it's a cool app; the only problem is it doesn't seem to pull up all the ads in my area. Whether that's because not every craigslist post has detailed information, or what, I don't know.
But you don't have to take my word for it. Each app has user reviews, which I find very useful. Some reviewers (it has 256 reviews at this writing!) just loved YardSaleMapper, and others agreed with me that it didn't seem to find all the craigslist ads in the area they entered. Hopefully it will get better with time; it's a great, time-saving concept.
In terms of craigslist, one of my favorite apps for it, CraigsPro, does something I've been hoping craigslist itself would do for a long time: lets you see thumbnail photos while browsing the categories. This is hugely helpful when you are scouring CL categories such as furniture or clothing + acc. Before, you used to have to click into every single ad to see the photo.
Although it's not easy to blog using the iPhone's small virtual keyboard, I found that it encourages more blog posts from me, especially since I can easily integrate photos taken from my iPhone, so the photos for the blog posts are accessible on the same device.
(You can see some of my iPhone photos, such as the "Cat in the Hat" first edition and the "scary doll" on the Yard Salers facebook group at http://www.facebook.com/group.php?gid=27871336031 -- come on in and join in the fun!)
But some apps are just plain fun. One of my favorite is a simply concept but it has allowed me to easily listen to songs I like in my car: PlaySafe, which turns your iPhone into a giant "play" and pause button for your songs. Because it's so easy to tap the "play" button and then just listen, it doesn't distract you while driving.
So join in the apps fun if you haven't already. Of course, you can still get by the old-school way, but apps can make many things easier.
**************************************
Garage sale and wholesaler expert Pat Bateman has put together a fabulous ebook about making regular income with yard sales, finding wholesale goods to sell, using drop shippers, and more. Right now I'm offering it at a special preview price for $8.95. PayPal me at juliawilk@aol.com and you will receive the ebook via email, usually within hours.
***************************************
Succeed as an eBay Affiliate:
Click Here!
Build A Niche Store (BANS) is a store / website development platform which enables you to create content-based sites that generate income through the eBay affiliate programs.

************************************
2) Flatware Niche Tip from a Reader: Midcentury Modern
************************************

Midcentury Modern Can Resell Well on eBay: Bamboo Flatware
One of my readers, Susan, who had the epic find of a Kieselstein-Cord trophy bag (found for cheap at a church sale) for $755 on eBay (http://www.yardsalers.net/backissues/issue1-30.asp), gives us another hot tip - midcentury modern flatware, specifically bamboo flatware made by Stanley Roberts. I'll let her tell it:
"The wonderful flips are always a good surprise. I am keeping my eyes open now for stainless flatware sets and partial sets. I sold some of that old bamboo stuff that everyone had in the 70's for a ridiculous price recently. It was sitting in my drawer for use at Thanksgiving. I decided that the $180 or whatever that I got for it was worth the 'sacrifice.'
"I bought a set of 'Astro' for $10.00 at auction. I haven't listed it yet, but it is from the 60's and sells for crazy numbers. Keep your eyes out for any stainless that looks midcentury, or the Stanley Roberts bamboo stuff."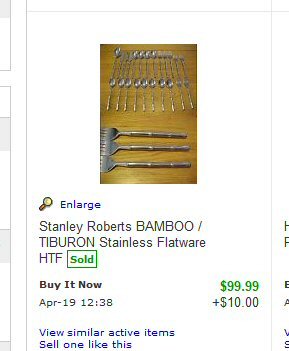 [Above: a recent eBay sale of Stanley Roberts bamboo flatware]
"I guess that's my personal flip story for today!" concluded Susan.
Later I got another email from her with an update:
Hi Julia,
I wanted to update you on the set of Astro Stainless from the late 60's that I was selling and which closed tonight.
One person bought the set for $81.00 and a whole bunch of serving pieces too for a total of $193.00 !!
Not bad for a $10.00 investment. Woo Woo!! I still have a bunch of stuff he didn't buy and will relist those pieces and maybe see a bit more profit on those.
Tell your readers to keep looking for Tiburon and Astro. They can usually be had for a song. My song tonight is "I need to make about $200 a week to not have to go find a job, and this week I've made my goal."
Doin' the happy dance.
Talk to you later,
Susan
You heard it here. Also, in general, midcentury modern stuff -- not just flatware but furniture and decorative accessories -- is very hot these days, especially among the twentysomething crowd. (Think angular, '50s, '60s, Frank Lloyd Wright, Eames chairs, "Dwell" magazine).
I used to see a guy regularly at estate sales, and asked him what kind of stuff he was looking for. He said "midcentury modern Danish" furniture. Hmm..specific enough, I thought..not thinking much of it at the time.
He eventually opened a stall at a local antique mall, and now his little stall has exploded into a huge space taking up the whole back of the first floor.
Why the heck is this angular stuff doing so well? Some of it gives me bad 70s and even 60s flashbacks. I nosed around and found this part of a blog post (from http://www.publicola.net) which I think explains it well:
"Why's midcentury modern so cool right now? I have a theory: First it was the "Dwell effect" — modern, well-to-do urban yuppies who liked the sleek style and clean lines of the homes. But now, it's the "Mad Men" effect. Ironically, much of the midcentury housing that brings to the contemporary imagination visions of fictional adman Don Draper knocking back martinis with witty mistresses and having epiphanies about advertising jingles was built for families. But these homes have a mystique, suggesting an era when the party began at lunch time and the work day ended at five.
Hmm...whatever. In any case, keep your eye out for the Astro, and other midcentury modern stuff!
**************************************
3) Latest Flips Contest: Quilting Books, Spice Jars and More
**************************************

We have more super fun flips in this issue.
Note: if you ever send me a flip but don't see it in the subsequent issue that comes out after you emailed it to me, feel free to email me at juliawilk@aol.com to check on it. I try to get to all the flip stories I receive between newsletters by the next issue, but every once in a while one falls through the cracks and I have to run it in a later issue. I've gotten to every flip I've received this far, however.
Prizes for this month's Contest::
- Home Run: The 4th 100 Best Things I've Sold on eBay by Lynn Dralle
- Antiques Roadshow Primer by Carol Prisant
- eBay PowerUsers Bible by Greg Holden
- A new with tags eBay black golf towel
- A vintage deck of eBay playing cards
- A free copy of the ebook "What Sells on eBay for What"

On to the flips.
~~~
Quilting Book Lot Brings in Hundreds on eBay
I just got this entry in for the yardsalers.net latest Flips contest. It highlights how crafting books can be a great niche, and that it often pays to buy a large batch of books if you can get them at a reasonably low price:
Hi,
I enjoy the flip stories you have on your website, as well as the articles that you do. When I saw the list of prizes for this month's flip story, I had to write! I want to win that prize!!
On February 5th I attended a local antique/estate auction. I noticed that there was a huge lot of quilting books. I estimated that there were at least 250, since there were 23 boxes and I guessed there were probably about 10 in each box. I was the winning bidder, and purchased all for only $66.00.
I had to have my husband go back with me the next day to pick them up, and let me tell you, he thought I had lost my mind!! Well, I got them all home, and began to organize and catalog them, and that's when I realized there weren't just 250 books, but something closer to 500!!
Many of them were even signed by the authors! I picked out certain ones that I thought might sell for the most, based on my research on ebay and abe.com, and listed them first. Get this – my first book sold for $75.00 – more than enough to cover my initial investment! The second book sold for around $45.00!

[Above: Two of Karen's quilting books which stitched up a tidy profit].
Suddenly, my husband was telling everyone about my quilting books. To date, I have listed approximately half of the books (the hardbacks and larger softcovers), and of those I have sold about 80 or 90 books so far, and have made somewhere in the neighborhood of $800.00 or more!!
In fact, for the last month, quilt books have been the ONLY thing I have been listing. At some point, after all the books have been listed for 6 or 9 months, I will take the ones that are left, and group them in lots of 5 or 6 and relist them. When all is said and done, and the dust finally settles, I hope I will have made at least $2000. Not bad for a $66.00 investment!!
My auction ID is 4eyedbrunette, and you can take a look at my completed listings as see what I mean!
Thanks for letting me tell my story (and I hope I win!).
Karen
Wilmington, North Carolina
~~
Hi Karen!
Quilting books..what a great niche! I hope you have had continued success with these. I see a lot of craft books at a local thrift and I will pay a lot more attention to them now..especially now that I have my iPhone pricing tool.
Thx so much for sharing. Wishing you continued success,
Julia
~~~
Microscope Parts Flipper Finds Longaberger Spice Jars
Remember Jasper from the last Flips contest, who found the microscope parts? He's back with another great find: Longaberger spice jars:
Hey, Thanks for the response and entry. I'm sorry to hear about your loss.
I do not think the microscope parts were old but they came from a hospital and you know how expensive hospital equipment can be. The brand name was Zeiss which makes expensive optical equipment (binoculars, telescopes, camera lens, microscopes etc.) I really wish I would have kept the pictures.
I did have another cool flip that happened just the other day. I know I am already entered into the contest but I just love sharing success stories as well as hearing them. I bought a set of 10 Longaberger spice jars at a yard sale for $3. I started them at $.99 with no reserve and they ended at $410.. Turns out that this set was retired.
Here's the completed listing:
http://cgi.ebay.com/ws/eBayISAPI.dll?ViewItem&rd=1=130356981132
[The item is now expired, but you can get a look at some Longaberger spice jars that did similarly well here:]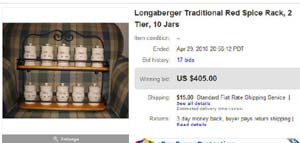 Thanks again, keep up the good work on yardsalers... It's the best I've found so far. Everytime I read it, I want to get up and go to a thrift store or yardsale :)
Jasper
~~~
Thanks so much, Jasper! Keep looking for those flips. Love your Longaberger story.
(Readers can find an article I did about Longaberger baskets at: http://www.yardsalers.net/backissues/issue1-58nov25-08.asp - see "The Basket People").
Julia
~~~
Lenox Christmas Tree Plate
It was at the end of a Yard Sale day and we were driving home and saw a yard sale close to our house. I was tired and didn't feel like another dead end yard sale, we stopped anyway.
As I was searching through what was left, I opened a box marked Lenox and there it was a 1992 Lenox Limited Edition Christmas Plate - I checked it over for damage because for $4.00 it must have something wrong with it?
I couldn't find anything. I asked my husband to check it over-he couldn't find anything wrong? So I asked the lady if she would take $2.00, she said yes and I had to really control myself not to show any emotion. I paid her immediately!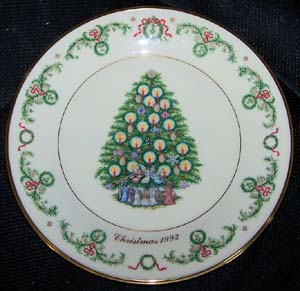 I came home looked it up on Replacements and it showed that this plate was from France, "Boxed 1992 - $449.95" - I checked Ebay and some had sold for less than $200.00. I decided not to chance an auction even with a reserve, because I find people do not bid when there is a reserve? I decided to put it in my store and wait for the right buyer. So I am so glad I did.
Paid $2.00
Purchased at a Yard Sale
LENOX LIMITED EDITION CHRISTMAS TREE PLATE NIB 1992
CHRISTMAS TREES AROUND THE WORLD PLATE FRANCE
10 3/4" DIAMETER GOLD TRIM -RARE FIND - HOLIDAY ANNUAL CHRISTMAS PLATE
ABSOLUTELY BEAUTIFUL-NO DAMAGE - FREE SHIPPING - IN ORIGINAL BOX
Winning Price $225.00
Date Ended October 3, 2009

Viewed 13 times
Link http://cgi.ebay.com/ws/eBayISAPI.dll?ViewItem&item=320395549881&ssPageName=ADME:L:EOISSA:US:1123
Carolyn in Maryland
~~~
Hey Carolyn!
Awesome flip! I normally don't pay a whole lot of attention to Lenox, but looks like their limited edition stuff is worth snapping up. Congrats! Thanks so much for sharing.
Julia
~~~
OK everyone, it's time to pick the winners and almost-winners! It 's always close. But the big prize goes to Karen for her find-that-kept-on giving, the quilting books! Karen, please email me your physical mailing address to juliawilk@aol.com when you get a chance.
And Jasper and Carolyn win free copies of "Big Bucks Flips" and "What Sells on eBay for What" or whichever other ebook of mine they want.
Everyone, please email me if you don't receive your ebook by next Monday night.
Next month's prizes are going to include some more eBay Live collectibles and some newly released eBay-related books.
So seize the day and send in those next flips!
Just email your story of something you recently sold for a nice profit to juliawilk@aol.com.
**************************************
What Sells on eBay for What
**************************************
Take a year of research and collecting data from every eBay category, and you get the latest version of "What Sells on eBay for What," the first and bestselling ebook of eBay prices.
And, you can get it for half price as a Yard Salers subscriber.
Click here
to get your copy!
~~
*********************
What's the PERFECT eBay product? Learn How To Make Money with information products on ebay.
*********************

Julia Recommends: EasyAuctionsTracker
I tried the EasyAuctionsTracker accounting spreadsheet for eBay and loved it. It is an eBay seller's accounting dream! With a few clicks you can be looking at all your eBay sales data, costs and even keep track of your commissions. EasyAuctionsTracker uses an eBay token and imports all of your eBay transaction information into an Excel spreadsheet. There's a free trial that will retrieve June transactions. This can be used through August 31st, which will be the last day to get transactions back to June 1st.
www.EasyAuctionsTracker.com.
*********************
Reader Mail will return in the next issue.
*********************

That's it for this month, all! See you next time!
Do you like this newsletter? Please forward it (in its entirety) to a friend! Just go to http://www.yardsalers.net and see the "Subscribe" box on top.

**Don't have five minutes to read the newsletter now? Print it out and read later.**
[For more writing and photos throughout the month, check out Julia's bidbits blog at http://www.bidbits.net ]
******************************
"Selling on 'The River': Hedging Your Bets on Amazon"
Between eBay and amazon, you're looking at over 100 million visitors per month. Why not harness the power of both?
At $29.97, I think it's a good value. And you also get:
- "25 Things eBay Sellers Must Know about Selling on Amazon" and
- SPECIAL BONUS - "How to Scout for Top Sellers with Your Cell Phone."
******************************

******************************
The eBay Seller's Guide to Finding Profitable Hidden Bargains at Garage Sales
Find out here.
*******************
Would you like your own fully customisable ebook website pulling in profits day after day, month after month, year after year, complete with video tutorials showing you EXACTLY how to get set up and running? Find out here.
*******************

------------------

Questions about My eBooks Ordering
You can certainly purchase from me directly, as can anyone. Most of my ebooks are now available via the website's bookstore at www.yardsalers.net/bookstore. Any others you have questions about, all you have to do is email me and let me know which ebook(s) you want, if you are a subscriber and thus eligible for the discount, and then PayPal me to my PayPal id at juliawilk@aol.com. I'll be tweaking and updating the ebooks page on my web site soon.

-----------------------------------------------

Do you have a Flip of the Week? I'd love to hear about it! Email me at juliawilk@aol.com and let me know.
-----------------------------------------------
Nonfiction Books that Sell for $50 - $250 on eBay:


or
Buy Now
*********************

I am always open to reader articles, so if you want to write about something relating to yard sale-ing and eBaying, just flag me down! I will of course give you credit, using your eBay ID, web site, or any other contact info.
------------------------------------
eBooks by Julia L. Wilkinson:
[All my ebooks are offered at 1/2 price from their regular prices to the subscribers of this newsletter. If interested in any of them, please email me at juliawilk@aol.com.]
- How to Spot Fakes: email me!
*********************

Blogs, Blogs, and More Blogs
Check out My amazon.com Author Blog

Those of you who just can't get enough of my writing (are there any of you?) will be happy to know I now have a new blog on amazon.com. Amazon.com has created an "author blog" tool for authors to...well, blog. You'll see it if you bring up either of my books on the amazon site, but for good measure, it's at: http://www.amazon.com/gp/product/1593270550. (Scroll down to "amazonConnect").
My TypePad Blog, "Bidbits"
You can also check out my typepad blog, "bidbits": bidbits

********************************

Do you have your copy of Julia's book, eBay Top 100 Simplified Tips & Tricks?

It's available on amazon.com and barnesandnoble.com. If you do want to order the book, I'd appreciate if you'd support Yard Salers and eBayers by using my affiliate link below.

********************************


----------------------
Copyright 2009 J.L. Wilkinson LLC
----------------------

Thank you for subscribing to Yard Salers. Yard Salers email newsletter may be freely distributed in its entirety, so please pass it on. You may reprint any of the articles in this newsletter for any purpose as long as no portion of the article is modified without permission, and this tagline is included:
Yard Salers, www.yardsalers.net
Publisher, Julia Wilkinson, author of the award-winning "eBay Price Guide." and "What Sells on eBay for What"

No part of this publication may be reproduced or stored in a retrieval system, in any form or by any means, electronic, mechanical, photocopy, recording, or otherwise, without the prior written permission of the publisher. Yard Salers makes diligent efforts to obtain accurate and timely information. However, Yard Salers disclaims any liability to any party for any loss or damage caused by errors or omissions in Yard Salers, whether or not such errors or omissions result from negligence, accident or any other cause.
End