ISSUE 66: Yard Salers: Dec. 2009: The Holiday Selling Season
Yard Salers: Dec. 2009: The Holiday Selling Season
Subscribe at: www.yardsalers.net

Please forward to a friend!
Hello, all!
Well we are already in the thick of the holiday season. Sure, the decorations have been up since the day after Halloween, but with the advent of December, we're really here.
And with cyber Monday just passing, many sites report sales are up significantly. But the real "Black Friday" for online sales is actually more like Dec. 10, a day later in the month but still close enough to Christmas for most shipments to make it in time.
For me, personally, it has already been crazy busy. I have been selling a lot of silverware, and even a gold necklace, metals being white-hot on eBay right now. The price of gold at this writing just passed $1200.
I was just reading in the Wall Street Journal that some say we are now in a gold "bubble." And some market watchers say gold is poised to fall, so you may not want to put off selling any bits and bobs you have about the house that you do not need or use anymore.
But eBay has specific policies about what you can say in your gold and other precious metal and jewelry listings. You may want to invest in a gold tester. For about 35 bucks you can get a kit on eBay that allows you to test metals for gold and silver content. I just bought one, after my neighbor showed me how it worked with her kit.
So again, you have any gold or even silver jewelry kicking about, this is the time to list it. More about what to list for the holiday season in the first article.
We will all be busy with the holiday season, but I will be posting on my blog as much as I can this month, so check there for updates:
http://www.bidbits.net/
Or, you can follow me on Twitter for very short updates:
https://twitter.com/juliawww

This month we have some really fun flips, including one that is a fun holiday card flip, and others that may give you ideas for what to list this season.
Now let's get to it.
******
Follow me on Twitter:
juliawww on Twitter
**********************************************
Tax Loopholes for eBay Sellers and other great resources at: taxloopholes.com
**********************************************
What Sells on eBay for What: The 2009 Update -- Half Price for Subscribers -- is Out! Click here.
**********************************************
Tweet Your Way to Cash
How to find followers for your niche, how to target your BEST customers on Twitter, what and how to tweet about, and more.
Only $17.00! here.
***********************************************
How to Make Money Blogging from Home
Skip McGrath earns about $2000-$7000 per month from his blogs and he only posts 2-3 times a week. His latest ebook tells how. Only $17.00! Skip's latest: click here.
**********************************************

**********************************************
Articles in this Issue:
**********************************************
1) Things to List this Holiday Season
2) November Flips Contest
3) Reader Mail
***********************************************
Big Bucks Flips 2.0: The half price version of Big Bucks Flips for Yard Salers subscribers is here: Click here to order.
Yard Salers' Readers best flips, and accompanying tips and rules of thumb, all in one convenient package.
Plus, now you can make money reselling the book! To find out how to resell it for 50% of each sale, go here.
************************************
1) Things to List this Holiday Season
************************************

What to list this holiday season? Just about anything and everything, if it will be worth your time putting it up. Start with your best stuff first. (I would get anything with gold or silver out there asap! See feature article).
Here are some other ideas of stuff that tends to sell well during the holidays:
- plates, dishes, and other tableware (used items are fine as long as they are in good condition; people are looking to add to their sets for the holiday dinners). (Don't forget those salt and pepper shakers, serving spoons and knives, cordial cups, napkin rings, and all the other table accoutrements)
- purses and bags in good condition...anything with tags, all the better. Whether it's stuff you bought and never used, or stuff you found out scouting about, get it out there.
- kids' clothes. This time of year many folks are, like me, scrambling to get some decent (and often red) clothing for their Christmas or other holiday card photo. And, they are often buying outfits for those holiday occasions, and gifts as well, tho it helps if the item is new with tags in that case. (You may, like me, have some clothing that never got opened, such as the Target white-shirt-with-tie-attached ensemble I picked up for my son and he has now outgrown).
In fact, I just bought a bunch of stuff from eBay for my son. (My daughter is pickier about her clothes which you may have experienced if you have a teen). Though I have bought new items for her on eBay before.
- toys. Again, you may have some kicking around that never got opened. We happen to have just about every major type of board game and I don't think every one has been used. I'm not sure kids play "Risk" the way they used to. Which leads us to...
- video games.
These are hot tamales. The first thing my son asked for was a video game. And it wasn't even a new one..it's called "Pikmin 2," and apparently they don't make it anymore, so the used ones are commanding nice sums. Keep that in mind as you shop at yard sales and the like.
Here are the top 10 selling video games on amazon at this writing:
1. 167 days in the top 100
New Super Mario Bros
$49.99

2. Ranking has gone up in the past 24 hours 1 day in the top 100
Active Life: Extreme Challenge Bundle with Mat
Namco
$59.99

3. Ranking has gone down in the past 24 hours 1100 days in the top 100
Nintendo Wii
$199.99

4. Ranking has gone down in the past 24 hours 93 days in the top 100
Wii Fit Plus with Balance Board
Nintendo Wii
$99.99 $94.99

5. 232 days in the top 100
Wii Sports Resort
Nintendo Wii
$49.99 $46.99

6. Ranking has gone down in the past 24 hours 1103 days in the top 100
Wii Remote Controller
Nintendo Wii
$39.99 $35.99

7. 632 days in the top 100
Mario Kart Wii with Wii Wheel
Nintendo Wii
$49.99 $44.99

8. Ranking has gone down in the past 24 hours 233 days in the top 100 Wii MotionPlus
Nintendo Wii
$19.99 $17.96

9. Ranking has gone down in the past 24 hours 193 days in the top 100
Call of Duty: Modern Warfare 2
Activision Inc.
Xbox 360
$59.99

10. Ranking has gone down in the past 24 hours 1095 days in the top 100
Wii Nunchuk Controller - White
Nintendo Wii
$19.99 $17.99

...and finally...
- books, cds, and dvd's. That's right; people are still buying these. My amazon.com sales have seen a definite uptick. And the thing about these is if you list them on amazon.com, you can get a lot listed in not much time, as their listing process is so quick and easy. ~~
So get listing! I know time is a challenge. What I have been doing is batching my photography, listing, and packing, so, for example, I take all the photos I need for the day at once, and then list everything together later in the day.
**************************************
Garage sale and wholesaler expert Pat Bateman has put together a fabulous ebook about making regular income with yard sales, finding wholesale goods to sell, using drop shippers, and more. Right now I'm offering it at a special preview price for $8.95. PayPal me at juliawilk@aol.com and you will receive the ebook via email, usually within hours.
***************************************
Succeed as an eBay Affiliate:
Click Here!
Build A Niche Store (BANS) is a store / website development platform which enables you to create content-based sites that generate income through the eBay affiliate programs.
**************************************
2) November Flips Contest: Hot Vintage Christmas Cards, a Teddy Bear, Tiki Mugs, Regional Books, and More
**************************************

We have super great flips in this issue, and some that are holdovers that didn't make it into the previous issues.
This might be a good time to say that if you ever send me a flip but don't see it in the subsequent issue that comes out after you emailed it to me, feel free to email me at juliawilk@aol.com to check on it. I try to get to all the flip stories I receive between newsletters by the next issue, but every once in a while one falls through the cracks and I have to run it in a later issue. I've gotten to every flip I've received this far, however.
Prizes for this Contest:
- an eBay conference bag
- "The Stay-at-Home Mom's Guide to Selling on eBay" by Suzanne Arant Wells
- "Found on eBay" by Marc Hartzman
- "The eBay Millionaire" by Amy Joyner
- A free copy of the book "What Sells on eBay for What," the 2009 edition

If you didn't enter or win a prize, guess what? You're getting a free holiday gift from me soon. Stay tuned for details. :)
On to the flips.
~~~
Just in time for the holidays comes this heartwarming tale of Christmas cheer..and unexpected cash:
Rescued from the Trash: Dodge Dealership 1950s cards
Hi Julia!
While helping a friend clean out her parentís house, I came across several old 1950ís Dodge dealership Christmas cards that they were throwing out. I was trading my labor for items I thought were interesting, so pulled these, along with several other items out of the "going away pile."
Two of the cards were in fairly good condition; the other five were in rough condition. I listed the two goods one separately and the five others in a lot. The total of the three auctions came to over $100.00.
In total, from my two days labor at the estate, I have probably netted close to $1000.00. I am still listing items from the estate when time permits. However, my point is, always look at what is being trashed; I have found many treasures in these piles. And donít forget "roadside shopping"!
Happy Hunting!
Barbara S.
~~
Hi Barbara!
Sorry for the delay! We've been hit by the flu here. :(
Oh yeah, I've probably been mistaken for a homeless person before, rooting around in "trash" that is set out in front of a sale or on a curb. LOL!
Dodge dealership '50s era Xmas cards..how fun! I bet it some some Dodge aficionados who snapped them up.
Here are Barbara's photos: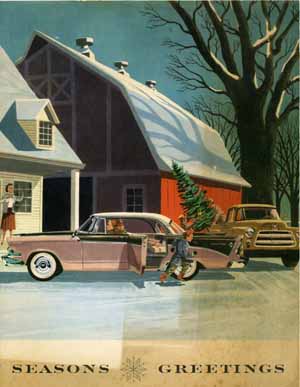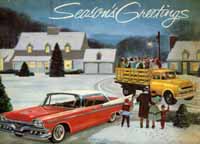 [I also dug up the following example of a Dodge Christmas card on eBay:]
And you are so right..things being thrown out or put in the trash can sometimes be the best finds! Thank you so much for sharing your find, and you are entered into the next contest!
Keep flipping,
Julia
~~~
Teddy Bear Flip
Hi Julia, I thought I would share my favorite flip with you. I was shopping at a thrift store and noticed a plastic bag on a shelf with something furry inside of it. My curiosity got me and I picked up the bag to see what it was. I noticed that it was a teddy bear and recognized that he was made from mohair.
I bought the bear for $2. When I got home and took him out of the bag, I saw that he was in horrible condition. His mohair was dirty and it was thinned out in places. His felt paw pads were all moth eaten so his straw stuffing was sticking out of them. He had a music box inside and a mechanism of some sort. Both were broken.


There were no markings on the bear, so I searched online to identify what kind of bear this was. I found out that he was a Schuco bear from the 50's.
I decided to list him on eBay in the same condition as I had found him. I started the auction at $19.99 because I did not think anyone would want him in such poor shape.
A few days later the auction ended and the bear sold for $215 to a man in Germany. I was shocked at how much he went for.
I have been hoping to find another mohair bear because I had so much fun researching that one and learning about him. Of course the thrill of the auction was a lot of fun too. It makes me think twice now about passing on something because of its condition.
Thanks for all the great info!
Karin
~~~
Hey Karin!
I have a good friend in Holland named Karin. :)
What a fun flip! Wow..I have heard of Steiff and other bears doing well, but not this Schuco brand. I guess people are willing to overlook condition when they have nostalgia for something or otherwise really want something!
Thanks again, so much, for the great flip..it will be in the next contest! :)
Julia
[Karin wrote back after our exchange and said:
"I had always read about Steiff also and had never heard of Schuco. I learned that they were pretty popular mechanical type bears. There is a mechanism inside so that you can move their tail and the head would move. There is one on eBay right now that is identical to the one I found, only he is in excellent condition. The auction # is 110453201344. You can see the huge difference in condition. I am curious to see what that one ends at."]
Well..it seems he ended at $636.86! Check it out here: http://cgi.ebay.com/ws/eBayISAPI.dll?ViewItem&item=110453201344
Keep reading, and flipping,
Julia
~~~
Hawaiian Tiki Mugs
Hi Julia,
I so enjoy your blog on "flipping" on Ebay! I want to tell you about one of my best flips.
I stopped by a garage sale and picked up 2 ceramic tiki-style glasses with hula dancers on them. One of them had the paint rubbed off a little. The seller told me they cost a quarter apiece and had come from a restaurant in New York.
I bought them and went home to do research. I stumbled across a great site of tiki mug collectors (www.ooga-mooga.com) who advised me about the mugs. I listed them together on Ebay since one had damage and was pleasantly surprised when they got tremendous bidding action and sold for $278!! Now I always look for Hawaiiana and tiki items. I have even sold some on the Ooga-Mooga website and avoided the Ebay fees.
(Attached is a pic of the mugs)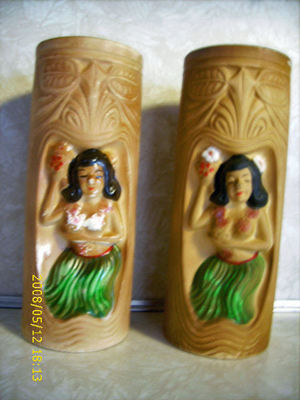 Keep up the good work and feel free to check out my Ebay/garage sale blog!!
Amy My blog: http://collectiblesonlinesales.blogspot.com/
~~~
Hey Amy!
Super find! I love tiki stuff..someone said something about it a while back but I never wrote much about them, so I am especially glad to have your flip story. Thanks so much! What cute mugs. I wonder if that restaurant went out of business and that's why they were so valuable?
Thx for the ooga mooga site too. And readers should love your blog..you have some great finds..I see you've dabbled in Britains, too..lol.
Thx again and best of luck in the contest!
Julia
I asked Amy if I could user her blog address and she said yes. And about the restaurant: "The Hawaii Kai was a NY restaurant/bar that went out of business. Here's what I found out: The Hawaii Kai is a legendary tiki bar from New York, best known as the location of Joe Pesciís famous 'Do I amuse you' scene in Goodfellas.
Thanks!!
Amy"
~~~
This next one came to me a while back and I missed putting it in the newsletter at the time. I came across it while putting together the flips for this issue and gave Kevin my sincere apologies for missing it the first time around!
~~~
Vintage Local Wyoming History Book
Hi Julia,
Love your newsletter. I even set up a separate folder in Outlook so I'll know instantly when a new one arrives. With each issue I learn about new items to look for while I'm out treasure hunting.
I mainly sell used media (books, tapes, DVDs, etc.) on eBay. Recently I found a book titled 'Our Neck O' The Woods' at a thrift store about the history of the Dayton - Ranchester area of Wyoming, written by a man who had lived there for many years. Since I've had success with local history books in the past, I bought it and took it home thinking I'd get $20 - $30 dollars for it. I did some research online and only found one copy for sale and the seller was asking $679 for his copy.
Since I don't have a store set up on eBay yet I was a little hesitant about listing the book there. With a $3 listing fee, if the book didn't sell, the fees would add up pretty quickly. I finally decided on a Buy It Now price of $595 with the Best Offer option. The day after I listed the book I had an offer for $435. I could have held out for more, but I figured that was not a bad deal for a book I paid $4 for. Here is the link for the item... http://cgi.ebay.com/ws/eBayISAPI.dll?ViewItem&rd=1&item=350044935325&ssPageName=STRK:MESO:IT&ih=022.
[Please note: the photo on the listing has now expired. I messed up and didn't take a screen shot of it soon enough, but here is a shot of an auction listing of a more recent print which still commands a nice price:]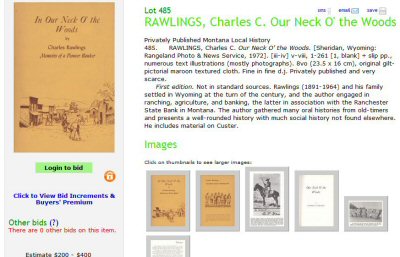 This was the biggest sale I've had so far, about double my previous highest sale. Since you sell books I was wondering if you or maybe one of your readers could suggest where to find information on pricing foreign language books. I can usually find other copies of the same book by searching online book stores or on Google and base my prices on them, but occasionally I run across a book that that I can't find for sale anywhere, like this old book I just found about mapping the moon written in Russian.
If the previous owner hadn't left a piece of paper in the book with a translation of the title I wouldn't have had a clue as to what it was about. The only things I could read were the page numbers. Any help would be appreciated. Keep up the good work and I'm already looking forward to your next issue.
Kevin
P.S. Here's an item for you and your readers I don't think I've seen covered in your newsletter. Watch for audio and video courses put out by The Teaching Company. They come in cassette, CD, VHS, and DVD sets and say The Great Courses at the top of the case. They are lectures on various subjects by professors from leading universities.
These generally sell very well on eBay. The best sellers are on DVD, but some of the older courses, that are now discontinued, are still highly sought after. I recently picked up a DVD course for $12 and let it go with an offer for $60. Again, I could have held out for more but I'm not too greedy. I hope no one from my local thrift stores reads your newsletter or they'll start raising the prices even more than they have been.
~~~
Hey Kevin!
Love your Wyoming local history book story! Wow..that there is a healthy book price even for local history. It just goes to show how much people treasure history and genealogy. It also happens to be a gorgeous book in its own right..if I'm not mistaken, it's leather, and the gilt writing is always nice.
I think you were smart to take that offer. Sure, you could have held out for more, but it was a nice chunky offer and you sure did make a nice profit.
Foreign language books...that's a good question. If I can't find out about a book by googling around, I sometimes go to one of the free translation sites on the Internet. Since I don't have a cyrillic keyboard, nor do you, I suspect, what you can do is type in words that relate to the book in English, such as mapping the moon, and see what pops up in Russian.
Then I think you could cut and paste the Russian words into the eBay description if you want to have both English and Russian words in there..although I don't think I've ever tried this so don't quote me on it. ;)
Another thing you can do is to go to an eBay or other auction site in that country and post the item there, or post a question about the item there. I once went to a Pakistani site to post a scan of a signed copy of a book I had about Pakistan. I thought the signature might be in Urdu and I wanted to know what it said -- if it was the author's signature of not. The people there were very helpful.
I once found some old Russian post cards and books, and I actually asked my brother, who knows some Russian, to translate them for me, and that was how I got them listed.
Love your tip about the Teaching Company...thanks for sharing! I doubt you will come across a fellow Yard Saler at your thrift but I suppose you never know. I like to subscribe to the theory that the more you give, the more you get; it certainly seems to be working in terms of this newsletter and the information we share.
Thanks again for the entry and all the great tips! :) You are definitely in the running!
Julia
~~~
Vintage Crib Bedding
Hi Julia, I LOVE your newsletter. I've shared it with several family members and friends who eBay!
I sell mostly clothes on eBay, so I don't have very many great flips, but 2 of my best ones were both sold on Aug. 23, 2008. I didn't save the auctions or pictures, but did save the emails from eBay, and they are attached. (I hope I did it right???)
I bought a Baby Snoopy 6 piece Crib Bedding Set at a yard sale for $10, and it sold for $67.00.
I also went to a storage unit sale, where the man buys storage unit contents then sells them in his own storage unit. I saw a small box of brand new tie-downs and asked how much he wanted for them. He said $5.00. After I paid for them, he asked me if I knew what they were, because he didn't. WELL, my daughter has Spina Bifida and uses a wheelchair. I knew that these were the same wheelchair tie-downs I had in my van. I didn't know how much they would sell for, but I do know that any medical equipment is VERY expensive, so I thought I would make at least $25 on them. They finally sold for $72.35!!!! Quite a nice profit :-)
My last great flip has been Forced Air Kerosene heaters my son (who works at Wal-Mart) got on clearance for $59. I've sold 4 of them for $199.99. Here's the link : http://cgi.ebay.com/ws/eBayISAPI.dll?ViewItem&rd=1&item50263064266.
[Alas, I could not get the photo to show up, though it should have been there as it was under 90 days old. Anyway, here is a pic of another kerosene heater that also did well on eBay:]

Thanks again for your newsletter. I always look forward to it!!
Crystal
VISIT MY eBAY STORE
http://stores.ebay.com/CJs-Family-Store?refid=store
CHECK OUT MY BLOG
http://letsbecrystalclear.blogspot.com/
~~
Hey, Crystal!
Thanks so much! That really made my day! :)
I was able to view the file, thanks..wow..tie-downs! Another item I hadn't thought of. You're right..medical equipment can be very expensive..as unfortunately many of us know! Especially with our aging population.
Also interesting about the crib bedding. We haven't covered a lot of bed/bath kinda stuff in the newsletter, and that can do very well. I always cringe at the price of new sheets, myself!
I also really like the kerosene heaters flip..it shows you can actually get great stuff at brick and mortar stores if you find it on clearance or marked down for other reasons.
Would like to use your letter w/ first name, and also links to your store and blog, if OK w/ you.
Super flips! Thanks again for your kind words, and for reading. My best wishes to your daughter, too!
(In her next letter, Crystal told me: "Hi again Julia..I actually just walked in from visiting my local Goodwill store. They are opening a new store this week, and have put everything in the old store at 75% off!!! I walked out with 8 huge bags of eBay inventory for $154.00. Just a conservative estimated profit: $1050.00. Wahoo!!!!!")
Keep selling, and flipping, :)
Julia
~~~~
Here's another one I am running a bit late. This one is from Jean, "dreamsandtreasures" on eBay. Jean, my apologies again! Everyone, go shop Jean's store so we can make it up to her..lol!
~~~
Snow White Head Vase...and Grumpy
Hi Julia,
Before I tell you about my flip I want to let you know how much I appreciate your news letters.
You are great to help us eBayers. I print all your newsletters and save them in a book so I can go back and look up things I don't remember.
One of my flips was a Snow White Head Vase. I saw the head vase in like an antique and retail store.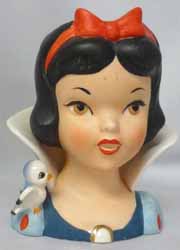 I started not to buy it and got out to my car and told my husband I think I'll go back and buy the head vase. It was priced at $125.00. I can use my Paypal credit card. Anyway, I listed the head vase and to my surprise it sold for $685.00. Wow! that was a great flip. If you need a picture please let me know.
The second flip was Snow White and Grumpy salt & pepper set. I have had the set for a long time and I think I payed about $24.00 for it. I had it so long I couldn't remember.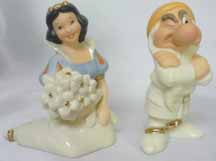 Anyway, it sold for $100.00. The person wanted it that bad. She said these were the last two she needed for a complete set. The other parts to the set are the little dwarfs. I still have some listed in my store. The same with this I still have a picture I could send you.
My eBay name is "dreamsandtreasures." I hope you can use these flips in your newsletter.
Thank you, Julia.
Jean
http://stores.ebay.com/dreamsandtreasures?refid=store
~~
Hi Jean,
Those are beautiful pieces and your photos are gorgeous! I'd love to hear how you set them up.
What could be better than buying things in an actual antiques shop and flipping them on eBay? I've often thought a lot of antiques shop owners could make a lot of money if they listed even a fraction of their stuff on the 'bay.
I have made some money on a few antiques shop flips...I mostly look for Meissen and other fine china which I think is underpriced. I made a couple hundred dollars on a set of Meissen coffee pot and cups once.
But..your flip is much better! I'm sure it didn't hurt that it's a Disney-related item.
Thanks again for sharing, the kind words about the newsletter, and your infinite patience in waiting for me to run your flip!
Julia
~~~
OK everyone, it's time to pick the winners and almost-winners! It was very, very close. It's always close, but this time was especially close. But this month's grand prize goes to Jean for her lucrative Snow White head vase and Grumpy and Snow White salt and pepper shaker set! She gets the set of books and bag mentioned above.
Barbara, Karin, Amy, Kevin and Crystal each win a free copy of my latest ebook, the "Chanel on eBay Price Guide" as well as "What Sells on eBay for What!" The 2009 edition.
Everyone, please email me if you don't receive your ebook by next Monday night.
Next month's prizes are going to include some swag I am working on from various industry sources.
So seize the day and send in those next flips to start off 2010 right! (Wow, did I just say 2010? Yikes.)
Just email your story of something you recently sold for a nice profit to juliawilk@aol.com.
I hope you all feel like winners after December is over, And wishing you and yours a joyous holiday season.
**************************************
What Sells on eBay for What
**************************************
After almost a year of research, collecting data from every eBay category, the latest version of "What Sells on eBay for What," the first and bestselling ebook of eBay prices, is here!
And, you can get it for half price as a Yard Salers subscriber.
Click here
to get your copy!
~~
*********************
What's the PERFECT eBay product? Learn How To Make Money with information products on ebay.
*********************

Julia Recommends: EasyAuctionsTracker
I tried the EasyAuctionsTracker accounting spreadsheet for eBay and loved it. It is an eBay seller's accounting dream! With a few clicks you can be looking at all your eBay sales data, costs and even keep track of your commissions. EasyAuctionsTracker uses an eBay token and imports all of your eBay transaction information into an Excel spreadsheet. There's a free trial that will retrieve June transactions. This can be used through August 31st, which will be the last day to get transactions back to June 1st.
www.EasyAuctionsTracker.com.
*********************
3) Reader Mail
*********************

Anonymous Vent about eBay's Top-Tated Seller Designation
The following came from a reader, but I'm running it anonymously:
"I guess I get too many buyers that don't understand what the ratings do to a seller. My 1's and 2's are going down, but I probably don't receive the 5's that is necessary to become a 'top rated'.
My feedback is usually pretty great, but just ONE negative (with probably 1's) can really knock the average down. I don't really agree with the 1-5 system and never use it when I buy something. My eBay average stays pretty much the same, 99.6 or 99.7, so it's got to be the 1-5 rating system.
Anyway, I don't really worry about it, as it's pretty much beyond my control and I just worry about doing the best I can and let it go at that. I was happy getting the 15% I qualified for under the old system, even though it usually doesn't amount to very much. Most of my sales are $,99 to about $4.99 and they don't take much final value fees from them.
As I said, I don't worry about it, can't do an awful lot more than what I am already doing. Describe as best I can, defects and all, quick service (usually same day shipping), contacting and keeping the buyer informed (and I do a lot more of this than the sellers I have dealt with.)
- Anonymous
Thanks for your feedback! How do other readers feel about the new TRS system? Good, bad or indifferent? Email me at juliawilk@aol.com.
~~~
That's it for this month, all! See you next time!
Do you like this newsletter? Please forward it (in its entirety) to a friend! Just go to http://www.yardsalers.net and see the "Subscribe" box on top.

**Don't have five minutes to read the newsletter now? Print it out and read later.**
[For more writing and photos throughout the month, check out Julia's bidbits blog at http://www.bidbits.net ]
******************************
"Selling on 'The River': Hedging Your Bets on Amazon"
Between eBay and amazon, you're looking at over 100 million visitors per month. Why not harness the power of both?
At $29.97, I think it's a good value. And you also get:
- "25 Things eBay Sellers Must Know about Selling on Amazon" and
- SPECIAL BONUS - "How to Scout for Top Sellers with Your Cell Phone."
******************************

******************************
The eBay Seller's Guide to Finding Profitable Hidden Bargains at Garage Sales
Find out here.
*******************
Would you like your own fully customisable ebook website pulling in profits day after day, month after month, year after year, complete with video tutorials showing you EXACTLY how to get set up and running? Find out here.
*******************

------------------

Questions about My eBooks Ordering
You can certainly purchase from me directly, as can anyone. Most of my ebooks are now available via the website's bookstore at www.yardsalers.net/bookstore. Any others you have questions about, all you have to do is email me and let me know which ebook(s) you want, if you are a subscriber and thus eligible for the discount, and then PayPal me to my PayPal id at juliawilk@aol.com. I'll be tweaking and updating the ebooks page on my web site soon.

-----------------------------------------------

Do you have a Flip of the Week? I'd love to hear about it! Email me at juliawilk@aol.com and let me know.
-----------------------------------------------
Nonfiction Books that Sell for $50 - $250 on eBay:


or
Buy Now
*********************

I am always open to reader articles, so if you want to write about something relating to yard sale-ing and eBaying, just flag me down! I will of course give you credit, using your eBay ID, web site, or any other contact info.
------------------------------------
eBooks by Julia L. Wilkinson:
[All my ebooks are offered at 1/2 price from their regular prices to the subscribers of this newsletter. If interested in any of them, please email me at juliawilk@aol.com.]
- How to Spot Fakes: email me!
*********************

Blogs, Blogs, and More Blogs
Check out My amazon.com Author Blog

Those of you who just can't get enough of my writing (are there any of you?) will be happy to know I now have a new blog on amazon.com. Amazon.com has created an "author blog" tool for authors to...well, blog. You'll see it if you bring up either of my books on the amazon site, but for good measure, it's at: http://www.amazon.com/gp/product/1593270550. (Scroll down to "amazonConnect").
My TypePad Blog, "Bidbits"
You can also check out my typepad blog, "bidbits": bidbits

********************************

Do you have your copy of Julia's book, eBay Top 100 Simplified Tips & Tricks?

It's available on amazon.com and barnesandnoble.com. If you do want to order the book, I'd appreciate if you'd support Yard Salers and eBayers by using my affiliate link below.

********************************


----------------------
Copyright 2009 J.L. Wilkinson LLC
----------------------

Thank you for subscribing to Yard Salers. Yard Salers email newsletter may be freely distributed in its entirety, so please pass it on. You may reprint any of the articles in this newsletter for any purpose as long as no portion of the article is modified without permission, and this tagline is included:
Yard Salers, www.yardsalers.net
Publisher, Julia Wilkinson, author of the award-winning "eBay Price Guide." and "What Sells on eBay for What"

No part of this publication may be reproduced or stored in a retrieval system, in any form or by any means, electronic, mechanical, photocopy, recording, or otherwise, without the prior written permission of the publisher. Yard Salers makes diligent efforts to obtain accurate and timely information. However, Yard Salers disclaims any liability to any party for any loss or damage caused by errors or omissions in Yard Salers, whether or not such errors or omissions result from negligence, accident or any other cause.
End