ISSUE 64: Yard Salers: August 2009: The World's Longest Yard Sale, More Great Flips
Subscribe at: www.yardsalers.net

Please forward to a friend!
Hello, all!
Well, this year I finally made it to the World's Longest Yard Sale! And it was just as Wild and Wonderful as I thought it would be (as they say about West Virginia).
You can read about my experiences there, and what I bought, on my blog posts at bidbits.net, including (excuse the caps; that's how typepad does titles):
- REPORT FROM THE WORLD'S LONGEST YARD SALE, NEAR JAMESTOWN,TN
- WORLD'S LONGEST YARD SALE 2009, PART 2: OF HARLEYS AND BARGAINS
- WORLD'S LONGEST YARD SALE 2009, PART 3: CUMBERLAND MTN. GENERAL STORE
- WORLD'S LONGEST YARD SALE 2009 PART 4: FENTRESS FIELD

I also have several YouTube videos posted:
- World's Longest Yard Sale 2009: Inside the Cumberland Mtn. General Store
- World's Longest Yard Sale 2009: Outside Cumberland Mtn. General Store
- No Fart'n: Redneck Art at the World's Longest Yard Sale 2009 (You have to love my thumb in the beginning of this one).
- World's Longest Yard Sale 2009: South Fentress Community Park
We also have a great piece from Yvonne, one of our readers, who got to a different area of the sale and shares her experiences.
And, there are a ton of great flips in this issue, with accompanying strategies. So get ready to get out sleuthing this Fall, especially as the weather turns nicer in many areas.
And don't forget you can get that 1/2 price discount for the new What Sells on eBay for What 2009 (click here) as well as Big Bucks Flips ebooks. You can also resell the ebooks from your web site, blog, or wherever, and make 50% of every sale. Check the affiliates page for each ebook to find out how.
Finally, there have been a lot of changes coming from eBay. I haven't yet posted my thoughts about them, but plan to post them to my bidbits blog soon. So check there if you're interested. Meantime, eBay seller, author and ebook writer extraordinaire Skip McGrath has a free ebook about it which you can download at and http://www.skipmcgrath.com/products/future-ebay-new-policies.shtml. I have eyeballed it and it looks to be an excellent summary of all the changes that have been coming our way. And of course, auctionbytes.com always has great coverage; check that out for ongoing eBay updates.
In a nutshell, my feelings are that on the plus side, with tighter standards, if you make the extra effort to meet them, there will be less competition, and the new "Top-Rated Seller" badge will give you extra cachet. On the downside, the tighter standards will most likely mean making some changes to your listings, and of course there is more to live up to. But I have felt the lion's share of the increased expectations for sellers already came when sellers were no longer able to leave negatives for buyers.
Now let's get to it.
******
Follow me on Twitter:
https://twitter.com/juliawww.
**********************************************
What Sells on eBay for What: The 2009 Update -- Half Price for Subscribers -- is Out! click here.
**********************************************
Tweet Your Way to Cash

Are you on Twitter yet? If not, you're missing out on a lot of potential customers and an easy, fun way to market your products.
I found a great, affordable resource to show you how to find followers for your niche, how to target your BEST customers on Twitter, what and how to tweet about, and more.
Only $17.00! You can order it from my affiliate link by clicking here.
**********************************************
Articles in this Issue:
**********************************************
1) World's Longest Yard Sale Tales
2) July/August Flips Contest
3) Reader Mail
***********************************************
Big Bucks Flips 2.0: The half price version of Big Bucks Flips for Yard Salers subscribers is here:
Click here to order.
Yard Salers' Readers best flips, and accompanying tips and rules of thumb, all in one convenient package.
Plus, now you can make money reselling the book! To find out how to resell it for 50% of each sale, go here.
************************************
1) World's Longest Yard Sale Tales
************************************

Reader Yvonne also made it to the sale. She agreed to write up her experiences for us, and is sharing some juicy photos to boot:
We (my husband and I) live in NE Arkansas which is 6 - 7 hours away from the closest beginning of the sale, which was Crossville, TN. I got off to a bad start because on Tuesday night before we were to leave on Wednesday, it came a storm and we were up until 1:00 a.m. and had to get up at 4:45 to get an early start.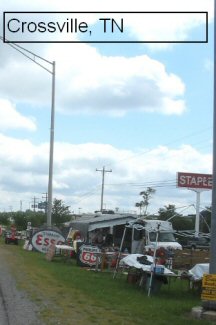 By the time we got there I was already tired. This same storm had evidently passed through Crossville also, because one vendor told me she had lost $3,000 worth of items when her tent blew down.
I am an eBayer and was looking only for items to list and after visiting a couple of vendors in Crossville, I realized that would not work. Way too high. So, from then on we mostly went to plain old garage sales (which I love). There are bargains galore.
During the 4 days we drove up above Danville, KY. I loved Danville the best. It is a beautiful little town with rows of old homes kept in excellent condition.
The Forbus General Store in TN six miles South of the KY border was a fun place to visit. Has good BLT, cheese & fried egg sandwiches on thick buttered toast and ice cream. Was fun to see the guys play the "Pig" card game and to learn that the world champ is from Forbus. Saw an independent film company on their front porch making a documentary of the 127 sale.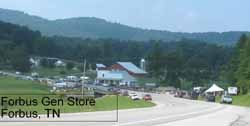 On Sunday we got lots of price bargains from some vendors near Pall Mall, TN.
At the Agri Expo Center in Liberty, Ky, we saw a Griswold #13 skillet for $1,500. Found a pair of old shutters with chippy paint there for $10. This was a good place for a sale, all under one big roof with a breeze blowing. Liberty is also the place were we saw a man with a sign saying that the world would come to an end in 2009.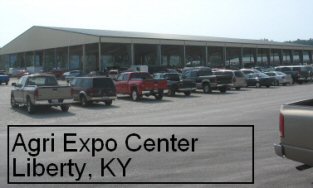 The funniest story we heard along the way -- and it had just happened while we were standing there -- their dog came running up from the field and had just rolled in a cow patty. Now those of you who weren't raised on a farm, don't know how disastrous that can be. Cow patties are not pleasant!! She was going to put him in the bathtub!!??
On Sunday morning we ran onto an estate sale in KY where I found 47 handmade, beaded and sequined Christmas tree ornaments and an old tree made out of jewelry. These and an OLD typewriter, are the best items that I found on the trip.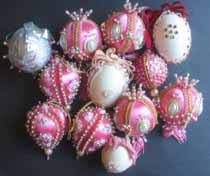 This was our first time to make this trip and all in all it was enjoyable. Having both been raised in scenic, mountainous areas, we loved the beautiful scenery because we now live in the delta where rice fields are the norm.
For those who have not been on this sale all I can say is it is really indescribable -- at first it is overwhelming until you figure out that you can only get so far and see so much. I have an extremely patient husband who is game for anything. That made it doable. Someday I would like to do it again and make it a "for me" trip and not a business trip.
- Yvonne Howell
**************************************
Garage sale and wholesaler expert Pat Bateman has put together a fabulous ebook about making regular income with yard sales, finding wholesale goods to sell, using drop shippers, and more. Right now I'm offering it at a special preview price for $8.95. PayPal me at juliawilk@aol.com and you will receive the ebook via email, usually within hours.
***************************************
Succeed as an eBay Affiliate:
Click Here!
Build A Niche Store (BANS) is a store / website development platform which enables you to create content-based sites that generate income through the eBay affiliate programs.
**************************************
2) July/August Flips Contest
**************************************

We have some really fun flips for July and heck, even most of August. (Part of me is trying to forget that my birthday is tomorrow, August 27). This month's prizes:
Prizes for this Contest:
- Titanium eBay, by our friend Skip McGrath
- Bitter, Party of One, Your Table Is Ready, by Larry ("The eBay Wedding Dress Guy") Star
- DK Collectibles Price Guide 2007 by Judith Miller (OK it's a teeny bit dated, but there are tons of gorgeous pictures and most of the info is still pretty accurate)
- A free copy of the book "What Sells on eBay for What," the 2009 edition.
On to the flips.
~~~
This flip is from a kinder, gentler era of travel. I told Teresa it reminds me of the times when my grandparents would dress up to travel in suits, hats, gloves, you name it.
Pan Am Dishes
Hi Julia!
My flip:
President Pan Am by Noritake. I purchased 16 pc for $35. Sold all at auction but one pc. Have since sold it. It got 58 bids from 3 bidders and my profit after everything was paid was over $300.00!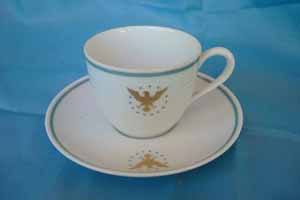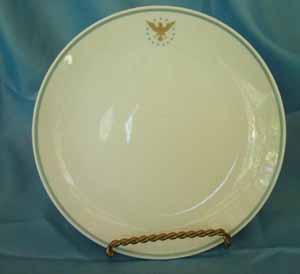 Pan Am used these in the 1960s with blue/green bands and gray bands.
This was so much fun! I have had other good flips but none like this!
Really enjoy your Newsletter! Learned of you from Lynn and was so glad. It alone was worth the cost of the book.
I printed the Big Bucks Flips out and read it all. It is fun to hear about others and to be one from time to time. Keep up the good work and keep those Yard Salers Newsletter coming!
My user ID is Sweetpea2407.
My store is Aaron Lavender Thyme.
One of the item #'s 370228559556.
~~
Hey Teresa!
Thanks so much for the kind words, and for that flip!
Those dishes are wonderful..they do look presidential. :) I checked out your store, too..great kitchen and dinnerware items! Teresa's store is at http://stores.shop.ebay.com/Aaron-Lavender-Thyme of you want to take a look.
I asked Teresa where she found those great dishes, and she said "I got this at a Thrift Store. I do yard sales -- this is a small town in north GA, so like today there were 2 without driving a lot! We are in the sticks. I drive 8 miles to one sale. Some weekends there are 10 to 20."
Sounds like a bevy of sales to me! Thanks again, and much success to you!
Julia
~~~
Pix of Last Month's Levi's Jeans and Austen books
JoAnn, who won last month's flips contest, mentioned in passing that her daughter had sold a pair of Levi's jeans for a whopping $3049.00, which she had picked up for all of $2 at a church sale.
Naturally, I bugged her to provide more details for us all! She found pix of the Levi's jeans and Jane Austen books, below..and the story of the items is below as well: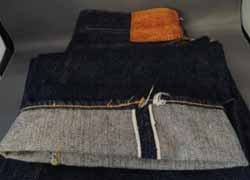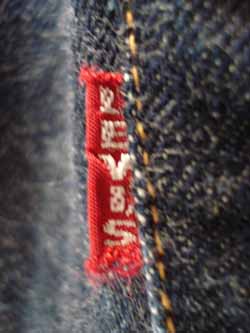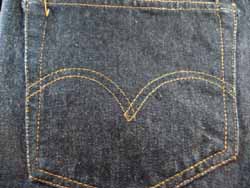 Hi Julia,
The Levi Jeans that my daughter (hilarysattic) sold on ebay for $3,049.00 were 501 XX. She got them at a local church sale for $2.
They looked new because the blue jean color was in such good condition. She listed them on eBay hoping to get $15 - $20.
In the first half hour after listing she received an offer of $1,500. she asked me, do you think the buyer means $15? I knew right away she had a pair of the Levi Jeans that I had always heard about but had never seen a pair. I told her, no he means $1,500.
Her husband tried to get her to take it. But she held out until the 7 day auction ended. Buyers called her and sent e-mail asking her to take even higher offers.
She contacted Levi via their website -- they have an option where you can ask, "Do I have a pair of old jeans?" The person at Levi asked her a few questions and asked her to send a picture.
They confirmed that she had a pair of jeans from the late 1940ís. The jeans have a leather tag on the back which has "501 XX" along with the size. Additionally, they are button fly and some type of stitching from that era.
Also, the little red tag has a capital E in Levi -- like this: LEvi's. We believe that someone got the jeans in the late 1940s, wore them once and didn't like them and put them away. We think the person passed away and their family gave everything to the church. The buyer of these jeans paid immediately with a Fed Ex account and had them shipped overnight. He gave her positive feedback shortly after receiving them. Attached are 3 pictures of the jeans. [see above]
And the Jane Austen set of books -- here's their story, from JoAnn:
The Jane Austen books were a set of 12: "The Novels and Letters of Jane Austen."
I got them for free at a local estate sale. A couple getting ready to move into a retirement home had an estate sale. None of their books were selling. I told them that I would haul all of the books away at the end of the sale if they wanted me to. They were more than happy to have me do it.
There were probably 300 books total. I had no idea what the books were. We took them home and sorted through -- kept about 20-30 of the books and donated the rest to the local thrift store.
I had them about a year before getting around to listing them. They sold for $800 on eBay in a 7-day auction. Attached are a couple of pictures that I used for the auction.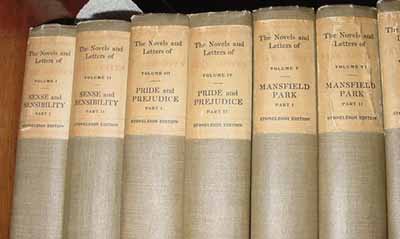 I often find treasures at local estate sales and yard sales.
JoAnn
Treazures4Sale

~~~
Another Profitable Doll, and Breyer Horses
Hi Julia, The errors I got told me to change the settings on my Security, which I did but it did not help. Oh, yes, I wanted to thank you for the "flips book", I read it over and over. I also got a huge tip by reading it.
The article about the Bild Lilli doll was great. I had a doll that was in my discard pile. My sister-in-law had brought it to me last summer and told me it was an original Barbie. I looked it over and put it in the discard pile, I told her it was not a real Barbie and I could not put it on E-Bay as such. After reading your article, I pulled her out of the pile and discovered she was a Hong Kong Lilli, I put a home made dress on her and she sold the first week she was listed. I started her at $9.99 and got $82.05 for her. WOW what a great flip!. My sister-in-law is now happy. Item number was 360168353768.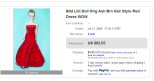 She went to Thailand and the customer was very happy with her purchase. Thanks,
Linda Bostock
~~~
I thanked Linda and asked if she could use the story and testimonial for the Flips book, and she sent me another one:
Hi Julia,
I have another one too...
I was at a high school fundraiser sale. It was getting late and I came across a lady that had a whole table of Breyer Model Horses.
She had gotten them when she was a kid and sick in the hospital. She had all the printouts about each horse and prices from $10-40 dollars on each one. Apparently no one had even looked at them all day.
I asked her how much she would take for all of them. I counted about 25 horses. Well to my very much surprise. (I was thinking about $100) she said $25 for all. Well, I could not get them packed up fast enough. I brought them home and got them listed on E-bay, there were several that were not Breyer and I almost did not list them.
One of the non-Breyer horses was a polo pony with a red bridle and red polo wrappings around it legs, I put it on E-Bay starting it at $6.99. I just about fainted when I got $110.00 for it! I have sold most of the others from anywhere from $15-$60. Wow!
So keep an eye out for Breyer horses. They are marked on the inside of one rear leg with a brand Circle and Breyer or sometimes Breyer Reeves. I have sold several Breyer horses that I have found for more than $100 since then.
I had never even been on E-Bay before about 3 years ago. I read Lynn Dralle's article in a magazine started following her advice and lessons.
Thanks again,
Linda

~~~
Hey Linda!
Wow...what a great price for that many Breyer horses! :) Super deal. How cool that the non-Breyer did so well, too.
You share a great strategy for all of us to keep in mind..ask at the end of a sale how much someone wants for a group of things. Often at the end of the day, the seller is just eager to get rid of stuff and not have to cart it away to charity, or wherever.
Also a good tip that non-Breyer model horses can sell as well or better than Breyers. In fact, if we look in the model horse category at the most recent top sales, we see a Hagen Renaker as the top seller, and a CM Eberl (German sculptor Brigitte Eberl), as well as a Breyer in the middle: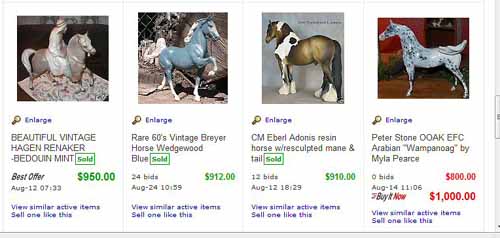 I actually used to collect Breyer horses myself, so have great fondness for them. My horses are still here and in my daughter's room...lol.
Thx again for the great flips! Newsletter coming soon. :)
Julia
~~~
Another Great Doll
Hi Julia,
I heard about you through Lynn Dralle - Iím on her email newsletter list. I love reading about your flips.
This past weekend I had my best flip ever and I wanted to share. I was at a community yard sale and was digging through boxes -- I always dig, thatís where the real treasures are.
I found a doll and a bunch of clothes. I had no idea what the doll was, but Iíve had some luck with vintage dolls in the past so I bought it and all her clothes for $1. I brought her home and she sat on my desk in a Kroger bag for months b/c after I brought her home I found she was in TERRIBLE condition and her clothes looked to be mostly handmade. I figured she wouldnít sell.
Well, my job took a nosedive and my hours got cut so Iíve been frantically selling on eBay to try and make up the difference. Iíve been listing so much Iím running low on "inventory" so I finally decided to list the doll.
After looking at her closely, I found "Vogue Doll" on her back. Thatís all I know about her. I listed her and she sold for $152! I will keep my eyes open for Vogue Dolls from now on.
(Item # 270443330102) Vintage Vogue Doll & Clothes Outfits 20+ Pieces AS IS
I bought your guides for Kids Clothes and Magazines/Catalogs -- great info! Keep it coming J
Thanks for letting me share my story!
Jennie
Vinton, VA
~~~
I thanked Jennie for her great flip and said it was also a Jennie who founded the Vogue Doll co. The company's founding actually has a funny, "With friends like those who needs enemies" kind of story -- here's part of it from the co.'s web site:
"Ginnyís roots actually extend back to 1922, when a resourceful young woman, Jennie Adler Graves, established Ye Olde Vogue Doll Shoppe in her home in Somerville, Massachusetts. The story is that a "friend", who knew of Jennie Grave's skill in sewing children's clothes, asked her to dress some dolls for a charity event. Unbeknownst to Jennie, the "friend" was selling the dolls instead of giving them to charity! Thus inspired, Jennie Graves began dressing and selling imported German dolls to Jordan Marsh, a well-known Boston department store.
"Success followed success until 1948, when a sales dip in her line of existing dolls inspired Mrs. Graves to introduce an 8" plastic doll, the forerunner to Ginny. Storeowners and consumers alike loved the new doll, and in 1951, Ginny was officially born, named after Jennie's daughter Virginia. From a point in 1949 where a 15,000 square foot warehouse was needed and Vogue employed 50 regular workers plus from 100 to 200 home sewers and did a sales volume of $239,000 a year, Vogue grew to a point in 1953 where annual volume reached $2,113,904. Ginnyís success was assured."
~~
OK everyone, it's time to pick the winners and almost-winners! Once again it was very close and hard to pick any one story -- they were all great. But I've decided this month's grand prize goes to Linda for both her great Lilli doll and also Breyer's horses stories.
JoAnn wins an honorable mention for her fabulous Levi's story and pix -- JoAnn, you win an extra bonus of any and all of my ebooks you want! Plus I am throwing in an eBay Live collectible pin.
And Teresa and Jennie each win a free copy of the brand-new ginormous ebook, What Sells on eBay for What! The 2009 edition.
Everyone, please email me if you don't receive your ebook by next Monday night.
Next month's prizes include an AntiqueTrader Guide to Fakes & Reproductions, Kovel's Bottles Price List, and a Small Business Loopholes for eBay Sellers cd from Tax Expert Diane Kennedy. And that's just what I've gathered so far!
So seize the day and send in those next flips for one of our best sets of prizes ever! Just email your story of something you recently sold for a nice profit to juliawilk@aol.com.
**************************************
What Sells on eBay for What: The 2009 Update is Out!
**************************************
After almost a year of research, collecting data from every eBay category, the latest version of "What Sells on eBay for What," the first and bestselling ebook of eBay prices, is here!
And, you can get it for half price as a Yard Salers subscriber.
Click here
to get your copy!
~~
*********************
What's the PERFECT eBay product? Learn How To Make Money with information products on ebay.
*********************

Julia Recommends: EasyAuctionsTracker
I tried the EasyAuctionsTracker accounting spreadsheet for eBay and loved it. It is an eBay seller's accounting dream! With a few clicks you can be looking at all your eBay sales data, costs and even keep track of your commissions. EasyAuctionsTracker uses an eBay token and imports all of your eBay transaction information into an Excel spreadsheet. There's a free trial that will retrieve June transactions. This can be used through August 31st, which will be the last day to get transactions back to June 1st.
www.EasyAuctionsTracker.com.
*********************
3) Reader Mail
*********************

Printing First Class Postage Online Through Shipping Assistant
In our last issue, we had some tips extolling the virtues (and wonderful cheap-ness) of first class mail for international shipping. (See our Past Issues/archives if you did not see the tip). We didn't know there was a way to print out the postage online, but, then we got this letter:
About sending first class items internationally - You can print the postage online through shipping assistant.
Rose
Thanks, Rose! I will mention it in the next issue. :) By the way, the url to get shipping assistant is http://www.usps.com/shippingassistant/.
Julia
~~~~
See you next time, all!
Julia
Do you like this newsletter? Please forward it (in its entirety) to a friend! Just go to http://www.yardsalers.net and see the "Subscribe" box on top.

**Don't have five minutes to read the newsletter now? Print it out and read later.**
[For more writing and photos throughout the month, check out Julia's bidbits blog at http://www.bidbits,net ]
******************************
"Selling on 'The River': Hedging Your Bets on Amazon"
Between eBay and amazon, you're looking at over 100 million visitors per month. Why not harness the power of both?
At $29.97, I think it's a good value. And you also get:
- "25 Things eBay Sellers Must Know about Selling on Amazon" and
- SPECIAL BONUS - "How to Scout for Top Sellers with Your Cell Phone."
******************************

******************************
The eBay Seller's Guide to Finding Profitable Hidden Bargains at Garage Sales
Find out here.
*******************
Would you like your own fully customisable ebook website pulling in profits day after day, month after month, year after year, complete with video tutorials showing you EXACTLY how to get set up and running? Find out here.
*******************

That's it for this issue. Until next time! - Julia

------------------

Questions about My eBooks Ordering
You can certainly purchase from me directly, as can anyone. Most of my ebooks are now available via the website's bookstore at www.yardsalers.net/bookstore. Any others you have questions about, all you have to do is email me and let me know which ebook(s) you want, if you are a subscriber and thus eligible for the discount, and then PayPal me to my PayPal id at juliawilk@aol.com. I'll be tweaking and updating the ebooks page on my web site soon.

-----------------------------------------------

Do you have a Flip of the Week? I'd love to hear about it! Email me at juliawilk@aol.com and let me know.
-----------------------------------------------
Nonfiction Books that Sell for $50 - $250 on eBay:


or
Buy Now
*********************

I am always open to reader articles, so if you want to write about something relating to yard sale-ing and eBaying, just flag me down! I will of course give you credit, using your eBay ID, web site, or any other contact info.
------------------------------------
eBooks by Julia L. Wilkinson:
[All my ebooks are offered at 1/2 price from their regular prices to the subscribers of this newsletter. If interested in any of them, please email me at juliawilk@aol.com.]
- How to Spot Fakes: email me!
*********************

Blogs, Blogs, and More Blogs
Check out My amazon.com Author Blog

Those of you who just can't get enough of my writing (are there any of you?) will be happy to know I now have a new blog on amazon.com. Amazon.com has created an "author blog" tool for authors to...well, blog. You'll see it if you bring up either of my books on the amazon site, but for good measure, it's at: http://www.amazon.com/gp/product/1593270550. (Scroll down to "amazonConnect").
My TypePad Blog, "Bidbits"
You can also check out my typepad blog, "bidbits": bidbits

********************************

Do you have your copy of Julia's book, eBay Top 100 Simplified Tips & Tricks?

It's available on amazon.com and barnesandnoble.com. If you do want to order the book, I'd appreciate if you'd support Yard Salers and eBayers by using my affiliate link below.

********************************


----------------------
Copyright 2009 J.L. Wilkinson LLC
----------------------

Thank you for subscribing to Yard Salers. Yard Salers email newsletter may be freely distributed in its entirety, so please pass it on. You may reprint any of the articles in this newsletter for any purpose as long as no portion of the article is modified without permission, and this tagline is included:
Yard Salers, www.yardsalers.net
Publisher, Julia Wilkinson, author of the award-winning "eBay Price Guide." and "What Sells on eBay for What"

No part of this publication may be reproduced or stored in a retrieval system, in any form or by any means, electronic, mechanical, photocopy, recording, or otherwise, without the prior written permission of the publisher. Yard Salers makes diligent efforts to obtain accurate and timely information. However, Yard Salers disclaims any liability to any party for any loss or damage caused by errors or omissions in Yard Salers, whether or not such errors or omissions result from negligence, accident or any other cause.
End