ISSUE 60: Late Feb./Early March 2009
Yard Salers: Late Feb./Early March 2009:
Subscribe at: www.yardsalers.net

Please forward to a friend!
Hello, all!
I hope you have had a great February. Especially considering February is one of those funny months that's firmly entrenched in the Winter Doldrums, with Valentine's Day and President's Day sprinkled in. Here in Virginia, it can, and I think has, vacillated between sub-zero temperatures with wind chill and one day that seemed more like 70 degrees. Anyway I have so much to tell you about, as always.
I finally got out to the local auction house here in Northern Virginia. I'd heard they had a lot of book auctions there, so I wasn't sure what to expect. My experiences are in the first article in this issue.
We've all heard and read about the foreclosures on the news. Well, this issue hit home for me the other day when I came across one such foreclosure-related sale. We also have a lot of great entries in this Flip contest.
Devoted reader Ray suggested that I put headlines and other important text in bold, so readers can better skim if they want to, and it seemed like a good idea to me. So this issue will be my first experiment with that.
Here is a rundown of the articles:
**********************************************
1) Adventures at the Local Auction House: The Northern Virginia Edition
2) A Foreclosure Estate Sale
3) Post Cards, Britains, a Wrench, Catalog, Language Software and More: Flips Contest for Feb.
4) Reader Mail: So Can You Really Accept Checks on eBay, or What?
***********************************************

If you don't want to hear me vent about my computer, skip the following few paragraphs.
In other news, I was in PC Hell the other day, and am still climbing my way out. About four or five days ago, my Norton software stopped working, and other weirdnesses were happening on the PC, so I gave Norton a call.
After several hours on the phone to somewhere in India, and waiting overnight for them to diagnose my case and call me back the next day, I got an expert who told me I had a machine problem and was going to have to contact Dell, and most likely do a total factory restore.
If you've never done a factory restore on your computer, it's like putting your machine back in the state it was when you brought it home.
My heart of course sank when I heard this news, as images of painstakingly reinstalling and restoring all the programs, drivers, devices, software, and files that weren't part of the factory settings danced in my brain like so many evil sugar plums.
But, after talking to Dell, I realized I had no choice. I now have a machine that's back in close to its original state, and I'm in the process of putting back various programs, windows updates, new versions of browsers, flash players, and yaddi yaddi yadda.
I can say I am glad I have a carbonite subscription, as it allowed me to restore a whole passel of files with just a few clicks.
OK, enough of that. How about some good news?
I've been taking on more commission jobs, selling china, art, etc. for people. If you're not happy with sales on your own stuff in the last couple months, I urge you to do the same. One of the effects of this economy is many people are considering selling stuff they don't use, even big-ticket stuff. And many times they don't want to do all the legwork.
My friend Barbara gave me almost a complete set of Mikasa china to sell, and then she took off on an overseas trip. Lo and behold, all of the four lots of dinner, salad, and butter plates, as well as the 12 teacups and saucers, sold! And all to the same person.
In Barbara's case, she and her husband are moving to a smaller place. But in this economy, a lot of folks may be thinking about selling extra items they have around -- think oil paintings, silver and silverplate, gold jewelry, and pottery and china. So ask around -- friends, neighbors, others in your community, etc. -- if you're interested in selling things on commission.
~~~~~
Julia Recommends: EasyAuctionsTracker
I tried the EasyAuctionsTracker accounting spreadsheet for eBay and loved it. It is an eBay seller's accounting dream! With a few clicks you can be looking at all your eBay sales data, costs and even keep track of your commissions. EasyAuctionsTracker uses an eBay token and imports all of your eBay transaction information into an Excel spreadsheet. There's a free trial version that allows you to retrieve your January and February transactions, so go try it out at www.EasyAuctionsTracker.com.
~~~~~
Big Bucks Flips: now you can get Yard Salers' Readers best flips, and accompanying tips and rules of thumb, all in one convenient package. The Big Bucks Flips ebook is at a special low rate for newsletter subscribers...only $4.50. Go here).
~~~~~

Now without further ado, let's get to it!
Julia
************************************
1) Adventures at the Local Auction House: The Northern Virginia Edition
************************************

Some of you longtime readers may remember my adventure's at Weschler's auction house in Washington, DC. (You can find it in a back issue if you want to read it).
Well I finally got out to that other auction house in my area, this one called Quinn's Auction Galleries in Falls Church. They have regular Wednesday night auctions, which works better for my schedule than trying to race into DC Tuesday mornings the second my son steps out the door to school (those DC auctions, and especially the books part, start right at 9 a.m.).
Not knowing what to expect, I was pleasantly surprised. The place was well-organized and also had a fun, friendly feeling about it. The auctioneers kept the pace going well, but they were not above cracking jokes when the occasion called for it. (For example, for some reason there were several pieces of clown art. Most of them were cute enough, but one...not so much. The auctioneer, when he got to this clown, said it was "admittedly a scary clown," which got a chuckle from the crowd. That one didn't sell, by the way, but the others did).
The auction runs from 6:30 to 9:15 pm or so, but the nice thing is, at any point after you finish bidding, you can quietly sneak out of the auction room and back to the front of the gallery, grab a box with packing material, and unassumingly start wrapping your purchases. They give you a nice itemized list of everything you've bid on, and you just pay and do your thing.
One thing I did notice: the bidder crowd did thin as the night wore on, and they got to some of the nicer art last, so if you are really serious about art and/or getting a good shot at bidding against fewer folks, I recommend you stay to the very bitter end of these things. (Hmm...the bidder end? OK that was bad, sorry).
In my case, I felt I had spent enough money for one night, and needed to get out of there before more damage was done. But, I do think I got good deals.
My winnings were:
- two lots of Waterford wine glasses, and one champagne glass
- A Meissen teacup and saucer, Dresden tray, and handpainted bottle
- a set of Civil War books from 1887 (they just sold for $265 on eBay and I am praying the winner likes them)
- a lot of ephemera - auction catalogs from the 1920s (I just couldn't resist, although these bad boys will probably sit in my eBay store a long time before they sell)
- a signed Jimmy Durante program (again, couldn't resist)

So what kind of prices can you get on these things, compared to retail, or more importantly, what you can resell them for?
Well, I made a lot of notes while I was there. Here's a listing of what several things wound up selling for, vs. what Quinn's put on the auction list as "retail value" (bearing in mind the "retail value" is not necessarily what the thing would sell for on eBay or another site...it may sell for more, or less):
- Pair of gilt metal figural Grondhals on marble bases.
Retail Value (RV): $300; Sold for: $210.
- Lot of gold painted Pickard china pieces incl. small tray, cream, sugar, etc.
Retail Value (RV): $150; Sold for: $50.
- Vintage erector set in its original box:
Retail Value (RV): $75; Sold for: $20.
- Lot of 7 Heisey tall panel glass stems. Some are yellow & red flashed.
Retail Value (RV): $210; Sold for: $140.
- Antique Asian painting on silk of 2 Tigers.
Retail Value (RV): $150; Sold for: $20. (Wow that one seems an especially good deal).
- Antique yellow painted secretary cabinet with glass doors over a drop front, over 1 wooden drawer on long turned legs.
Retail Value (RV): $1250; Sold for: $180.
I have more, so if you want to hear more, let me know. But I'm planning to go back again soon so can report more then.

************************
The Yard Salers Ning social network has been active lately! To check out the ning Yard Salers social network go here: http://yardsalers.ning.com
Don't forget the facebook group for Yard Salers:
- http://www.new.facebook.com/group.php?gid=27871336031 if you are already a facebook member.
*********************
Coming Soon: The 2009 Update to The First and Most Thorough eBook of eBay Prices: "What Sells on eBay for What" (aka "Julia Classic.").
If you're new to Yard Salers or haven't yet read this ebook jammed with prices and tips for flipping stuff on eBay, you can still get the subscribers' 1/2 price of $12.49 -- an instant download -- by going here. HALF PRICE.

*********************
2) A Foreclosure Estate Sale
*********************

I had a bittersweet estate sale shopping experience the other day. I stumbled upon a foreclosure estate sale.
I happened upon the pink sign by accident, on my way out of the Safeway. It said "Emergency Estate Sale" and the description of where it was matched that of my own neighborhood. Intrigued, I drove down one of the center streets of the neighborhood on the way home, and there it was, a bunch of stuff out on a curb and also under a carport. The shrubs and branches had grown thick around the yard so you couldn't see the house or the inner yard too well.
Most of the stuff was haphazardly strewn about on the side of the road, as it was in the house as well. (People were evidently going in the house too, but it wasn't too well organized or clear what was for sale where).
I talked to the guy holding the sale and he said it was an eviction, so I at first thought he was evicting a tenant and that he was the landlord. But it later became clear he was the evicted party. In fact he was worried a lot of the time that the sheriff was going to show up.
I bought a few things from him but didn't really dicker down, other than not buying certain things he was offering me. I figured he needed the money. There but for the grace of God go a lot of us, I suppose.
I'm not sure where he was going or what he was going to do, but he made a joke about camping. He may have been serious.
Certain things he was not willing to let go. I think it's one way of exerting control over your life when you've clearly lost control otherwise. For example, I bought a few cd's from him, but when I asked him about an Alanis Morrissette cd, he said "No, I'm keeping this one." Maybe her brand of emotional music would be cathartic for him.
He had a set of four lovely mirrored mosaic objects...a mirror, pitcher,tray and vase. He was trying to sell them to me as a group, and I did buy the tray and vase for a fair price, but he decided to keep the mirror, which was really the loveliest piece of them all. I wondered what they meant to him, or if some former girlfriend had made them for him? Who knows. I'm glad he kept it. He had a lot of cookbooks and said at one point he used to run a restaurant on the Upper East Side in New York City.
Well, I'm not sure where I'm going with this -- just that sometimes these sales can be sad. Though buying things at fair prices from folks having these sales is helping them out, I think, because they really need the cash.
But it's sad when people take advantage. At one point he was trying to sell me this very nice wooden apothecary dresser, with an old antique shop price tag inside of $895.
He offered it to me for $100, but I declined because I really have nowhere to put it.
The next day I came back and he said someone had stolen it during the night.
Ah well..we'll see what the Spring brings..will it be more of these moving and foreclosure sales? And though I love a good yard sale I don't like to see people in a tough situation.
The whole thing brought to mind, to me, a phrase from the Russell Baker memoir "Growing Up" (an excellent book, by the way), where he talks about how people simply drifted away during the Depression. His mother had dated a young European man for a while, and the man had then lost his job and then sort of just disappeared. She received a strange letter from him later saying, in his broken English, he was "lost and going..." and in effect apologizing for taking off.
"Lost and going"...I hope that estate sale runner is Ok wherever he is.

**************************************
Garage sale and wholesaler expert Pat Bateman has put together a fabulous ebook about making regular income with yard sales, finding wholesale goods to sell, using drop shippers, and more. Right now I'm offering it at a special preview price for $8.95. PayPal me at juliawilk@aol.com and you will receive the ebook via email, usually within hours.
***************************************
Succeed as an eBay Affiliate:
Click Here!
Build A Niche Store (BANS) is a store / website development platform which enables you to create content-based sites that generate income through the eBay affiliate programs.
**************************************
3) Flips Contest for February: Profitable Post Cards, Britains, A Catalog, A Funky Old Wrench, Language Software, and More
**************************************

Hey Julia,
I'm about to purchase your flipping eBook and it reminded me to send you a new one.
Last summer I purchased a suede photo album branded "Miami, Florida" filled with vintage photos and real photo postcards (RPPCs) from the 1920s-40s. I paid about $10 for it. I sat on the album for a while waiting until I had time to sort and research the photos.
I finally put up a lot of 4 photos (w/ 2 RPPCs) last week. All four were images of parade floats and seemed like a natural set. I got out the magnifying glass to look for details for the listing and I noticed that on one, beneath a giant paper mache dragon, were two men outfitted as Klansmen. I couldn't tell if this was a pro or anti Klan float but it was certainly a detail worth mentioning.
Another showed a group of athletes in swimming costumes on a float covered with American flags. It was too out of focus to know for sure but I mentioned in the listing that they were possibly Olympians (with a big question mark).
I started the lot at $4.99 and almost immediately I received a request to end the auction and sell the lot for $35. I turned it down (which I always do, since that's a good clue you have something unique) and the auction ended last night for $182.49 (Item # 380094697720).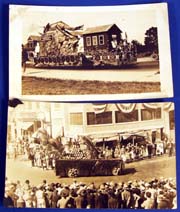 [Two of Will's post card finds, above.]
These were the most promising photos in the album but I imagine I can squeeze at least another $100-200 out of the remaining stack of photos.
Regards,
Will
Check out Will's blog at: http://hangfirebooks.blogspot.com/
Hey Wm.!
Great to hear from you again! How's biz at hangfire books?
What wonderful flips! Thanks so much for sharing with me (and other YS'ers). I love old photos that show historical detail.
Isn't it funny, too, how sometimes the things we sit on for the longest wind up doing the best?
Thx for the entry and watch the next issue for winners! :-)
Julia
~~~~
Dear Julia,
I'm a new subscriber and really enjoyed the newsletter.
I've got a flip of the week, (although not this week) for you.
I purchased a box of craft magazines, patterns, catalogs, assorted items for $2.00. It was the end of the sale and they were anxious to just get rid of the box full of stuff. In the box was a 'Stampin' Up Catalog' from 1992. I listed it on eBay for $.99 and it ended up with 7 bidders, 24 bids and the final price was $105.00. It certainly made my day! Plus I had all of the rest of the items in the box to list and sell. The auction number was 270290900153 if you want to check it out.
[Here's a photo of Audrey's find:]
That's one of the best flips I've had in 8 years of selling on eBay.
By the way, I have been listing items on blujay, it's completely free, no fees of any kind. Have had a little bit of success and keep hoping for the best. My site there is http://www.blujay.com/havamomtwo.
Keep up the good work and newsletter.
Havamom
Audrey
--
Hey Audrey!
Thanks so much for writing!
That's OK; it's more like Flip of the Month these days. ;)
A vintage Stampin' Up catalog did that well..who knew?? I am guessing there is a dedicated cadre of Stampin' Up collectors out there.
I'm really glad u wrote, too, bec. I want to explore the whole niche of crafts and craft supplies more.
Congrats on the flip! You're entered into the contest, and watch the next issue (hopefully by early Feb) for the winners. :)
[Audrey and I emailed a little more after this, and I learned that Lake Havasu, where she lives, is home to "the largest antique ever transported": read on for more:
Hi Julia,
I'm surprised you've never heard of Lake Havasu City, the home of the London Bridge, the largest antique ever transported! And probably the most expensive. And we're not that far from Palm Springs
It's great here, small town with some big town amenities, the lake, weather for the most part is wonderful, what else can you ask for? - Audrey ]
Keep reading, and selling,
Julia
I asked Audrey if she had any tips she could share with us for craft publications that do particularly well, and here's what she said:
Hi Julia,
Yes, I do, and as long as nobody invades Havasu, will help!
Mary Hickmott's Crossstitch magazine sells really well, usually for over $3.00 and on up, a copy. It's a magazine published in the United Kingdom. I've seen larger size lots go for a bunch more! Don't see an awful lot of lots on eBay anymore, as I think others have discovered them.
The other pattern book that sells well is Elizabeth Hiddleson crochet books, they are from the mid 20th century, but are still around. Older crochet and knitting books sell pretty well too. Not out of sight, but if you can get them for $.25 or thereabouts (I pick up whole boxes of craft books and magazines for a couple of bucks) the profit is pretty good. Some individual patterns of Judith Kirby sell well also. Had one recently (picked up for $.10) that sold for over $20.00.
Sometimes it's hit and miss, but every once in a while you get a real 'flip'
Nice talking to you, hope you enjoyed the tips,
Audrey
~~~~~

Hi Julia!
Been awhile since I've written but needed a great flip and I have one! I was cruising the "bay" one day in the "junk box lot" section. I figured if I can't get good junk at the auction I could get it on the bay and I was right! Got a lot of junk, and yes most of it was junk, but there were some lead horses in it and the seller said it "may" say Britain on them. That was the only mention of a name in the description so if people don't search title and description it wouldn't come up and judging from the silly questions I get on my auctions most people don't read descriptions either LOL.
Anyway, I bid and won the lot for $14.95 + $8.90 flat rate shipping. This seller took a lot of pains to wrap every thing individually and it was just perfect!
I took those horses and put them on eBay with Britain in the title and it sold for $148.00!!!
http://cgi.ebay.com/ws/eBayISAPI.dll?ViewItem&rd=1&item=160300107965&ssPageName=STRK:MESO:IT&ih=006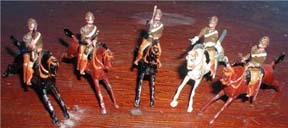 I took the rest of the "junk" and made junk boxes of my own and made another $200 or so when I combined it with other junk I had. I still sell junk boxes but I do it on my husbands eBay account because he sells "man" stuff. I mostly stay with marbles now but I still look for those bargains!
Loving your newsletter and look forward to it every month! Keep up the fantastic work!
If the link is too old let me know because I did save the page and can send it to you. Unfortunately I don't have a link to the original auction I won as it's been too long :(
Rhonda Krol
~~~~~~~~
I thanked Rhonda for her email tho I can't find my email back to her now. I think I mentioned my brother and I collected a whole passel of those when we were kids, buying them with our own money. I still have a huge bunch of Britains, circa 1970s, in a bin in my kids' room.
Those old ones can do really well..great find.
Julia
~~~~~~~~

Hi Julia!
I'm an avid yard saler shopper (and a long-time fan of your newsletter!) who mostly looks for CDs, DVDs, books & video games.
Late this past summer I came across an older version of some Latin language learning software from Rosetta Stone. I knew of the brand from seeing ads in airline travel magazines and their kiosk in one of our local malls, so although the software was a few years old I still thought it might be worth picking it up to try and re-sell. I talked the seller down from $20 to $10 and walked away not being entirely certain of what I had purchased.
Later I made a call to Rosetta Stone and found out that while the software was a few years old, they hadn't updated it since the original release date! I posted it on Amazon.com and earlier today it sold for $153.93! From now on I'll be keeping my eyes peeled for anything from Rosetta Stone!
Thom D.
Alexandria, VA
~~~~~
I thanked Thom for his great flip and said I knew a lot of educational software did well, but I had no idea The Rosetta Stone did so well. Watch for textbooks and especially the software like Thom found at yard sales this Spring.
~~~~~
Next we have one from another devoted reader, Dee, who I actually got to meet in person at the next eBay Live!
Hey Julia!
How goes it? Got a question for ya and a couple of flips I recently had.
Ok...question...I read in your new ebook (yup read it! great!) that you took French. I have two pictures that I bought at a Salvation Army Store one time that have drawings of butterflies, and all the words are in what I think is French. I would like to know who the artist is and what the name of butterflies are and if it is worth anything. I might sell if worth something....if not I will keep. I would like to paint frame if I keep but don't want to do this till I know what I have...lol. If you could help me I would be grateful!!
Ok....here are my flips. Both items came from my dad's collection so I don't know what he paid for them. Most likely he bought them in box lots because that is what he usually did. He went to auctions all the time while I was growing up and sometimes I would go along. This is where I get my love for auctions and box lots...lol. I his early years, he never paid much for anything, later he did buy more collectible stuff. Anyway...here they are...
First one is a Maytag wrench. I had two of them not realizing the size of hole was different. Listed both for starting bid of $8.99. One didnt sell so I put it in my store and it just sold for $5.00 here is item number on eBay...270312104346. They other start getting hits and bids and I was pleasatly surprised the it had 6 bidders with 16 bids and sold for...drum roll please.....103.70!!!!!! Who knew!?!? Here is item number....270308368890. The ONLY thing different was the size of the center hole. I sold some of his other wrenchs and got some good prices. Others are now in my store. So keep your eyes open for old wrenches with company names on them. Ya just never know!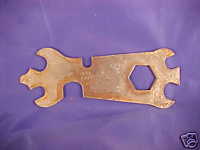 Second flip is an old catalog...which I know are good sellers. You have pointed this out to your newsletter readers. I started this one low (5.99) cause it was in really rough shape...didn't figure it would sell at all, but gave it a shot. Sooooooo glad I did. It is a Heller Allen Catalog of engines and pumps. It got 11 bids with 5 bidders. It finally sold for....drum roll again please.....$91.00! And it was in bad shape!!! WOW! Here is the item number - 270307880405. Both of these items were listed and sold in Dec.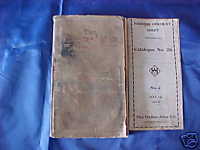 I have a ton more stuff of his to get listed...and then a ton of my stuff. Just listed some items for my husbands aunt...hope they do well.
Please let me know if ya can translate for me. I would like pics I can do that too...thanks in advance...
C-ya, dee
daddys-attic.com
~~~~~~~

OK, now for the winners and almost-winners already. Will gets the grand prize of his choice of one of my paperback books, any of my ebooks he wants, and a cool eBay Devcon army tote bag that I decided I need to pass on. (Don't worry Will, I think I only used it a couple times).
Everyone had great flips, tho, so everyone's getting something. Runners up Audrey, Rhonda, Thom, and Dee all win a free copy of my Big Bucks Flips ebook (if they've already got it they get to pick another ebook), and the last of the Mohican eBay Live collectible tchotchkes, including pins, trading cards, and other assorted fun doo-dads such as any stickers my kids have not peeled off and stuck right on their formerly nice bedroom furniture.
Entrants all, pls. email me at juliawilk@aol.com with your USnail address. :-)
Dee also sent me another couple wonderful flips later..some vintage shot glasses that are too cool. But I decided to run them in the next issue to give her a better chance of winning another prize..ha!
Next issue we'll have more fabulous prizes! So mail in those entries.
*********************
What's the PERFECT eBay product? Learn How To Make Money with information products on ebay.
*********************

*********************
4) Reader Mail
*********************

Way to Offer eBooks as Smaller Type to Save on Ink?
Hi Julia, it's Ray from Wichita. Nice newsletter this time - some interesting stuff. Two things:
1. I want the Big Flips book but I have a printer that eats cartriges that cost a lot. Is there any other way to get the book. Can it be reduced in type size to cut down on pages? You must think I am a real tightwad. If there is no other way, I'll go ahead, but in the future can you explore how we can cut down on the printing cost on our end with eBooks?
2. Please don't take this a criticism, but how about underlining and putting in Bold different section titles of your newsletter so we can surf through and jump around and read. I think research has shown that people puruse through and read the things that interest them most, first. Then they backtrack and read the other sections, i.e. they jump around. It actually increases the time people spend on your newsletter. I think they call it "being sticky." Anyway, just a thought.
Let me know re: Big Flips book. I'll take anyway, but if there's a way to cut on printing costs, I'd rather do it.
Ray, Wichita KS
P.S. I just thought of marketing gimmick. In the future, why not offer the eBooks that come directly from you in two forms: The regular type size for easy reading (and for those who don't have a costly printer problem) and a reduced Penny Pincher format with smaller print and few pages. Anyway, I'll shut up and quick trying to run your business.
Hey Ray! Great to hear from u again.
LOL! No problem...those are great ideas!
One thing I could do is offer it on CD..but that's going to offer some cost in terms of shipping and the cd itself. But, I'd be happy to offer it in a smaller type size. Another thing readers can do is, if they buy it in Word format, simply do ctrl-A to highlight the whole document, and then reduce the point size themselves. That may not make it look as pretty.
It prolly is better for me to do it in order to get all the titles, page #s etc. to line up the new way. your point about using bold and underline is really good. Don't hesitate to write me!
Definitely something to explore. I hear you on paper and ink cost...ink is a killer and I can't believe how much Dell must make on the cartridges I buy.
I told Ray I would also ask folks for ideas. So if you all have ideas out there on ways to more economically or better deliver the Yard Salers ebook experience, do let me know!
The underlining and bold are great ideas...I will def. plan to do that.
Thanks soo much for thinking of me, and fwd'ing folks to me too!
Take care,
Julia
Can You Accept Checks on eBay or What?
A question this time from subscriber Dee, of vintage wrench fame:
Hey!
How's it going? Got a quick question for ya...Since eBay does not allow checks/money orders anymore, I have had some buyers ask if they could pay with a check. I said yes, wasn't a problem for me. So if I mark item paid - and list check as payment, is this gonna cause me a problem? Like - will eBay check it somehow, since it wasn't paid thru Paypal?
Or am I just being paranoid? And then I worry about someone asking me to pay w/check and they report me to eBay if I say "yes"? Just wanted your thoughts on this?
Dee
~~~~~~~
Well, for this one I wasn't sure so went to the expert, Ina Steiner, of AuctionBytes.com, who gives us this meaty advice (thanks again, Ina!):
Hi Julia,
This is the most confusing "policy" ebay has - there are pages on the site that say checks aren't allowed:
http://pages.ebay.com/help/pay/accepted-payment-methods.html
Other methods of payment - While personal checks, cashier's checks, and money orders can be traced to a particular mailing address, most sellers wait for these payments to clear the bank before shipping items to their buyers. Payment by check, cashier's check, or money order isn't allowed for most eBay purchases. Exceptions include vehicles, capital and business equipment, real estate,items in the Adult Only category, and items that will be picked up in person. For details, see http://pages.ebay.com/help/policies/accepted-payments-policy.html>Accepted Payments Policy.
So there it says payment by checks are not allowed; however, eBay employees have said you can accept check if the buyer asks to pay that way. If you look at the Accepted Payments policy, it implies you can't accept checks, but actually says you can't advertise that you accept checks.
http://pages.ebay.com/help/policies/accepted-payments-policy.html
Then look at this blog post and see what eBay customer service tells buyers if sellers refuse to take checks!!!
http://blog.auctionbytes.com/cgi-bin/blog/blog.pl?/pl/2009/2/1233760784.html
What's a seller to do? I guess they should trust their own instincts. In my opinion, it's a catch-22 for sellers.
Ina
Thanks again, Ina! Wow, is that about as clear as mud for everyone? I think that's a sign I better end this issue already. Hope to have the next issue out sooner than I got this one out, and that the Computer Powers that Be will let me work away in peace for awhile.
See you next time, all!
Julia
Do you like this newsletter? Please forward it (in its entirety) to a friend! Just go to http://www.yardsalers.net and see the "Subscribe" box on top.

**Don't have five minutes to read the newsletter now? Print it out and read later.**
[For more writing and photos throughout the month, check out Julia's bidbits blog at http://www.bidbits,net ]
******************************
"Selling on 'The River': Hedging Your Bets on Amazon"
Between eBay and amazon, you're looking at over 100 million visitors per month. Why not harness the power of both?
At $29.97, I think it's a good value. And you also get:
- "25 Things eBay Sellers Must Know about Selling on Amazon" and
- SPECIAL BONUS - "How to Scout for Top Sellers with Your Cell Phone."
******************************

******************************
The eBay Seller's Guide to Finding Profitable Hidden Bargains at Garage Sales
Find out here.
*******************
Would you like your own fully customisable ebook website pulling in profits day after day, month after month, year after year, complete with video tutorials showing you EXACTLY how to get set up and running? Find out here.
*******************

That's it for this issue. Until next time! - Julia

------------------

Questions about My eBooks Ordering
You can certainly purchase from me directly, as can anyone. Most of my ebooks are now available via the website's bookstore at www.yardsalers.net/bookstore. Any others you have questions about, all you have to do is email me and let me know which ebook(s) you want, if you are a subscriber and thus eligible for the discount, and then PayPal me to my PayPal id at juliawilk@aol.com. I'll be tweaking and updating the ebooks page on my web site soon.

-----------------------------------------------

Do you have a Flip of the Week? I'd love to hear about it! Email me at juliawilk@aol.com and let me know.
-----------------------------------------------
Nonfiction Books that Sell for $50 - $250 on eBay:


or
Buy Now
*********************

I am always open to reader articles, so if you want to write about something relating to yard sale-ing and eBaying, just flag me down! I will of course give you credit, using your eBay ID, web site, or any other contact info.
------------------------------------
eBooks by Julia L. Wilkinson:
[All my ebooks are offered at 1/2 price from their regular prices to the subscribers of this newsletter. If interested in any of them, please email me at juliawilk@aol.com.]
- How to Spot Fakes: email me!
*********************

Blogs, Blogs, and More Blogs
Check out My amazon.com Author Blog

Those of you who just can't get enough of my writing (are there any of you?) will be happy to know I now have a new blog on amazon.com. Amazon.com has created an "author blog" tool for authors to...well, blog. You'll see it if you bring up either of my books on the amazon site, but for good measure, it's at: http://www.amazon.com/gp/product/1593270550. (Scroll down to "amazonConnect").
My TypePad Blog, "Bidbits"
You can also check out my typepad blog, "bidbits": bidbits

********************************

Do you have your copy of Julia's book, eBay Top 100 Simplified Tips & Tricks?

It's available on amazon.com and barnesandnoble.com. If you do want to order the book, I'd appreciate if you'd support Yard Salers and eBayers by using my affiliate link below.

********************************


----------------------
Copyright 2009 J.L. Wilkinson LLC
----------------------

Thank you for subscribing to Yard Salers. Yard Salers email newsletter may be freely distributed in its entirety, so please pass it on. You may reprint any of the articles in this newsletter for any purpose as long as no portion of the article is modified without permission, and this tagline is included:
Yard Salers, www.yardsalers.net
Publisher, Julia Wilkinson, author of the award-winning "eBay Price Guide." and "What Sells on eBay for What"

No part of this publication may be reproduced or stored in a retrieval system, in any form or by any means, electronic, mechanical, photocopy, recording, or otherwise, without the prior written permission of the publisher. Yard Salers makes diligent efforts to obtain accurate and timely information. However, Yard Salers disclaims any liability to any party for any loss or damage caused by errors or omissions in Yard Salers, whether or not such errors or omissions result from negligence, accident or any other cause.
End