ISSUE 58: Nov 25, 2008
Yard Salers: Nov. 25: The Basket People, Gifts that Keep on Giving
Subscribe at: www.yardsalers.net

Please forward to a friend!
Hello, all!
Please forgive me for the lateness of this issue. The family has been felled by illness in recent weeks..well, specifically, my son and then I. I won't bore you with the details, but suffice to say if I had it to do over, I would get that flu shot.
I've been to a few memorable estate sales since last writing you all. One of them has stuck in my mind with the phrase "The Basket People." I'll explain why in the first article in this issue.
Another cool one was in a house in Southern Maryland, which had its own barn, and I shall heretofore reference it as "The Barn Sale." I figure it can't hurt to give your sales nicknames.
A third one I simply chanced upon via craigslist.
I find craigslist to be pretty hit-and-miss. The thing is, you're going to miss the hits if you don't look regularly. One of the nicest things I saw on there recently was this lovely wooden cabinet/sideboard by Broyhill -- that someone was just giving away for free because they were moving! I thought, someone could probably make a whole business by hiring two burly guys to haul off good free furniture, storing it in their house or warehouse (you would need a room or two or more for storage), and then reselling it on eBay as a local pickup auction, or even on craigslist itself, or other site. Maybe even rubylane.com if it's an antique.
Now, my husband would cry especially foul if I started hauling home whole pieces of furniture, instead of the smaller items like dishes and books he puts up with now.
And, of course, some of the stuff being given away for sale is...just, well, butt-ugly, if you'll pardon my French.
Back to this good sale, though. Speaking of larger items...usually, yes, I stick to smaller items..books, jewelry, maybe art that's not too huge..but I saw some things I just could not pass up.
Two antique chandeliers. And sconces. One for only $35, with a solid brass fixture and real leaded crystals. I was actually poking through a few large stacks of cd's, not hopeful of finding much, when I heard the lady giving the sale talking about how she was surprised no one had yet bought these two great antique chandeliers they had for sale. Everyone had come for the tools and building material.
In fact, the sale had been advertised as mainly a tools sale..with something like, "Men..don't miss this sale!"
I picked up the smaller chandelier and saw that it was very nicely made. It was also small enough that I could easily put it in the car, and it could be shipped for a non-astronomical price if I put it up on eBay.
I bought it for $35 and it sold for $149 a week later. The lady who bought it got a good deal (I think it would retail for $300-$400), I got a good deal, and the people who got rid of it just wanted to get rid of it.
The other chandelier is quite a bit bigger, but it was so lovely and had such an interesting backstory (it was allegedly brought over from France by Lillian Russell, and the house actually had some reclaimed stained glass from a Russell estate in it which I saw with my own eyes, so I believe it). It also had an old door which had been in one of Winston Churchill's office, and was the coolest thing.
It did not sell on the first go-round on eBay (one reason being I had to do it as a local pickup; it is just too heavy), so I have it in my store and have one lady interested in it who's tying to figure out a ride for the thing. Yes, the lovely old chandelier is going to try to hitchhike.
Another interesting find I got there was a wonderful old US Naval commission document which had been signed (most likely by autopen) by Andrew Johnson. I got it for $25 and it sold for close to $200.
These finds just show you, you never know about a sale. Sometimes you just have to show up and see for your own eyes. As Woody Allen said (I think it was he), 90% of life is showing up.
As to the "miss" part of craigslist, sometimes things can seem pretty overpriced. I came across this one posting I thought was funny, from one person frustrated with this situation...I thought I'd share it with you all. It's snarky but funny:
HEY, JEWELERY SELLERS...WAKE UP TO REALITY!!!!! - $1
Reply to: xxxxxx Date: 2008-10-30, 5:28PM EDT
It's about time that all jewelery sellers woke up and realized certain things: 1) saying that you are sacrificing something for a portion of the appraisal price is ridiculous because we all know that appraisal values are marked up at least 100%;
2) the original retail price that you paid for something from a chain jewelery store is even more ridiculous because we all know that stores mark up prices 200%;
3) used jewelry (and that is what you are selling) is worth much less than new jewelry;
4) you need to lower your expectations in this economic environment as you obviously need money if you are selling something;
5) BUYERS DETERMINE MARKET VALUE AND SOMETHING IS ONLY WORTH WHAT SOMEONE IS WILLING TO PAY FOR IT, NOT WHAT YOU MAY THINK IT IS WORTH. IF SOMEONE THOUGHT YOUR SELLING PRICE FAIR, YOUR JEWELRY WOULD HAVE SOLD ALREADY! Many of you have re-posted the same ad for your same, unsold jewelry for over two months. Why? Because no one thinks your price to be fair! Wake up! Stop getting mad at others for offering much less than your unrealistic asking prices. Their offer prices to buy are actually much more realistic than your offer prices to sell. They have the cash, you need the cash. Figure it out.
~~~~~
OK...welllll..'nuff said.
And before I forget...the "gifts that keep on giving" in this newsletter's title is...estate-sale sourced earth-friendly wrapping "paper" -- by this I mean one or two scarves in holiday colors, which you can get for a song (look for red, green, gold or holiday pattern), tie them around your gift box, and secure with a sparkly dirt-cheap rhinestone or othe festive brooch you got at a yard sale.
It keeps on giving because they can wear their wrapping paper, or use it to wrap someone else's gift.
There's more in this issue, about making lemons from the current economic (as in bad) environment, and more. But let's go ahead and get into it.
Meantime, everyone have a happy and safe Thanksgiving, and I hope your Black Friday puts you very much in the black. B-)
Julia
*********************
Garage sale and wholesaler expert Pat Bateman has put together a fabulous ebook about making regular income with yard sales, finding wholesale goods to sell, using drop shippers, and more. Right now I'm offering it at a special preview price for $8.95. PayPal me at juliawilk@aol.com and you will receive the ebook via email, usually within hours.
*********************

Don't forget the facebook group for Yard Salers:
- http://www.new.facebook.com/group.php?gid=27871336031 if you are already a facebook member.
Or, go to facebook, select the "Groups," and search for the "Yard Salers." Once you have clicked into the group, you simply join using the "join" link. (You do need a facebook account to do all this).
To check out the ning Yard Salers social network go here:
http://yardsalers.ning.com
*********************
The First and Most Thorough eBook of eBay Prices: "What Sells on eBay for What" (aka "Julia Classic.").
If you're new to Yard Salers or haven't yet read this ebook jammed with prices and tips for flipping stuff on eBay, you can still get the subscribers' 1/2 price of $12.49 -- an instant download -- by going here. HALF PRICE.
*************************
In This Issue:
*************************
1) The Basket People
2) Flip of the Week Contest 11: Wedgwood, American Folk Art Vase, Cool 80s Skateboard
3) Coasting on the Ivory Coast and Other Bad Puns
4) Stores Closing - An Opp to Buy Closeouts
5) Reader Mail
*************************

*********************
1) The Basket People: the Longaberger Mother Load
*********************

I'd heard a lot about Longaberger baskets, and how well they sell, what good products they are, how they last forever, blah, blah, blah, but never come across any. For me, it takes actually seeing something in person to get excited about it.
Well, a few weeks back was my weekend for Longaberger. I drove past a sign for an estate sale that I hadn't seen advertised on craigslist or the paper. And it was only one sign off one of our main local roads, close to the sale's street. So not many people knew about it.
Of course, I had to investigate. I pull up, and there they are. Baskets...lots and lots of baskets. All out in the front yard. Or so I thought.
I poked through many cutesy Longaberger fabric-lined, limited edition basets, trying to find ones that would resell well.
Then the ladies running the sale said there was more in the house. Hoo-boy, was there! This was one of those totally unsorted, messy sales...everything strewn all over. Looks terrible, unless you're a shopper who doesn't mind digging through all that stuff, like I do...not to mention it's better to find under-the-radar items that way.
One room off the main level had mugs, baskets, basket lids, Fenton vases, etc. etc. and so forth, all over the floor and on some shelves. I got three Fenton vases for $10 each..one of which had a Longaberger signature on it. and I plucked a nice Longaberger American Work basket, a very nice sturdy basket with a wooden lid, off the shelf behind a bunch of other stuff.
The basement was a bonanza -- Longaberger placemats, shower curtains, valances, more baskets...large market baskets, smaller market baskets, and even craft supplies. One room in the basement was so full of boxes stacked with Longaberger stuff, the cleared space on the floor was only one person wide, and you'd have to trade places with anyone standing there or you couldn't get to the back of the room to dig.
Well, as an aside, I just have to mention that is one of the things I find very annoying at these sales, when someone is just planted there going through stuff in a tight space, blocking access to everyone else. That was the case in this room. I wanted to pick my way through the boxes in the back, but this lady had plunked herself down in a seat blocking the way, and was slowly and methodically rooting through stuff in a secretary desk on the side of the wall. Well, I didn't feel like dealing with the situation, and there were two other full rooms to explore, so I moved on.
In the end, I picked up several brand new Longaberger shower curtains, placemats, a valance, fabric basket liners, two market baskets, the aforementioned American Work basket, and two collectible fabric-embellished baskets with plaques. Not to mention the Fenton vases! Oh, and a scrapbook kit.
So who were the basket people?
Well, I saw them the second day. That's right, I went back the next day of the sale. There was a huge wall made of Longaberger baskets and other products, all stacked in a row on the lawn outside the front of this house, and a very serious woman was standing in front it with her arms crossed. I thought at first she was simply one of the people working the sale, and asked her a question about pricing or such, and she let me know in no uncertain terms that none of that stuff behind her was for sale, but that she was guarding it.
Sure enough, a couple SUVs and a truck pull up with more people...who I shall call The Basket People, and they loaded up baskets like you wouldn't believe in their vehicles. I don't know what they paid for all that stuff, but I'm sure it wasn't cheap. However, it was cheap enough that they were probably going to make a killing on all that stuff.
Well, I had my little haul, and I also knew I had some learning to do about what prices these baskets would actually realize on eBay, so I was OK with it. But again, I think people could be nicer at these sales sometimes. But you all have heard me go on about that before.
So what did I learn?
- Some of the most valuable and collectible baskets are labeled "J.W.," which are a limited edition named after the founder's first and middle initials. For example, one recently sold for $305.00. However, it was pretty vintage and rare. But they all tend to do well.
- Bigger is usually better. The hampers retail for around $300 -- they were selling one for around $100 at the sale, but a lady was hovering around it and at that time I didn't know what they resold for, so I didn't go for it.
The big picnic and market baskets do very well too.
- People love basket "combos" where you offer a fabric liner, plastic protector, wooden lid, etc. etc...so if you get a chance to buy accessories, to sell with baskets or separately, go for it.
- Longaberger is known for its quality and being long-lasting. I have already found this to be true with the four placemats and market basket I kept for myself. The placemats are very sturdy and have withstood washing and even my putting them in the dryer a few times, when they are really supposed to dry flat.
That's right...sometimes it's good to keep a few items for yourself! It will also remind you of that really fabulous sale you came across when you see them.
I also bought a set of brand-new placemats in a lovely blue/teal color to give to my sister for Christmas. (I don't think she reads this newsletter-- let's hope). That's right...estate sales are great places to get inexpensive but quality holiday gifts. But that's a whole 'nother article!
**************************************
Succeed as an eBay Affiliate:
Click Here!
Build A Niche Store (BANS) is a store / website development platform which enables you to create content-based sites that generate income through the eBay affiliate programs.
*********************
2) Flip of the Week Contest 11: Cool '80s Skateboard, Wedgwood, Signed Vase amid the Junk
*********************

[ To enter the next contest, simply email me at juliawilk@aol.com with the story of your find!]
Hi Julia,
I found your blog while searching for the 26 mile yard sale in Alabama. I signed up for your newsletter and have really enjoyed the few I've read. I'm going to check out the archived ones. This is a story about my best flip.
My husband is a licensed auctioneer and we own a live auction house in Pine Mountain, GA. When we are not having our own auction; we are at some other auction or yard sale. Believe it or not we can buy at a yard sale and make money selling at a live auction. We are certified yard sale and auction addicts!
Recently a small local live auction advertised an Antiques and Collectible Estate Auction. When we got there we were sooooo disappointed. There were no antiques; only JUNK with a capital J. Box deals of old telephones. Dollar store collectibles (is there such a thing?) Anyway, you get the idea.
They did a table choice full of such box deals and invited everyone to come up and look. I went of course, I canít pass up looking at old junk; always in search of the TREASURE that someone missed. And there it was lying on itís side in the middle of all those old worthless huge cordless phones that they donít make batteries for any more, and broken and repaired dollar store items. I acted not very interested but bid $2.00. No one else bid and I got my choice of all those boxes of treasure.
The pottery vase I had spotted had a mark on the bottom of a potter at a potters wheel and Pisgah Forest 1939. That night about midnight when we got home I looked at the completed listings on eBay and there was one that sold for around $50.00.
I looked at current listing and there was one listed for $50.99 that was ending the next night.
I listed mine early the next morning so Maybe the person bidding on the other one could have a pair. I listed it for $35.00.
A fair price I thought because mine wasnít perfect. Some glaze flaking off around the bottom of the piece. Within a few hours I had my minimum bid. The next morning it was at $100.00 and closed at a phenomenal $178.50. Here is the link. It was purchased by the curator of a museum in Washington state. http://cgi.ebay.com/ws/eBayISAPI.dll?ViewItem&rd=1&item=190243941367&ssPageName=STRK:MESE:IT
Here is the listing:
Turquoise Vase Pisgah
Forest 1939 North
Carolina Pottery
Estate Sale
This beautiful old piece is really special. It is large 9 inches tall by 19 inches around the widest part. The base and the mouth are both 4 inches across. It has a beautiful turquoise crackle glaze and the inside is a creamy pink color. Both colors are vivid not faded at all.
This piece has the following trademarks: Pisgah Forest 1939 with the logo of a potter working at the potter wheel. (see the pictures) The condition of this item is good there are no breaks, cracks, or repairs there is however; a lot of crazing or it may be the type of glaze that is crackled (enlarge the picture and it will be visible), also around the very bottom edge of the piece on one side there is some chipping off of the glaze.
It can still be displayed and look good by turning the side with the chipping to the back (again if you enlarge the pictures you can see it.) I took a couple of pictures up close of this area. There is also some bubble pops inside the mouth (again see close up picture.) These small imperfections donít detract from the value or beauty of old pottery; it is still a fine example of American folk art.
Here is some information from the website of the Mint Potters Museum in North Carolina:
In 1901, W.B. Stephen and his mother, Mrs. Andrew Stephen opened their first pottery in Western Tennessee, named Nonconnah Pottery. Later, in 1913, after the death of his mother, W. B (Walter) Stephen opened the Pisgah Forest Pottery, at the foot of Mount Pisgah, in Ardon, N.C. The pottery is chiefly known for a turquoise blue glaze that is sometimes crackled.
Marks vary from "Pisgah Forest Pottery," with or without a rough motif of a potter at work, to "Stephen."
The Pisgah Forest Pottery was owned and operated by W.B. (Walter) Stephen from 1926 to 1961. Today, the pottery is operated by Tom Case, who is the grandson of Walter Stephen.
Many of the pieces produced at Pisgah Forest in the early 1900's are excellent examples of American folk art. A number of museums such as the Smithsonian, the North Carolina Museum of Art, and the Mint Museum in Charlotte own examples of Pisgah Forest Pottery. inches
My user ID is countrysideauction and my eBay store is Countryside Auction.
I have been selling on ebay actively since May 22, 2008 after I stumbled on one of Lynne Dralle's articles and was inspired beyond all reasoning; to jump in deep with both feet!!
----
Hey there countryside auction! ;) Sooo sorry for the delay; I know this is pathetically late. Two family members (incl. myself) have had a horrible flu. A new newsletter is percolating now and I will def. put your entry in.
Great find! Don't you love it when those lame sales redeem themselves with that one special item? I think that's what keeps us at it. ;)
A lovely vase indeed...I always turn those things over and look for a mark..lately my luck has not been so good! I bet you have a lot of great finds if you run an auction house.
Well thanks again for the entry...new newsletter coming soon!
Keep selling! Julia
~~
Hi Julia,
I can't find the link to send along my "Flip Of The Week".
[Note from Julia: there actually is no link per se, tho I should create one; you simply email your find story to me at juliawilk@aol.com.]
However, if you're accepting them here, here it is:
I reluctantly went to an auction with my husband in Pennsylvania, and we were only there to look around, but I couldn't resist the urge to bid on the lower-priced table items.
I struck up a conversation with an actual antique dealer who kept nudging me in the side whispering "bid on that, bid on that!" I took her advice and raised my paddle and won a big (really big) box of porcelain plates and bowls for $7.50. Well I let it sit for 6 months and last week I went through it and found a dinner plate that was selling in the range of $99.95.
I figured, "whole box, $7.50," I'll be conservative and list the plate at $59.95 and it sold for $66.01. WOW! A dinner plate for $66?!? Who would have ever thought? Now I'm going to try to sell the bowls too -
Oh, ALL WEDGWOOD COLUMBIA GOLD (Sage Green).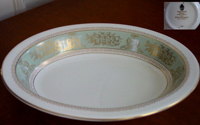 [Note from Julia: The above photo is not Bev's actual find, but a photo of a similar plate in that pattern I got off eBay].
lol,
Bev
Women and cats will do as they please. Men and dogs should just relax and try to get used to the idea.
~~
Hey Bev!
I'm sorry -- I think I missed seeing this flip on time! That's wonderful...Wedgwood stuff can be awesome. :-) Hard to believe a plate can sell for that much..but it can, and more! I think I wrote a while back about how I bought a reticulated old Meissen cabinet plate for $150 and sold it for about $300. The book value on it was even more.
I'll enter you in the next flip contest, as I just sent the last newsletter out. Great entry and thanks for your patience.
Keep reading and selling,
Julia
~~~~

Hi Julia!
I've been reading your newsletter for about a year now and have always wanted to send in a unique flip idea and finally got my chance recently!
My husband was a skateboarder in his day and has always told me to look for old skateboards during my garage sale-ing hours. I know I've seen a few but I just didn't believe him that those old broken looking boards were worth anything. But one brave morning, my friends and I hit a sale where I spent a lot of time because I found a whole tub of Legos for my son (oh, if only I could eBay them - it would break his heart!) and the teenager selling them told me the price was $5. Well, while I was drooling over the tub of Legos, I noticed an old broken down skateboard leaning up against their mailbox.
For some reason it caught my eye. My friends and I left the sale and as we drove away, I started to realize that the stickers on it were for 1980's skate brands. Not sure how I remembered those brands -- maybe because I grew up in a surfing town where skaters and surfers were sometimes one and the same. I saw "Jimmy-Z", "Gotcha", and "Airwalk" stickers. I asked my friend Andrea to slow down after we turned around and I rolled down my window. I asked him how much for the skateboard and he said $4. I took the chance, paid him, and put the skateboard in the trunk.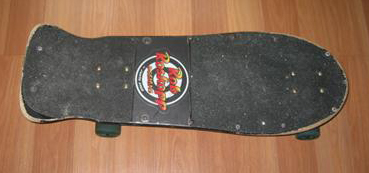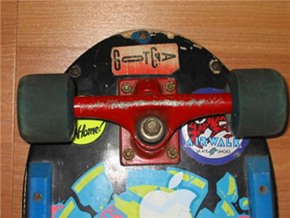 The minute I walked through the door with my garage sale finds, my husband's eyes lit up.. Apparently he had a similar board and it was rare. We looked it up and it was a "Santa Cruz" Rob Roskopp #3. Who knew? I sold it last week for $147.
It's sold for a lot more in the past but my husband says my pictures falsely make it look like there is damage. No use crying over spilt milk, however, as I'm happy with my $143 profit!
Here's my auction link: http://cgi.ebay.com/ws/eBayISAPI.dll?ViewItem&rd=1&item=280269754830&ssPageName=STRK:MESO:IT&ih=018
Thanks, Malia
~~~
Hey Malia! So sorry for the delay...son has been ill, various other random stuff that slows me down. Wow..that is so fun about the skateboard! Another niche I don't think I ever thought of. Esp. that the '80s skateboard stickers, brands etc are so desirable.
It's funny..I bought a board that looked a lot like that one, minus the stickers, for my son for a few bucks..gonna have to go back and take a look at it!
You're entered into the contest..thx so much and watch for a new issue soon!
:)
Happy selling,
Julia
OK, so for the winners..countrysideauctions and Malia tie for first...you'll win a set of eBay-related books or a complete set of eBay collectible pins. Bev is runner up and wins a tote bag and the other eBay trinkets I have left from eBay Live 2008 (oh the suspense of it all!).
Entrants all, pls. email me at juliawilk@aol.com with your USnail address. :-)
Next issue we'll have more fabulous prizes! So mail in those entries.
*********************
What's the PERFECT eBay product? Learn How To Make Money with information products on ebay.
*********************

Do you like this newsletter? Please forward it (in its entirety) to a friend! Just go to http://www.yardsalers.net and see the "Subscribe" box on top.

**Don't have five minutes to read the newsletter now? Print it out and read later.**
[For more writing and photos throughout the month, check out Julia's bidbits blog at http://www.bidbits,net ]
******************************
"Selling on 'The River': Hedging Your Bets on Amazon"
Between eBay and amazon, you're looking at over 100 million visitors per month. Why not harness the power of both?
At $29.97, I think it's a good value. And you also get:
- "25 Things eBay Sellers Must Know about Selling on Amazon" and
- SPECIAL BONUS - "How to Scout for Top Sellers with Your Cell Phone."
*********************
3) Coasting on the Ivory Coast and Other Bad Puns
*********************

Plastics. That's what the guy said the future would be in "The Graduate."
I have two other words for you: ivory. And turquoise. OK, so that's three words, but you get the idea.
These are the substances in what I think are some of the last under-the radar finds in the costume jewelry bins at estate sales. (And we know the fine jewelry in the case can have some not-so-great prices).
At first I hesitated to share this tip, lest any of you out there might be going to the same sales as I. But I think the odds of that are slim, and in general it's better to share information, especially in my business. (And what business would that be, you ask? Why, sharing information and selling ebooks!). And even if we are going to the same sales, there's usually plenty for everyone.
Ivory is not for everyone, and you need to carry a loupe or magnifying glass on you to sales so you can examine the pieces for the giveaway cross-hatching and striating that will show it to be real ivory. It's also close to white or white/uniform in color, whereas bone tends to be darker.
Another thing about real ivory is that it will be heavy compared to plastic. And the ultimate test, to be done at home, is to light the sharp tip of a safety pin and touch it to a not-so-noticeable surface of the piece, and see if the piece burns. If it doesn't melt, but you smell a substance skin to when a dentist drills your teeth, it's real ivory.
The carved pieces tend to do best, and I've found that pieces that sell for a couple bucks will go for $30-$100 and up.
Happy hunting! Be sure to follow eBay's rules about listing real ivory.
**************************************
4) Stores Closing - An Opportunity to Buy Closeouts **************************************

I got this email from a friend and it's meant to caution people about buying gift cards from these stores for the holidays. But to me it says another thing..look for closeout sales from these companies! (Sorry to sound like a bottom-feeder, but hey, they are going to need people to buy this stuff!).
Here it is:
I want to give everyone a heads up that if you intend to give gift cards around the holidays, you need to be careful that the cards will be honored after the holidays.
Stores that are planning to close after Christmas are still selling the cards through the holidays even though the cards will be worthless January
There is no law preventing them from doing this. On the contrary, it is referred to as Bankruptcy Planning. Below is a partial list of stores that you need to be cautious about.
- Circuit City (filed Chapter 11)
- Ann Taylor - 117 stores nationwide closing
- Lane Bryant, Fashion Bug, and Catherine's to close 150 stores nationwide
- Eddie Bauer to close stores 27 stores and more after January
- Cache will close all stores
- Talbots closing down specialty stores
- J. Jill closing all stores (owned by Talbots)
- Pacific Sunwear (also owned by Talbots)
- GAP closing 85 stores
- Footlocker closing 140 stores more to close after January
- Wickes Furniture closing down
- Levitz closing down remaining stores
- Bombay closing remaining stores
- Zales closing down 82 stores and 105 after January
- Whitehall closing all stores
- Piercing Pagoda closing all stores
- Disney closing 98 stores and will close more after January.
- Home Depot closing 15 stores 1 in NJ (New Brunswick)
- Macy's to close 9 stores after January
- Linens and Things closing all stores
- Movie Galley Closing all stores
- Pep Boys Closing 33 stores
- Sprint/Nextel closing 133 stores
- JC Penney closing a number of stores after January
- Ethan Allen closing down 12 stores
- Wilson Leather closing down all stores
- Sharper Image closing down all stores
- K B Toys closing 356 stores
- Loews to close down some stores
- Dillard's to close some stores

***************
5) Reader Mail
***************

Hi Julia,
I am not the type of person to write, except for now.
Does anybody know of another online site that we could list auctions on, because we have had it with being told or forced into having to accept ebayís paypal.
They block your listings, if you do not go and sign up with pay the pal
I and it seems like many others could use another web site to list items and we all could promote the new site, like we did with ebay.
Any help I would greatly appreciate,
Suzanne
~~~~

Hi Suzanne,
Thanks for writing! Excellent question. I've been pondering it for a while -- and I'm sorry this is so late.
Yes, I do think that some other sites are emerging out of the fray, mostly in niche areas, to become viable alternatives to eBay, if not as massive as eBay. Tho eBay is still the big daddy of everything but the kitchen sink and we'll have to see where that goes. I do think it behooves all sellers to branch out and multi-list as much as they can. Here's a quick rundown:
- Antiques/Collectibles
- Ruby Lane is a good site for higher-end collectibles and antiques.
- Also TIAS.com.
- Books, Music, Videos, and even Some Other Stuff
- amazon.com. Listing on there is ridiculously easy, especially if you have a "cue cat" scanner that scans in your ISBN numbers for you. (More on that in another issue).
- alibris, abebooks: lots of books, prices higher than eBay in general, but it's another choice in the book world and great for rare books.
- Crafts and Jewelery, esp. handmade:
- etsy, etsy, etsy.com! Getting good traction. Also a great place to shop. :)
- China, Dishes, Pottery
- Well eBay is still the best place, imo, but replacements.com has great variety and healthy prices. Also, TIAS and rubylane.
What else will emerge in 2009, or will the landscape change? Stay tuned!
Oh, and let's not forget our own standalone web sites! It behooves most serious sellers to have one.
Best of luck selling!
Julia
That's it for this issue..see you next issue! Have safe and happy Thanksgiving, all! Remember...list, list, list...these coming weeks are the most lucrative time of the year!
Julia
******************************
SUBSCRIBE TO BOOKTHINK'S QUARTERLY MARKET REPORT OF COMMON, PROFITABLE BOOKS.
New! Includes 100 easy-to-find books that sell for $30 and up. $49.99 annually or $19.99 for individual issues.
Click here to subscribe.
******************************

******************************

******************************
The eBay Seller's Guide to Finding Profitable Hidden Bargains at Garage Sales
Find out here.
*******************
Would you like your own fully customisable ebook website pulling in profits day after day, month after month, year after year, complete with video tutorials showing you EXACTLY how to get set up and running? Find out here.

That's it for this issue. Until next time! - Julia

------------------

Questions about My eBooks Ordering
You can certainly purchase from me directly, as can anyone. Most of my ebooks are now available via the website's bookstore at www.yardsalers.net/bookstore. Any others you have questions about, all you have to do is email me and let me know which ebook(s) you want, if you are a subscriber and thus eligible for the discount, and then PayPal me to my PayPal id at juliawilk@aol.com. I'll be tweaking and updating the ebooks page on my web site soon.

-----------------------------------------------

Do you have a Flip of the Week? I'd love to hear about it! Email me at juliawilk@aol.com and let me know.
-----------------------------------------------
Nonfiction Books that Sell for $50 - $250 on eBay:


or
Buy Now
*********************

I am always open to reader articles, so if you want to write about something relating to yard sale-ing and eBaying, just flag me down! I will of course give you credit, using your eBay ID, web site, or any other contact info.
------------------------------------
eBooks by Julia L. Wilkinson:
[All my ebooks are offered at 1/2 price from their regular prices to the subscribers of this newsletter. If interested in any of them, please email me at juliawilk@aol.com.]
- How to Spot Fakes: email me!
*********************

Blogs, Blogs, and More Blogs
Check out My amazon.com Author Blog

Those of you who just can't get enough of my writing (are there any of you?) will be happy to know I now have a new blog on amazon.com. Amazon.com has created an "author blog" tool for authors to...well, blog. You'll see it if you bring up either of my books on the amazon site, but for good measure, it's at: http://www.amazon.com/gp/product/1593270550. (Scroll down to "amazonConnect").
My TypePad Blog, "Bidbits"
You can also check out my typepad blog, "bidbits": bidbits

********************************

Do you have your copy of Julia's book, eBay Top 100 Simplified Tips & Tricks?

It's available on amazon.com and barnesandnoble.com. If you do want to order the book, I'd appreciate if you'd support Yard Salers and eBayers by using my affiliate link below.

********************************


----------------------
Copyright 2008 Julia L. Wilkinson
----------------------

Thank you for subscribing to Yard Salers. Yard Salers email newsletter may be freely distributed in its entirety, so please pass it on. You may reprint any of the articles in this newsletter for any purpose as long as no portion of the article is modified without permission, and this tagline is included:
Yard Salers, www.yardsalers.net
Publisher, Julia Wilkinson, author of the award-winning "eBay Price Guide." and "What Sells on eBay for What"

No part of this publication may be reproduced or stored in a retrieval system, in any form or by any means, electronic, mechanical, photocopy, recording, or otherwise, without the prior written permission of the publisher. Yard Salers makes diligent efforts to obtain accurate and timely information. However, Yard Salers disclaims any liability to any party for any loss or damage caused by errors or omissions in Yard Salers, whether or not such errors or omissions result from negligence, accident or any other cause.
End