ISSUE 57: Oct. 4, 2008
Yard Salers: Oct. 4: Social Networks; Seen and Heard at Estate Sales
Subscribe at: www.yardsalers.net

Please forward to a friend!
Hello, all!
I've picked up some gossip at sales recently, and have some tips to pass on. But first, I've made a few changes to the Yard Salers site recently that I wanted you all to be aware of.
Social Networks, Back Issues, and New Version of "What Sells"
1) Our New Social Network and Social Networking with Yard Salers
Some of you -- in fact relatively few of you -- have explored the Yard Salers message boards. There are some posts and discussions, but I decided that to really get things going, it would be better to have an actual social network, where people could post pix of themselves; messages to the group and each other individually; share photos of recent finds, etc.
So, I've created not just one but two social networks -- one that lives on facebook, a site many folks are already used to, and the other using a service called "Ning" which lets people create their own social networks.
We're going to see how you all like using either or both, and take it from there. (Reader Dee, of eBay Live fame, has already signed up for the facebook site, as have several of my friends and some other eBay authors). :-)
To go to the facebook group for Yard Salers:
- http://www.new.facebook.com/group.php?gid=27871336031 if you are already a facebook member.
Or, go to facebook, select the "Groups," and search for the "Yard Salers." Once you have clicked into the group, you simply join using the "join" link. (You do need a facebook account to do all this. If you do not have one, and want one, go to facebook.com and create one first).
To check out the ning Yard Salers social network go here:
http://yardsalers.ning.com
...and sign up! You can post a photo of yourself, and add to the current discussions, including the opener, "Please introduce yourself"!
You are also welcome to "friend" me on facebook (yeah, I'm on there with all the college students!). But seriously, facebook seems to be less about college students and more about everyone, and business networking, too. (And, well, just having fun and wasting time, sometimes). Teens and twentysomethings everywhere are complaining that their folks are on there, embarrassing them. To find me, just do a search for "Julia Lee Wilkinson," or look for me in the Yard Salers group.
I should add that I know not everyone is into this social networking thing. In fact, today I was reading in the paper -- I think it was the "Ask Amy" column, that someone's boss was trying to friend them on the site, and they wanted a polite way to decline. So this is all optional. :-)
Back Issues Added
Some of you have written me and said you enjoy reading the Yard Salers back issues. But up until now, they weren't all up there...you couldn't access many of the earliest issues.
Well, now you can! The back issues are all up there, with the exception of the elusive second issue, which I am trying to track down on one of three computers and even more storage drives and devices. So you need never be without a handy Yard Salers issue, folded up in your pocket or purse, to whip out during those over-long post office waits or other periods of down time.
You can check out the back issues at http://www.yardsalers.net/backissues.asp.
What Sells - You Suggest the Categories
I'm updating my flagship eBay ebook, What Sells on eBay for What. The new version will be available shortly. However, I thought it would be fun to ask you readers what categories and subcategories of eBay you thought it would be best to include in the update.
Collectibles? Pez dispensers? SLR Cameras? Old banks? You name it. Let me know your favorite category...nothing is too obscure..and you have a great shot of seeing it included in the book. (If you have time to tell me why it's your fave, that's great too). Email me at juliawilk@aol.com.
Foreclosures Impacting Yard Sales?
Have the rash of foreclosures been affecting yard sales? Well, other than the fact that many have more reasons than ever to shop for bargains, I can tell you one yard sale-giver who is finding opportunity in the real estate downturn.
I was skulking around this one yard sale, that I noticed seems to occur every two or three weeks in the same place, but with different stuff each time. I wondered where all the stuff was coming from, and started chatting with one of the residents of the house. He told me his son works for a firm that clears stuff out of foreclosed homes, and the stuff was what was left behind. It's a real smorgasbord, and some decent quality stuff -- art, sports collectibles, glassware. I picked up a set of six teacups with birds on them, and some other china.
I also recall reading in a previous Bookthink newsletter (aforementioned in a previous Yard Salers, at www.bookthink.com), about how one professional book seller acquired his inventory from "this guy" who essentially did the same thing, clearing out foreclosed homes. He had a deal with the guy to get him certain kinds of books, and he compensated him fairly.
I'm not saying that's necessarily what you should start doing, but just noting the opportunity is out there, and if you keep your eyes and ears open and stay chatty and friendly, I've found you can learn a lot and make a lot of connections.
In fact, when I told a friend of mine about this ongoing yard sale, he replied that he thought it might be "bad karma" to pick up stuff that way. It may or may not be, but when you think of it as these clearing firms are performing a service by getting the stuff out of a house, which the bank or other owner needs moved, and it would probably just go to a dump otherwise, it doesn't seem so bad. And I think there are at least a few needy folks who shop the sale, so it helps needy folks indirectly.
Another "It's the Economy" story I came across the other day in the Washington Post...people are actually having gold scrapping parties! That's right, they bring their unwanted gold necklaces, engagement rings from ex-boyfriends, etc. etc., and have it appraised and sold to be melted down, and walk out with a nice check.
"At a gold party, you walk away with a check ($453, $898, $297, $503) and an almost serene renewal of faith in one kind of economy -- the ancient kind. You would never have this sort of fun at a pawnshop, and a pawnshop wouldn't serve ahi spring rolls and martinis."
Gold, of course, is something tangible people can go back to in times of trouble. I liked this paragraph especially: "Eight years ago, gold was selling for less than $300 an ounce; lately it flirts with the thousand-dollar mark. On this particular Wednesday evening in Troubled America, the price of gold has closed at $881.90 an ounce, while on Capitol Hill, lawmakers look for a way to explain to themselves and to taxpayers a largely theoretical economic disaster of imaginary numbers, as a way of cobbling together a nearly trillion-dollar rescue of...of what exactly? What are they talking about that we could actually hold in our hands, recognize? Everything we own? Everything we don't?"
You can read the article if you want at http://www.washingtonpost.com/wp-dyn/content/article/2008/09/29/AR2008092903257.html.
At many estate sales, I have seen people whip out their little gold testers and scales, and go through ring after ring in a jewelry case, buying those that met a certain weight or other criteria. All to be melted down for scrap.
OK, now for the gossip...well, I'm going to put that in the first article in this issue. Read on. :-)
Julia
*********************
The First and Most Thorough eBook of eBay Prices: "What Sells on eBay for What" (aka "Julia Classic.").
If you're new to Yard Salers or haven't yet read this ebook jammed with prices and tips for flipping stuff on eBay, you can still get the subscribers' 1/2 price of $12.49 -- an instant download -- by going here. HALF PRICE.
*********************
Now available for INSTANT download: Want to make more money with your yard sale this fall? Julia's newest special report, "Yard Sales that Really Sell," tells you how. Special preview available for only $4.50.
Click here to buy and download instantly here.
*************************
In This Issue:
*************************
1) Seen and Heard at Estate Sales
2) Flip of the Week Contest 9: Jai Alai basket, Signed Vase, Skillet
3) Man Buys Rare Book at Library Clearance Sale
4) Reader Mail: Experiences with eBay's New Feedback System
*************************

*********************
1) Seen and Heard at Estate Sales
*********************

I've written before about how I think it pays to keep your ears open as well as make conversation at yard and estate sales.
I picked up a few interesting tidbits and wanted to share them with you here.
- Stereoview Gold:

You may remember I recently sold a stereoview of Snake (Shoshone) Indians for about $120. I purchased it at an estate sale for $15, so this was a good flip. Since then, I got more interested in stereoviews, having read about one of you subscribers who sold one for over $200 and sent it in for one of the Flip contests.
At a recent estate sale, a packet of cards was on half price, down from $45 for 21 cards to $22.50. So I snapped them up. At the same table was a stereocard viewer and a boxed set of cards of birds and other things, which was priced quite a bit higher, so I didn't want to take a chance on it.
A man later decided to buy it, and I remarked to him about how it looked interesting. The gossip? He told me he thought stereoview cards which contained photos of stereoview equipment did very well. As in, you can see cameras in the background, etc.
I nosed around eBay's top recent prices for stereoviews, and although I did not see any on the first few pages with such scenes, what does seem to do the best there are:
- Civil War related scenes and people
- Indians / Native Americans
- World War I and II-related scenes (e.g 1940 STEREO VIEW & 100 PIX's DER KAMPF IM WEITEN ARMY; GREAT STORIES & COLOR PHOTOS OF LIFE IN THE GERMAN ARMY; 11 bids; $265.00
- Natural disasters
***
Another little nugget I picked up was while waiting to get in to a sale (always my least favorite part of the whole business). I try to strike up conversations, if I can. You never know what you will learn, and at a minimum, you can pass the time a bit more quickly.
A man who buys a lot of jewelry -- diamonds, gold, gemstones, etc. -- told me to look for "polychrome" emeralds that go for sale on the "Jewelry Network" in June. June is evidently the great time to buy these things.
Well, I hadn't heard of the Jewelry Network, but on googling it I came up with this:
http://www.jewelrytelevision.com/
I haven't seen this channel on my local tv, but he indicated it was a tv channel. And, well, I googled "polychrome emerald" and didn't come up with anything...it may have been a different "polychrome," that had the chemical structure of emerald. Anyway, the point is, you may want to check out that source come June. Actually, the real point is...just keep your eyes and ears open for info and gossip.
Oh, and sometimes background info you hear about the estate's owners can be useful in your auction listings. "Washington Post editor had a great collection of Advnced Reading Copies.."..."Four-Star General traveled the world"...etc.
**************************************
Succeed as an eBay Affiliate:
Click Here!
Build A Niche Store (BANS) is a store / website development platform which enables you to create content-based sites that generate income through the eBay affiliate programs.
**************************************

*********************
2) Flip of the Week Contest 9: Jai Alai basket, Signed Vase, and Skillet
*********************

Hi Julia - Just joined the site through a link on Facebook. Should be fun.
My best flip so far was from a Salvation Army store. I saw a wicker throwing basket that Jai Alai players use, which I later found out is called a Cesta. It didn't have a price on it, so I asked and was told I could have it for a buck. I figured I could get $10 or $15 out of it, so I took it. Put it up on ebay, got bids from the US and five other countries, and sold it to a guy in France for $78! Who knew?
I've had several other nice ones that I could tell you about if interested, but that was definitely the most surprising.
Jim
I make my living on ebay. Check out my store at www.JimsDiscountDeals.com!!!
~~
I asked Jim where he saw my newsletter mentioned on Facebook, and he said it was via a Facebook ad.
"I wasn't looking for the Jai Alai Cesta either," he added, "but it was one of those things that when I saw it I said, 'For a buck it's worth a gamble.'"
He said he's had some other fun flips as well, especially from Craig's List - "like the 22-inch Lladro I bought for $350 and sold on ebay for my Buy It Now price of $650 less than 12 hours after I listed it!
"Craigslist has become a huge source for me - both the free things and items for sale," he says.
~~
Hi Julia,
I'm a new subscriber to you newsletter...look forward to reading more! I wanted to share a flip from last year. I went to my first estate sale after reading Lynn Dralle's first book, "The 100 Best Things I Sold on Ebay." I was totally inspired. I immediately went over to the dining room table at this sale and saw many things.
Most I couldn't tell if they would be worth anything. I picked up a miniature vase, just adorable. I turned it over, like Lynn describes, and saw an interesting signature and number. I figured I would pay the $6 and take it home to see what the name and number might be. It turned out this little vase was pretty rare, created by Berndt Friberg, a Swedish master potter, a link to more info about him below. I sold it for $500 on Ebay.... that got me hooked! I know I was very lucky that first time out, but I'm still on the hunt for more like this!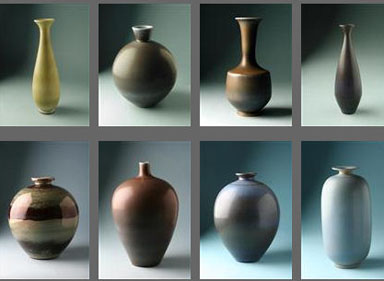 or go to: A http://www.modernity.se/Designer/Berndt-Friberg/ID/20/Berndt-Friberg.aspx
Vicki
~~
Hey Vicki!
Whew! Beautiful vase and awesome flip! That is sweet. wonderful to find a piece signed by an artist and to find it's a great artist.
Thanks so much for sharing, and welcome to the newsletter! I hope to have a new newsletter out soon..I was running around all weekend going to -- what else? estate sales. ;)
Thx again and good luck in the contest! :)
Keep selling,
Julia
~~~~

Skillet Skills
Julia, I owe my flip to my husband. He paid $5.00 for an old electric skillet at a yard sale and brought it home. It was old, but I used it for a while before deciding to buy a new skillet. On a whim (I usually sell books), I decided to list it on eBay - where it sold for $176.00!!.
It was a Miracle Maid Lektro Maid skillet with non-stick surface, and it included a cutting board, serving tray, high dome lid, and the original instruction booklet, all in almost-new condition. Since then, he has found two more of them, for $1.00 and $2.00 respectively, and they sold for $76.00 and almost $90.00. (They lacked some of the components of the first one, or were in not-quite-as-good condition.) You can believe we are on the watch for these skillets!
I love the Flip section of the newsletter!
Gerry Wright
Thanks again for your entry, Gerry! I nosed around on eBay and these Lektro Maid skillets, the bigger ones, are going for a healthy $50-$100. Heck, even a cord/plug for one went for $26. So I'll be keeping my eye out for those. That's an "I never thought of that."
~~~
OK, so for the winners..Vicki wins the big prize of a set of 4 books by eBay authors for her vase find; Gerry wins the a box of eBay Live memorabilia for alerting us to skillets, and Jim wins a pack of whatever ebooks of mine he'd like.
Entrants all, pls. email me at juliawilk@aol.com with your USnail address. :-)
Next week we'll have more fabulous prizes! So mail in those entries.
*********************
What's the PERFECT eBay product? Learn How To Make Money with information products on ebay.
*********************

Do you like this newsletter? Please forward it (in its entirety) to a friend! Just go to http://www.yardsalers.net and see the "Subscribe" box on top.

**Don't have five minutes to read the newsletter now? Print it out and read later.**
[For more writing and photos throughout the month, check out Julia's bidbits blog at http://www.bidbits,net ]
******************************
"Selling on 'The River': Hedging Your Bets on Amazon"
Between eBay and amazon, you're looking at over 100 million visitors per month. Why not harness the power of both?
At $29.97, I think it's a good value. And you also get:
- "25 Things eBay Sellers Must Know about Selling on Amazon" and
- SPECIAL BONUS - "How to Scout for Top Sellers with Your Cell Phone."
*********************
3) Man Buys Rare Book at Library Clearance Sale
*********************

Well, although my luck has not been great at library sales lately..and they have become like the running of the bulls in Pamplona -- bulls armed with little web-enabled scanners -- there are still great finds out there, as evidenced by this recent bit of news I wanted to share with you:
"A Shawano, Wisconsin man bought a book for a dollar at the Shawano City County Library Annual book sale, only to find out it's worth thousands.
"Fred Eberlein picked up the an 1848 printing of "The Life of George Washington" by John Marshall. Now Eberlein is now wondering if the library checks out what they are putting up for sale.
"The interim director at the Shawano City County Library says that the library receives hundreds of donations for their annual sale. They don't usually have time to sort through and check each book's value."
- Source: http://www.wbir.com/
I see an 1840 edition of this book is listed on eBay for a Buy It Now (BIN) of $550.
I think older books about American History -- esp. things like the Founding Fathers/other famous Americans, wars such as the Civil, World War I, WWII, or -- if you are lucky -- Revolutionary, all tend to do well.
I scored at an estate sale recently with that trusty Civil War topic, finding a leather 2-vol. set: "A Constitutional View of the Late War Between the States: Its Causes, Character, Conduct and Results.presented in a Series of Colloquies at Liberty Hall" - Vol 1 and 2, by Stephens, Alexander H."
I got it for $45 and it sold on eBay for $171.
Often these wonderful old books are leather or part leather with wonderful gilt writing. Not every gem is glittering, however. A very bland-looking paperback stapled copy of a photo essay of interned Japanese-Americans caught my eye. Why? The photographer's name was Ansel Adams. That $1-$2 purchase grossed $124 on eBay.
In full disclosure, sometimes my hunches don't pay off. But I am getting better at determining which are worth my while, as I believe we all will as we keep up our scouting.
***************
4) Reader Mail
***************

Dear Julia,
How about these...
Lady (I use the word loosely) gave me a negative for not sending item. I ran tracer with usps and they showed day, hour, and minute delivered. I called eBay to ask that negative be removed offering to prove it was delivered. Reply: "Sorry cannot help you as we do not remove negatives anymore."
Sold a USMC flag to another lady. A flag that to date we have sold several hundred over the years never receiving a complaint. In fact received positives. Her complaint: Flag should be heavier. We offered a refund simply return flag. Instead received a negative..
Received a negative as poster received is great quality - but a reproduction! We emailed back description says clearly that this poster is a reproduction of the original. His reply: "Yeah but I didn't see that, that's why I gave you a negative" Oh, well that explains it. I am sure ebay would agree with you.
These negatives prevented me from getting a powersellers reward/discount/refund too..
Thank you for your time....
Ann
~~~
Hey Ann!
Ouch! Not good. These are the kinds of things I was worried would happen after the new policy. :/ Definitely, the onus is on sellers more. I do think it's in all our best interest to branch out more and not have all our eggs in one basket.
Thx for writing and much success to you,
Julia
~~~
Hi Julia,
My wife introduced me to your blog a few weeks ago and I have really been enjoying your posts. I thought I would go out on a limb and introduce my website to you for future consideration. I think your readers would find it very valuable, it is called Rather-Be-Shopping.com (http://www.rather-be-shopping.com) and it has been helping online shoppers save money since 2001 with coupons to over 500 popular retailers. Some of my more popular stores include Old Navy, Macy's, Gap, Home Depot, JCPenney, and American Eagle Outfitters. The difference between my website and many other coupon sites is that I actually verify that the coupon works before I post it and am available to help shoppers find and use coupons. I make sure anyone that emails me ends up with a coupon to save some money.
But only doing coupons gets kinda boring so I started a blog last year that talks about other creative ways to save money and manage your finances. Some of which include Financial Q&A with Britney Spears, 7 Ways To Reduce Monthly Costs Right NOW!, and My Old Man: Frugal, Cheap, or Just Strange? Oh, and of course my personal favorite How I Got Out Of Credit Card Debt. I also write about the adventures and mis-adventures of raising three active kids!
Please consider my website for any future posts or articles you might do about ways to save money when shopping online. Please email me with any specific questions you may have!
Cordially,
Kyle James
Website - http://www.rather-be-shopping.com
Blog - http://www.rather-be-shopping.com/blog/

~~~
Hi Kyle! (that's my son's name).
I'm rrreeaaally sorry for the delay. :( I did just add your site to juliasauctionlinks.com, and I'd be happy to run your letter in the next issue of Yard Salers, if that's OK w/ you.
Best of luck with the site! :)
Julia
~~~
Hi Julia, I have just joined your newsletter at Yardsalers. I have an ebay store and list through Auctiva, at www.personalised-dog-gifts.com.au, and it was through your article in the Auctiva newsletter that I found your name.
I opened my ebay store last September and have sold well in excess of 300 items since then. However the last few months have been very slow. I have read books on ebay and subscribed to newsletters etc. but found yours to be the most informative.
My purpose in writing to you is that I NEED HELP!!! I want to go to the next level (Powerseller) but I would like someone to look at my ebay store, listings etc and maybe make suggestions as to how I might be able to get to this next level. I have great respect for Jim Cochrun and John Thornhill but I feel they are more into the digital product area. My ebay store is a niche store where I design my items and get them dropshipped. My customers have told me how good my store and items are.
Previously I have paid nearly $2000 to study e-commerce but really feel that I didn't get my money's worth. Therefore I am wary about these membership sites.
Would you be prepared to look at my store and make suggestions etc? If so, please advise how much you would charge for this service.
I apologise for such a long email and would appreciate any advice you could give me.
Thanks, Kay
www.personalised-dog-gifts.com.au

~~~
Hi Kay! I am very sorry for the delay! I did indeed look at your Store, and had a few ideas for you but wanted to think of more before I got back to you. Then of course, time got away from me.
Here are my thoughts about it as they are now:
I think the pets accessories area is big (the lady at the "Trends" seminar at eBay live this year even said so..ppl spend a ton on their pets), if you can find the right people.
So my first siggestion is to concentrate on marketing more to the people who would be likely to buy your items..maybe you are already doing this, but I'd suggest googling around for pet discussion forums, etc. Myspace,, facebook. Make informative and friendly posts, giving your sig/site url at the end (in keeping w/ whatever rules).
For ex. there was a large group on facebook about adopting pets.
Another thought I had was perhaps to offer people more, easier ways to personalize the stuff..it looks like you have a clock where a photo can be uploaded to personalize it, but what about offering to simply put a pet's name on one of the items?
When you get satisfied customers, ask them what they liked best about your Store/Products and maybe for suggestions on products they'd like that you don't yet offer.
And, in keeping with the Jim Cockrum philosophy, def. start and keep up a mailing list, letting your customers know about specials and maybe even offering general pet advice.
Those are my thoughts for now. Make sure you are cross-merchandising stuff, too, in different eBay categories to get ahold of people who go to different areas.
I think there's a lady who offers custom pet portraits on eBay and does well...in fact Lorrie Norrington at eBay Live mentioned buying one from her at eBay Live -- but her stuff may be more time-consuming. I wondering if there is similar "pet art" you could offer, however, without having to be a trained artist..such as taking the photo they email you, and putting it through photoshop filters, and offering it in a custom/decorated frame (eg decorated w/ paw prints etc.?).
OK..those are all the thoughts I have for now..pls. keep me posted as to how you do! And may I use some of your letter or just my reply in my newsletter? I don't have to include any personal info about you, but heck, if I put in the link to the store name, it may help sales! ;)
Thanks so much! Julia
Kay wrote me back and told me how she was doing:
Hi again Julia,
Thanks so much for your reply. I will definitely keep in mind (and act) on your suggestions. Since my first email to you I have gone to Mark Down Manager and put in a special and will look at other things as well. Also, now when a person buys from me I send them a peronal message through ebay thanking them and also suggesting that they subscribe to my newsletter because of all the new items I will be adding.
I don't mind at all if you put my message to you in your newsletter and give my link to my store. I'm not very experienced at this game but will pass your name onto other ebayers and your newsletter.
Thanks again,
Kay
You heard it here, folks! All those of you who need the perfect holiday gift for a per lover, pls. check out Kay's store!
And, if you'd like similar suggestions from me for a "case study" in this newsletter, email away! :-)
That's it for this issue..see you next issue! Happy selling and buyng. :-)
Julia
******************************
SUBSCRIBE TO BOOKTHINK'S QUARTERLY MARKET REPORT OF COMMON, PROFITABLE BOOKS.
New! Includes 100 easy-to-find books that sell for $30 and up. $49.99 annually or $19.99 for individual issues.
Click here to subscribe.
******************************

******************************

******************************
The eBay Seller's Guide to Finding Profitable Hidden Bargains at Garage Sales
Find out here.
*******************
Would you like your own fully customisable ebook website pulling in profits day after day, month after month, year after year, complete with video tutorials showing you EXACTLY how to get set up and running? Find out here.

That's it for this issue. Until next time! - Julia

------------------

Questions about My eBooks Ordering
You can certainly purchase from me directly, as can anyone. Most of my ebooks are now available via the website's bookstore at www.yardsalers.net/bookstore. Any others you have questions about, all you have to do is email me and let me know which ebook(s) you want, if you are a subscriber and thus eligible for the discount, and then PayPal me to my PayPal id at juliawilk@aol.com. I'll be tweaking and updating the ebooks page on my web site soon.

-----------------------------------------------

Do you have a Flip of the Week? I'd love to hear about it! Email me at juliawilk@aol.com and let me know.
-----------------------------------------------
Nonfiction Books that Sell for $50 - $250 on eBay:


or
Buy Now
*********************

I am always open to reader articles, so if you want to write about something relating to yard sale-ing and eBaying, just flag me down! I will of course give you credit, using your eBay ID, web site, or any other contact info.
------------------------------------
eBooks by Julia L. Wilkinson:
[All my ebooks are offered at 1/2 price from their regular prices to the subscribers of this newsletter. If interested in any of them, please email me at juliawilk@aol.com.]
- How to Spot Fakes: email me!
*********************

Blogs, Blogs, and More Blogs
Check out My amazon.com Author Blog

Those of you who just can't get enough of my writing (are there any of you?) will be happy to know I now have a new blog on amazon.com. Amazon.com has created an "author blog" tool for authors to...well, blog. You'll see it if you bring up either of my books on the amazon site, but for good measure, it's at: http://www.amazon.com/gp/product/1593270550. (Scroll down to "amazonConnect").
My TypePad Blog, "Bidbits"
You can also check out my typepad blog, "bidbits": bidbits

********************************

Do you have your copy of Julia's book, eBay Top 100 Simplified Tips & Tricks?

It's available on amazon.com and barnesandnoble.com. If you do want to order the book, I'd appreciate if you'd support Yard Salers and eBayers by using my affiliate link below.

********************************


----------------------
Copyright 2008 Julia L. Wilkinson
----------------------

Thank you for subscribing to Yard Salers. Yard Salers email newsletter may be freely distributed in its entirety, so please pass it on. You may reprint any of the articles in this newsletter for any purpose as long as no portion of the article is modified without permission, and this tagline is included:
Yard Salers, www.yardsalers.net
Publisher, Julia Wilkinson, author of the award-winning "eBay Price Guide." and "What Sells on eBay for What"

No part of this publication may be reproduced or stored in a retrieval system, in any form or by any means, electronic, mechanical, photocopy, recording, or otherwise, without the prior written permission of the publisher. Yard Salers makes diligent efforts to obtain accurate and timely information. However, Yard Salers disclaims any liability to any party for any loss or damage caused by errors or omissions in Yard Salers, whether or not such errors or omissions result from negligence, accident or any other cause.
End