ISSUE 56: Aug. 22, 2008
Yard Salers: August 22: End of Summer Sampler; World's Longest Yard Sale
Subscribe at: www.yardsalers.net

Please forward to a friend!
Hello, all!
Signs, signs, everywhere a sign...do you remember that song? Well lately my mantra has been more like "signs, signs, nowhere is a sign"...I've been to a few yard sales recently where it was almost like the people were trying to keep their sale a secret.
One such sales was advertised as an "estate/yard sale," and it was a good thing I knew of the specific road it was on (it was on the way to Wendy's, which I've patronized more than a few times this summer, I'm not proud to say) or I may never have found it.
Not only was there not *a single* sign posted where to turn to get onto that road, there was not *a single* sign in front of the house! And there was a big wooden fence in front of the house, so it didn't even appear anything unusual was going on unless you looked really closely.
After pulling up, squinting, and then almost leaving, I said what the heck, I drove out here, I may as well walk up to the gate and ask. And they were like, "yeah, come on in, it's in the basement."
Go figure.
As it happened, I might as well have driven away...it was so lame. Some people found some things, but they were few and far between. In fact, to cap it off, the only thing I saw that might be useful to me was a little shabby chic tin watering can that I thought I might use in my garden.
But of course, on picking it up, a lady said, "that's someone's pile."
Sigh.
Later that day I did find some good stuff: five pieces of English cottage ware, little pieces of pottery that are decorated like English thatched-roof houses. I have three of them up so far on eBay, where my sense is they will wind up in my Store, awaiting the right buyer.
Some other sale notes: I went to one estate sale that was billed as the sale of the year. Although it did have the promised treasure trove of Meissen, many of them were the bird figurines, and as most everything else in the house was priced pretty high, my sense was they'd set everything at close to retail prices.
I plan to go back this Friday and see if they've marked any of the Meissen down. Meantime, the silk scarves were all priced at a whopping $28 each!
One lady asked a woman working the sale if that price was correct, and when she said yup, the lady came back with, "What are they made of, gold?"
This brought a chuckle from the other people in the room.
World's Longest Yard Sale
Well, alas and alack, tho I did not make it to the World's Longest Yard Sale this August, I did manage to find a Yard Saler subscriber who did, and has written a marvelous account for us all to enjoy. Although it makes this issue pretty long, I think and hope you'll thoroughly enjoy it. She'll be sending me photos, too, which I'll run in the next issue.
Plus, we have more Flip contest entries. There is still more eBay swag to be had! And, I'll be giving away many books about eBay by authors other than myself, including Skip McGrath and Lynn Dralle. Get in on the swag action before it goes bye-bye -- be sure to send your flip entry in!
A quick correction -- in the last issue, I ran an ad for the subscriber's half-price edition of my biggest ebook, "What Sells on eBay for What." However, it mistakenly linked to the full-price version. The correct link of http://www.yardsalers.net/whslls_upd_subsc.asp is in the ad below. I think everyone got squared away with refunds who needed them, but meantime, if you did not, pls. email me your receipt and I can get you settled. And if you did not get a chance to order the ebook at half price ($12.49, down from $24.98) in the last issue, check it out now. :-)
Oh, and one more thing...a while back I promised you a photo of Richard Chamberlain in the Metate Pomona College 1955 yearbook I came across. You've been patiently waiting, and here it is: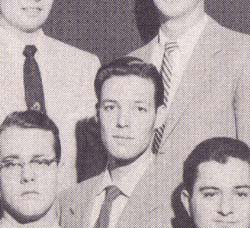 Let's get on to the rest of it without further ado.
Julia
*********************
The First and Most Thorough eBook of eBay Prices: "What Sells on eBay for What" (aka "Julia Classic.").
If you're new to Yard Salers or haven't yet read this ebook jammed with prices and tips for flipping stuff on eBay, you can still get the subscribers' 1/2 price of $12.49 -- an instant download -- by going here. HALF PRICE.
*********************
Now available for INSTANT download: Want to make more money with your yard sale this summer? Julia's newest special report, "Yard Sales that Really Sell," tells you how. Special preview available for only $4.50.
Includes: Where to Advertise your Sale, Where are the Best Places to Locate your Signs, How to Prepare and Be Prepared for your Sale, What you're Going to Need for your Sale, Setting Up your Sale & How to Price, and How to Run the Sale to Maximize Profits. Only $4.50! Click here to buy and download instantly here.
*************************
In This Issue:
*************************
1) Making Memories Along The World's Longest Yard Sale
2) Flip of the Week Contest 9: Everlast Shorts, Florentine Items, Pucci, Burberry
3) Reader Mail: New sites, etc.
*************************

*********************
1) Making Memories Along The World's Longest Yard Sale
*********************

By Kay Comer
My granny always said - "a watched pot never boils." And that's just what I was thinking while waiting for time to head out for the "World's Longest Yard Sale." But August 6th finally arrived, and at 10 a.m.on that bright and sunny day, we pulled out of our little country lane and we were on our way.
We had heard that the area through Signal Mountain, Tennessee was one of the most scenic areas. So we stayed Wednesday night in the Best Western just outside of Chattanooga to be ready to head out at the crack of dawn on Thursday morning.
I had heard many stories about the world's longest yard sale, but quickly found that many of them were a drastic exaggeration. We heard that you must make reservations in the Spring if you plan to attend, or drive nearly an hour off of Hwy 127 when you decide to stop for the night, just to find a vacant room. That bit of information turned out to be the first thing I found that wasn't true.
We're retired and travel quite a bit and love staying in Best Westerns or Comfort Suites. Neither one is anything really fancy, but very neat and clean. And both have coffee makers, a frig and microwave in the room. Since I'm such an early riser, a coffee maker is an absolute must for me.
So I got out my little books from each motel chain and our big Tennessee map to see which one had a motel closest to where Hwy 127 started at Signal Mountain. It turned out that Best Western at exit 174 was the closest, so I just called them up and asked if there was a possibility they had a vacancy. I was told they had several and we could have our pick.
When we got there, it was a beautiful location just at the foot of Lookout Mountain. And we could even see the big mansion on top of Lookout Mountain from our window, that our kids used to call the "castle" when they were young and we would travel that route going to Disney World from our home at the very Southern tip of Illinois.
After we checked in and freshened up a bit, we headed out to find Signal Mountain and Old Route 127, so we'd know just where we were going to start bright and early the next morning. It was easy to find, traffic wasn't too bad at all. And as soon as we began our journey up Signal Mountain, we knew immediately we were in for a real treat. It was absolutely beautiful! And one of the most unusual sights we saw was a home built on the side of the Mountain, right in a sharp curve, that was built to look like a huge flying saucer. I wanted so badly to get a picture of it, but it was 5 p.m., people were going home from work and it just wasn't a good time to be out on the side of a mountain, on a sharp curve, taking photos.
As we were going up the mountain, we could see people setting up and some that already had, and had covered their tables for the night. There were single yard sales, parks and a parking lot just loaded with tents. My goodness, I was so excited I could feel my blood pressure rising. So my husband said we knew what was ahead for us the next day, so we'd better head back, grab a bite of supper and settle in for the evening.
I have a built-in alarm clock and am always up to see daybreak. But the next morning, I'm afraid I was up and ready to go quite a bit before daybreak. So I turned on the TV to see what was going on in the world, put the coffee on, and tried my best to just stay calm.
FINALLY, I could see day breaking out the window, so I woke up old sleepy Head and told him it was time to get up, get some coffee down him and hit the road. Traffic wasn't too bad when we pulled out of the Best Western on that Thursday morning. Most of the folks we saw were just heading to work and in no special rush.
We headed up Signal Mountain and passed a few small individual yard sales that were still covered up and my husband shared with me his concern that we may have gotten a much too early start. But when we came into the little village of Signal Mountain, we knew we had gotten on the road at just the right time.
There were quite a few individual yard sales going strong, with cars parked on both sides of the road and people milling around everywhere. There was also a big park or grassy lot with quite a few vendors and that was the first place we ran into HGTV and their cameras. I don't know about most folks, but when I'm out like that, having a big time and looking for treasures, the last thing I want to have to worry about is being caught on camera by HGTV.
Prices were pretty fair on Signal Mountain. I bought a couple of old books for 25 cents each. A couple of old dishes for 75 cents each and my husband bought an advertising coffee mug for 25 cents. Billy has 677 advertising coffee mugs hanging from the ceiling of his 1950's Motorcycle Museum. And most of them have some of the most unique or beautiful graphics you have ever seen.
We had "hit" Signal Mountain about 7 a.m. and were still going strong in that same vicinity when my cell phone rang at about 9 a.m. It was a lady from our little country church and there was a problem. Two sweet old ladies that seem to have nothing more to do than gab on the phone and stir up a big batch of trouble, had done just that and had caused a huge problem for our sweet old country preacher. We just love our preacher, so we knew if he had a problem, we had a problem and we needed to be home. I told her we'd finish out the day and head home that night.
When that call came in, we were just walking across the road to a little woods that was just full of tents and tables. Paths were lined with old lanterns, wagon wheels, butter church, old chairs and ladders. My goodness, I felt like I had just walked into hog heaven. And now this church problem was on my mind. But we strolled through the little woods that was just full of priceless treasures & found only a coffee mug for Billy's museum.
Back in the car and on down the road just a skip and a hop, we came to a fire station that had loaned out its grounds for the vendors to sell their wares from. There was quite a crowd at this location and we had to park a little ways down the road. But just as we walked through the fire station gate, a buzzer sounded and the fire truck came streaming out with lights and siren going strong.
This was a neat location with lots to see, but all we bought was 2 quart jars of some of the best Chow Chow you will ever find anywhere. The Chow Chow was at a booth run by Sam & Shirley Jenkins and they had won many Blue Ribbons with her Chow Chow at county fairs, etc. Shirley was giving out samples and there was just no way you could taste her Chow Chow and not walk away with at least one jar. (Shirley's info: Ph. 423-702-5594; E-Mail: shirleyjenkins@Comcast.net).
By now, it was almost noon, we knew we were going to have to head home at the end of the day instead of staying the night and continuing on the route on Friday, and we were just now descending Signal Mountain. (Oh my goodness - so many yard sales; so little time).
Not too far down the mountain, we saw a sign that read, "Barn Yard Sale 2 Miles." The sign said it was worth the drive, so we made a sharp right and headed "up hill" once again, to this old farm. Along this little country lane, we saw signs that warned us not to turn back, that the sale was well worth the drive, so we laughed and continued on.
The setting for this yard sale was absolutely beautiful. A big dark stained home overlooking a beautiful view of the valley behind it. A huge barn with an old grey mare saddled and tied to a post outside the barn door, a pond just full of ducks. It was just a beautiful sight.
But unfortunately, the barn was full of antiques priced like you would expect to find at an antique store on 5th Avenue in New York. It didn't take long for us to realize we had been led astray and needed to be moving on. But we were so glad we took that little "side step" because of the setting we saw. It was just like a step back in time and absolutely breathtaking.
Back down the hill and back onto Hwy 127, we were once again heading down Signal Mountain and en route to Dunlap. We passed quite a few individual yard sales along the way, but now, we knew time was precious and we had only this one day, so we'd have to be a little more selective. We did stop at one yard sale; it was a mobile home and the family was all outside in lawn chairs.
They didn't seem to have much to sell, but the kids were out by the road trying to wave traffic in, so we made a quick di-doe and turned in. We didn't buy anything there, but had a really nice little visit and they were exceptionally friendly people.
On into Dunlap, I was shocked to see a McDonald's, Walgreens and Super Walmart. I say I was surprised, because I have read so many accounts of this yard sale and so many have said all you find along Hwy 127 is mom and pop diners and if you need *anything* from Walmart, you just have to take it with you because there were just no big stores or fast food chains along the way. Quite the contrary, we saw several fast food and store chains but we were on a real adventure, so we were not about to go near a modern day "convenience store" of any kind.
In Dunlap, we also ran into wall to wall yard sales from one edge of town to the other. We drove a couple of blocks into town and my husband said, "We may as well just park and start walking." So that's what we did. Dunlap was priceless -- it was more like "real yard sales" with not many professional vendors at all.
After walking a short distance, we spotted a yard with quite a few old dishes. Billy spotted 2 old coffee mugs and walked over to investigate. One was a Chattanooga Choo Choo mug and the other was a Signal Mountain mug with a hillbilly on it. One was $7 and the other was $5. He explained to the lady running the booth that he was a collector and not buying to resell and he just never paid over $1 for a coffee mug. But she wouldn't budge.
I could see the twinkle in her eyes as he joked with her (he's well known in our neck of the woods for his friendliness and jolly disposition) so I wandered on down the sidewalk so he could pour on his southern charm. *I* wanted those coffee mugs just as much as *he* did. He caught up with me in a few minutes and he had bought them both for $5. A real bargain considering the trip we were on and what the mugs were advertising.
In Dunlap, we also had what we were just sure was the world's best barbecue sandwich. It was at Smoky's BBQ tent, and I really think I could have eaten 3 or 4 of them, but I just didn't have the time. This particular barbecue tent was close to our car and we had walked the route around the little town, so we headed back to our car, ate our sandwiches, shared stories of what we had seen and who we had talked to and was back on the road and on our way.
It was about 1 p.m. and I was beginning to feel great pressure on our time. We had planned to get to at least Clarkrange, Tennessee on Thursday, spend the night closeby and head out the next morning going further north. But we knew now, that wasn't going to happen. So we passed many yard sales that we would have stopped at if we had not been so rushed for time.
Pikeville was another little town with lots of sales, even many off the beaten path. But we rushed through a few at Pikeville and headed for Crossville. Somewhere between Pikeville and Crossville, we came upon a big field just full of vendors. The first booth we came to after we parked was a medicine man in a wheelchair selling a "miracle healing oil." The oil was "only" $35, he said, and would work wonders in less than 3 minutes. I wanted so badly to ask him why he didn't open up 3 or 4 of those bottles and bathe in it to see if he could get out of that wheelchair. But Billy was tugging at my arm and urging me to come on and leave the old man alone. I had looked at the ingredients on one of his little bottles, as I've studied alternative medicine for 30 years, and I didn't see any ingredient on there that could possibly help with pain except the Eucalyptus Oil.
But whatever -- if you want to set up, you have to sell "something."
We made a quick trip through that field and little woods and headed for our car. When we passed back by the old medicine man, he had evidently talked a couple into trying a few drops of the miracle oil for a headache, but the couple was walking away and the old man was saying to them, "Well if you'll just give it a few more minutes, I'm SURE it will stop the pain." But the couple just kept walking.
At Crossville, we encountered much of the very same, just blocks and blocks of wall-to-wall yard sales. We stopped at a few, but by this time we had seen just about all of the pink carnival glass and clear cut glass that we cared to see on this trip, so we made a few quick run-throughs, had another of those mouth watering Tennessee barbecues at a booth that was just called Pete's Mayfield Ice Cream and barbecue, I think it was, and started to head out of town and towards Clarkrange.
I had read about the old Cumberland General Store at Clarkrange and I told Billy before we left the house that no matter what, we had to go at least that far. I just felt I had to see that Old Cumberland General Store. But before we could get to the edge of town and head on North, Billy made a quick U-turn in traffic and pulled into a lot with just one vendor.
"What in the world are you doing?" I asked him. "We're running late and we need to get to Clarkrange." He said he had spotted something he had to take a better look at and just to be patient for a few minutes. We pulled in and got out of the car and he walked straight to this old life size Indian mannequin sitting in a chair on the side of the road.
"I think I need this old fellow for my motorcycle museum." He explained to me. So he walked over to the couple running the booth and asked the cost. They said it would take $250 to tote him out of there. But, Billy told them he would give them $175 and he would assure them that the old Indian would never give them another minutes trouble. They agreed, so we carried the old Indian mannequin to our car, set him in the back seat and strapped him in with the seat belt.
Back in the car and back on the road, there's 3 of us now heading to Clarkrange. The old Indian was quiet but drew quite a bit of attention as we drove on up old Hwy 127. By the time we got to Clarkrange, it was about 4:30, there was a lot to see, but we still had a 4-hour drive home. So we hurried through the vendors and then checked out the old Cumberland General Store.
It was really a neat place, lots of old Hillbilly cookbooks, old feed sacks, old metal signs, you name it, and if it was from the "good old days," they had it. I bought a metal sign for outside Billy's museum that said "Motorcycle Parking Only." It wasn't old and didn't even look old, but I wanted *something* from that store and I already had all the Hillbilly books they had.
Even though Clarkrange was on my mind from the time we left home, we didn't spend much time there. It had been a wonderful but exhausting day and we were ready to hit the road for home.
We arrived home at 8:55p.m. just in time to check in with Greta and see if they had found Caylee. So I ran in and started the VCR to record Greta so we could put our things away before settling down for the evening.
If I had to advise someone about going on the World's Longest Yard Sale, I'd advise them to start at about Crossville and head North. The scenery was absolutely unforgettable in the Signal Mountain area, and we met some wonderful people, vendors and shoppers alike.
But at least from Signal Mountain to Pikeville, there are just too many professional vendors. You take the time to find a place to park and walk 2 blocks to shop in a field, only to find it's almost a carbon copy of the one you just left. And that happened over and over and over. But it seemed that by the time we came into Crossville, we were beginning to see a lot more regular yard sale type stuff and more crafters and bazaar type booths.
You know, if you want to go antiquing, there are big antique shops and malls within a rock's throw from you no matter where you live. But a good yard sale is not that easy to come by for most folks. I would much rather see a lot more regular yard salers set up, and a LOT less professional antique vendors.
On our little one day excursion, we bought 34 advertising mugs for Billy's collection and most of them were 25 to 50 cents, he had to pay $1 for 2 of them, and $2.50 each for the 2 he bought in Dunlap. I bought a 1967 Good Housekeeping magazine for $1.50, a few old dishes for 25 to 75 cents each, an old tin sign for $5 that said, "Last Chance Motel" that I'm going to hang on a big tree at the corner of our back porch, the motorcycle-only parking sign that I bought at the Cumberland General Store for $6, a couple of herbal bags at a craft booth for $7 each, a few old books for 75 cents to $1, and of course, our old Indian mannequin for $175.
Next year, we hope to go again and start at about Crossville and head north. Several shoppers told us that Kentucky was the best state to shop the route to find real yard sale treasures. All in all we absolutely had a ball, made many priceless memories and I wouldn't have wanted to miss it for the world.
I saw the HGTV special about last years World's Longest Yard Sale and it didn't even begin to do it justice. And I complained about pictures that I found on the internet and announced loud and clear that *I* would be taking more and better pictures than I had seen. But you know what, it's hard to take a little old 35mm camera and do justice to 150 booths set up in a field. You just can't get a "picture" of what you are actually seeing, so folks can have a "feel" for what it's like to actually be there.
I found many things not to be true that I had read about when researching this yard sale. <> There are many Walmarts along the way. There are many McDonald's and Pizza Huts and big chain groceries along the route. You *can* find a place to stay at the last minute. But it really is just hundreds and hundreds of wall to wall yard sale and antique vendors in every little town you come through and even many in individual yards and fields along the route.
And it absolutely *is* true that until you can go and experience it yourself, there is just no way to describe it and do it justice. I don't care if you're Ward and June Cleaver from a little farm in Southern Illinois, or HGTV.
*********************
2) Flip of the Week Contest 9: Everlast, Florentine Items, Pucci, Burberry
*********************

Hi Julia,
I wanted to share with you a find I found in my own house!! I had several unitard shorts and one in particular - black EVERLAST - sold to a woman in Australia for $76 on ebay!!! Also sold a red one for $19 and a white one $13. Had them in a yard sale box and no one purchased them. Very shocking.THANKS FOR YOUR NEWSLETTER!!!
Connie B.
Northern California
EBAY ADDRESS: EternallyElegant4Ever

~~~
Hey Connie!
Wow! Everlast, huh? I love that you found those in your own house. Too cool.
I'll have to research Everlast shorts and see what comes up. I wonder if it's an Australian thing, too?
I'll put your entry in the next contest..more good prizes.
Actually I am also thinking of putting these tips on my blog, too..so I can get them out there before the newsletter.
Thanks so much! Love it!
Julia
~~~~

Subject: Flip of the Week - Florentine Items
Hi!
My daughter and I have been on ebay for years, I even supported us when I was first single by selling my clothes on ebay! We've had our share of 'flips' over the years! One that I always remember is a purple silk Pucci purse that I gave my daughter for her birthday one year - I'd gotten it at a thrift shop on 1/2 price day for 2 dollars. She eventually tired of playing dress up with it and we sold it on ebay for $325.
I also remember the fun of packing a record to send to Japan, I'd bought a few thousand records at a thrift shop for $100, and that one record sold for $250!
Recently, we've had some fun flips with vintage Florentine items. I bought a large gold tray at a garage sale for .50 cents - I told my daughter it was a good deal - well, we sold it on my account for $33.00 (auction # 15024386828).
Then a few weeks later, my daughter found a matching wastebasket at the local thrift shop! I paid a dollar for it, and she sold it on her account for $40.00 (auction # 330248805764)!
I'm not feeling my best physically these days, but we're making the best of things, and definitely having fun on Amazon, Craigslist and Ebay!
Thanks for your great newsletter!
Rebecca263 (and Elissa1001!)


~~~

Hi Rebecca!

Thx for the wonderful flip stories! A real Pucci from a thrift shop..that's a great find! I've looked for those but never found one.

I wouldn't have thought of Florentine items selling well...I'll start scouting for those too. :)

Thx again for the great flips, and pix, and u are entered into the contest.

Julia

~~~~~
Hi Julia!

I just joined this group a couple of weeks ago and LOVE it!!!

So much great information & stuff.

I had a recent flip that I wanted to share about. I was rummaging thru a huge box of loose clothes at a yard sale last winter - being careful coz it was dusty and the stuff on top looked pretty ratty and old. When I came to the bottom, there was a beautiful perfect Burberry cashmere scarf!!!!

I looked it over carefully - not wanting anybody to see what I'd found! It didn't have any holes, not even one fringe was missing and it still had the Burberry label on it. When I asked how much, they said $2.

Well, for that price, I'd keep it myself if it didn't sell on eBay! Started the auction at $.99 and watched patiently. I thought I'd get about $25 for it, but I got $72!!!!! Shipped it off to its new home in California, with a huge grin on my face!

Thanks for letting me share my story,

Anne

~~~
Hi Anne,

Wow...great "under the radar" find! I love it. It just shows it pays to look under stuff and really root around. Luxury brands like Burberry, Gucci etc sure can command high prices..even old stuff!

Thx a mil and you're entered in to the contest. :)

Thx again and good luck!!

Julia

~~~~~~~~~~~~~


Now for the winners (wow, I feel a bit like Heidi Klum on "Project Runway" -- I wish! Only, no one gets auf'd here):

Again, everyone wins something in this contest, because I still have a decent amount of swag from eBay Live.


- Rebecca (and Elissa) win first prize of a sparkly eBay keychain and three collectible pins for their great Pucci find, as well as the Florentine scores, and also for cluing us in to keep our eyes "peeled" for these (as my mom used to say). Another reason I chose their letter was that Florentine items aren't all that hard to find, so I'm hoping many of you all profit from this tip. (I for one had just bought a Florentine tray from an estate sale before reading Rebecca's letter).

- Anne and Connie B. are tied for runner-up, and each win three eBay collectible pins, plus either eBay branded mints or swag M&M's from salesforce. (Mmm...I've kept from eating them).

Everyone, please email me your mailing address so I can ship the loot out to you.

Didn't win this time? Fear not! There's plenty of loot left for the upcoming contests, including one last complete set of eBay pins from the 2008 convention.

********************
3) Reader Mail
********************


WikiValue: New site for appraisals

Mike from WikiValue.com recently wrote me asking for a link on juliasauctionlinks.com (check out the site if you haven't seen it in a while..it's an auction resource directory):

WikiValue.com is a place to ask the world for an appraisal on almost anything. A user simply creates a new page to list an object (or maybe even an idea) and puts it out to everybody else on the internet to find out what it is worth. Get opinions and information from experts in the field and anybody who might actually buy and sell these things.

The site is brand new and needs input from experienced Yard Salers, collectors and dealers. Help novices evaluate their finds, see what other people have to say about your stuff and help create a world class reference site in the process!

Mike

~~~~


Thanks so much, Mike! I look fwd. to checking it out.
Julia
~~~
HI Julia,
Just wanted to caution you on the Harry Potter "first editions.'' The number run must also go down to "1,'' or it's NOT a first...they kept the slug "First American Edition'' on subsequent press runs, so it's meaningless. See this link for additional information!
Happy hunting!
Kathlyn @ Gargoyle Books


~~~
Hi Kathlyn!
Great info..thanks so much for sharing! May I put that in the next issue? [ I emailed Kathlyn and she said she doesn't yet have a web address, yet (she sells through ABE, etc) but is working on it.

She mentioned a link, but in re-reading the email thread, I don't know if the AOL reply-software ate it or what but I don't see it. Kathlyn, if you read this and feel up to re-sending that link, I'll put it in the next issue..thanks so much!
------------

Well, I'm sure I have more Reader Mail to get caught up on, but this issue has gotten so long, it will have to wait for another issue.

Have a great (and profitable) week, all!

Julia

**************

Julia's special report about albums is beefier than ever with top-selling Rock, Pop, Country, Classical and Blues prices: Make Big Bucks Selling Vinyl Records on eBay. Records expert spills his secrets!

Click here to find out more
or paste http://www.yardsalers.net/albums_subs.asp into your browser.



************************


*********************

BigCrumbs lets you earn money back not only on what you and your referrals spend on eBay, but over 200 retailers such as Target, Best Buy, and Peapod by Giant.
Make Money with Your Everyday Shopping with BigCrumbs


*********************
Secret Product Sources


Looking to find hot items to resell on eBay? Great news: we've sourced out a treasure trove of online (and a few offline) sources where you can find hot items to buy and resell on eBay for fast profits.
*********************
What's the PERFECT eBay product? Learn How To Make Money with information products on ebay.
*********************


Do you like this newsletter? Please forward it (in its entirety) to a friend! Just go to http://www.yardsalers.net and see the "Subscribe" box on top.


**Don't have five minutes to read the newsletter now? Print it out and read later.**
[For more writing and photos throughout the month, check out Julia's bidbits blog at http://www.bidbits,net ]

******************************
"Selling on 'The River: Hedging Your Bets on Amazon


Between eBay and amazon, you're looking at over 100 million visitors per month. Why not harness the power of both? It just doesn't make sense not to.

Former eBay University instructor Steve Lindhort's ebook will open your eyes to all the other types of things you can sell on amazon beside books, and how.

At $29.97, I think it's a good value. And you also get:

- "25 Things eBay Sellers Must Know about Selling on Amazon" and
- SPECIAL BONUS - "How to Scout for Top Sellers with Your Cell Phone."

************************
SUBSCRIBE TO BOOKTHINK'S QUARTERLY MARKET REPORT OF COMMON, PROFITABLE BOOKS.
New! Includes 100 easy-to-find books that sell for $30 and up. $49.99 annually or $19.99 for individual issues.
Click here to subscribe.
******************************

******************************

******************************
The eBay Seller's Guide to Finding Profitable Hidden Bargains at Garage Sales
Find out here.
*******************
Would you like your own fully customisable ebook website pulling in profits day after day, month after month, year after year, complete with video tutorials showing you EXACTLY how to get set up and running? Find out here.

That's it for this issue. Until next time! - Julia

------------------

Questions about My eBooks Ordering
You can certainly purchase from me directly, as can anyone. Most of my ebooks are now available via the website's bookstore at www.yardsalers.net/bookstore. Any others you have questions about, all you have to do is email me and let me know which ebook(s) you want, if you are a subscriber and thus eligible for the discount, and then PayPal me to my PayPal id at juliawilk@aol.com. I'll be tweaking and updating the ebooks page on my web site soon.

-----------------------------------------------

Do you have a Flip of the Week? I'd love to hear about it! Email me at juliawilk@aol.com and let me know.
-----------------------------------------------
Nonfiction Books that Sell for $50 - $250 on eBay:


or
Buy Now
*********************

I am always open to reader articles, so if you want to write about something relating to yard sale-ing and eBaying, just flag me down! I will of course give you credit, using your eBay ID, web site, or any other contact info.
------------------------------------
eBooks by Julia L. Wilkinson:
[All my ebooks are offered at 1/2 price from their regular prices to the subscribers of this newsletter. If interested in any of them, please email me at juliawilk@aol.com.]
- How to Spot Fakes: email me!
*********************

Blogs, Blogs, and More Blogs
Check out My amazon.com Author Blog

Those of you who just can't get enough of my writing (are there any of you?) will be happy to know I now have a new blog on amazon.com. Amazon.com has created an "author blog" tool for authors to...well, blog. You'll see it if you bring up either of my books on the amazon site, but for good measure, it's at: http://www.amazon.com/gp/product/1593270550. (Scroll down to "amazonConnect").
My TypePad Blog, "Bidbits"
You can also check out my typepad blog, "bidbits": bidbits

********************************

Do you have your copy of Julia's book, eBay Top 100 Simplified Tips & Tricks?

It's available on amazon.com and barnesandnoble.com. If you do want to order the book, I'd appreciate if you'd support Yard Salers and eBayers by using my affiliate link below.

********************************


----------------------
Copyright 2008 Julia L. Wilkinson
----------------------

Thank you for subscribing to Yard Salers. Yard Salers email newsletter may be freely distributed in its entirety, so please pass it on. You may reprint any of the articles in this newsletter for any purpose as long as no portion of the article is modified without permission, and this tagline is included:
Yard Salers, www.yardsalers.net
Publisher, Julia Wilkinson, author of the award-winning "eBay Price Guide." and "What Sells on eBay for What"

No part of this publication may be reproduced or stored in a retrieval system, in any form or by any means, electronic, mechanical, photocopy, recording, or otherwise, without the prior written permission of the publisher. Yard Salers makes diligent efforts to obtain accurate and timely information. However, Yard Salers disclaims any liability to any party for any loss or damage caused by errors or omissions in Yard Salers, whether or not such errors or omissions result from negligence, accident or any other cause.
End