ISSUE 34: October 12, 2007
Yard Salers: Issue 34! Dickering Down & More on Realtor Deals: Oct. 12, 2007
Subscribe at: www.yardsalers.net
Please forward this newsletter to a friend!
Hello, all!
What? You may be thinking. Another issue of Yard Salers so soon? That's right. As I mentioned in a previous newsletter, we were planning to do a "get ahead" issue. Then I got to thinking, there's so much going on, why not go weekly?
But don't worry. We'll keep the issues short, sweet, and money-making. Today we're going to talk about dickering down, a little more about getting free fabulous stuff via real estate agents, and about a great new auction resource site a friend of mine has created.
I got out to some yard and estate sales both last weekend. One thing I've been noticing lately is the occasional, how shall I put it, false or exaggerated advertising for a sale. This one sale was advertised on craigslist as having "Costume jewelry 40's-50's, some gold & silver antique jewelry, clothes 30's-40's, knick-nacks, WW2 papers, a house full of stuff."
I really think "a house full of stuff" was a stretch..there were a few tables set up on either side of the driveway. There were some vintage-looking clothes but they didn't look 40s-50s to me. It's possible they could have been, I suppose. The costume jewelry was, fair enough, costume, but of course costume jewelry can be pretty darn nice. The only nice jewelry here was in the real jewelry basket, and to my mind these were all priced at real jewelry prices, not bargains.
I understand wanting to make halfway decent money on real jewelry, but I don't think people should expect to get close to retail prices at yard and estate sales. Or am I just turning into a crotchety old lady?
Well, 'nuff said on that. It may have just been an off morning for me.
I did make it down to a neighborhood sale, where all I seemed to find out of everything there was a rubber "Yoda" Halloween mask. I must have been jacked up on a mixture of caffeine and too-little sleep, because I kept muttering, "There is no 'try.' There is only 'do.'" It's a good thing my 13-year-old daughter wasn't there to be totally embarrassed by me.
Now, I actually did come across a "house full of stuff" on Friday -- Friday being the new Saturday, because that's the first day of most estate sales, and forget about going to estate sales Saturday unless looking at picked-over carcasses is your idea of a good time.
Speaking of Halloween, it's that time again. Get all your Halloween stuff -- old costumes, decorations, and even art, ephemera, and greeting cards (I have noticed some old Halloween paper selling at crazy prices -- is Martha Stewart bidding on here?) -- up on eBay or other sites asap.
So without further ado, let's get to it!

*********************

Buy Low. Sell High. What Sells on eBay for What 2007 is here. Over 300 pages high and median prices for key categories. Plus Top Searches and Most Watched Items for EVERY eBay category.

Click here to order.
Or cut and paste this url into your browser:
www.yardsalers.net/WhSlls_upd_subsc.asp

*********************
Dirty Bits of Paper Fetch $1600? Making Money with Post Cards. 40-year veteran of the trade Avril Harper says she's overspilled the beans by giving all the information you'll need to begin making $200 - £100 or so every day on eBay, and PROMISES no one else in the eBay universe will tell you about this remarkable profit-spinner.
Find out more here .
Or cut and paste this url into your browser: http://juliawilk.boadiegirl.hop.clickbank.net/
*********************

Do you like this newsletter? Please forward it (in its entirety) to a friend! Just go to http://www.yardsalers.net and see the "Subscribe" box on top.
**Don't have five minutes to read the newsletter now? Print it out and read later.**
[For more writing and photos throughout the month, check out Julia's bidbits blog at http://juliawww.typepad.com/bidbits/.]
***************************
In This Issue:
1) Dickering Down is Not an English Estate
2) Try Auction TNT to Explode Your Success
3) A Bit More on Realtors and Getting Estate Stuff for Free
4) Reader Mail: Curbside Values or Common Thievery?
***************************

-------------------------------------------------
1) Dickering Down is Not an English Estate
-------------------------------------------------

OK, that may be an obscure joke: "...Down" being in the name of some English estates..you know how the English like to name their homes? For example, Duchess of York Sarah Ferguson grew up in a place called "Dummer Down" ("incredibly," as Tina Brown would say).
But you and I and other estate salers know dickering down as what we do to get lower prices. My question to you in this issue is how much do you do it, and how do you do it? I'll run your answers in the next issue.
My thoughts on dickering down/bartering is that it's fine to do, but one needs to be sensitive to the context. For example, if I think an item is of good quality and already priced as a bargain, I usually don't try to barter further down. I have heard many a person running a yard sale grumble about the people trying to talk them down on their fine items when they feel they were already priced insanely low.
Of course, this kind of thing can get very fuzzy, and one man's bargain is another's fair game for bartering further down.
I have a friend who makes it a challenge and a regular way of doing business to barter down on everything he buys.
For me, the type of transaction I am most comfortable dickering down on is the group purchase. For example, you have several things in one genre, like, for example, a stack of post cards, and you say, "Will you take five dollars for these?"
I find that this is also the type of purchase that sellers are most willing to lower prices on, as well. They seem to like the idea of getting rid if a bunch of stuff at once, and making more money even though it's less per item.
What are your experiences with this? Let me know at juliawilk@aol.com and I'll run them in the next issue, so we can all learn from each other's dickering strategies.
----------------------------------------------
2) Try Auction TNT to Explode Your Success
----------------------------------------------

I think I've said before, but I'll say it again, I won't recommend anything to you that I haven't read or vetted myself, and that I wouldn't use myself.
I'm going to recommend something today by someone who is not only extremely successful in the eBay world, but he's a super nice guy to boot. Mike Enos is a platinum powerseller who has sold achieved over $25,000 in MONTHLY sales, shipping over 15,000 packages all from home. (Whew).
OK, so great for him..what's in it for you, right?
He's created a new selling resource site called AuctionTNT.com. It's packed with all kinds of great tips and tools. Here's just ONE example that I plan to use myself, called FAME (Feedback Ad Maker for Ebay).
It allows you to go thru and check specific feedback comments, then display them to prospective bidders in a cool video format in your listings. Very cool and powerful...really leverages that great positive feedback.
You can sign up for AuctionTNT by going here: http://www.auctiontnt.com/pages/128.htm.
Other resources and tools on the site include: a wholesale search engine, galleries and slideshows, an announcement maker. And that's just some of them.
Here's another cool one: Announcement maker. A great alternative to the kinda lame Store vacation setting tool eBay gives you (which, by the way, only works with your eBay Store listings anyway). This lets you post post-it like notes in your auctions that state you're away, when you're coming back, etc.
Check out AuctionTNT by clicking here: auctiontnt.

*********************
Books are everywhere, and relatively cheap and easy to ship. But which niches hide the gems, and which might you be neglecting? Get over 130 pages of prices, resources, and ebay sellers' secrets -- Over 500 Books that Sell for $50-$5000.
*********************
Who are you listening to for eBay and Internet success advice? Click here to get a live team of experts that have DONE IT.
*********************
----------------------------------------------
3) A Bit More on Realtors and Getting Estate Stuff for Free
----------------------------------------------

In the last issue I wrote about the opportunities lurking out there for us via the real estate agents in our neighborhoods. Remember, word of mouth sells houses, and word of mouth can also connect you to estates of stuff that people need help selling, or maybe don't have the time or inclination to sell themselves.
What drives a grown man to leave eight full boxes of books, and a whole wardrobe of suits behind in his attic, telling his realtor to dispense with them any way she sees fit? It's called love.
Yes, he fell head over heels in love, headed to Florida with his new lady, and never looked behind. I offered to move the boxes, and happened upon stacks and stacks of art books, catalogs, two circa 1900-1910 sets of poetry and literature, and many books signed by authors.
[Here's a picture of one of the sets; a circa 1910 series of Alexandre Dumas's works:]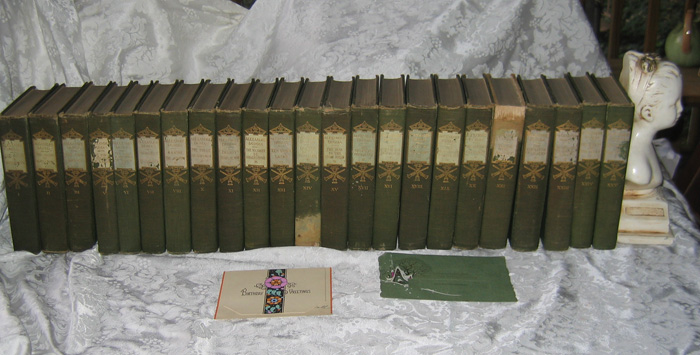 Isn't that better than fighting hordes and hordes of hungry book-eating dealers at sales, some of less-than-stellar manners and questionable personal hygiene?
Well, since that last book windfall, I decided to ask another real estate agent I know about the possibility of help clearing out books from sold houses. I simply said that if he ever needed help moving boxes of books from houses he closed on, I would be happy to trek out there with my SUV, load 'em up, and sell 'em.
I also offered the possibility of selling certain things on commission. Although, I do feel you need to be careful what you sell on commission -- it has to be of a high enough dollar value to make it worth your while, and you have to anticipate what might happen to you and your feedback rating should the buyer complain. I made the mistake of taking on some books from one client that just weren't sellable enough, and they've been sitting rotting on my shelves for oh, I don't know, a year or so? Although one of them finally sold from my eBay store after months and months, so you never know.
This other realtor told me he was selling one house in an upscale neighborhood where the seller had all kinds of things to get rid of..and in fact told him to take his pick of things to take home with him. He wound up taking a nice candelabra.
So the word is out. I bring this second story up to you as something else to think about, the power of getting the word out; even if it's just little by little in the course of your daily conversations -- waiting in line at the post office, taking walks in the neighborhood, what have you.
And, of course, I'd love to hear how this works for you. Email me at juliawilk@aol.com.
*********************
Julia's Make Money Selling Kids' Clothes on eBay ebook has been updated for 2007! Now 42 pages, it's jam-packed with brand analyses; high, median and low prices; and tips about where to find the best children's clothes to resell. Buy it!.
**********************
The eBay Seller's News is the largest Opt-In, FREE monthly newsletter for professional eBay sellers.
*********************

----------------------------------------------
Reader Mail
----------------------------------------------

This next letter we're going to run anonymously, and after you read it you'll see why. :)
--
Hello Julia. I was wondering what the regulations are in the City of Alexandria regarding doing this on trash day. I was rescuing some items in the daylight hours on trash day recently in a neighborhood in Alexandria when a woman across the alley starting yelling at me (it wasn't her stuff, by the way, at the curbside) and said it was against the law for me to do that and I needed authorization from the government to pick up other people's stuff on trash day. I told her that I was getting the items to reuse or donate to the thrift store, because she asked me what I was doing with them. She said "You've got a nice car, you don't need to pick up other people's trash, and I've heard of people identity stealing." I assured her I meant no harm to anyone. She was practically yelling by this time and said I was trying to outrun the garbage trucks. I was so mortified and embarrassed that I took the items out of my car and put them back out.
It was definitely the most embarrassing thing that ever happened to me in my life. Am I doing something wrong? The thrift shops and the ReStore are so happy when I bring them things, yet this woman made me feel like a criminal. Can you give me any guidance on this? I'd appreciate any information you might have.
Thank you very much.
[I'm signing her as] Jane Doe
--

OK, I called the Alexandria, VA division of solid waste about this, and their answer was that once someone puts something out on the curb, it's out of their control. The person on the phone said it was not illegal. I mean, after all, as I said, if someone had put it out, they have indicated they don't want it, right? And they agreed with that.
It's also funny that you ask this now, because a similar question came up recently in the syndicated "Ask Amy" column which runs in many newspapers. I'm going to quote from the letter and Amy's answer, but first let me say I think people like the lady who yelled at you are mean-spirited petty folks who don't have anything better to do than meddle with other people who are doing no harm. And you are indeed doing no harm, whether you resell it, donate it to charity, or make a birdbath out of it. Here's part of the Amy letter:
Dear Amy: I have a friend, "Mandy," who is a stay-at-home mom with two small children. Her husband is well-paid, and they have a very comfortable lifestyle.
Mandy sells clothes and shoes on eBay to make extra cash. What bothers me is the way she does it. She goes to Salvation Army stores and buys shoes and clothes by "armloads" (her words) and sells them for about five times the purchase price.
She does work hard to earn that money, but aren't these shops for the economically needy? ...I donate a lot of good brand-name clothes and shoes to the needy, and now I wonder if my donation really does benefit the needy.
-- Sandy
Amy's reply? In a nutshell, there's nothing wrong with it! Here's the germane part of her answer:
Dear Sandy: "Buy low, sell high." That's a central tenet of capitalism; it's also something that "Mandy" and the Salvation Army have turned to their advantage. You, however, seem a little confused.
...I...shared your question with Maj. Dennis Gensler, general secretary of the Adult Rehabilitation Centers Command for the Eastern Territories.
Maj. Gensler explained to me that the money Mandy spends for the "armloads" of goods she purchases at these donation stores goes to fund programs at the 115 Salvation Army adult rehabilitation centers throughout the country. In other words, the stores have a dual purpose. They offer low-cost used goods for sale to anyone (not just the needy), and they use the profit from the sale of your donated goods to fund their operations. See? Everybody wins!
--
So, Jane Doe, and Sandy, need not worry about the curbside stuff, or buying stuff at the Salvation Army to resell, or anything. Now, George Constanza picking the chocolate eclair out of the trash to eat, we may have to talk about separately.
******************************
SUBSCRIBE TO BOOKTHINK'S QUARTERLY MARKET REPORT OF COMMON, PROFITABLE BOOKS.
New! Includes 100 easy-to-find books that sell for $30 and up. $49.99 annually or $19.99 for individual issues.
Click here to subscribe.
******************************

******************************
Lynn Dralle's famous "boot camp" is now in a box! "My success was no accident...It has taken me eight years to perfect my system and hit the six-figure sales level on eBay. I've done it and so can you. And now I'm doing the unthinkable -- I am sharing all of my secrets - step by step, in my eBay Boot Camp in a Box!" Click here for Lynn's Boot Camp in a Box!
**********************
**********************

That's it for this issue. Until next time! - Julia

------------------

Questions about My eBooks Ordering
You can certainly purchase from me directly, as can anyone. Most of my ebooks are now availabke via the website's bookstore at www.yardsalers.net/bookstore. Any others you have questions about, all you have to do is email me and let me know which ebook(s) you want, if you are a subscriber and thus eligible for the discount, and then PayPal me to my PayPal id at juliawilk@aol.com. I'll be tweaking and updating the ebooks page on my web site soon.
-----------------------------------------------
YOUR FEEDBACK WANTED: What Else Do You Want to See in Yardsalers?
-----------------------------------------------

I am always open to reader articles, so if you want to write about something relating to yard sale-ing and eBaying, just flag me down! I will of course give you credit, using your eBay ID, web site, or any other contact info.
------------------------------------
eBooks by Julia L. Wilkinson:
[All my ebooks are offered at 1/2 price from their regular prices to the subscribers of this newsletter. If interested in any of them, please email me at juliawilk@aol.com.]
- How to Spot Fakes: email me!

*********************

Blogs, Blogs, and More Blogs
Check out My amazon.com Author Blog

Those of you who just can't get enough of my writing (are there any of you?) will be happy to know I now have a new blog on amazon.com. Amazon.com has created an "author blog" tool for authors to...well, blog. You'll see it if you bring up either of my books on the amazon site, but for good measure, it's at: http://www.amazon.com/gp/product/1593270550. (Scroll down to "amazonConnect").
My TypePad Blog, "Bidbits"
You can also check out my typepad blog, "bidbits": bidbits

********************************

Do you have your copy of Julia's book, eBay Top 100 Simplified Tips & Tricks?

It's available on amazon.com and barnesandnoble.com. If you do want to order the book, I'd appreciate if you'd support Yard Salers and eBayers by using my affiliate link below.

********************************


----------------------
Copyright 2007 Julia L. Wilkinson
----------------------

Thank you for subscribing to Yard Salers. Yard Salers email newsletter may be freely distributed in its entirety, so please pass it on. You may reprint any of the articles in this newsletter for any purpose as long as no portion of the article is modified without permission, and this tagline is included:
Yard Salers, www.yardsalers.net
Publisher, Julia Wilkinson, author of the award-winning "eBay Price Guide." and "What Sells on eBay for What"

No part of this publication may be reproduced or stored in a retrieval system, in any form or by any means, electronic, mechanical, photocopy, recording, or otherwise, without the prior written permission of the publisher. Yard Salers makes diligent efforts to obtain accurate and timely information. However, Yard Salers disclaims any liability to any party for any loss or damage caused by errors or omissions in Yard Salers, whether or not such errors or omissions result from negligence, accident or any other cause.
End