ISSUE 81:
November 2014: Profitable Holiday Items; Estate Sales: Early Birds vs. Latecomers; Latest Flips & Flops, and Next Flips Contest.
Subscribe at: www.yardsalers.net/subscribe.asp

Please forward to a friend!
Hello, all!
Welcome to November and the thick of the holiday selling season! If you live in a region that experiences winter, those early-morning forays to all the outdoor yard sales may not be possible. But there are still plenty of places out there to get your bargains; and, if you resell, like many subscribers, to buy your inventory. One of those types of places is estate sales.
I've asked one of the estate sale mavens who reads this newsletter, and is an "early bird" to most of them, to write a short piece about the advantages of that. I will also write about some of my finds as a "latecomer," and how you can still get bargains and undiscovered finds if you come towards the end of a sale.
In the future, I'm also going to write about a new kind of place I'm getting inventory, which actually does not carry secondhand items. What could that be? Hmm....you'll have to keep reading the newsletter.
And, we of course have our latest Flips and Flops contest with its $50 prize.
Holiday Items Can Lead to Big Holiday Profits
While many sellers will be chattering about which toys and electronics are hot to resell this season (I've heard for months that merchandise from the movie "Frozen" is in demand), one Old Faithful niche is...holiday items themselves.
I was out at one of my favorite thrift shops the other day and it looked like several families had unloaded their entire attic or basement stash of ornaments, holiday dishware, and large Santa Claus or "Pere Noel"/"Old World" Saint Niklaus type figurines. You can find this stuff in a lot of places including thrift shops, Goodwill shops, estate sales, local auctions, and even store closeout or liquidation sales.
Selling holiday items can be lucrative in the runup to the holiday season, and in fact, all year.
Here are a few keys types of items to be on the lookout for:
- German-made nutcrackers. These are large, decorative wooden nutcrackers, decked-out in holiday colors and themes. I once came upon a whole table of these in a garage at an estate sale. I resolved to come back out and examine them more closely after I had cased out the whole house. Well, I was kicking myself later, because I learned they were all German-made high quality nutcrackers, and by the time I went back out, one lady had bought them all!
A couple of good names to know in the world of fine nutcrackers are Kurt Adler and Steinbach, as in the Steinbach family. They date all the way back to Erwin V. Steinbach, who was actually originally from Austria, and "a famous architect and master builder of the "Muenster" or Dome of Strasbourg in 1284," according to https://www.christmas-treasures.com/.
The Steinbach family relocated to Erzgebirge, once part of the former East Germany, where woodworking became popular after the metal supply in the mines there dwindled. "The first nutcrackers, created mainly in the Erzgebirge, depicted images of kings, military officers, and other prominent members of the upper classes," but Herr Steinbach, "in his own unique way, altered this tradition and raised the nutcrackers to a different level," according to the site. The subjects of the nutcrackers "were expanded to depict characters from German folklore and legend, and also characters from different areas of the globe..." Steinbach also introduced the "limited edition" nutcracker.
After World War II, many of the returning American GI's brought back the well-made and colorful nutcrackers to the US.
In eBay results you will also see the name "Kurt Adler," a company that imports various well-made holiday goods, including the Steinbach nutcrackers to the US.
- Pere Noel / Saint Niklaus figurines
These "old World" / European-style Santas sell for various prices. If you find one new in the box as I did in the thrift store the other day, it's worth looking up on eBay or Amazon to see what it's going for.
- "Christmas Village" miniature Christmas / winter figurines such as "Department 56" brand.
- Other assorted brand name miniature Christmas houses and items. (I went to one "clearout" estate sale where the owner had boxes and boxes of Christmas miniatures stacked all over her living room. I still have some of the bits left from that, such as a miniature wooden picket fence, I will probably list on Amazon).
Below: A sampling of some of the highest-priced nutcracker sales on eBay. Many are Steinbach brand, but note that some are not, such as the set of Russian nesting dolls. (There was also a "Genghis Khan" nutcracker signed by artist Susan Milford, of MO, which went for $809.99).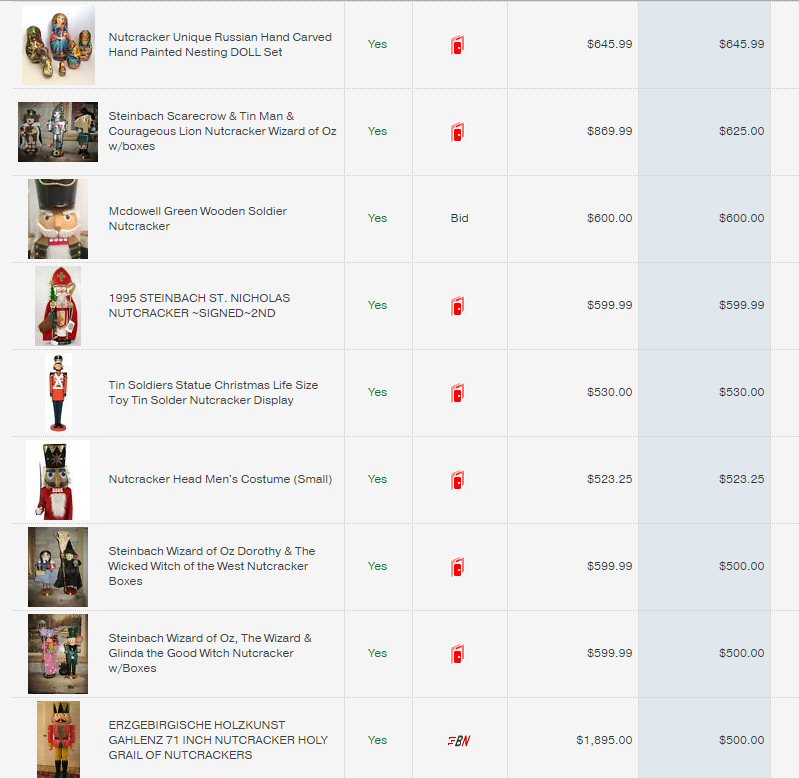 [Above: Recent High-Priced Holiday Nutcracker Sales on eBay]
***********************************
Want to Make $250? "Sell with Video" Contest on Tweli.com
Speaking of big bucks, the site Tweli.com is having a "Sell with Video" contest. All you have to do to enter is sign up at Tweli.com, then make a video with your iPhone using the "Tweli CREATE" app and an iPhone (or use any smartphone and upload your video directly on Tweli.com). Then, include #SellItWithVideo" in the title of your video and be automatically entered to win.
I have been acting as a consultant for this new online marketplace. In a very simplified summary of what it's all about, it's like eBay with video, and is currently free to list there. I'd love to hear your feedback on the site, which allows you to upload videos easily from its iPhone app, Tweli Create, at https://itunes.apple.com/us/app/tweli-create/id876663917?mt=8. (Or, you can simply list from the web site at tweli.com). ***********************************

I hope to have version 2.0 of "Flip It Again" done by the end of the week. I'm adding 10 more items to the list of 10 specific things that I come across regularly that you can resell for $50 and up.
A reminder that there are two Faceboook Yard Salers groups -- one is open, but for those of you who don't know about it, there is also a closed/"Secret" group, because the regulars did not necessarily want their best tips going to the whole Facebook world. Here's a direct link to it if you want to join it (I'll need to approve you, but I try to do that asap): https://www.facebook.com/groups/219812014811564/
One of my priorities for the coming weeks is to get some standalone bulletin boards on the YardSalers.net site itself.
********************************************************************
Hidden Holiday Items that Sell, Sell, Sell From Suzanne A. Wells: "Groceries are consumables and customers often buy multiples of an item. Add on top of that the 4th quarter is one of the busiest seasons for entertaining, family gatherings, and falling off the diet wagon- foods are the hottest items. Best of all they can't be returned! What I have learned over the last 3 years about what sells grocery-wise this time of year may shock you. I know it shocked me. And that's why I created my latest eBook:Hidden Holiday food Items That Sell, Sell, Sell **********************************************************************
ProvenAmazonCourse: What is the "Proven Amazon Course"? It's a course put together by a seller and coach I trust, Jim Cockrum. In his words: "For several months I sought out and worked with the most successful Amazon sellers and creative Amazon selling experts in the world. Together we created a course and launched the most comprehensive 'selling on Amazon.com' course in the world, and THE largest expert monitored Amazon selling discussion forum in the world. Get your copy here! (If that link does not work, cut and paste this link into your browser: http://nanacast.com/vp/112924/596871/ ) **********************************************************************
Yard Salers uses the automated email system, AWeber. If you received a link to this issue in email, you should have requested this newsletter, and should not be receiving it unless you opted in. If you have any problems or questions about links in the newsletter, or other issues, feel free to email me at juliawilk@aol.com.
Now, without further ado, let's get to it!
In this Issue:
*********************************************************************
1) Estate Sales: Early Birds vs. Latecomers
2) Latest Flips & Flops, and Next Flips Contest
3) Reader Mail
*********************************************************************
Join us on Facebook: http://www.facebook.com/group.php?gid=27871336031 ***********************************
Queen of Auctions Lynn Dralle's Executive Summit
Are you ready to take your eBay business to the next level? "Queen of Auctions" Lynn Dralle is offering a new Executive Summit, with info at: http://thequeenofauctions.com/sale/BPlanner2014.html. Lynn says, "I invite you to be one of the early adopters and sign up to receive your own Personalized Executive Summit Business Plan. It includes the downloadable (or online) three-hour plus footage from the business-planning day in addition to some very important extras.
***********************************
New & USED Plush Toys are IN DEMAND on Amazon & eBay. Learn How to Profit from them with:
"You See a Plush Bunny, I See Money, Honey" by Jordan Malik. Or go to: http://paydotcom.net/r/142767/juliawilk/27341627/
PLUSH toys can be found easily, near YOU, for as low as 25 cents - and then resold for up to hundreds of dollars on eBay and Amazon!
****************************************************************************

****************************************
1) Estate Sales: Early Birds vs. Latecomers
****************************************

Early Birds, by Yard Saler Amy Kagey (her eBay Store is Collectibilities, at http://stores.ebay.com/Collectibilities:

Julia asked me to write a little bit about looking for items to resell at estate sales. These sales can differ greatly by location but in my neck of the woods (NW Ohio), they usually start at 9:00 a.m. They can be run by family members or by professional estate sale companies. Upon arriving at the sale, shoppers sign up on a sheet in order of arrival. This allows you to sit in your car until shortly before the doors open and not have to stand outside in a line. Some companies will also hand out numbers as you arrive.
Most estate sales run for 2 or 3 days, usually with discounts given after the first day. It is a matter of personal preference whether you prefer to shop early for the best selection or shop later looking for better prices. I myself get to estate sales a few hours before the doors open and sign up early. I like to have the first crack at items and sometimes there is only a certain number of buyers allowed inside at first.
I used to stay away from estate sales, thinking that everything had already been thoroughly researched and that there couldn't be any deals. I have learned that while sometimes prices are usually higher than garage sales, there are still lots of great finds! A few examples of estate sale finds: a Baccarat crystal shell paperweight that sold for $76.00 (paid $7.00), a bag full of Leica camera booklets that sold in several auctions for over $600.00 (paid $5.00 for all) and a Lancome perfume that sold for $187.00 (paid $5.00).
I attend estate sales several days per week, in addition to garage sales and auctions; and since there are lots of regulars, I have made new friends and business contacts. We learn a lot from each other and also turn to each other for advice. I would definitely encourage others to try them!
- Amy Kagey, Collectibilities (stores.ebay.com/Collectibilities)
Latecomers, by Julia Wilkinson:

OK, so maybe you're not one of those people who wakes up so perky they belong in a McDonald's McMuffin ad. Maybe you hate waiting in lines, as I do. But even if you hit up an estate sale later in the first day, the second day, or towards the end, I've found there are resellable bargains to be had.
I've often come across stashes of old magazines -- such as obscure craft magazines, that sell well on Amazon, or vintage women's magazines that are hard to find.
I've found things in the closets that went passed-over...including the classic white wool "Irish Fisherman" sweater, made in Ireland or hand-made.
And, the good news for pottery and glass folks, as you probably know, those often high-priced dish sets that were marked over $100 at the start of the sale may be reduced up to 50% or more on day two or three.
My favorite latecomer's dish score? A set of Meissen tea cups and plates in their pink rose pattern, with some accompanying larger plates, which the estate sale manager just wanted to get rid of...and she offered them to me for $.25 each! That's right, 25 cents each.
Sometimes things under things or in drawers go undiscovered 'til later in a sale. I walked into the sale of an antique doll collector a while back, and found that whole boxes of antique doll clothes were lurking under a cloth-covered table full of dolls. They've been selling for me nicely, and I still have a bunch left to list before Christmas.
One Yard Salers reader wrote in to say that he found things on the walls were often overlooked. I found some old framed scrip money on the wall in the bathroom in one sale. (Yep, things in the bathroom are not always scrutinized...I've also come across mother loads of high-end boxed makeup in the drawers).
So fear not, ye lazy Sunday drivers. If you're still up for an adventure early Sunday afternoon, there's still good reason to hit up an estate sale or two. Just do get there before they close. :)
****************************************************************************
Online Arbitrage - Sourcing Secrets for buying products online to resell for BIG PROFITS: www.onlinearbitrage.com. Now you can get the first three chapters FREE at www.onlinearbitrage.com. ****************************************************************************
Private Label products are the buzz of the selling community. Find out why by clicking here: PrivateLabelSellerCoaching.
How would you like to own your very own business selling your own branded products, with automatic sales systems in place that pay you money every month for years or even decades to come?
Why Private Label? By choosing to create and sell your own brand physical products (that consumers trust, easily connect with and buy in droves every day), you'll leave other short-sighted sellers behind, as they focus on the single strategy of trying to constantly find the lowest price on all of the popular "me too" products. ****************************************************************************
Buy Local, Sell To The World: The ultimate guide to finding great inventory for eBay and Amazon at local Yard-sales, Estate Sales, Auctions, Thrift Stores, Craigslist and other local resources. Pay others, or do it yourself, but there's a gold mind in your back yard! A New Video Training Course By: Nathan Bailey (Jim Cockrum's Director of Coaching)
*****************************************************************************
OnlineSellingCoach.com

With a monthly membership to OnlineSellingCoach.com you will receive cutting edge training from top eBay, Amazon, online marketing coaches and experts: Nathan Bailey, Skip McGrath, and Jim Cockrum plus additional training from several other top marketing experts. Every month you will have access to new cutting edge information including: Videos, Audios, content on specific niches, product sourcing ideas, and real techniques that we use ourselves to make real income online from home using eBay, Amazon, and several other marketplaces online. ******************************************************
2) Flatware, Hats, Trolls and a Childhood Memory: Latest Flips and Flops, and Next Flips Contest
******************************************************

And now, without further ado, the part of the newsletter where someone gets to make fifty bucks. Yes it's our faithful Flips (and Flops) contest! This month we have some really strong contenders, all of them jam-packed with niches for you to think about and make money on.
Shannon, a longtime reader of Yard Salers (speaking of faithful) shared some of her best recent scores:
1) Flatware Delivers Voluminous Profits, and Sewing Up a Big ROI

Dear Julia,
So glad to have you back on a more regular basis! Just wanted to share a couple flips. Nothing earth shattering but nice and solid. :)
Flatware continues to be one of my bestsellers! Can't beat the ROI. Paid 10 cents for this fork. I knew Cutco was a good brand for knives so picking up the fork was a no brainer.
It sold for 19.99 pretty quickly:
http://www.ebay.com/itm/Cutco-Dinner-Fork-Pearl-White-Plastic-Handle-Stainless-Flatware-CU3-/271587253543?rd=1
Here's a look at the ended listing:
Here's a closer-up look at that fork: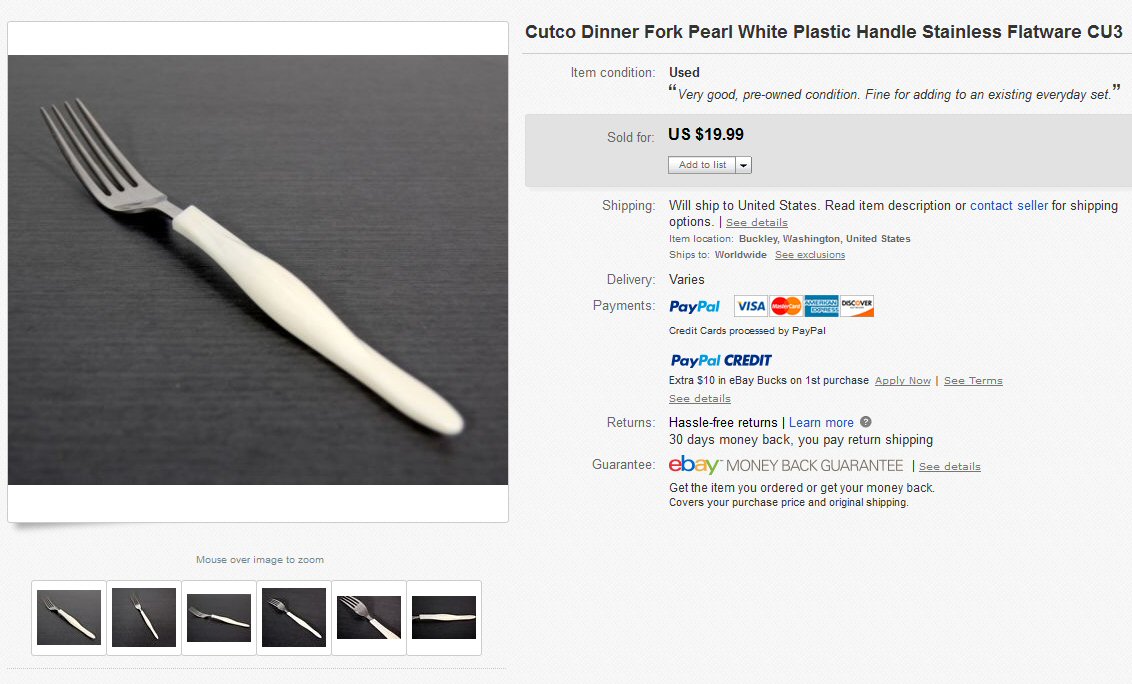 Shannon continues:
"Another area that has done well for me is sewing patterns.
"There's lots of different ways you can go with these. Vintage kids, vintage fashions, crafts, contemporary, home decor... I prefer costumes and vintage crafts.
"I like the costumes that are pretty elaborate and might be used by theater costume designers or people into cosplay and renaissance fairs.
"Paid about 50 cents for this one and sold it for $29.99":
http://www.ebay.com/itm/Uncut-Simplicity-5574-Renaissance-Doublet-Mens-Costume-Pattern-XS-S-M-L-XL-/281416265290?rd=1
[Here's what that looked like:]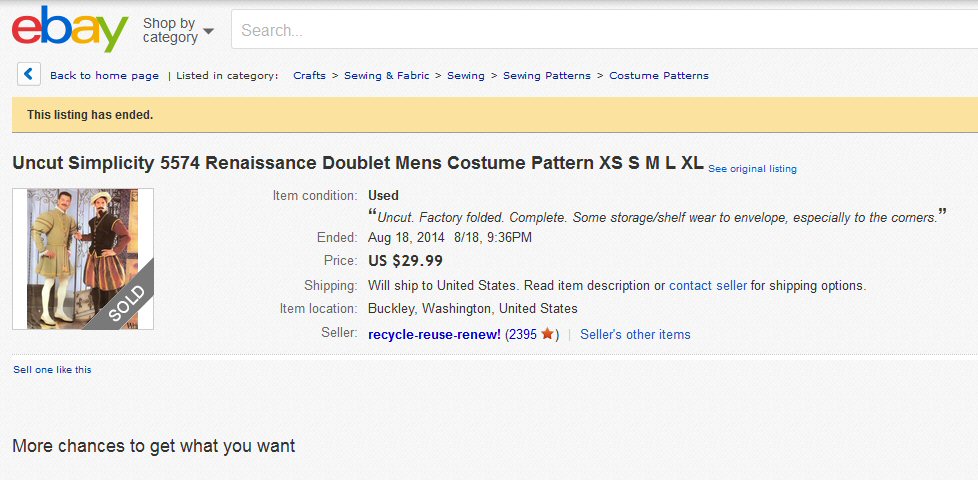 [She continues:]
"The highest costume pattern I've sold went for $67.99.
"Thanks!
"I'll think about the Flops and see if I have any to share." :)
Shannon Paasch
(Shannon's Blog, The Recyclista, is at http://therecycleista.blogspot.com/ Check it out for all kinds of photos and ideas about ways to save, re-use, and make money selling vintage. There's a great recent post I noticed about how to test something to see if it's real Bakelite, complete with Q-tips close-ups!).
2. Ginny's Flea Market Topper Sells the Next Day on Etsy
"Dear Julia,
"My flip:
"My husband and I went to a once a year Flea Market sponsored by the local Lions Club. It was a beautiful Saturday in late September this year.
"We got there early (for us), about 9:30, and I was happy to see there were tons of vendors. I bought quite a bit for my Etsy and Amazon shops, but one thing I saw that I love was a white satin pill box hat with a veil and a rhinestone brooch from Saks Fifth Avenue, circa 1960's I believe...just loved it. I paid $5.00 for it, including the original hat box.
"I listed it in my Etsy shop and it sold the next day for $75.00....so fast!!!! That always makes me think I listed things too low."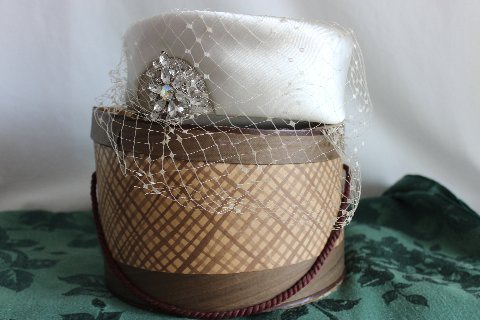 Regards,
Ginny
****
I thanked Ginny for her cool hat find. I don't tell a lot of people this, but I had a blue pillbox hat with a blue veil / netting that I wore for a good friend's wedding. I'm not sure where it is today. It may have gotten lost in the foofaraw following my Halloween as "Bridesmaid of Frankenstein."
I also love that Ginny sells on Etsy and Amazon.
3. Eggs-for-Trolls Swap Yields Barbara over $200, Plus Her Winter Coat Windfalls
"We raise a few chickens and sell the eggs to friends. A friend of mine dropped by one afternoon and with 27 vintage trolls that she had brought from her Moms estate and just wanted them gone.
"I traded her 2 dozen eggs for the trolls and between eBay, Amazon and my local antique and collectible mall, have made well over $200.00 off of them. Still have 3 at the mall and the highest price one on Amazon, so expect another $70.00 or so when they are all gone. This from $5.00 worth of eggs. The trolls were mostly new in the box and were Ross and Dam. There were two with damage to the trolls (my friend raises bees and some honey had gotten in their hair), but not to the clothes, the clothes sold separately on eBay.
"I have a few photos if you need them.
"Thanks!"
Barbara
"P.S. Also just sold 2 winter coats, a Woolrich and an LL Bean that I bought for $2.00 each for $40.00 and $60.00 on eBay. Listing ski bibs today."
[Below are Barbara's $200+ Trolls: Bala, Leenie, and Bunny Troll:]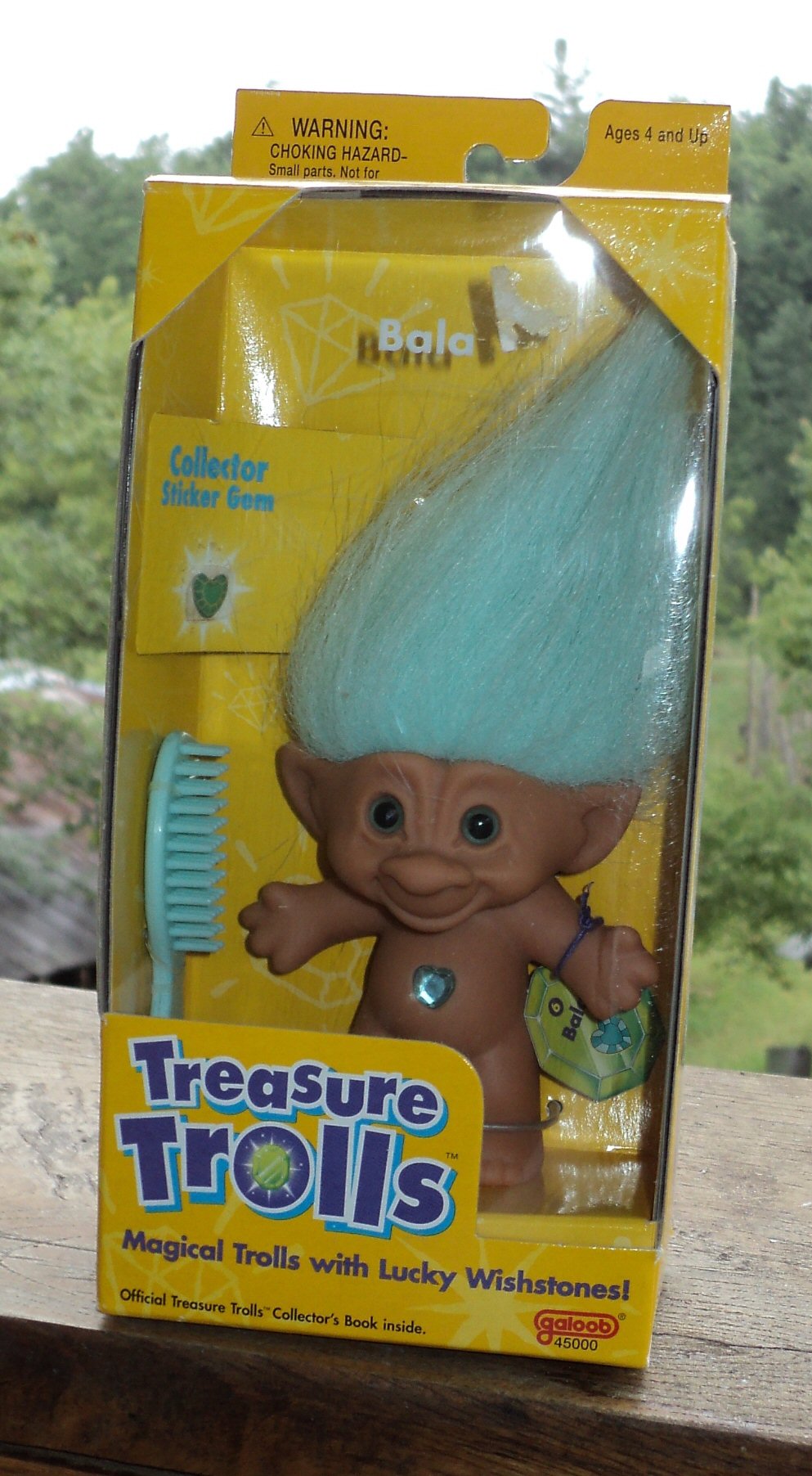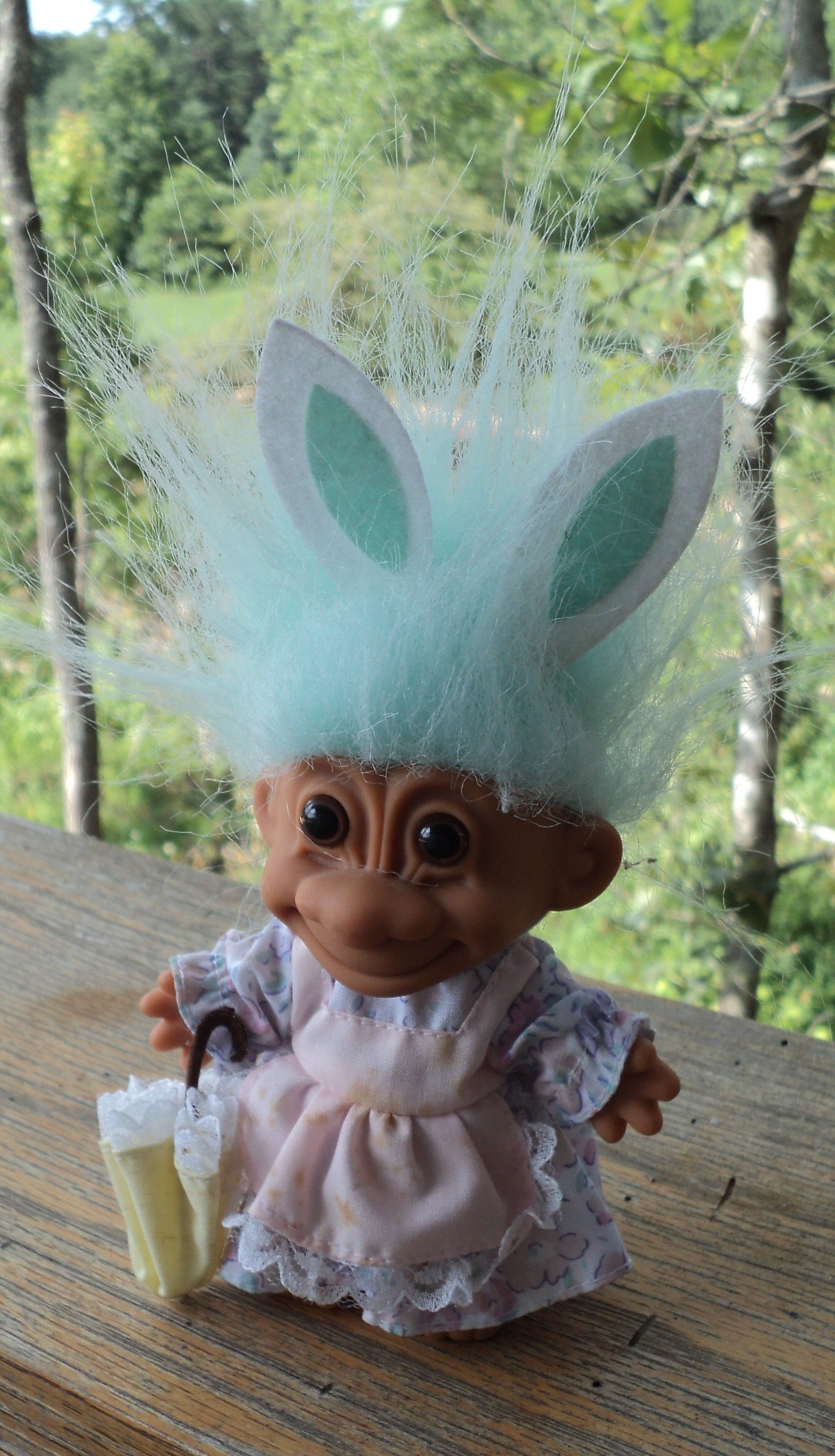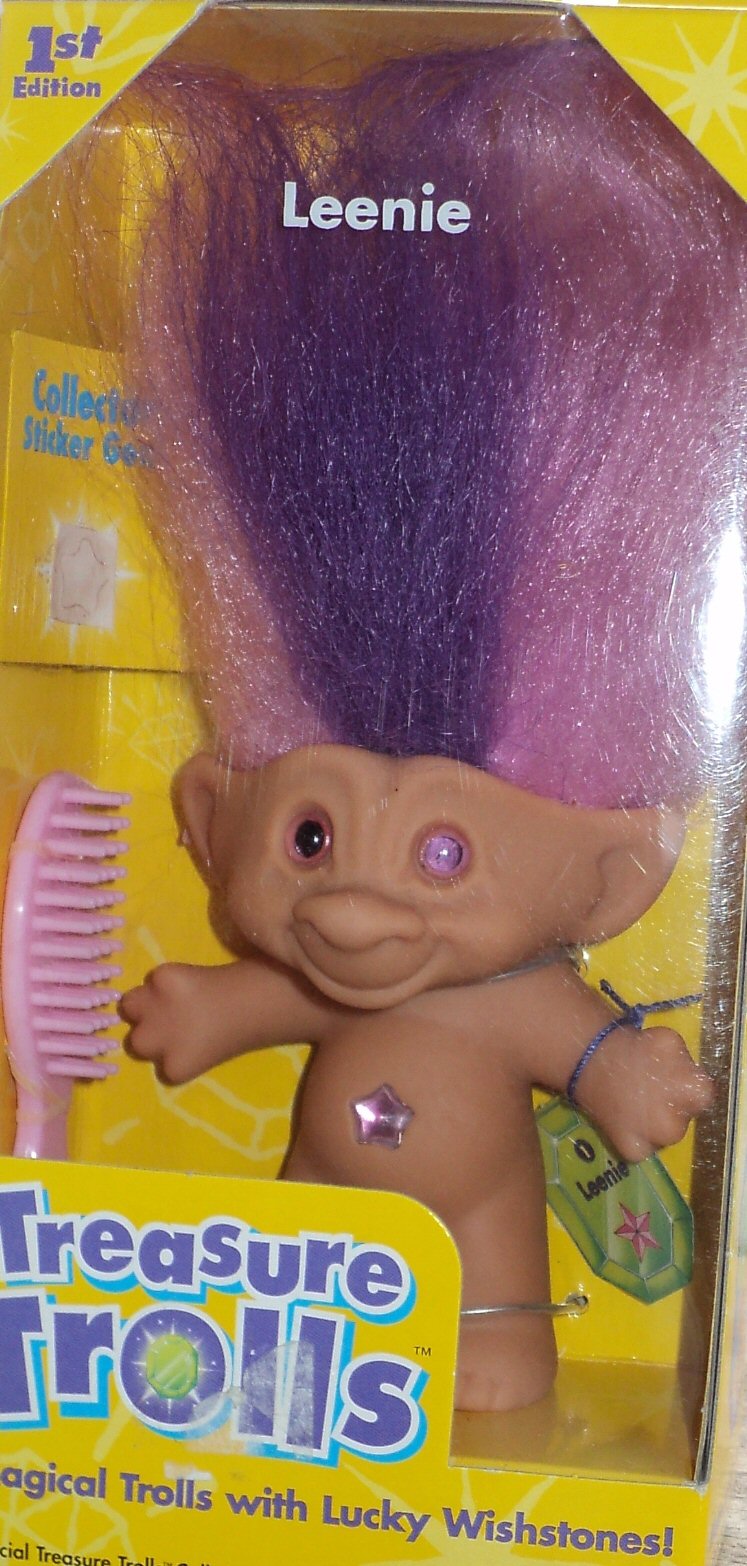 I guess they're putting modern spins on these trolls such as belly-button jewelry. Hmm...(or was that always there?).
Thanks so much for the great entry, Barbara!
----
4. People Love Toys from Their Childhoods: Tomy Plates
Remember Amy, the estate sale early bird? Well, she has a flip to contribute as well this month! Read on:
"Dear Julia,
"I want to share a flip that I scored this month. I found a 1978 Tomy Fashion Plates set at an estate sale for $2.00. I had one of these when I was a girl and since I am in my (ahem) 40's, I knew that there was probably a market for these and a strong nostalgic factor. This set was complete, with all of the plates and pencils, though incomplete sets sell as well. This one sold for $47.00! People love toys from their childhoods!"
- Amy Kagey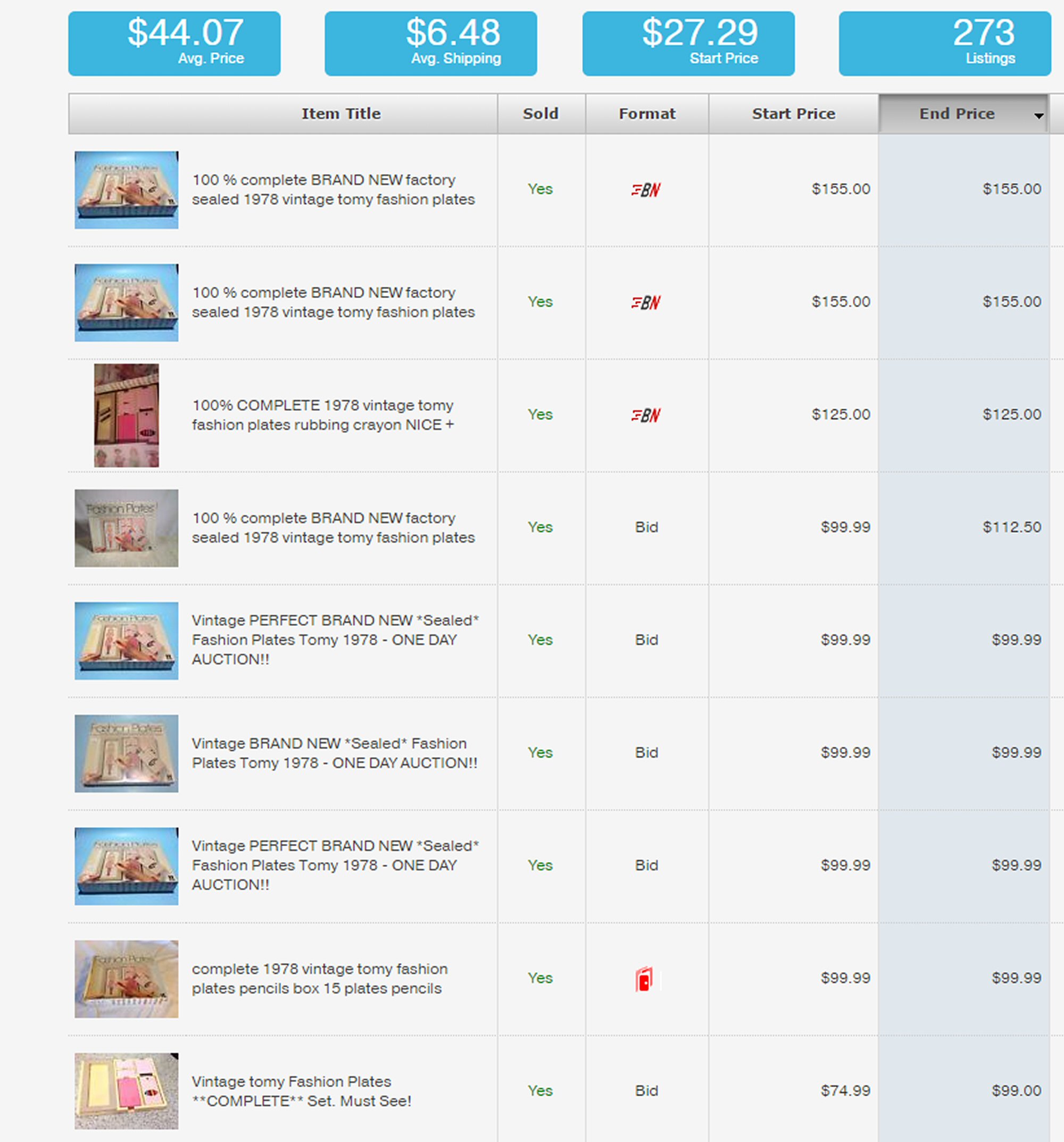 [Above: some recent high sales of Tomy Fashion Plates]
Amy, that's for sure. Only you must be just that much younger than I, because I don't so much remember these plates! Or maybe I just wasn't into fashion design? (This is evident from how I dress today, though I do love to look at pictures of fashion...especially if it's a brand I sell....lol.)
*************************************************
Great tips useful (and free) to all sellers: https://www.facebook.com/ilovetobeselling
*************************************************

Flips Winner
Now for the winner.... It was a tough call, but I think the combination of the eggs swap-for-trolls and the tips on the winter coats tips the scales in favor of Barbara. She wins the $50 prize!
And Shannon, Ginny and Amy are not going home empty-handed. They're winning a copy of my NEW updated ebook, Flip It Again 2.0! (Well, technically, since it's a digital file, they are empty-handed, but hey, they can always print it out and hold nice warm sheets of paper in their hands!). Ladies, I will email it to you by the end of this week. Email me if you do not get it by then: juliawilk@aol.com.
Barbara, please email me with either your PayPal email address to send the money to, or your mailing address to send a check to, at juliawilk@aol.com.
Everyone, we have another contest coming 'round next month (hopefully), so if you want to officially enter the contest, email me at juliawilk@aol.com for your shot at that cool digital Ulysses Grant $50 prize!
And, got anything else you want to tell me? News, tips. gossip, rants that I somehow missed your flip entry? (In which case I promise it will get added to the next contest). Send it all on to me at juliawilk@aol.com. Flops:
OK, people have not been wanting to share their flops lately. Which is a pity...we promise we won't judge you! At least I won't. ;)
So I will share one of my own. Let's see, what has flopped for me lately? I usually do well reselling kids' coats, such as ski coats. But one such coat was pretty tiny, like for a 3-4 year old, and as I went to photograph it, I realized the zipped was broken (it did have velcro as well). So I priced it very low: around $5.95. Then I realized when I went to ship it that the shipping was going to be a little more than I thought (these coats are heavy, even the small ones). The upshot is I maybe made a couple bucks. The other coats I got at that same yard sale did a lot better, though. Live and learn.
So, again, don't forget to submit those flips (AND flops) to win the $50 cash (or PayPal) prize for the next issue! Just email me the story of your latest selling success (or failure) - including what you bought the item for and what you sold it for - and you'll be entered into the next contest!
*************************
3) Reader Mail
*************************

Reader Mail will return when someone emails me with a question, tip, bit of gossip or rant. This issue is already too long. ;)
************************************************************************
FREE REPORT: Top Mistakes eBay Sellers Make and How to Avoid Them!
http://thedanniapp.com/
*************************************************************************
OK, everyone, that's it for this issue. See you all next issue, and remember to email those flips and flops to me at juliawilk@aol.com!
Any questions, comments, compliments, rants or raves, send to juliawilk@aol.com. On second thought, send the rants to my gmail account, juliawgal@gmail.com...I don't check it as often. ;)
************************************************************************
Proven Amazon Course
"Are you ready for a business that can be run from anywhere in the world, doesn't involve you shipping anything to customers, and is virtually competition proof? Amazon is exploding with activity and we can show you how to get in NOW!" Click here to find out more or purchase: http://nanacast.com/vp/112924/596871/
"The 2014 updates and expansions to this course are incredible - The PAC course just keeps getting better."
*************************************************************************

OK, everyone, that's it for this issue. See you all next issue, and remember to email those flips and flops to me at juliawilk@aol.com!
Enjoy the rest of the summer yard sale season, and remember things will be cooling down soon! (Oh, the humanity! But then we still have estate and library sales, not to mention thrift shops).
Any questions, comments, compliments, rants or raves, send to juliawilk@aol.com. On second thought, send the rants to my gmail account, juliawgal@gmail.com...I don't check it as often. ;)
*********************************************************
---------------------------------
http://bigbucksflips.com/
YARD SALERS BOOK STORE
What $ells on eBay for What - $24.98
http://yardsalers.net/whatsells09.asp
Chanel on eBay Price Guide - $9.95
http://www.yardsalers.net/chanel_guide09.asp
Make Big Bucks Selling Albums on eBay - $19.95
http://store.payloadz.com/details/109530-eBooks-Business-and-Money-Make-Big-Bucks-Selling-Albums-on-
eBay.html
Make Big Bucks off Catalogs on eBay - $12.49
http://www.yardsalers.net/bookstore.asp and scroll to "Make Big Bucks off Catalogs on eBay"
Making Money (and Getting a Life?) via Craigslist - $8.95
http://www.yardsalers.net/bookstore.asp and scroll to "Make Money (and Getting a Life?) via Craigslist"
Make Money Selling Kids' Clothes on eBay - $8.95
http://www.yardsalers.net/bookstore.asp and scroll to Make Money Selling Kids' Clothes on eBay
Nonfiction Books that Sell for $50-$250 on eBay (eBooks) - $4.50 (This is already half-price)
http://store.payloadz.com/details/101078-eBooks-Business-and-Money-Nonfiction-Books-that-Sell-for-50-250-on-eBay.html
Over 500 Books that Sell for $50-$5000 on eBay - $8.95
http://www.yardsalers.net/bookstore.asp and scroll to http://www.yardsalers.net/500Books.asp
How to Spot Fakes: a Special Report - $4.50
(email me at juliawilk@aol.com)
New Special Report: "A Book that Looks Like Nothing" - $4.50
16 - plus pages about "sleeper" books that look like nothing, but sell for "something" -- some up to
$10,000.
(email me at juliawilk@aol.com)
EBOOKS I SELL AS AN AFFILIATE
How to Make Big Bucks with Garage & Yard Sales - $8.95 (only available by email; PayPal
me $8.95 or email me at juliawilk@aol.com; this one not available at hald price)
Garage sale and wholesaler expert Pat Bateman has put together a fabulous ebook about making regular
income with yard sales, finding wholesale goods to sell, using drop shippers, and more. Right now I'm
offering it at a special preview price for $8.95. PayPal me at juliawilk@aol.com and you will receive
the ebook via email, usually within hours.
Paperback Books by Julia L. Wilkinson:
----------------------
Copyright 2012 J.L. Wilkinson LLC
----------------------
Thank you for subscribing to Yard Salers. Yard Salers email newsletter may be freely distributed in its entirety, so please pass it on. You may reprint any of the articles in this newsletter for any purpose as long as no portion of the article is modified without permission, and this tagline is included:

Yard Salers, www.yardsalers.net
Publisher, Julia Wilkinson, author of the award-winning "eBay Price Guide." and "What Sells on eBay for What"
No part of this publication may be reproduced or stored in a retrieval system, in any form or by any means, electronic, mechanical, photocopy, recording, or otherwise, without the prior written permission of the publisher. Yard Salers makes diligent efforts to obtain accurate and timely information. However, Yard Salers disclaims any liability to any party for any loss or damage caused by errors or omissions in Yard Salers, whether or not such errors or omissions result from negligence, accident or any other cause.
End