ISSUE 79:
Yard Salers Issue 79: July - Aug 2014: French Yard Sales; A Look at Selling in the Past Year; What's Changed and What Never Will; Sale; Latest Flips & Flops, and Next Flips Contest; Reader MailFlips and Flops Contest.
Subscribe at: www.yardsalers.net/subscribe.asp

Please forward to a friend!
Hello, all!
OK, I know it's been a while. I'm sorry for the long wait for this newsletter. But we are back and hoping to be more frequent than ever before! (Which will almost certainly never be so frequent as to annoy you).
I've been up to a lot and of course continued to learn a lot, which I want to share with you in this issue. And of course we're back with out Flips contest and $50 prize.
[Please note: If you already received this issue in email, please read this version instead. This one contains photos and also a Flip I did not include in the previous version.] I am still kept busy writing and editing the AuctionBytes Blog,part off eCommerceBytes.com. You can find my recent deep thoughts here: http://www.ecommercebytes.com/C/abblog/blog.pl
I wrote a short piece on that blog a while back about my recent trip to France and Spain. (You can read that post, "Letter from France - Tips for Foreign Yard Sales" - here if you want.
While in France, I of course seized the opportunity to go to a few yard sales / flea markets, which are known there as "Vide Greniers" - this translate to something like "empty the attic."
Above: Moi at a "Vide de Grenier" in France.
You may not be surprised to learn that French yard sales are...well, French. But..there also was not a small amount of American products on sake too...I saw cd's, dvd's, books, and toys that were American, including one large lot of "Littlest Pet Shop" cats and furniture / buildings that I would have snapped up would it not have fit in my suitcase. (In case you were not aware, some of these individual little plastic dogs and cats are fetching big bucks on eBay - below is a shot from Terapeak of the highest prices for LPS lots on eBay in a recent 90 day period).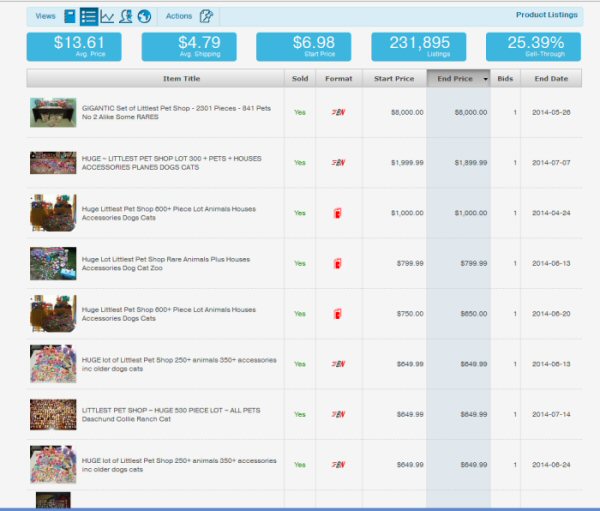 [photo of Littlest Pet Shop highest prices]
Read on for more about buying items in Europe, and how eBay and other things have changed in the last year, and what I think will never change. And I'm working on a new ebook: How can skinny things lead to fat profits? You'll see.
In my last newsletter I told you I was working on the new ebook about how skinny things can lead to fat profits. I still am, but I'm even more excited about a new ebook I'm almost finished with. As always, subscribers will get the books for half price. I'll keep you posted.
And oh yes...the Faceboook Yard Salers groups have grown -- one is open, but for those of you who don't know about it, there is also a closed/"Secret" group, because the regulars did not necessarily want their best tips going to the whole Facebook world. Here's a direct link to it if you want to join it (I'll need to approve you, but I try to do that asap): https://www.facebook.com/groups/219812014811564/
***********************************
Follow me on Twitter! https://twitter.com/juliawww
***********************************

***********************************
Can you really find Masters Augusta National green golf shirts to sell? You can! I have already found two. For more insider info on which golf shirts sell the best and the best places to find them, I recommend Suzanne Arant Wells's ebook, The Golf Shirt Bible. Only $19.95: How to Sell Golf Shirts on eBay If the link does not work, try copying this into your browser:
https://www.e-junkie.com/ecom/gb.php?ii=880449&c=cart&aff=156311&ejc=2&cl=34579
**********************************************************************

Yard Salers uses the automated email system, AWeber. If you received a link to this issue in email, you should have requested this newsletter, and should not be receiving it unless you opted in. If you have any problems or questions about links in the newsletter, or other issues, feel free to email me at juliawilk@aol.com.
Now, without further ado (or even adieu), let's get to the newsletter!
*********************************************************************
1) French Yard Sales: What to Look for Scouting Overseas
2) A Look at Selling (and Sales) in the Past Year; What's Changed and What Never Will
3) Latest Flips & Flops, and Next Flips Contest
4) Reader Mail
*********************************************************************
Join us on Facebook: http://www.facebook.com/group.php?gid=27871336031 ***********************************
Next Flips Contest: We'll be doing another cash prize of $50 for the next contest, and runnerups winning free copies of my new ebook, which I really think is my best: Flip It Again, http://www.yardsalers.net/frequent_flips_sales.asp. Plus, the updated version of Big Bucks Flips is out!

You can email them directly to me at juliawilk@aol.com.
***********************************
As a reminder, the Yard Salers' Facebook group is at http://www.facebook.com/groups/27871336031.
News for Non-Facebookers! Some new message boards are coming to the Yardsalers.net site soon, so keep your eye out for them!
***********************************
Join us on Facebook: http://www.facebook.com/group.php?gid=27871336031
----------------------------------------------------
BIG BUCKS FLIPS version 3.0 is out! 159 pages of fabulous flips, plus "Julia's Favorite Flips" Bonus. Flip it for big bucks: http://bigbucksflips.com/
--------------------------------------------------------

****************************************
1) French Yard Sales: What to Look for Scouting Overseas
****************************************

This May I made my fifth trip to Europe, but it was the only one in which I was seriously looking for things to buy and bring back to the States to flip. (My first two trips to Europe were in 1987 and 1988, respectively, when I was in my early 20s, and having fun and sightseeing were on my main agenda, not trolling yard sales...yet).
So You Never Thought You'd Use Your Foreign Language
Many people who are required to study foreign languages in school bemoan the fact that they rarely or never get to use them later in life. This was not the case for me. Each of the times I've been to France, the French have seemed appreciative that I made an attempt to speak their "lingua Franca," as it were. I also believe it may be why I did not witness the snootiness some French are reputed to have (well, with the exception of one waiter in Marseille).
My French certainly came in handy at French markets, and especially at their yard sales - "vides greniers," when I or my friend wanted to find out more about the items for sale.
And my French was especially helpful - if not indispensable - when I and my fellow three art students were trying to figure out how to drive the diesel car we had rented. The house we were staying in, in Durfort, was about an hour and a half east of Toulouse, where the airport we flew into was. (The trip to France was for a week of art studies in an old medieval town, in a renovated old townhouse used exclusively for art classes. You can see the art of my amazing teacher Priscilla here at her blog, if you want).
After stalling, stopping and starting at several stop signs, we finally pulled over (well not "we," but the poor lady who was driving; I'll call her Laura, and she's very brave) and stopped in a parking lot. I flagged down some French passers-by and explained in my choppy francais the problem we were having with the car.
Well, they weren't quite able to tell us what was wrong (I don't think they understood diesel engines much either), but it was fun communicating. One of them did get the car to back up, and eventually Laura came to an understanding of how to handle coming to stop signs with the car, and we made our way to the little town.
So, what about these yard sales?
I must admit I had visions of stacks and stacks of fabulous old Limoges, Meissen, fine linens, and vintage Chanel jewelry for sale. Well, the yard sales we found weren't quite like that, but if you looked hard, you could find some charming porcelain and china.
A friend of ours bought a lovely plate that had a French mark on the bottom and a charming figure illustration. She bought it and it now has a happy new home in the States. Another, my friend Priscilla, our art teacher, scored a fabulous antique white linen tablecloth. She paid about 20 Euros for it, but I am sure it was worth at least a hundred, if not more. There also were a lot of linens folded at that particular table, but I was being very cautious about what I bought, mindful of the limited space in my suitcase.
(The next time I go, I seriously think the smart thing to do for items small enough to ship is to do just that...pack them and ship them to your house in the U.S. No buying extra suitcases, cramming them in to the one you have nor worrying yourself over how much to declare on the increasingly tedious customs form and line you'll encounter at your home U.S. airport).
So, what did I buy? Well, you can probably guess the main things, what with I almost always gravitate to: books. I did buy other things, such as some cute clothing, copper from the town we were in that's famous for it, etc., but where my wallet really got itchy was in a town called Montolieu, which is supposed to be the bookmaker's center of the universe. Or at least its creator wants it to be. It's also, imo, startlingly beautiful, pitched on top of a deep ridge on one side.
Image
Above: Montolieu, France, as seen from a little courtyard at the end of a street in the back.
Image
Above: A little bookshop in Montolieu - one of many in this "Village of Books."
I bought three hardback TinTins, one an early printing. I did not buy a first printing TinTin they had, one because it was identified as such, and they knew what they had, which is not always the case in bookshops. The other is I couldn't justify the price they were asking after I looked up some of the asking prices online via my iPhone.
Will I make it back to Europe again anytime soon? I sure hope so. And next time, I'm bringing a big extra suitcase!
******************************************
2) A Look at Selling (and Sales) in the Past Year; What's Changed and What Never Will
*******************************************

Let's start with Amazon. Since it's been a while since our last issue, as it were, I've seen Amazon.com go through some changes. Most of these weren't easy to notice unless you'd been selling for a long time.
Since it's been a while since our last issue, as it were, I've seen Amazon.com go through some changes. Most of these weren't easy to notice unless you'd been selling for a long time.
Selling on Amazon: What's Changed, Where to Focus Your Energies
One thing I've noticed is there are more books, and more varieties of publishings and editions of these books, on the site. In some cases there are duplicate listings.
In many cases, if I had listed a book a long time ago in Amazon time, say two years, some numnut has come along and listed a version of the book at a disturbingly low price. (I recently blogged about this, too: http://www.ecommercebytes.com/C/abblog/blog.pl?/pl/2013/8/1376598450.html). But that's what happens in marketplaces, and as some of the only copies of products listed on Amazon now have "friends," their prices are being driven down.
What does this mean for you and me?
1. I try to list more obscure and harder-to-find books that won't have competition.
In my case, and I advise you to do this too -- is to do three things:
1. I try to list more obscure and harder-to-find books that won't have competition. Example of the obscure/the niche? COMBAT-FIGHTING KNIVES [Paperback] [1987] Smith, J. E., Jr.; recently sold by me on Amazon for $39.50; bought by me for about $1 at a library or yard sale; I don't remember which.
2. I list more periodicals, as I have found these have good demand and a lot of people don't take the trouble to list them.
Hint: some vintage women's magazines do very well. One that gets the best prices? Vogue. It's a classic. But I even listed some old issues of Glamour and other magazines that were the only copies of that month and year available, and they sold for $20-$40.
Troll around on Amazon and see what magazines are doing well. Some older issues of Architectual Digest do well..in general, books about architecture tend to do well. (I think architects like to read them, but who knows).
3. I ship more items to FBA.
This qualifies them for free shipping for people who have "Prime" Amazon memberships. And there seem to be a lot of items that are not FBA-available. If you're the first one to list an item with Fulfillment by Amazon, you are much more likely to sell it than the other folks listing the same thing that is merchant-fulfilled (shipped by themselves).
This does not mean you have to use Amazon FBA to sell stuff on there. But I've found it pays off for just about anything I send in, even the more obscure stuff. Especially since the more obscure stuff often now has more competition.
eBay
OK, so what about "the Bay"? It's still there, for sure. But selling on there does get more complicated as there are so many more rules and requirements since the early days. All the things you need to do to remain a Top-rated seller, for example, are so long and complicated I don't know if even the TRS folks remember them.
I still think eBay is the best place to list those really cool, funky old items, especially if you are not sure how much they will sell for, and there is a lot of upside potential.
For example, I found a really antique-looking doll t an estate sale yesterday. Even after noodling around on the web, I have found nothing really like it. For all I know it is worth $25 of $2500. That's one to put on eBay at auction.
Books? I hardly ever put them on eBay anymore, unless they are signed first editions or the like.
Yard Sales
And what about yard sales and estate sales? What's changed with them?
Well, actually, and thankfully, not much! I was talking with a friend once a year or two ago, and he said he thought the whole world of yard sales would eventualy change or dry up, as perhaps folks would all elect to sell their own stuff on eBay.
I've found that is not so. There is plenty of stuff for the pickin', as I think a lot of people just don't want to bother with selling their own stuff piecemeal online. It is, as we just discussed, more and more complicated. So some people I think just want to purge their house of stuff in one fell swoop.
Also, a trend I've noticed is more and more unadvertised sales...by that I mean they may put signs up in the neighborhood for their yard sale (or even estate sale), but they don't even bother to list it on craigslist!
So more and more my strategy on a Saturday morning is just to drive around and turn when I see the sign. I came across at least three unadvertised yard sales yesterday, and one estate sale that was actually pretty amazing inside.
The outside of the house didn't look like much, a bit run-down, bungalow / one-floor style. But you know what? Those are often the best estate sales because they may be the home of an older person whose lived there for 40 or more years and is finally looking to move, or maybe go to assisted living.
And of course if you've read my other newsletters, you probably know the adage I go by for every sale: you never know. Almost any sale is worth a stop and a look-see, even if it's just for 5 minutes.
******************************************************
3) Latest Flips and Flops, and Next Flips Contest ******************************************************

And now for something completely fun...yes, the latest fabulous Flips (and Flops) contest! The entrants have been waiting a while for these. And those of you who haven't entered, email those flips stories to me at juliawilk@aol.com (photos also appreciated). :)
1) "Nighty" Flip and Trusting Your Instincts
We heard from longtime reader Deb again. She also had thoughts about the question I posed in a recent issue, who are easier to sell to, men or women? Read on:
---
Hi Julia, me again.
I wanted to tell everyone to trust your instincts when looking for items out of your comfort zone to resell. Back in December, I went to an estate sale mainly looking for furniture and small items for my Ebay store. This sale had a little bit of everything and of course I found a few goodies.
The best was a negligee/peignoir set I found in the back room. The very last bedroom was full of clothes, all very nicely set-up on racks. I like selling clothes but it's not my niche so I don't have a lot of label or style experience; I just buy based on my reaction to the item(s).
The clothing was very small in size and ranged from the '50s to the late '90s; mostly work-type dresses and casual tops, and most not in great condition. Nothing exceptional until I found 2 1970's "Laugh In" style dresses and the nighty. I debated on all 3 items because of the size but for a $1 each I went for it.
I decided to list the nighty, item 290811990815, quick for fear it would get snagged in my storage boxes and to my amazement, sold for $201.99 for a $1 investment! You have got to listen to your instinct, I almost talked myself out of the items, WOW love this business.
[Note from Julia: Here are the pix Deb sent of the nighty:]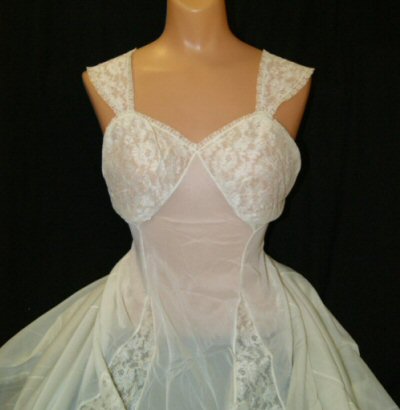 Image - to follow
**** Well, I think you get the picture. ;)
Deb continued:
"The really great thing is the buyer sent me a personal email to let me know the item was fabulous and he was so happy he decided to get into a bid war to win it. The item was really beautiful so his words made me a proud seller as I protect my feedback like a third child! Thanks for letting me share, love all your help!"
Deb of Strayfinds
--
She also had emailed me with thoughts on selling to men vs. women, a question I had posited in a previous issue:
"Hi Julia, love your collected thoughts and your newsletter!
"Men, for me, are far easier to sell to than women. Men seek, they find, they buy - it's that simple of a process for them. Women on the other hand tend to seek, compare (sometimes a very long process) analyze and then buy but sometimes only after asking a friend! lol.
"The worst thing for me about women is the lack of negotiating skills and when to negotiate. I know some women buyers that ask if you'll take a quarter for a fifty cent item and men just hand you the money and want to leave. For the most part women have the "savings" gene that most men I know and sell to do not. Nothing wrong with saving gals, I am right there with 'ya but we do tend to take more time with the process than men." "Keep up the good work,
"Deb of Strayfinds"
---
Here's what I said back to Deb:
Hey Deb! So great to hear from a familiar name! Thanks for the kind words. It sure took me long enough to get a new one out..lol. Love your thoughts on men vs women. I totally agree w. u! Of course there are exceptions.
The other email I got liked women buyers better, so it will be interesting to see how it ends up. Thanks again for your input! Will run it in next issue.
2) Tiki Bob's Mug
Hi Julia,
It was a pleasure to read your new newsletter, you've obviously been busy these past months! I told my husband that if someone else puts your name in print you're "famous" so thank you! I am one of your three "contestants" in the newsletter (the one with the stickers). A favorite flip of my summer is a Tiki Bob's San Francisco Tiki Mug (a really, really ugly Tiki mug) http://cgi.ebay.com/ws/eBayISAPI.dll?ViewItem&item=271233498768&ssPageName=ADME:L:EOISSA:US:1123.
I paid .99 and sold it for $99.99 in just a few days. Tiki mugs and vintage Hawaiian things in general seem to do well. Anyway, good to see your newsletter again, I've missed it!
Regards, Kathi
---------
Congrats, Kathi! What a fun mug! Unfortunately I did not grab a picture of Kathi's mug soon enough, but below is a screen shot of various Tiki Bob mugs that sold for some of the highest prices on eBay in the last 90 days at this writing. (The highest price for that period was actually $88, but the picture would be too gimongous to capture all of those, and I wanted to capture a cross-section of a few different styles of the mug. I am guessing Kathi's looked like the ones on the top, below. (Kathi, please let us know if you can). :)
Image to follow
*************************************************
Flips Winner
Now for the winner.... OK, it was a tough call as always, but Deb wins the $50 prize for the advice to "trust your instincts" and finding that way cool vintage nighty! Nighties have been duly added to my list of BOLOs..."be on the lookout" for.
Deb, please email me with either your PayPal email addr. to send the money to, or your mailing address, at juliawilk@aol.com.
Kathi, as runner-up, you win the ebook of books of your choice...just email me. (See, everyone's a winner here at Yard Salers...at least this week!).
Everyone, if you want to officially enter the contest, email me at juliawilk@aol.com for your shot at that $50 prize!
And, got anything else you want to tell me? News, tips. gossip, rants that I somehow missed your flip entry? (In which case I promise it will get added to the next contest). Send it all on to me at juliawilk@aol.com.
Flops:
No Flops this issue, so I encourage you guys: send us your poor, your tired, your misguided, your instincts that didn't pay off, or your just plain ridiculous. I'll share some of mine in the next issue. Many of them dwell on our screened porch. ;)
So, again, don't forget to submit those flips (AND flops) to win the $50 cash (or PayPal) prize for the next issue! Just email me the story of your latest selling success (or failure) - including what you bought the item for and what you sold it for - and you'll be entered into the next contest!
> ******************************************************
4) Reader Mail: Who is easier to sell to, men or women?
******************************************************

More Feedback on Who's Easier to Sell to: Men Or Women?
We got a letter disagreeing with Deb (and me) that men tend to be easier customers. Here it is:
"Hi Julia,
"I find it easier to sell to women than to men. We've owned a brick & mortar shop for 15 years in a high-traffic area. Seems the men who come through my shop expect flea market prices or even yard sale.
"The ladies appreciate my inventory and are willing customers."
Georgia, Yesterdays, Pigeon Forge TN (web site at http://www.pigeonforgeantiques.com/).
-------
Georgia, thanks so much for your perspective!
I must admit, I listened to a man dickering the heck out of an estate sale manager the other day. It bordered on being rude, in my opinion, but then dickering is not my strong point. But it was along the lines of , "Those train you got won't sell...no one's gonna buy them at that price. And they're all broken, missing parts...." [more complaining, followed by a sale of the whole lot made to the man at a reduced price].
Well, maybe being "tough" worked for him! ;) Still, we were more talking about men vs. women as customers on eBay, Amazon, etc.
Got any stories about your opinions on the differences between men and women - whether selling to them online, their dickering at sales, or...anything else (besides the obvious...this is a family newsletter, or at least tries to be)? ;)
********************************************************
OK, everyone, that's it for this issue. See you all next issue, and remember to email those flips and flops to me at juliawilk@aol.com!
Enjoy the rest of the summer yard sale season, and remember things will be cooling down soon!
Any questions, comments, compliments, rants or raves, send to juliawilk@aol.com. On second thought, send the rants to my gmail account, juliawgal@gmail.com...I don't check it as often. ;)
*********************************************************
OK, everyone, that's it for this issue. Enjoy the coming yard sale season and nice weather! See you all next issue, and remember to email those flips and flops to me at juliawilk@aol.com!
*********************************************************
That's it for this issue! Any questions, comments, compliments, rants or raves, send to juliawilk@aol.com. On second thought, send the rants to my gmail account, juliawgal@gmail.com...I don't check it as often. ;)
---------------------------------
http://bigbucksflips.com/
YARD SALERS BOOK STORE
What $ells on eBay for What - $24.98
http://yardsalers.net/whatsells09.asp
Chanel on eBay Price Guide - $9.95
http://www.yardsalers.net/chanel_guide09.asp
Make Big Bucks Selling Albums on eBay - $19.95
http://store.payloadz.com/details/109530-eBooks-Business-and-Money-Make-Big-Bucks-Selling-Albums-on-
eBay.html
Make Big Bucks off Catalogs on eBay - $12.49
http://www.yardsalers.net/bookstore.asp and scroll to "Make Big Bucks off Catalogs on eBay"
Making Money (and Getting a Life?) via Craigslist - $8.95
http://www.yardsalers.net/bookstore.asp and scroll to "Make Money (and Getting a Life?) via Craigslist"
Make Money Selling Kids' Clothes on eBay - $8.95
http://www.yardsalers.net/bookstore.asp and scroll to Make Money Selling Kids' Clothes on eBay
Nonfiction Books that Sell for $50-$250 on eBay (eBooks) - $4.50 (This is already half-price)
http://store.payloadz.com/details/101078-eBooks-Business-and-Money-Nonfiction-Books-that-Sell-for-50-250-on-eBay.html
Over 500 Books that Sell for $50-$5000 on eBay - $8.95
http://www.yardsalers.net/bookstore.asp and scroll to http://www.yardsalers.net/500Books.asp
How to Spot Fakes: a Special Report - $4.50
(email me at juliawilk@aol.com)
New Special Report: "A Book that Looks Like Nothing" - $4.50
16 - plus pages about "sleeper" books that look like nothing, but sell for "something" -- some up to
$10,000.
(email me at juliawilk@aol.com)
EBOOKS I SELL AS AN AFFILIATE
How to Make Big Bucks with Garage & Yard Sales - $8.95 (only available by email; PayPal
me $8.95 or email me at juliawilk@aol.com; this one not available at hald price)
Garage sale and wholesaler expert Pat Bateman has put together a fabulous ebook about making regular
income with yard sales, finding wholesale goods to sell, using drop shippers, and more. Right now I'm
offering it at a special preview price for $8.95. PayPal me at juliawilk@aol.com and you will receive
the ebook via email, usually within hours.
Paperback Books by Julia L. Wilkinson:
----------------------
Copyright 2012 J.L. Wilkinson LLC
----------------------
Thank you for subscribing to Yard Salers. Yard Salers email newsletter may be freely distributed in its entirety, so please pass it on. You may reprint any of the articles in this newsletter for any purpose as long as no portion of the article is modified without permission, and this tagline is included:

Yard Salers, www.yardsalers.net
Publisher, Julia Wilkinson, author of the award-winning "eBay Price Guide." and "What Sells on eBay for What"
No part of this publication may be reproduced or stored in a retrieval system, in any form or by any means, electronic, mechanical, photocopy, recording, or otherwise, without the prior written permission of the publisher. Yard Salers makes diligent efforts to obtain accurate and timely information. However, Yard Salers disclaims any liability to any party for any loss or damage caused by errors or omissions in Yard Salers, whether or not such errors or omissions result from negligence, accident or any other cause.
End