ISSUE 73: Yard Salers Issue 73: Aug. 2011: Selling History, Flips Contest First Cash Prizes

Subscribe at: www.yardsalers.net/subscribe.asp


Please forward to a friend!

Hello, all!

I just returned from a very interesting trip to Holland and Germany, which gave me the opportunity to see some amazing sights and also make some realizations about why we do what we do (or at least why I do what I do; some of you may be able to relate!)

Among the sights I saw were the Anne Frank House in Amsterdam; the Van Gogh and Rijksmuseum, the latter containing an amazing collection of Rembrandts and Vermeers, to name just two great Dutch artists; and last but not least, a big flea market (where else would I go in a big city?).

Seeing the actual red-and-white checked girl's diary that was Anne Frank's original version of her inspiring tale of her family's World War II-era hideout from the Nazis was nothing short of amazing. Also, as you leave the exhibit portion of the old Amsterdam brownstone, you pass a wall of all sorts of different versions of this famous book that touched so many people: Dutch editions; American editions; the first edition, which was titled "The Secret Annex"; and all sorts of other foreign editions.

Passing them all reminded me of why I love finding and selling collectible books (and other things): they are little pieces of history. They mean something to someone, and I think of what we do as getting that special something from one person who doesn't need it or can't use it anymore to someone who does and can.

The first article in this issue will be about those lessons learned overseas, with tips from them on how you can employ them to make more money.

We also have more great entries in the latest Flips contest, and the announcement that I will be trying a cash prize for the first time. The first cash prize will be $50, with runner-ups winning free copies of my new ebook, which I really think is my best: "Flip It Again," http://www.yardsalers.net/frequent_flips_sales.asp.




Which brings up: I am interested in hearing from any and all of you who cannot or don't want to join the Facebook group. I am thinking of creating a separate message board which will reside only in the Yardsalers.net web site, so those who are not Facebookers will have a place to congregate and share. But I really think the Facebook group format encourages interaction and makes it easy to post photos, auctions, links etc..plus, of course, you can see the person's face. (Or child, cat, dog, fave cartoon character, whatever).




Also, don't forget to share your Flops. Send me your tired, your poor, your cluttered masses of junk yearning to make money for you but never did...OK, you get the picture. Post them on the Facebook group and I'll be sure to include them in the next issue, or email them directly to me at juliawilk@aol.com.




I will also discuss more about how you can make money affiliate marketing in this issue.

*****

I recommend Suzanne Arant Wells's ebook, The Golf Shirt Bible. I read it myself and found-it jam-packed with info on the best shirts to sell and where to find them. Only $19.95. Check it out, if you want, via my affiliate link below:

If the above link does not work, try copying the following into your browser:

https://www.e-junkie.com/ecom/gb.php?ii=880449&c=cart&aff=156311&ejc=2&cl=34579

******

This is now our third issue in the new email system, AWeber. If you have any problems or questions about links in the newsletter, or other issues, feel free to email me at juliawilk@aol.com.

OK, now without further ado, let's get to it!

-------------------------------------------------------

Feature Article: Selling History: Lessons from Europe

Affiliate Marketing for Morons: Clickbank


Flips/Flops Contest: Baby Snookums, Masonic Bookends, and More

Reader Mail: Antiques Shop Owner Asks About Amazon

-------------------------------------------------------

--------------------------------------------------------

--------------------------------------------------------

-----------------------------------------------------

Feature Article: Selling History: Lessons from Europe

-----------------------------------------------------

You get a strange feeling when you finally witness first-hand something you've heard about all your life. For me, that feeling occurred when walking past a small, red-and-white checked covered book, protected behind glass. It was Anne Frank's original diary.




It was amazing to see the original, tanned from the years, and the inked cursive in the diary's original language of Dutch. I had the same feeling in the Amsterdam Van Gogh Museum, viewing Van Gogh's "Irises," a copy of which has hung in one of my guest rooms for fifteen years.




I also paused before the wall of books you pass on the way out of the Anne Frank House museum, all different editions of The Diary of Anne Frank, in many different languages, and some with its original title, "The Secret Annex."




It harkened me back to another iconic book which is translated in many different languages: "The Little Prince." As you may recall, I sold a 1943 first edition of the French edition for close to $500 on eBay. There was a bidding war between the two highest bidders. I poked around at their eBay profiles after the auction was over: turns out each of them were avid collectors of this book, in all its various translation and stages.




I chanced upon my French copy by accident at a yard sale, but it shows how certain iconic works are collected in all their formats, first editions and rare translations being notable. Lesson for you? Keep your eye out for such works at yard and estate sales, in all formats.




There are avid collectors of the Diary of Anne Frank and The Little Prince, just as there are of Ernest Hemingway, Van Gogh, and many artists whose works sell for a much more earthly sum.

Find your niches of interest and read up and learn about as many of them as you can. None of us have the bandwidth to be experts in everything, but all of us can become experts in something. I am always drawn to rare books, even in (or maybe especially with) today's environment of the disappearing book store. (On the plane ride home, I read an article about how yet another big-name chain bookstore, Borders, is going out of business, beaten down by the Kindles of the world, not to mention changing reading habits). Some of my the authors I have become more knowledgeable about include Hemingway, J.D. Salinger, and John Steinbeck (a first edition "Cannery Row" was another of my yard sale scores, and I learned that the more beige-colored boards are a lot more rare than the edition with the canary-yellow boards).




Go ahead and read up on the authors, artists, craftspeople, companies that attract your interest. When you can, visit the originals - go to museums, see the company headquarters. I recall a story in a newspaper about a lady who made a fortune in art. She said as a girl she used to wander around the Museum of Modern Art in New York and other museums; the regular sensory input gave her an instinct about knowing good from bad in the art world. (Yes, even modern art!).


What if a trip to Europe is not within your reach anytime soon? Chances are, there are places within a day's drive of where you live that are notable for something. For example, I live in Washington, DC, and within about an hour's drive is the town of Winchester, Va. This town is noted for being the hometown of country singer Patsy Cline ("Crazy" and other hits), and the headquarters and birthplace of renowned furniture-maker Henkel Harris.

What type of items could I find if I nosed around antique shops, estate sales, and yard sales there for a day or weekend? Maybe an old Henkel Harris catalogue, or Pasty Cline concert program? How about books or brochures about the town's history, itself? There may be people in Alaska, California or Maine looking for information about this town's history.

Within my own town of Alexandria, VA, I find a lot of stuff about this town's history, and I snap it all up. It sells very well. One example: several times I have found some slim volumes about a funky neighborhood near where I live known as Hollin Hills. It is known for its square, mid-century modern architecture. I have found these books at several estate sales in this neighborhood, and they usually sell quickly, and for healthy prices. Who is buying the things? It could be architects, architecture students, former residents, what have you. Frankly I don't care so much as long as they sell!


So keep your eyes peeled for the local history around you -- I think you'll find it rewards not just your curiosity but your pocketbook.




-----------------------------------------------------

Affiliate Marketing for Morons: Clickbank

-----------------------------------------------------

I'm continuing my series about affiliate marketing, because several of you asked about it. "How can I make money with affiliate marketing?"

In the previous bit, I talked about how affiliate marketing is simply selling something for someone else, and getting a cut of the action. (That's one way of explaining it).

You don't need a separate domain name to do this. You don't even need a blog, though you could use either or both of those to generate affiliate sales. You could even make money affiliate marketing just by putting a link at the bottom of every one of your emails, to whatever affiliate product you want to hawk.

But, ideally you will have a big audience to be successful doing affiliate marketing, and you will be promoting products that your audience would actually be interested in buying. You could create an email newsletter such as this one, have a blog you strive to keep updated and relevant, or make a web site with regular content, etc.

So what about these affiliate links..what are they about? They generally break down to a part that identifies you as an affiliate selling the product, and the seller of the product. One of the largest and best-known affiliate systems on the Internet is called Clickbank, at, duh, www.clickbank.com. (Clickbank describes itself as "a secure online retail outlet for more than 50,000 digital products and 100,000 active affiliate marketers").

Let's look at a clickbank link. As an example I'll use a real one, that I mention later in this issue, about Steve Lindhorst's "Selling on the River."

The "juliawilk" part is my Clickbank nickname. When you join Clickbank you create a "nickname" to identify yourself and/or your products in these links. "Lindhorst" is, of course, Steve's nickname. And the "hop.clickbank" is just part of Clickbank's nomenclature. And the "21" helps identify which of Steve's products it is.

It is free to create an account to just sell products as an affiliate on Clickbank, but if you are setting up a digital product to sell, there is a one-time $49.95 charge.

In the next issue, we'll look at some other popular affiliate sites.

-----------------------------------------------------

Flips/Flops Contest: Baby Snookums, and More

-----------------------------------------------------




Flips:

Forgotten Film Star Baby Snookums Leads to "Pot" of Gold




***
Hi Julia
Here's an interesting flip I had recently:
I go to garage sales with my friend and we were at one recently that I thought was boring. While she was still shopping, I wandered around aimlessly and picked up a little figurine. It was what appeared to be a baby sitting on a toilet with a horrible expression on his face. It was marked Made in Germany and had the name Snookums on the front. It was just so HIDEOUS that I paid a quarter for it.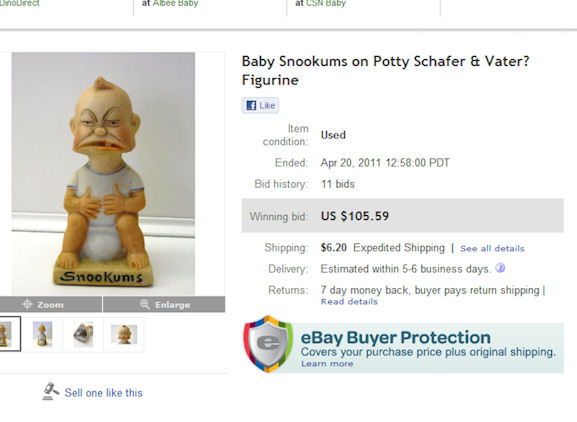 After a little research, I learned that it was actually a character from an old TV show and was quite collectible. I started my auction at $9.99 and he sold for $105.59!!
Just goes to show, there might be a treasure at the most boring garage sale!
Here's the auction:
http://cgi.ebay.com/ws/eBayISAPI.dll?ViewItem&rd=1&item=320685331857
Amy
Thanks for the great flip! I never would have guessed this little guy would have gone for so much.
Amy's description in the auction reads:
"Up for auction is this antique Baby Snookums character from the Newlyweds show. He appears to have a tummy ache and has a terrible grimace on his face. No damage at all, he is ceramic and marked Made in Germany inside. 3.5" tall.
"
From the early 1900's, he would be a wonderful addition to any collection and certainly a great conversation piece!"
I do remember a "Newlyweds" game show, but that's not the show that gave birth to this baby. It seems the movie world has all but forgotten this child star from old movie shorts...the only web site I could find much about him was on http://www.angelfire.com/movies/babysnookums/...and had been created by the star's nephew.
To quote a bit: "The world has forgotten one child movie star...During the latter part of the 1920's and the early 1930's, Stern Bros. Comedies and Universal Pictures put out what was called at that time 'movie shorts'...often shown before the feature presentation right along with news reels."
'The Newlyweds & Their Babies' was one of these movie shorts... Baby Snookums was played by Sunny McKeen, and was such a phenomenal success, he says, that Sunny McKeen was at that time, a household name.
So why do we see nothing of him today? It seems "the film of those times was very delicate and if it wasn't contained in an air tight containment, then the material [the] film was made of would decompose and turn to dust, which was the fate of Sunny McKeen's films."
However, Sunny McKeen's nephew says his only viewing of Sunny in movie forms came "one night while watching 'The Fractured Flickers' " when he "noticed several splices from 'The Newlyweds & Their Baby' and Sunny McKeen!" It seems some bits of the Newlyweds made their way into posterity.
~~~
Flash Cubes Worthy of Flash Mob
Hi Julia,
Here's my flip of the month for your contest. I paid $2.00 for this lot at a small church auction. 34 boxes of flash cubes that fit cameras that no one uses anymore? Oh yeah. I had tons of inquiries, mostly from artists who don't want to use digital for the kind of effects they want. Many things that are obsolete are the things buyers want!

~~~
Hey Susan! You said it! I actually read a piece recently in the New Yorker about a group of enthusiasts for an old, huge Polaroid camera that made 24 x 24 prints. Crazy, huh?
Susan wrote back that she is always on the lookout for stuff like that -- "things that are somewhat obsolete, old craft books for crafts no one does anymore, etc. Creative people live for this stuff. A big one is Scrabble tiles. If you can collect enough games at yard sales, you can make money on a nice large lot of tiles.


"Can't imagine why anyone would want a picture with a flash cube type camera over photoshop and digital, but......well, who cares the guy paid $142."
Susan
~~~
Scrabble tiles, who knew? Everyone, get your radar out for those obsolete items. (Kicking myself for passing up a "Flowbee" at a recent yard sale. It's this bizarre gizmo that is supposed to cut hair for you).
Julia
~~~
Brass Masonic Bookends, Model Airplane Test Stand, And More
Patricia comes to us with three flips:
Hey Julia,
I picked these up at a garage sale for $5.00 and flipped them for $205.00. Not a bad profit.
Vintage Brass Masonic Book Ends Freemasons BEAUTIFUL
Another nice flip was on an item that I didn't know what it was but it looked cool. I got this model plane engine tester the last day of an estate sale in a bag sale. Everything you can get in the plastic grocery bag for $5. Love those sales. I figure with everything I bought this came to about.28 cents. I don't know if it works or even if it is all there but someone liked it. It sold for $53.51. Not to shabby for something I know nothing about.
E-Z-Just Test Stand for Model Airplane Motors Top Flite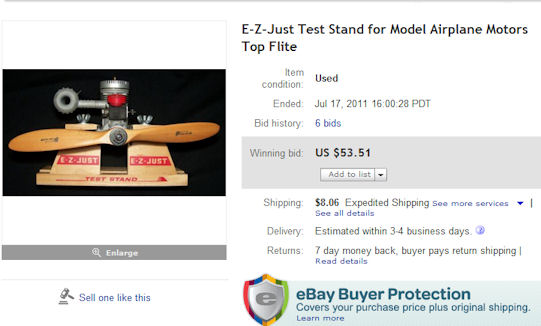 My last one is a set of jointed paper skeletons from the 1960's still in the paper labels and original 10 cent price tags. I know Halloween sells but I haven't had a lot of luck with it. I didn't think these would sell but what the heck. Bought them for $1.00 and sold for almost $30.00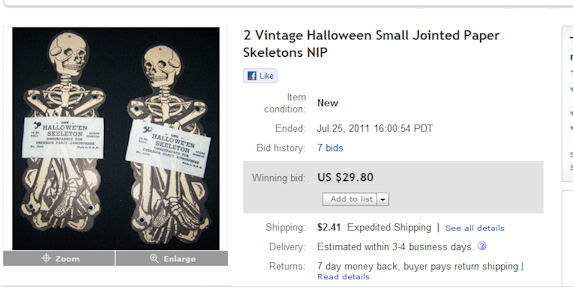 2 Vintage Halloween Small Jointed Paper Skeletons NIB
I will have to think about which of my flops to send.
Patricia
Super flips! Oh yes I love those bag sales at estate sales too. It's been a while since Ive been at one like that.
All that stuff is so fun.. Want to hear about the flops too! T. Hope you're having an awesome and profitable summer!
~~~
Flops:
In going back thru the postings on the Facebook group, I didn't really see any new pnes beyond the ones we were lamenting last time. So if you have any recent duds, submit them to me to get into the next issue: email them to me at juliawilk@aol.com, or post them at our facebook group at
http://www.facebook.com/group.php?gid=27871336031
Winners and Almost-Winners
Patricia wins the grand prize of 50 bucks, our first money prize ever, for her Masonic bookends flip. Coming in a close second is Susan with her GE Magicubes. Patricia, pls. email me your snail-mail address to juliawilk@aol.com and I'll get the check out to you. Susan, you win a free copy of my latest ebook: Flip It Again. (Don't despair..there are plenty of things that go for $50 and up in that ebook, so you may have the better end of the deal!).

Send in your entries to the next contest to me at juliawilk@aol.com. You can also post them on the Prizes will include another $50 cash prize, and everyone who enters gets *something* (yeah! compare that to the lottery!).

Reader Mail: Antiques Shop Owner Asks About Amazon
I just re-subscribed to your newsletter. I love reading it. So much fun. I am in the antique business and currently sell on eBay, in addition to our shop. We specialize in Civil War artifacts.
I have a question about Amazon. I have a lot of books I have collected through the years. Esp. cookbooks. I purchased your e-book about selling books on eBay. I found it very interesting. But I am looking to sell on Amazon. We travel a good bit, so I never considered it before.
I read that you do a lot on there with the fba service. It there an e-guide about how to do that? Does the one called selling on the river go into that? Since it is a newer service, I am not sure how to go about finding out about it. I know Amazon has rules about shipping times, so that would be the only way I could sell there.
BTW, do you ever go biking? I always love to come up and ride along the GW pkwy when the weather is nice. Such a pretty ride along the river. I live down in Fredericksburg. I wish we had a trail like that down here.
Karen

There are some ebooks about selling on amazon (I am about to come out with one soon) :) -- I recommend the ebooks by Steve Lindhorst..he has done a lot w/ fba (Fulfillment by Amazon).
(Both those links are my affiliate links to these products, but you can certainly purchase them via a different link as well..the price is the same).

Fba is not hard..in fact I find your stuff does better on there because it's displayed more prominently on amazon. Plus, your books sell whether you are on vacation or not. For me, I just have to get the oomph to get the books barcoded and packed in the box.
If u have any q's about fba as you go along just let me know, or post on Yardsalers' facebook group. :)


Biking..I have gone on our GW parkway bike trail (we live practically right next to it), but not as often as I'd like to/should. If u ever come up from Fburg let me know! We just passed thru Fburg a couple days ago; we're currently visiting U.Va. with my daughter..she'll be a high school senior next yr..where does the time go!

Thanks again for writing, and again I'm sorry for the delay!
That's it for this issue! We had a light mailbag. Any questions, comments, compliments, rants or raves, send to juliawilk@aol.com. On second thought, send the rants to my gmail account, juliawgal@gmail.com...I don't check it as often. ;)
http://bigbucksflips.com/
YARD SALERS BOOK STORE
What $ells on eBay for What - $24.98
http://yardsalers.net/whatsells09.asp
Chanel on eBay Price Guide - $9.95
http://www.yardsalers.net/chanel_guide09.asp
Make Big Bucks Selling Albums on eBay - $19.95
http://store.payloadz.com/details/109530-eBooks-Business-and-Money-Make-Big-Bucks-Selling-Albums-on-
eBay.html
Make Big Bucks off Catalogs on eBay - $12.49
http://www.yardsalers.net/bookstore.asp and scroll to "Make Big Bucks off Catalogs on eBay"
Making Money (and Getting a Life?) via Craigslist - $8.95
http://www.yardsalers.net/bookstore.asp and scroll to "Make Money (and Getting a Life?) via Craigslist"
Make Money Selling Kids' Clothes on eBay - $8.95
http://www.yardsalers.net/bookstore.asp and scroll to Make Money Selling Kids' Clothes on eBay
Nonfiction Books that Sell for $50-$250 on eBay (eBooks) - $4.50 (This is already half-price)
http://store.payloadz.com/details/101078-eBooks-Business-and-Money-Nonfiction-Books-that-Sell-for-50-
250-on-eBay.html
Over 500 Books that Sell for $50-$5000 on eBay - $8.95
http://www.yardsalers.net/bookstore.asp and scroll to http://www.yardsalers.net/500Books.asp
How to Spot Fakes: a Special Report - $4.50
(email me at juliawilk@aol.com)
New Special Report: "A Book that Looks Like Nothing" - $4.50
16 - plus pages about "sleeper" books that look like nothing, but sell for "something" -- some up to
$10,000.
PAPERBACK BOOKS
eBay: Top 100 Simplified Tips & Tricks, 3rd Edition - 45 new from $3.50 44 used from $1.24
http://www.amazon.com/eBay-Top-Simplified-Tips-Tricks/dp/0471933821/
My Life at AOL - $13.98
http://www.amazon.com/exec/obidos/ASIN/075961525x/juliawilk/002-1185969-5526421
The eBay Price Guide - 8 new from $27.93 24 used from $0.65
http://www.amazon.com/eBay-Price-Guide-Sells-Category/dp/1593270550/
EBOOKS I SELL AS AN AFFILIATE
How to Make Big Bucks with Garage & Yard Sales - $8.95 (only available by email; PayPal
me $8.95 or email me at juliawilk@aol.com; this one not available at hald price)
Garage sale and wholesaler expert Pat Bateman has put together a fabulous ebook about making regular
income with yard sales, finding wholesale goods to sell, using drop shippers, and more. Right now I'm
offering it at a special preview price for $8.95. PayPal me at juliawilk@aol.com and you will receive
the ebook via email, usually within hours.
Books by Julia L. Wilkinson:
----------------------
Copyright 2011 J.L. Wilkinson LLC
----------------------
Thank you for subscribing to Yard Salers. Yard Salers email newsletter may be freely distributed in its entirety, so please pass it on. You may reprint any of the articles in this newsletter for any purpose as long as no portion of the article is modified without permission, and this tagline is included:

Yard Salers, www.yardsalers.net
Publisher, Julia Wilkinson, author of the award-winning "eBay Price Guide." and "What Sells on eBay for What"
No part of this publication may be reproduced or stored in a retrieval system, in any form or by any means, electronic, mechanical, photocopy, recording, or otherwise, without the prior written permission of the publisher. Yard Salers makes diligent efforts to obtain accurate and timely information. However, Yard Salers disclaims any liability to any party for any loss or damage caused by errors or omissions in Yard Salers, whether or not such errors or omissions result from negligence, accident or any other cause.
End