Remember that scene from the movie "The Graduate" when the older adult takes the young Dustin Hoffman aside and imparts to him the secret of business success in the coming years in one word? "Plastics."
Today if someone were to give you a similar hot tip it would be "metals."
Yeah, we've all heard about gold being at record highs: Gordon Liddy and Glenn Beck hawking gold in their portfolios, radio ads for Goldline, and I even heard one guy on the radio prophesizing the economical four horsemen of the apocalypse in the coming years. The American economy is going to totally implode, and bands of roving hominids will scratch at our door.
Our defense? You guessed it..we should all be stockpiling metals. But all kidding aside, I am seriously considering putting some gold in my portfolio. In this issue, however, we're going to look at metals at a more micro-economic level: specifically, how you can get cold hard cash by selling metallic junk around your house and at yard and estate sales: unmatched earrings, broken necklaces, ugly plates, and the like. Or heck, you could even sell some of your nicer stuff if you aren't too sentimentally attached to it, and you really need the dough.
(OK, so maybe I've watched one too many episodes of "Pawn Stars" where sheepish sellers trudge in with grandma's gold whatchamajigit, shrugging and saying "It's time for someone else to enjoy it, and I could really use the money." In today's economy, truthfully, many of us could "really use the money," and what's wrong with "selling high" as it were? Isn't the smart thing to do to sell things -- be they stocks or bent-up silver salt cellars -- at high points along the rocky road of life?)
Anyway..selling metals. The first point I want to make is that the silver market is now as hot or hotter than gold. At this writing, yesterday's Wall Street Journal tells us silver is at "new 31-year highs and approached $50 an ounce." It's up 46% this year, "part of a nine-month rally."
And what about brass and copper? We have a very enterprising lady, Marilyn, in this month's Flips contest who has been making money off scrapping brass items. And she says copper is even better. (Now I wish I had picked up all those homely copper pails and pots I saw priced low and going unloved at various estate sales recently!).
And one of my pen pals, reader Susan, has been sending me regular tips on silver -- she sold some silver utensils for her father which commanded a healthy price. She and I emailed back and forth about selling silver and other metal items for clients as consignments. (You can check out Susan's current and past auctions at
http://shop.ebay.com/susanc7818/m.html?_nkw&_armrs=1&_from&_ipg=25
). While I have not sold silver on consignment recently, I did sell a lot of silver last Christmas for a client who runs an estate sale company. You could ask around in your group of friends or even post fliers.
Another good source of consignment clients is local real estate agents. I found my last consignment client from a DC-area real estate agent who found me through my web site. But you could mail your card and a note around to local agents, drop off cards at real estate companies, or again, simply post a flier at your local grocery store or other community bulletin board.
A word of caution about taking on consignment clients: be sure your seller consignment percentage is enough to make selling the item worth your while. A lot of consignees charge 30-40%. So if you charge 30% and sell an item you estimate will sell for $200, that's $60 for your take..not too bad for the listing, packing, etc.
But if you're selling a bunch of stuff that will only sell for $50 each? That's a heck of a lot of running around for 15 bucks. Or, take five or more items that you estimate will sell for $50 each and group them in a lot, so you're making $75 on the one transaction, not $15 per five frenzied photographing, listing, packing and shipping sessions.
OK, so now we are going to keep our eyes out for metals at estate and yard sales, and maybe even mine our own home and ask around for friends or let them know we sell on consignment.
What else will you need? I recommend the following:
- a metals testing kit - this is essential and will much more than return its cost. (Plus, you can deduct it on your taxes). I found mine on -- where else -- eBay. Right now in eBay you can get a kit for a Buy It Now of only $16.89, and $37.95 for a kit with a set of files. (Both kits contain a small square stone that you gently scrape a side of your metal item so you have a thin line to test with the various liquids..you watch the reaction of the metal with the liquid for the appropriate reaction so you can know what the metal is).
The kit I got allows me to test for silver as well as 10 kt, 14 kt, 18kt and 22 kt gold...and also platinum.
- a sensitive scale. You will most likely get questions from prospective bidders about the weight of your metal items, especially if they're planning to scrap them. The one I have is the AMW-100 and weighs in 0.01 gram increments, and also reads in oz, ct (carats), and gn (grain, or 50 micrograms, sometimes used in the weighing of precious stones or gunpowder). I bought this on eBay too.
- a jeweler's loupe - for reading marks on the back of items at yard and estate sales. I keep one in a zippered pouch in my purse at all times. Many times I have whipped it out at sales. I bought mine on...well, you know the drill. ;)
You may also want to consider a flashlight, in case the light is bad where you are shopping. In fact, I have seen some people at one of the basements in an estate clearout sale with those mounted-light-on-the head hat things, as in spelunking gear. (I jokingly asked the guy if he was caving, and he cast me an irritated sidelong glance and said that yes, it was not far from it).
[UPDATE as of Sat. Apr. 30: at a yard sale today a guy suggested I get a cheap metal detector, which he said you can get for around $200. I'll think on it. ]
So enjoy your expeditions mining for metals. And I'd love to hear any of your metal-selling stories -- as always, email me at juliawilk@aol.com.
-----------------------------------------------------
Flips/Flops Contest: Brass Yields Gold, a Delft Tile Cleans Up, Muppets Christmas Video Brings No Cheer, and More
-----------------------------------------------------
First, the Flips:
The first flip is from reader Marilyn, and ties in perfectly with our Metals issue.
Getting Down to Brass Scraps: A Brass Lyre
Just wanted to tell you about a recent flip.
I arrived at a small estate sale that was being held by the family. As I entered the back porch I spotted a large brass lyre, about 12 inches by 12 inches. It was very heavy. When I looked closer I realized that there was a stack of 7 or 8. I asked the man in charge the price & was told that they were $1 ea. I took them all. He told me that they were part of music stands.
I loaded my brass lyres after I checked out the rest of the sale & drove to the nearest scrap metal buyer where I sold the lot for $35 dollars. I then used the $35 to fill my gas tank.
Wish that I could flip my finds that quick every week.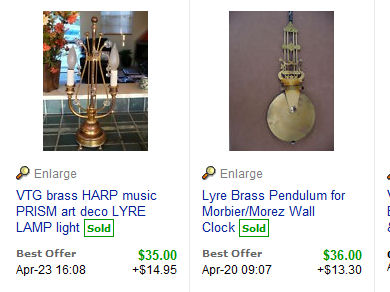 [Above: a couple of the "brass lyre" items that came up when I did a search on those terms on eBay; those are *not* Gail's flips].
I would like to also give my fellow yardsalers a tip about brass & copper. A friend & I could not sell brass decorator items in our yard sales. I mean candle sticks, figurines, etc. We finally started throwing the brass in a box. When it was full it weighted about 30 pounds. Brass in this area is selling for about $1.50. Do the math. I now pick up brass at yard sales, if it is cheap enough. when I get a box full, I sell it.
Thanks,
Marilyn
~~~
Hi Marilyn!
What a wonderful flip...I love that you did something with metal, esp. as metal prices (esp gold and silver as we all know!) are going thru the roof! But brass..I wouldn't have thought of that.
Love it. Have you have any success w/ other metals? I feel like i see copper around a lot at yard and estate sales..going to start looking for that and a crap metal dealer around here. Does anyone pick the stuff up for you, or do you always have to drop it off?
Thanks so much for the super flip! You are entered into the next contest. :)
Julia
~~~
Marilyn responded:
Copper is bringing a much higher price than brass. If you sell any copper, be sure to separate it from the brass. So far, I have sold only brass because I can find it easily. The scrap yards will expect you to bring to bring the metal to them. I usually use a box small enough to manage. If you can get it in your vehicle, the scrap dealer will get it out for you. In this area the scrap yards require a photo ID.

Hope that I have been helpful,

Marilyn
~~~
Last Month's Flips Winner Finds Special Tile with a Back Story
Hi Julia!
I am so excited to be a winner! I have another flip to send you once I get it written - a tile picked up for $6 and sold for...$267 (will double-check could have been $287). You wil love seeing this tile and the auction story behind it.
I just love your newsletter...it is so...newsy! And fun and informative and friendly.
Gail
~~
I of course asked Gail right away for the new flip story...here it is:
Julia,
Oh I am excited!
Here is the tile story...feel free to edit!!
In the fall auctions start to pop up like pumpkins... an exciting time for the seriously addicted yard sale lady as yard sales are slowing down. The lady attended an auction a few weeks ago.
While previewing the items...in the house, two barns, 3 sheds and two garages, she came upon a tile made by Delft a company in Holland dated 1945. The tile was very decorative with a lady and a little boy waiving a flag or handkerchief at three large airplanes flying in the clouds above them. In the background you could see windmills and at the base of the tile in raised letters were the words: Food - Peace - Freedom - May 1945.
On the back was a note taped to the tile. It explained that this tile was one of very few made to commemorate the allies dropping food to the people of Holland at the end of WWII. It expressed how grateful they were, and that the tile was given to an American family as a token of thanks. The letter was signed by the person giving the tile. The seriously addicted to auctions and yard sales lady was touched. She knew how important this tile was and if she could afford it she would buy it. The auction started at 10:00 a.m.....at 5:30 p.m. the auctioneer finally made it back to the place where the tile was waiting. The seriously addicted lady was able to buy the tile for $6.00.
She lovingly took it home and posted it on eBay, knowing that someone would give it the home and honor it deserved. The winning bidder paid $267.00 for the tile.
I am attaching a picture of the tile...as you can see it truly is beautiful.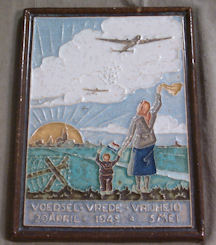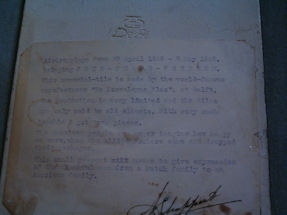 Gail
~~~
Our last flip comes to us courtesy of Joanne, who originally suggested I have a "Flops" contest as well as a "Flips" contest. She wrote me recently with her flip, and I decided to revive the Flops contest, which follows her flip, below.
~~
Hermes Wallet Leads to Herculean Flip
Dear Julia,
While attending an yard sale/ auction combo estate sale I was at the check out paying for a large item my son was picking up for me. They started selling the jewelry etc. just to the side, and as I stood in line I was watching.
I stepped up and paid and stood watching the coins, etc. just to get an idea price-wise, as they are usually not my interest.
The auctioneer held up a box and said, "Who will give me $50 for this Herman Wallet?" No one said anything, and he then said, "Well, anyone $20?" I put up my hand and it was mine.
I flipped the Hermes in box with all docs for $1650.00 quick sale.
I flipped the Gucci checkbook cover with all docs for $125.00 quick sale.
I flipped the fancy crystal purse for $35 as it was unmarked band wise.
I suggested a year or so ago you should have the flip flop awards and paint them gold sliver and bronze - I think people would love it.....................thanks for the newsletter.
Joanne
~~~
Hey Joanne! Yes I remember you writing about the Flips/Flops awards! As you can see in this issue, I have indeed decided to revive them. (More about the flops, below).
What amazing flips, though! Did the auctioneer actually say "Herman," or was that just a typo? You made an excellent score. I'm kind of amazed no one else jumped at the wallet. But then some folks don't dabble in that high-end luxury market and may not be able to tell a Gucci from a gekko.