ISSUE 61: March Madness Flips Contest Winners 2009
Yard Salers: March Madness Flips Contest Winners
Subscribe at: www.yardsalers.net

** If you enjoy Yard Salers and want to support the publication, please forward this issue in its entirety to a friend...thanks! **
Hello, all!
We had truly wonderful entries to the March Madness Flips contest, where the first prize is a free copy of EasyAuctionsTracker software. I think you all will really enjoy reading about the flips, and that they will make you aware of not only new items to be on the lookout for, but also new sources.
So this issue is going to be a short one -- mainly a roundup of the entries -- but I don't think you'll mind a whole issue of flips!
If you didn't get a chance to enter this time around, don't fret -- there will be other great prizes in other months.
In this issue, I announce the contest winners at the end, so skip down if you entered and want to cut to the chase. Also, if you entered this or another flips contest and have not seen your entry run, please email me at juliawilk@aol.com. And as always, send those Flip of the Week contest entries to me as well at that address.
If you don't want to wait 'til the next issue of Yard Salers for more yard sale and eBay nuggets, follow me on twitter at http://twitter.com/juliawww.
Now let's get to it!
~~~~~
If you like this issue you'll love..Big Bucks Flips: the ebook. now you can get Yard Salers' Readers best flips, and accompanying tips and rules of thumb, all in one convenient package. The Big Bucks Flips ebook is at a special low rate for newsletter subscribers...only $4.50. Get it instantly here.


**********************************************
1) Flip Contest Winners
***********************************************

Printer and Toners Cartridges

Thanks for you for your great newsletter.
My Flip was a HP Laser 4200 Printer with 4 Toners, bought a local auction for $20.00
Sold 1st toner for $92.00 + shipping on ebay.
Sold 2nd toner for $44.00 + shipping (not the printer it worked in) on eBay. Returned 3rd to Staples (Checked their return policy on line 1st).
Walked out of store with $174.00 worth of stuff in exchange!
Put the 4th toner in the printer (off brand) and kept the printer!

Rocky
~~~

I wrote Rocky thanking him for the flip, and he wrote back with this additional info:
The toners sold on ebay were going to resellers -- they both asked me to double box, as they mark them up more to resell. No bad boxes wanted -- the better the box, the more you can sell for! Wish I could get their price!
1 year ago bought fuser lube for a Xerox 5090 $15.00 for 3 boxes -- 1 sold for $132.00, the others for $123.00 and $115.00. The last box was no good and torn -- see the difference in price. Got new glasses that am wearing right now.
Fuser lube helps the copier keep the toner on the paper.
WEBSITE: rockyjennings.net just parked getting ready to build soon.
~~~~~~~~~~~~~~~~~~~~~

Automated Breast Pump

Hi,
I got the Yard Salers email and I wanted to talk about my top item that I flipped. I've been selling on eBay, Amazon, Craigslist, and Half.com since 2001. I've sold over 1500+ items so it's very hard for me to pick just one item. But the most memorable item I can recall is...
An automated breastpump. I sold it for a friend who decided she didn't want to have any more children. I told her she was crazy and that no one would ever buy a used breastpump. She told me maybe, but let's try it anyway. I listed the item on eBay and got about $175 for it. I still have a hard time believing it!!!!
My name on eBay is marcsgaragesale
~~~
Hey there!
Wow..an automated breast pump..who knew?? You know, I had one of those back in the day...wish I'd thought to keep it..lol. As I recall it was pretty expensive; must be why some folks would rather buy it used.
Great flip..thx so much, and you're entered in the contest!
Best of luck,
Julia
~~~~~~~~~~~~~~~~~~~~~

FDIC and Bankruptcy Auctions

Had one of my best flips yet, at it happened recently. I do go to yard sales, but I spent more time at auctions because it seems like I see more worthwhile items with my limited amount of time.
One auctioneer I have gotten some good stuff from is www.worleyauctioneers.com. They do auctions for the FDIC all over the country.
At a recent bankruptcy auction for a local construction company that went out of business, I scored these Polycom Voice over IP phones for about $50. I sold them within 24 hrs of listing them for over $500. The Item number: 270356583627.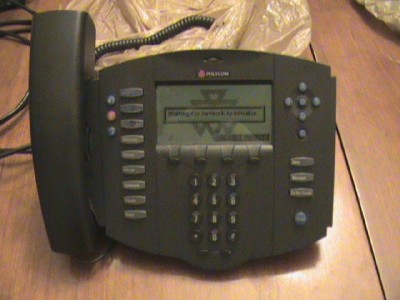 On top of that, I had two more phones, one of which was damaged, that I got for $1 in a box lot of office supplies. I sold both of them to the same buyer for another $100. Hope this qualifies as a good flip. I was certainly excited.
I love receiving your updates. Keep them coming.
Scott in Tampa
PS, if I win, I'd love any ebooks that you could send that may help me find more great flips
~~
Hey, Scott!

Thanks so much for sending your flips!
What a great idea..FDIC auctions -- esp. in today's climate. I took a look at the site and noticed -- not surprisingly, a lot of the auctions coming up were based in Vegas, Fla., and also Ohio.
Super idea..thanks so much..and yes I'll be happy to send you ebooks as prizes! I'll be announcing winners hopefully by tomorrow night.
Julia
~~~~~~~~~~~~~~~~~~~~~

"Strange Doll" in Trash Bag Leads to Not-So-Strange Profit

In early 2007, I decided to try my luck at be an "internet entrepreneur" after taking a short retirement from my profession of Licensed Social Worker.
My husband and I had sold on eBay a few years back when we owned a children's store, but our merchandise was pretty basic.My oldest son's significant other, Jamie, had sort of gotten me turned on to Barbies...which I knew very little about...so I decided to try to focus on Barbies in my new ebay adventure.
My husband started hitting the garage sales locally and I was always in amazement...sometimes in horror...when he would arrive home with the van brimming to the top. My husband came home from one of his buying marathons and at the bottom of the piles was a white garbage bag about 1/3 full of Barbies, Barbie clothes, and LOTS of trash and dirt.
I didn't even want to put my hands in the bag because the merchandise was so terribly dirty. Later that evening I decided to tackle the job of THE bag. I very gingerly removed dolls in all states of dress and undress, removed clothing, and threw all into a large tub to soak in detergent. As I got to the bottom of the garbage bag, I retrieved a doll that I had never seen before, but knew it was not a Barbie.
It wasn't in very good condition...very dirty and its arms were sort of just hanging there. The doll was a hollow plastic. I laid it aside to clean and put in my garage sale pile if I could ever get it cleaned up.
A few days later, I spoke with Jamie and was telling him my horror stories about the past weekends garage sale finds. I told him about the "strange plastic doll". He asked me to get it and describe it..and look for markings on the back. I did so and he seemed more excited about the doll than I had been. He asked if I would take a photo and email it to him that day. I did..and within an hour, he called back. He was laughing when he told me, "You have an original Bild Lilli doll".
Of course I had no idea what the heck he was talking about. He gave me the history of the doll and directed me to websites for more history. I learned how to clean the doll properly, took photos of the nude doll because I had no clothes for her, but did include a couple of dresses that I thought would fit her. I posted her on Ebay at $39.99.
I sat in amazement that week and watched the bidding going up. In the end the doll sold for almost $150.00. Not a bad return on a doll that was in a bag of garage that my husband paid $1.00 for!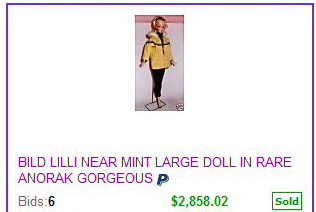 [some recent high sales of Bild Lilli dolls..yes that says $2858 for the mint condition one, above.]
I also later learned that a lot of the "garbage" items were original Barbie/Mattel clothes in extremely nice condition once I cleaned them properly. That bag's profit was well over $275.00!!
This success, addicted me to Ebay! I also can't pass up a bag of Barbies at garage sales...no matter how bad it looks. Just goes to prove the old addage..."One man's trash is another man's treasure".
Sincerely,
Judith
LovedayLane (Ebay seller ID)

~~~~~~
Hey Judith!
Sorry for the delay..a Bild Lilli! Wow, I have never heard of her. Of course I just had to dig up a pic of her..lol. You better believe I will be on the lookout for that doll from now on, as I am sure all YS readers will.
She does indeed have an interesting history..here is some of what I dug up about her on the Internet:
"Lilli was a popular cartoon character by German cartoonist Reinhard Beuthien created in June 24, 1952 for the newspaper Bild-Zeitung in Hamburg, Germany.
In 1953 Reinhard decided to market a Lilli doll and contacted Max Weissbrodt from Hausser/Elastolin company in Neustadt/Coburg, Germany.
Together they designed and mass produced the Bild Lilli; originally she was 30cm tall (about the same size as Barbie is now) and soon after was also available in a shorter 19cm (7 and a half inches) size.
Lilli was first sold in Germany On August 12, 1955 as a playful, erotic gift for gentleman (her cartoon character was a sensual, headstrong, attractive girl appealing to German men). She was available in tobacco stores and some adult oriented toy shops. Eventually she was exported to several countries around Europe, Africa and the USA... these dolls did not include the word Bild and were simply called Lilli." [sic]
Super flip. Also, good advice re: the Barbies..I have picked some up at sales but not as many as I could have.
Did u know Barbie just turned 50..I think? :-) Lookin' pretty good for her age..lol.
Thx again and will keep u posted about the contest!
Julia
~~~~~~~~~~~~~~~~~~~~~

Broken Nintendo DS
Dear Julia,
My son broke his DS. We did not have a warranty. It sold for $47 with two bids. The buyer left excellent feedback. It's a mystery to me.
JPJeffries
~~~~~

Hey JP! I love it..short and sweet! Who knew this broken stuff would sell? Gee, I think I'll list some of my kids' broken electronics..lol. I remember that the first thing ever sold on eBay was broken..Pierre Omidyar's broken laser pointer.
And oh yes, I should mention to everyone....if you sell something that's just lying around the house, that counts too as a contest entry..because you already owned it, you can think of it as having zero cost. Especially if it's a surprising thing.
Thanks for the fun flip..you're entered into the contest. :-)
Julia
~~~~~~~~~~~~~~~~~~~~~

Vita Mix Mixer
Audrey, of "London Bride" town Lake Havasu fame, wrote us again including one of her flips. Audrey, by the way, has a side business doing garage sales for friends..pretty good business idea for this economy! Something to think about, in case you want to put your yard sale skills to work setting one up. Anyway, here's her letter and flip:
Hi Julia,
Thanks (I think) for the ebook! Hadn't planned on printing it out, but when I got to reading it, the book had so much information I could use, and would probably forget, that I ended up printing almost every page. I've started a notebook where I'm trying to file things by subject matter, so I'm a little bit better informed about the items I look at, at garage sales.
Another couple and my husband and I also occasionally do garage sales for friends and this will help me keep informed about what to price things. We will be doing one next week and I think I may have a Fenton small candy dish/candle holder, and will be doing some research on it before we put it out. May end up with it on eBay instead of the garage sale, if it's profitable enough.
When I do that for the owners, I take 50% plus expenses, rather than stiffing them. I figure since I'm doing all the work (along with the expertise of knowing/thinking the item might be valuable) I'm entitled to more than what we get for doing the sale.
I gleaned a lot of information (some I will use, some is just filed away in the back of my mind!) from the book and will probably keep it around for a while, just to be able to check back into, if needed.
I did have a flip a couple of years ago from an estate sale we did for a friend. It was a Vita Mix mixer -- did some research, and knew I couldn't get the price I wanted from the garage sale, so listed it and it eventually sold for over $400. The most I probably could have gotten at the g-sale would have been about $200. Vita mix is still in business; they built a quality machine and some of the older ones go for a lot more. Depends on condition, of course.
Love your newsletter, it always has a lot of interesting things to read about.
Keep up the good work
Havamom
Audrey
~~~~~~~~~~~~~~~~~~~~~

Tobacco Cards
Dear Julia,
I have lots of great stories about "flips." One of my better recent stories was about a set of tobacco cards. Bought a set of nine in a little antique shop for $1.15. I sold one of them on eBay to the grandson of the artist for $115.95, see the auction here:
http://cgi.ebay.com/ws/eBayISAPI.dll?ViewItem&item=150321910822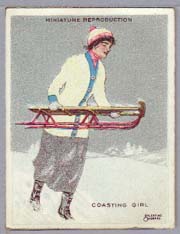 I sold the rest of them for an average of about $60 each. I love making over 500% profit on things!
Another good one is a real photo postcard I bought for $9. It showed a country club in the hills outside of Hollywood that existed at the turn of the 20th century but was torn down in the '40s. I put it up for auction and two guys duked it out until it went for about $125. Love that.
Then there was the mechanical pumpkin and black cat postcard I bought for $14 and sold for $79. Love that too!
When you know what you're looking at, you can make good money doing flips!
Cheers,

Laura

~~~~~~~~~~~


Hey Laura!

Wow..what an awesome flip! You seem to have a real knack for these. :)

Love the tobacco card flip..esp since you found it in an antique shop. I thin people need to realize it's not just yard sales or even estate sales where they can find flips..

Do you specialize in post cards? I see you have that in your name. If u have any other cards tips you want to share w/ readers, I can pay u to write an article.

Thx again!! Keep flippin', and reading,

Julia

~~~~~~~~~~~~~~~~~~~~~


Women's Snow White Halloween Costume

Julia,

The eBook is great! Definitely got some new ideas of things to look for now. AND, I completely forgot... I HAVE A FLIP! I don't have a picture anymore, so I hope that won't count against me ;)

Last summer, I found an adult woman's size 10 Disney's Snow White Halloween costume for a dollar. It was one of those costumes that is folded up and in a heavy plastic bag with a hanger at the top. The costume consisted of the dress with an attached white 'cape' with a red fabric bow head band. It had been worn once and had some water stains on the hem, but was otherwise perfect.

Kept it in my inventory closet until late-September, started the auction at 99 cents and it sold for $27!

I was pretty happy with my return, until I got an email from the buyer saying that it was too small, could she please return it? So, of course, I let her and refunded her money.

Once I got it back, I put it back up for auction (it is now mid-October) with another 99 cent start bid. I didn't have much hope it would sell for more that $10-15 at such a late date for Halloween, but figured I'd at least get my money back. To my shock, it sold the second time for $52.00!!!

I now keep my eyes peeled for costumes, both adult and children's. If you have room to store them, it's a great way to make some money fast in September/October to gear up for Christmas sales!

Thanks, Julia! 'Talk' to you soon!

Kaytee

~~~

Hey Kaytee!

Sorry for the delay. So glad u like the ebook. :) Ahh...a costume flip..I love it! Wow...good thing that lady returned it, lol! I love when those work out.

Great idea to keep an eye out for costumes..esp. to sell before Halloween, as u say..and some even sell all year round for plays, dress-up, etc!

Thx again and I'll run it in the next contest. :-)

Keep flippin'! :-)

Julia

~~~~~~~~~~~~~~~~~~~~~


Cathrineholm (Yes, it's All One Word) Bowls

Hi, Julia!

One of my best flips to date is a set of 6 bowls I bought at a local Goodwill for $1.50. All I knew about them was that they were beautiful, in excellent condition, and cheap! I figured I could easily sell the lot for $10 on eBay.

Using the info stamped on the bottom to create my title, I listed them as "6 Catherine Holm Norway Enamel Bowls Gorgeous," and basically described them as "enameled bowls, solid colors with white feather designs, in perfect condition, designed by Cathrine Holm of Norway." I listed them at a starting price of $9..99, and was delighted to see a bid placed almost immediately.

Later that day, I received an email from a kind eBayer telling me I had something really special and giving me the proper key words to use in my title. She informed me that they were lotus bowls by Grete Prytz Kittelsen, a (now elderly) well-known Norwegian designer whose father had been a leading jewelry designer, and that Cathrineholm (one word, not two) was the name of her company. This eBayer also attached a catalog page showing each bowl valued at $40 -- several years ago!

Acting on her advice, I closed the auction citing incorrect information and relisted the lot as "6 Grete Prytz Kittelsen Cathrineholm Norway Lotus Enamel Bowls," again starting at $9.99 for the set, and included the information she had given me -- and over the next seven days, watched the bids climb to $210! I was thrilled, of course, and am forever grateful to that knowledgeable collector who took the time to help a new seller experience the excitement of a great flip!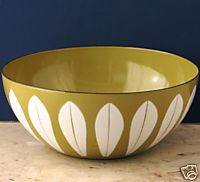 [Photo of a Cathrinholm bowl that recently sold on eBay for $58]

Thanks for a great ezine!
Kay (pack_rat_009)
Packrat's Emporium on eBay
url: http://stores.ebay.com/Packrats-Emporium


~~~


Hey Kay!

Having a senior moment and now can't remember if I got back to u about thee wonderful bowls. What a great flip! I love that her name is all one word .."Cathrineholm."

Also so nice that an ebayer was kind enough to tell you about them. I had that happen to me recently with a stein I listed..will tell the story in an upcoming issue. Anyway thx again and good luck in the contest!

[By the way, after sending that, I checked out Kay's store, and was amazed at the number of items she had in it! Check it out if you get a chance.]

Julia

~~~~~~~~~~~~~~~~~~~~~


Shot Glasses

O! and I had another great flip!!! Almost a year ago, I bought 2 boxes of shot glasses at an estate auction for a couple of bucks or so, don't remember exact amount, but wasn't much. I bought them as a joke for my son because he collects shot glasses and I thought this would help him add to his collection...lol. When I got home my daughter-in-law looked thru it and found a couple that she wanted. Then I put them away and forgot about them.

Never did give them to him, he didn't even know about them till I told him, just today! Anyway....I found them a couple of weeks ago and figured I might as well try to sell some on eBay.

A lot of the shot glasses were plain ole glasses with some that matched others, sort of a collection of sets. And some were just random that didn't match. And then there were some that had names or something on them. So I thought I would start with those. There were a few that had alcohol names on them, or they were measuring glasses for mixing. There were also some that were medicine dose glasses that had a name of druggist and location on them. Two of these were smaller and they were the winners!!

I listed about 8 different glasses that day and started most of them at $3.99. I figured if I sold a few I would be making something off of them, instead of just sitting in storage. Wow! was I surprised when two of them sold for $52.76 each!!

And one other one sold for $28.50. So I did make my money back! And then some!!!

LOL I now have something new to look for when at sales!! It never ceases to amaze me what people will buy and how much they will spend!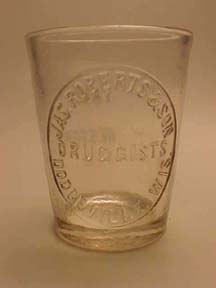 [One of Dee's super shot glasses]

I now have a lot of books up for auction that I bought at an auction in November. Hope there are some sleepers in there. Who knows??? I am ready for spring/summer because this is when there are more estate auctions! WoooooHoooooo

Happy eBaying!

dee

~~~~~~~~~~~~

Thanks so much, Dee! Now I have something new to look for, too! LOL.

Keep flippin', Julia

~~~~~~~~~~~~~~~~~~~~~


More from Going to Offline Auctions

Junk boxes at the auction that really pay off

[Note from Julia: Rhonda had written us a while back to tell us about her auction house "junk box" finds. She had included two more flips that didn't get included in the previous contest, so we're including them in this one. I included her 1st paragraph from the previous flips as well, to explain her auction house strategy:]

I deal in marbles, old sunglasses and believe it or not $1 boxes at the auction. You know, the ones that are on the side table full of junk that no one wants? I stay until the end and spend $4 or $5 on dollar boxes and have made over $200 on each one and every time. How about stuff on auction sales and the hidden treasures to be found?

Rhonda then wrote back with more gems. Her eBay id, by the way, is gracie_13

These were in the same $1 box with some other stuff I haven't listed yet:

http://cgi.ebay.com/ws/eBayISAPI.dll?ViewItem&rd=1&item=160185587893&ssPageName=STRK:MESO:IT&ih=006

[ This is a lovely set of collectible silver state spoons. $26.00 ]

http://cgi.ebay.com/ws/eBayISAPI.dll?ViewItem&rd=1&item=160182726759&ssPageName=STRK:MESO:IT&ih=006

[ Tiffany "Good News" silver pin in the distinctive blue box. $34. I must say that is one of the stranger Tiffany items I have seen; I am guessing it's a love child of the 70s, but I don't know. You can't argue with the blue Tiffany box. ]

Then there is the Box of Saturday Evening Post Magazines. There were old craft magazines that were all torn up in there also. I paid $7 for the box and a lady offered me $2.50 for the ripped up ones so $4.50 and I've already made...

http://cgi.ebay.com/ws/eBayISAPI.dll?ViewItem&rd=1&item=160188792102&ssPageName=STRK:MESO:IT&ih=006

[ SATURDAY EVENING POST DEC. 21, 1935 - ROCKWELL SANTA - $52.51! ]

I have 3 more on right at the moment and about 20 more to list. I like this stuff!!!

I'm in NW Indiana and you may use my name and please link to my auctions! I don't have an eBay store yet but I have stuff on all the time as it's becoming better than my 1st income. I work for the County so that tells you what we get paid lol.

Thanks!
Rhonda / marble-mistress on ebay.

~~~~~~

Hi Rhonda!

Thanks so much for the awesome finds, and the offline auctions tips! As you can see in a recent issue, I followed your advice and went to a local auction house here in Va. recently. Can't wait to go back.

Julia

~~~~~~~~~~~~~~~~~~~~~


OK, now for the winners and almost-winners... (really, I think of everyone as a winner!

We just couldn't resist Judith's story about the Strange Doll..our friend the Bild Lilli...and Judith wins the first place prize of a free copy of the EasyAuctionsTracker software! Judith, I'll get the software folks in touch with you.

Rocky, marcsgaragesale, Scott, JPJeffries, Audrey, Laura, Kaytee, Kay, Dee and Rhonda all win a copy of the Big Bucks Flips ebook! Or, if you already have it, a free copy of my paperback book, the eBay Price Guide..or one of my ebooks of your choice.

I'll be in touch w/ you with the free ebook..if you wanted a different one, just let me know..thanks so much everyone and congrats!

Until next issue..happy hunting, and flipping,

Julia

~~~~~~~~~~~~~~~~~~~~~


Julia Recommends: EasyAuctionsTracker
I tried the EasyAuctionsTracker accounting spreadsheet for eBay and loved it. It is an eBay seller's accounting dream! With a few clicks you can be looking at all your eBay sales data, costs and even keep track of your commissions. EasyAuctionsTracker uses an eBay token and imports all of your eBay transaction information into an Excel spreadsheet. There's a free trial version that allows you to retrieve your January and February transactions, so go try it out at www.EasyAuctionsTracker.com.
~~~~~
Big Bucks Flips: now you can get Yard Salers' Readers best flips, and accompanying tips and rules of thumb, all in one convenient package. The Big Bucks Flips ebook is at a special low rate for newsletter subscribers...only $4.50. Go here).
~~~~~


Do you like this newsletter? Please forward it (in its entirety) to a friend! Just go to http://www.yardsalers.net and see the "Subscribe" box on top.


**Don't have five minutes to read the newsletter now? Print it out and read later.**
[For more writing and photos throughout the month, check out Julia's bidbits blog at http://www.bidbits,net ]

******************************
"Selling on 'The River': Hedging Your Bets on Amazon"

Between eBay and amazon, you're looking at over 100 million visitors per month. Why not harness the power of both?

At $29.97, I think it's a good value. And you also get:

- "25 Things eBay Sellers Must Know about Selling on Amazon" and
- SPECIAL BONUS - "How to Scout for Top Sellers with Your Cell Phone."

******************************

******************************
The eBay Seller's Guide to Finding Profitable Hidden Bargains at Garage Sales
Find out here.
*******************
Would you like your own fully customisable ebook website pulling in profits day after day, month after month, year after year, complete with video tutorials showing you EXACTLY how to get set up and running? Find out here.
*******************


That's it for this issue. Until next time! - Julia


------------------


Questions about My eBooks Ordering

You can certainly purchase from me directly, as can anyone. Most of my ebooks are now available via the website's bookstore at www.yardsalers.net/bookstore. Any others you have questions about, all you have to do is email me and let me know which ebook(s) you want, if you are a subscriber and thus eligible for the discount, and then PayPal me to my PayPal id at juliawilk@aol.com. I'll be tweaking and updating the ebooks page on my web site soon.


-----------------------------------------------


Do you have a Flip of the Week? I'd love to hear about it! Email me at juliawilk@aol.com and let me know.
-----------------------------------------------
Nonfiction Books that Sell for $50 - $250 on eBay:


or
Buy Now
*********************


I am always open to reader articles, so if you want to write about something relating to yard sale-ing and eBaying, just flag me down! I will of course give you credit, using your eBay ID, web site, or any other contact info.

------------------------------------

eBooks by Julia L. Wilkinson:
[All my ebooks are offered at 1/2 price from their regular prices to the subscribers of this newsletter. If interested in any of them, please email me at juliawilk@aol.com.]

- How to Spot Fakes: email me!
*********************


Blogs, Blogs, and More Blogs
Check out My amazon.com Author Blog


Those of you who just can't get enough of my writing (are there any of you?) will be happy to know I now have a new blog on amazon.com. Amazon.com has created an "author blog" tool for authors to...well, blog. You'll see it if you bring up either of my books on the amazon site, but for good measure, it's at: http://www.amazon.com/gp/product/1593270550. (Scroll down to "amazonConnect").

My TypePad Blog, "Bidbits"

You can also check out my typepad blog, "bidbits": bidbits


********************************


Do you have your copy of Julia's book, eBay Top 100 Simplified Tips & Tricks?


It's available on amazon.com and barnesandnoble.com. If you do want to order the book, I'd appreciate if you'd support Yard Salers and eBayers by using my affiliate link below.


********************************



----------------------
Copyright 2009 J.L. Wilkinson LLC
----------------------


Thank you for subscribing to Yard Salers. Yard Salers email newsletter may be freely distributed in its entirety, so please pass it on. You may reprint any of the articles in this newsletter for any purpose as long as no portion of the article is modified without permission, and this tagline is included:
Yard Salers, www.yardsalers.net
Publisher, Julia Wilkinson, author of the award-winning "eBay Price Guide." and "What Sells on eBay for What"


No part of this publication may be reproduced or stored in a retrieval system, in any form or by any means, electronic, mechanical, photocopy, recording, or otherwise, without the prior written permission of the publisher. Yard Salers makes diligent efforts to obtain accurate and timely information. However, Yard Salers disclaims any liability to any party for any loss or damage caused by errors or omissions in Yard Salers, whether or not such errors or omissions result from negligence, accident or any other cause.

End