ISSUE 55: Aug. 1, 2008
Yard Salers: August 1: Swarovski Crystal & New Flips
Subscribe at: www.yardsalers.net

Please forward to a friend!
Hello, all!
I hope you're all having a great summer. It's hard to believe it's more than half over (don't tell that to my kids!). And also that I'm going to have a high-schooler come fall! Well, time marches on.
I've worked and also attended several estate and yard sales since the last newsletter. At one recent sale, I saw more Swarovski crystal in one place than I've ever seen (and will probably ever see again, unless I go to the Swarovski headquarters in Austria). For that reason, I decided to focus on Swarovski crystal prices in one article in this newsletter.
I still get out to yard sales whenever I can, though it's been a mixed bag this summer. I've found some interesting pieces of art, some original, some signed repros...and one disappointment that I thought I had examined closely enough to be sure it was original, but when I later looked at it more closely with my loupe, found the dreaded "dots of death" that told me it was in fact a computerized image.
Quick tip: I have found that some of the most easy to find and lucrative books are the ubiquitous Harry Potter books -- esp. the "First American editions," which are not hard to find. (If you find a first British edition, you trult have a find!).
Grab them piecemeal until you have a set of four or more...especially complete sets of all the editions will sell for around $50 or more.
The Winston Churchill "Second World War" set also does well and seems to pop up frequently for me, so keep an eye out for it.
I still have a lot of eBay swag from the convention, and more of it is getting awarded in this issue with the flip entries. If you want a piece of the swag action before it goes bye-bye, be sure to send your flip entry in!
Let's get on to the rest of it without further ado.
Julia
*********************
The First and Most Thorough eBook of eBay Prices: "What Sells on eBay for What" (aka "Julia Classic.").
If you're new to Yard Salers or haven't yet read this ebook jammed with prices and tips for flipping stuff on eBay, you can still get the subscribers' 1/2 price of $8.95 -- an instant download -- by going here.
*********************
Now available for INSTANT download: Want to make more money with your yard sale this summer? Julia's newest special report, "Yard Sales that Really Sell," tells you how. Special preview available for only $4.50.
Includes: Where to Advertise your Sale, Where are the Best Places to Locate your Signs, How to Prepare and Be Prepared for your Sale, What you're Going to Need for your Sale, Setting Up your Sale & How to Price, and How to Run the Sale to Maximize Profits. Only $4.50! Click here to buy and download instantly here.
*************************
In This Issue:
*************************
1) Swarovski Crystal -- What's It Worth?
2) Flip of the Week Contest: Prizes for All
3) Reader Mail
*************************

*********************
1) Swarovski Crystal -- What's It Worth?
*********************

According to the Swarovski web site, this gem of a company was begotten when Daniel Swarovski "invented an automatic cutting machine at the end of the 19th Century" and "opened the door to a world of fantasy."
The material they used was crystal - "a raw material, which even the most ancient cultures ascribed beneficial, valuable, indeed miraculous properties."
Swarovski makes a number of products including jewelry and accessories, but at this sale there were mainly the collectible figurines, a whole world unto themself.
When I was poking around doing research, I found that one of the most valuable figurines was the "Lovebirds" piece, which had sold on eBay for $2750 and $1990, respectively. Here's a look at some of the others: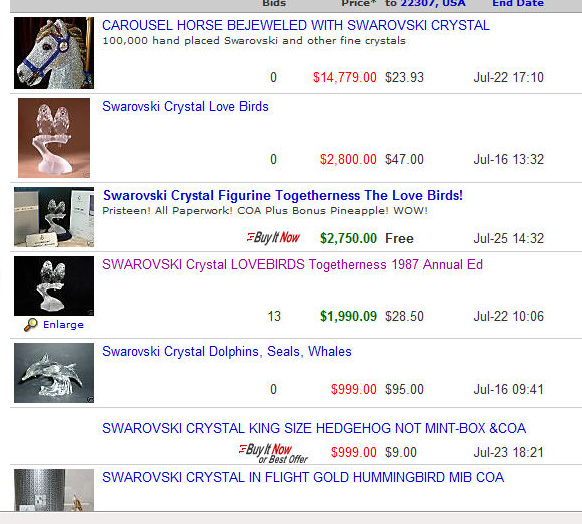 Other Completed Swarovski Prices:
SWAROVSKI CRYSTAL BLACK DIAMOND TOUCAN NIB COA Buy It Now $849.00
SWAROVSKI Crystal Paradise KINGFISHERS BIRDS TURQUOISE 6 $748.02
SWAROVSKI CRYSTAL ELEPHANT SCS MEMBER AFRICA 1993 CERT Buy It Now $675.00
SWAROVSKI Crystal WOODPECKERS 1988 SHARING 8 $665.00
Swarovski Crystal Red Cockatoo Figurine 2 $635.00
SWAROVSKI CRYSTAL BLACK DIAMOND TOUCAN BIRD 850600 N Buy It Now $609.00
Swarovski Crystal Jonquil Green Rosella Parakeet Parrot 12 $610.00
Crystal Swarovski Panther on Granite Base NIB with COA Buy It Now $569.95
Crystal Swarovski Panther on Granite Base NIB with COA Buy It Now $564.95
Here we see the elephant, woodpeckers, parrot, and panther are also highly coveted pieces. At the estate sale where I saw these pieces, the dragons also sold early on.
Some of the most valuable pieces are also limited edition pieces you can only get by joining the Swarovski Collectors' Society, or SCS. For information about how to join, go here: http://www.swarovski.com/content/10007.5807/Web_US/en.
Not every Swarovski figurine sells for big bucks; some of the little and more common ones can be found on eBay for around $10. So be sure to do your research before buying these to resell or as an investment.
*********************
Insider's Guide to Buying Furniture

For a limited time, furniture industry insider and Yard Saler reader Rosemary Barnett has agreed to make her furniture buying guide half price for Yard Salers subscribers!"THE FURNITURE BUYING GUIDE: An Insider's View Of What You Need To Know Before You Buy Your Mattress, Recliner, Sofa, Or Dinette In A Store Or On The Internet" is now only $9.95 instead of $19.95. (Get it for 1/2 price by paypal'ing me $9.95 to juliawilk@aol.com and it will be emailed to you, usually within a day).
*********************
2) Flip of the Week Contest: eBay Swag Prizes for Everyone
*********************

Hi Julia,
I enjoy your newsletter. I have a flip story for you.
I found a box of small china animals in an antique store, marked at $1.00 each. They were all tossed in together & many of them had already been broken. I spotted a few I was sure were Hagen-Renakers & one of those, I was sure was also the Disney decoration. It was a deer from Bambi, miraculously it was still in perfect condition. I had no idea what it was worth, but knew $1.00 was a bargain! I put it up for sale on ebay the 1st week I started selling. I was hoping to get maybe $30-50 for it. Well it ended up selling for $485.00! That certainly got my attention!! I've been selling on ebay ever since, wish I could find more deals like that one!
Susie
~~~
I asked Susie if she had a photo of it, and she came back with:
Hi Julia,
Sorry, I don't still have a photo of it. If someone wants to look it up, it is in the Charlton catalogue of Hagen-Renaker. It is model #5028, identified as Bambi style two, or Faline. It's a small figure- less than 2" high. They give a book price of $150 (2nd edition of book)- but I have found the prices in this book to be pretty low, especially on the more rare figures. Hagen-Renaker is a California pottery, still in business today. The figures very rarely have marks on them, most had a paper label, or were attached to a paper card. They are pretty easy to identify once you are familiar with them, but because they have usually lost the identifying labels or cards you can often buy them very cheaply. Older ones have much more detailed decoration & are more valuable.
I actually collect & sell mainly dog figurines. I collect & sell all breeds, and any makers. I'm a dog groomer by profession- so dogs are my life!
Thanks for your interesting newsletter.
Susie

Thanks, Susie! I was able to dig up a photo on the web..thanks for that info! Here's the photo I found:

Wow..I feel like I've seen those around. I'll check in my own collection..lol. How fun to collect dog figurines. I have a friend who wants me to be on the lookout for Staffordshire dogs..we'll see.
I dug up a little info about the Hagen-Renaker co. from its web site (always a good place to get a co.'s history).
The co. was started by John and Maxine Renaker started Hagen-Renaker in their garage in Culver City in the latter part of 1945. Maxine's Dad, Ole Hagen, built the couple their first factory, so they named the co. Hagen-Renaker to honor him.
Once the co. was founded, they started producing things like plates and butter pats, But almost by accident they discovered how well figurines could sell: "John Renaker noticed a small duck that Maxine had on her work bench. She was a Camp Fire Girl leader, and she had designed it for the kids. He saw potential in it and put it on the bottom of the company's order sheet. When he saw how it sold, he decided to change direction and produce small figurines."
It seems to me these Hagen-Renaker figurines can be great sleeper items at yard and estate sales, as Sherry found. I poked around eBay to see which were going for big bucks and which for just a few:
Amazingly, even with a glued-back-together leg, a Hagen-Renaker percheron draft horse crusader went for $660.00. Some others: 1968 DW VINTAGE HAGEN RENAKER FEZ, ARABIAN STALLION for $750; Hagen Renaker Mint Sespe Violette Belgian Mare 1953 for $500; and HAGEN - RENAKER ELEPHANT WITH STICKER for $318.99.
How to tell a real Hagen-Renaker? Some of them have stickers on the bottom, like the above elephant, but I also found this tip on one web site: "Buy a Charleton's catalog of Hagen-Renaker or visit www.animalfigurinesgallery.com, cause you need to be careful at ebay - not all figurines listed as HR actually are."
Thx again for the wonderful flip!
Julia
~~~~

Subject: Flip of the Week - Bakelite ring
Julia, I have been enjoying your newsletter for a few months now, but have been selling on eBay for about 8 years.
My most recent flip involves a Bakelite ring. I was at a garage sale close to where I work and found this 10 cent mustard-colored plastic ring in a pile of junky jewelry. I know with Bakelite, if you rub it really vigorously it will emit a carbolic acid smell. So I tried the test, and what do you know...it was Bakelite.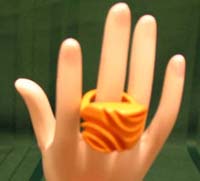 Actually it was a deeply carved, vintage, butterscotch Bakelite ring. I put it on eBay last week and the ring went for $36.01! Not bad for a dime investment.

Sherry/ebay seller ID is A_Memory_Maker & eBay Store A_Memory_Maker

~~~

Hey Sherry!

Love your Bakelite story..thanks so much!

Oh it's big and beautiful (have u noticed big rings are in?)...no wonder it sold for so much. Love it!

I have dabbled in bakelite myself and find it interesting and nostalgic. It often does go hidden at sales, too!

Another test is to run it under hot water and then sniff..this is of course similar to warming it up by rubbing it.

Anyway, thanks again, and u're the first entry in the new contest. :-)

[ Sherry, at ebay seller ID A_Memory_Maker, says she sells a variety of vintage ads and collectibles. "I will be listing more jewelry this week and next," she said. (Although that was more than a week ago because it's taken me so long to get this newsletter out. But check anyway). A_Memory_Maker is also the name of her store. ]

~~~~~


Now for the winners:

Again, everyone wins something in this contest, because I still have so much loot from eBay Live.

- Susie is in first place and wins a Zippi.com tote bag with embedded pen, and a collectible eBay pen in a case.

- Sherry is runner-up and wins an eBay light-up whistle, set of two green eBay pens, eBay branded mints, and an eBay lollipop (who knew?).

Susie and Sherry, please email me your mailing address so I can ship the loot out to you.

Didn't win this time? Fear not! There's plenty of loot left for the upcoming contests, including more eBay Live pins, tote bags, the eBay Live t-shirt, and all kinds of strange little bits of swag like endicia.com tape. (You know how we love tape in this newsletter because we did a whole issue on it).

********************
3) Reader Mail
********************


Garage Sale Cow and Yardbits: Two New Sites

There are now many great sites out there facilitating finding and posting notices for yard sales and estate sales. One I just learned about is called Garage Sale Cow, at, of course, garagesalecow.com. With it, you can search garage sales, post garage sales, and submit a "find of the week." They also offer a free magnet. Here's an excerpt of email I received from them:

Hi Julia,
We have been telling a lot of folks about your book store! Actually I was talking about it tonight at dinner. Great idea that will save people valuable time. Hope we are one of your newest "Favorite Links".

We are currently working on a "links" page for our website. We will be attending the Yard Sale in Jamestown, TN. Hope to see you guys there.

Sincerely, The GarageSaleCow Team

www.garagesalecow.com

~~

Thanks again, GarageSaleCow people! They are now in my "Favorite Links" section..and I may be picking their brains about the Jamestown sale (otherwise known as HQ of The World's Longest Yard Sale). :)

Before I forget, I wanted to mention that Yard Salers is now a sponsor of the World's Longest Yard Sale! I mean, it's only natural, right? You can see our lil' old logo at http://www.127sale.com. (OK, so you have to scroll to the bottom).

And if anyone is willing to give me a ride to the 127 sale, and watch my kids for four days, I'm all for it! Hehe..just kidding. I'm still trying to work a way to go to the sale this year, though.

~~~~
Yardbits.com

Another site I found out about is Yardbits at...yes, http://www.yardbits.com. I'll let Mike tell it:

Hello,
My name is Mike and I'd like to tell your readers about my site, www.yardbits.com.

This is a new site dedicated to yard sales, garage sales, etc. Yardbits easily and quickly lets people become members to do several things like: advertise your sale (which is map-based; shows locally, state-wide and nationally), has an events calendar that everyone can use, has a message board to share your thoughts, and many other useful tools for you to use.

All the ads you enter run for 10 days with an option to extend them for 10 more days. Also, this site is free for you to use, no credit cards needed! Visit today and become a member!

Mike

~~~


Thanks so much, Mike! I look fwd. to checking it out.
Julia
~~~


Bob's Tip for Books

Hello, Just a tip for book hunters, probably old hat to experienced scouts, but anyway if you find a non fiction book that is valuable, check the books in the bibliography too. Sometimes you can find titles there that are worth looking for too.

Bob

~~~
Hi there Bob,

Great tip! I never thought of that. May I run it in the next newsletter?

Thanks so much!

Julia
------------

Have a great (and profitable) week, all!

Julia

**************

Julia's special report about albums is beefier than ever with top-selling Rock, Pop, Country, Classical and Blues prices: Make Big Bucks Selling Vinyl Records on eBay. Records expert spills his secrets!

Click here to find out more
or paste http://www.yardsalers.net/albums_subs.asp into your browser.



************************


*********************

BigCrumbs lets you earn money back not only on what you and your referrals spend on eBay, but over 200 retailers such as Target, Best Buy, and Peapod by Giant.
Make Money with Your Everyday Shopping with BigCrumbs


*********************
Secret Product Sources


Looking to find hot items to resell on eBay? Great news: we've sourced out a treasure trove of online (and a few offline) sources where you can find hot items to buy and resell on eBay for fast profits.
*********************
What's the PERFECT eBay product? Learn How To Make Money with information products on ebay.
*********************


Do you like this newsletter? Please forward it (in its entirety) to a friend! Just go to http://www.yardsalers.net and see the "Subscribe" box on top.


**Don't have five minutes to read the newsletter now? Print it out and read later.**
[For more writing and photos throughout the month, check out Julia's bidbits blog at http://www.bidbits,net ]

******************************
"Selling on 'The River: Hedging Your Bets on Amazon


Between eBay and amazon, you're looking at over 100 million visitors per month. Why not harness the power of both? It just doesn't make sense not to.

Former eBay University instructor Steve Lindhort's ebook will open your eyes to all the other types of things you can sell on amazon beside books, and how.

At $29.97, I think it's a good value. And you also get:

- "25 Things eBay Sellers Must Know about Selling on Amazon" and
- SPECIAL BONUS - "How to Scout for Top Sellers with Your Cell Phone."

************************
SUBSCRIBE TO BOOKTHINK'S QUARTERLY MARKET REPORT OF COMMON, PROFITABLE BOOKS.
New! Includes 100 easy-to-find books that sell for $30 and up. $49.99 annually or $19.99 for individual issues.
Click here to subscribe.
******************************

******************************

******************************
The eBay Seller's Guide to Finding Profitable Hidden Bargains at Garage Sales
Find out here.
*******************
Would you like your own fully customisable ebook website pulling in profits day after day, month after month, year after year, complete with video tutorials showing you EXACTLY how to get set up and running? Find out here.

That's it for this issue. Until next time! - Julia

------------------

Questions about My eBooks Ordering
You can certainly purchase from me directly, as can anyone. Most of my ebooks are now available via the website's bookstore at www.yardsalers.net/bookstore. Any others you have questions about, all you have to do is email me and let me know which ebook(s) you want, if you are a subscriber and thus eligible for the discount, and then PayPal me to my PayPal id at juliawilk@aol.com. I'll be tweaking and updating the ebooks page on my web site soon.

-----------------------------------------------

Do you have a Flip of the Week? I'd love to hear about it! Email me at juliawilk@aol.com and let me know.
-----------------------------------------------
Nonfiction Books that Sell for $50 - $250 on eBay:


or
Buy Now
*********************

I am always open to reader articles, so if you want to write about something relating to yard sale-ing and eBaying, just flag me down! I will of course give you credit, using your eBay ID, web site, or any other contact info.
------------------------------------
eBooks by Julia L. Wilkinson:
[All my ebooks are offered at 1/2 price from their regular prices to the subscribers of this newsletter. If interested in any of them, please email me at juliawilk@aol.com.]
- How to Spot Fakes: email me!
*********************

Blogs, Blogs, and More Blogs
Check out My amazon.com Author Blog

Those of you who just can't get enough of my writing (are there any of you?) will be happy to know I now have a new blog on amazon.com. Amazon.com has created an "author blog" tool for authors to...well, blog. You'll see it if you bring up either of my books on the amazon site, but for good measure, it's at: http://www.amazon.com/gp/product/1593270550. (Scroll down to "amazonConnect").
My TypePad Blog, "Bidbits"
You can also check out my typepad blog, "bidbits": bidbits

********************************

Do you have your copy of Julia's book, eBay Top 100 Simplified Tips & Tricks?

It's available on amazon.com and barnesandnoble.com. If you do want to order the book, I'd appreciate if you'd support Yard Salers and eBayers by using my affiliate link below.

********************************


----------------------
Copyright 2008 Julia L. Wilkinson
----------------------

Thank you for subscribing to Yard Salers. Yard Salers email newsletter may be freely distributed in its entirety, so please pass it on. You may reprint any of the articles in this newsletter for any purpose as long as no portion of the article is modified without permission, and this tagline is included:
Yard Salers, www.yardsalers.net
Publisher, Julia Wilkinson, author of the award-winning "eBay Price Guide." and "What Sells on eBay for What"

No part of this publication may be reproduced or stored in a retrieval system, in any form or by any means, electronic, mechanical, photocopy, recording, or otherwise, without the prior written permission of the publisher. Yard Salers makes diligent efforts to obtain accurate and timely information. However, Yard Salers disclaims any liability to any party for any loss or damage caused by errors or omissions in Yard Salers, whether or not such errors or omissions result from negligence, accident or any other cause.
End