ISSUE 51: Apr 24, 2008
Yard Salers: Apr 24: Yard Sale Season, Dud of the Week & More
Subscribe at: www.yardsalers.net

Please forward to a friend!
Hello, all!
It's gone quickly from cool Spring to blast-the-a.c.-in-the-car hot here in the mercurial Washington D.C. area. I've gotten out to good ol' fashioned yard sales this past weekend and found some neat stuff, including a Tommy Bahama silk shirt and pants combo that's currently up as one of my auctions.
But the weekend before that, I did not get out to outdoor sales much, and one reason was that I have started working behind the scenes at estate sales. That's right..I'm getting to sort through the stuff before the doors open, which is quite fascinating. I've also bought some things for myself but not until later in the sales. (The people waiting in line have got to get first crack at the stuff, which is only fair).
Along the way I am seeing even more glassware, pottery, kitchen gadgets and gizmos; woks, and crocks, and fondue pots. It's a great way to get a continuing education in the stuff, of which we all know there is so much to learn.
For example, I heard that the older Waterford crystal was hand-blown, whereas now it is machine-made. I have not verified this, but I know it was one reason people were eyeing some of the Waterford "Lismore" pattern goblets and wine glasses at a recent sale.
Remember the ivory-inlaid pictures from Jon, one of the winners of the Flip of the Week contests the other week? I came across an ivory-embellished picture at a recent sale. I didn't wind up buying it -- it was one of the things that sold early -- but thanks to our flip contests, I knew more about this kind of art.
A lot of what I've been buying are old yearbooks -- which are great when they sell -- but the problem with them is they can take a long time for that right buyer to come along and buy them. In fact, I am thinking of skipping the auction option on them and starting them immediately as the less-expensive eBay Store listing.
But I have to tell you about a few things I came across in some of the yearbooks I bought recently. We all know that a yearbook with a celebrity (before they were famous, ideally) can do well. But we don't always know who went where or when to expect a famous name.
I picked up a few Swarthmore College yearbooks (a small school based in PA) at a recent sale, and was flipping through them. (When I think of Swarthmore, I confess what often comes to mind for me is the Mamas and the Papas song -- "Cass was a sophomore, thought she'd go to Swarthmore, but she changed her mind one day.")
Well who should pop up on one of the pages but a young "Mike Dukakis." Not surprisingly, he was very involved in student politics, and there were pictures of him on Student Council and other organizations, as well as the usual senior yearbook portrait.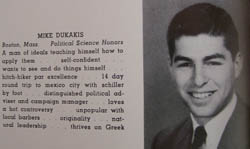 Oh, and just last night I was listing a Pomona College yearbook (near Los Angeles, in CA), and I went to wikipedia to see who they listed as famous graduates. Actor Richard Chamberlain was one of them. Well, I found him in one of the fraternity photos, looking very Richard Chamberlain-y.
So there's a tip for you about yearbooks..wikipedia often lists the famous graduates of the college there int he entry for the school.
But back to the Yard Sales topic for a minute. I want to mention I am working on a new ebook about putting on a yard sale. It is more from the setup/during the sale point of view, and I am working on it in conjunction with SaleSigns.info. So if you are thinking of holding a sale of your own this season, you may want to check out the new ebook. It should be ready within 2-3 weeks if not sooner.
I will also be working with subscriber Pat Bateman to produce a new, ebook version of his paperback book, "How to Make 'BIG BUCKS' with Garage and Yard Sales" (which you can now purchase as a paperback from amazon at http://www.amazon.com/Make-BUCKS-Garage-Yard-Sales/dp/142591263X/).
Also, another person in the web site world, Mike of Weekend Treasure (weekendtreasure.com), is creating a new site called GarageSaleSeason.com. I don't yet know what all will be on it, but it promised to be interesting and exciting, so check it out!
Well, I can't say you guys were bowled over by the "Flop of the Week" contest idea. But..I did get one entry. And to reward the courage involved, the entrant will win a free copy of my Wiley book, eBay Top 100 Simplified Tips & Tricks, and the ebook of their choice. (See how easy it is to win at Yard Salers?). We're keeping the contest going until...we're convinced it itself is a flop. We're not there yet. :-)
I also came across some juicy articles about trying to recreate the core of the Library of Congress, the foundation of which came from one Thomas Jefferson. Wow, that dude did a lot of things, didn't he? I think I mentioned I went to University of Virginia, where Jefferson is revered perhaps more than anywhere. But I'll save some stuff for the article.
And speaking of books, a couple/few of you have said you want to see more of the "Books that Look Like Nothing" list, so I've decided to continue the series, this time with commentary about the books and why they are so valuable. Or why I think they are so valuable. (OK, so not in this issue. But in a coming issue!).
Also, Reader Mail.
I was going to extend this week's Flip of the Week contest to next week. We only got a couple of entries and we could have had a little more competition. But I decided to go ahead and award the prizes anyway: some eBay collectible trading cards, and a package of books about eBay by different authors. (What books, you ask? Oh yes, I never said. Well, "All My Life for Sale," "The eBay Bible," and "The Perfect Store").
Send in those flips for next week. Next week we'll award more books about eBay, another copy of my Top 100 Simplified Tips & Tricks, and a ginormous yellow eBay tote bag that I bought at eBay Live.
Now let's get to it!
Julia
*********************
We all like to *go* to yard sales, but are you *having* a sale? Then you need eye-catching, professional-looking signs. Luckily, Vito at salesigns.info is offering Yard Salers readers a discount on his signs: just use coupon code "yardsalers" when ordering to get *$5.00 off* a $30 purchase.
*********************
Julia's NEW special report is beefier than ever with top-selling Rock, Pop, Country, Classical and Blues prices: Make Big Bucks Selling Vinyl Records on eBay. Records expert spills his secrets!
Click here to find out more
or paste http://www.yardsalers.net/albums_subs.asp/ into your browser.

*************************
In This Issue:
*************************
1) A $17,000 Book: Re-Creating Jefferson's Foundation of the Library of Congress
2) Flop of the Week: The First Contest Results
3) 5th Flip of the Week Contest Results
4) Reader Mail
*************************

*********************
1) A $17,000 Book: Re-Creating Jefferson's Foundation of the Library of Congress
*********************

I came across a juicy article in our local rag, er, newspaper, The Washington Post, about how the Library of Congress is putting on an exhibit of Thomas Jefferson's original library of books, which became the core of the Library of Congress. Sadly, two thirds were lost in a fire in 1851.
But a group of rare book experts set out to recreate the library -- a third of the original books were found in the library's stacks, copies of another third were found; so the final third was the treasure hunt.
The staffers used a $1 million endowment and spent "from $100 to $17,000 on a single volume." It didn't say if they found any of the books on eBay, but I wouldn't be surprised.
The article said they found books in France, the Netherlands, Italy and England. "Books came from private collections and universities."
"Dimunation [chief of the Rare Books and Special Collections Division of the Library of Congress] dispatched a colleague, Daniel De Simone, to Europe. After 25 years of dealing in the antiquarian book trade, De Simone had many contacts he could go to for help. De Simone said dealers often get lists from collectors looking for books, and he figured that by traveling to the dealers, he would impress on them the importance of the project. That approach was particularly useful in France, where Jefferson had served the young American republic as ambassador. It helped that Jefferson was a renowned Francophile, which endears him to many French to this day."
If you want to see the lists of Jefferson's library, you can go to the LOC web site at http://www.loc.gov/rr/rarebook/coll/130.html.
The piece went on to say that even after this search, some 300 volumes remain elusive: "In some cases, no identical copies exist, and there is insufficient information to determine every book he owned. Some titles aren't on the market for any price."
And, in the new exhibit, the LC "has replicated not only Jefferson's collection but also the manner in which he displayed it. He arranged his bookshelves in a conch shell pattern, so that a person could walk into the middle and be surrounded by books."
After the piece ran, someone wrote a letter to the editor complaining that it would have been nice if the Post had published some of the names of the books that were still missing, in case anyone out there might be able to provide leads.
I nosed around the Internet myself to see if I could find any of the missing title, or at least the one that was bought for $17,000, but nothing yet. But here are a few sample titles of books in Jefferson's library [from th LOC web site]:
- Mercy Otis Warren's History of the Revolution - "Warren was at the center of major events of the period, and her marriage to General James Warren gave her contacts important to rendering this insider's fiercely egalitarian telling of the Revolution."
- Jefferson's Copy of Works by Caesar - "In this copy, Jefferson has cut the pages of the Greek translation and interleaved them with the Latin to produce a bilingual reading copy."
- History of the Discovery and Settlement of Virginia - "William Stith compiled this detailed factual history of Virginia by culling material from the Records of the Virginia Company, a manuscript archive that Jefferson later owned and used in his work."
************************
2) The First "Flop of the Week Contest" Winner
*************************

We got all of one Flop of the Week/aka "Dud of the Week" contest entries. Maybe people aren't too keen about sharing their flops? In any event, here it is:
Hi Julia,
I love to read your newsletter. It is one of the best ones out there and I look forward to receiving and reading it. Of course the Flip of the Week is always inspirational and leads to dreams of "maybe one day, me too." I am more in the category of plodding along on eBay and more often than not have a good Dud of the Week and a good laugh.
My last dud happened yesterday, the same day that we received the newsletter. Last spring, my daughter had a garage sale and tried to sell a beautiful white linen dress by White House Black Market in close to new condition. She paid about $80 for the dress five years ago. It didn't sell for $1 at a yard sale.
I reassured my daughter that such a great dress would sell on eBay. I listed it at the start of last summer for $9.99. No sale. So, I saved the dress convinced that it would sell this spring.
During the recent 99 cent days sale, I listed the dress again. I had nothing to lose; I still had the auction write-up and the pictures. I was sure that a brand name would draw interest to the dress and to my eBay store Hisandherstoo. So the dress ended yesterday.
It had about 103 people look at the auction and it sold for a grand total of 99 cents. The winner has already paid. Here is the auction number if you want to see this dud: 380011521573 I don't think that I am going to do anymore 99 cent auctions.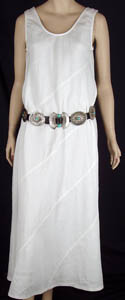 Terri
Hisandherstoo

Hi Terri!
Thanks so much for the great dud entry! And the kind words about the newsletter.
Oh I feel your pain! That is indeed a tough one. And funny because I am about to put up a White House/Black Market item myself. I got a top that was marked down from $68 (I'm not going to say at the outset what it was marked down to...mwahaha) and I never wore it. Smart, I know. ;)
Well that is a tough one to swallow. It's interesting, though, because I have bee thinking a lot about pricing, and in fact just wrote an article about pricing that will run soon in another couple venues. In a nutshell, I think we should list things at a price that's high enuf that we'll be happy with it and make a little $, but tempting enuf to lure people..it's a fine line. Put otherwise, a low enough price that we still make money, and do not kick ourselves. LOL.
This is easier said than done, and I have not always followed it myself.
Meantime, you've made a little more on that dress, coz you've won a free copy of my eBay Top 100 Tips book, plus a package of all my ebooks! (Ok so it's not a free car, but..)
Pls. send on your mailing addr.
My sister and I love White House/Black Market, btw...we love to go there on our "girls' night out" when we shop during our Rehoboth Beach week every summer.
Thx again!
Julia
************************
3) 5th Flip of the Week Contest Results
*************************

And now for the Flip of the Week contest results! I thought about extending the contest another week, because we only had two entries (and I'm not even sure one of them intended to officially enter), but then I decided it wouldn't be fair to the person who was hoping to win the eBay cards. :-)
So here we go..
--

Dear Julia,
I enjoy your newsletter and decided to send a recent auction in for your contest.
I was at an estate sale, shuffling through the ephemera, as usual, when I came across a golf item. Since I had been in the golf business a while back, I knew it was a keeper. So, for eighty cents, I walked off with a program from the 1934 PGA Tournament.
I listed it (300209965382) starting at $9.99 and quickly received an offer for $60.00. Although tempted, I turned it down. Now I'm glad I did! It sold for $543.33. Pleased with the outcome, I couldn't charge the $2.79 for First Class Mail, so I sent it via Express Mail for free.
John (soon2bexpat)
[Below is part of John's auction description and an image from it:]
Official Program for the 1934 PGA National Championship
Size: 11.5" h x 8.5" w
Condition:
Complete but with cover wear, inc. piece from bottom right corner Light creasing.
Some writing on pairings pages, name on front cover.

This original 32-page souvenir is from one of golf's majors, played at the Park Country Club near Buffalo NY on July 24-29, 1934. I wonder if Bobby Jones, the Honorary Vice-President, made it here to watch?
Defending Champion was Gene Sarazen. Also playing were Harvey Penik, Walter Hagen, Tommy Armour, Billy Burke, and Paul Runyan, among many others.
Also includes a 4-page insert showing the schedule of events, prize money distribution, duties of a golf gallery, information for contestants and the press, plus some photos of the country club.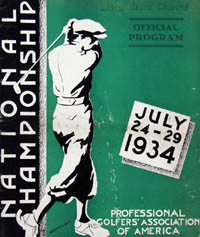 Hey John!
So sorry for the delay in getting back to u!
Whoa...that sounds like a beaut! I knew vintage golf stuff was hot, but didn't know it was that hot! That's excellent.
This one is especially good because it's golf season..or I know it's been..my husband's been glued to various golf tournaments (he likes Phil Mickelson, among others). :)
This will make a wonderful cover shot for the web site, what w/ golf being so in right now..
[I'll save info about who won 'til the end.]
Julia
~~

Next we get to hear from Dee again -- Dee is a frequent writer whose name and email address I recognize when I see it, and is always great to see. :) She is referring below to the "Book that Looks like Nothing" thread that I started to list in the last newsletter, and asked folks if they wanted to see more, with analysis of why these books did so well.
Dear Julia,
Love your newsletters! I ALWAYS find something I can use. Keep 'em coming!!
Here is a quote from your last one..."I was wondering if you all found that valuable, and if so if you'd like me to post more. We only barely scratched the surface of titles. I could delve into *why* these titles are desirable, as well."
I think this would be a GREAT idea, as I sell a lot of books. :) It amazes me sometimes what will sell, and what I think will doesn't. Who can figure out the minds that buy on eBay?
I also love hearing about other people's flips! I have had some in the past, but none too recent. Two of them were books. I bought several boxes of books at an estate auction, for a buck or two a piece. I have trouble NOT bidding on books!
Got them home and looked through them and sold a couple and made my money back and a bit extra. Left the rest set for a month or two. When I went through them again, I saw a couple of books about WWII that nephew might be interested in. But never did anything, left them set awhile longer.
Next time I went through the box, I decided I should but them on eBay and see what they would do. Well, to my surprise they did very well!!
A book titled "Move Out, and Verify - Combat Story of 743rd Battalion" sold for $128.50. (Sorry no picture) Another book, titled "Camp Funston 1941 - 2nd Cavalry Historical Picture Book" sold for $51.00.

I also had a artist-type book that I really didn't think would sell, but put it on anyway, titled "The Dunes of Lake Michigan" by M.M. Mudge 1932, sold for 50.99!

http://s272.photobucket.com/albums/jj167/deeflutterby/?action=view&current=scan0003.jpg

I was truly amazed! And people ask me why I always buy books? I have 3 and more reasons why. It has been over a year since I sold these books, but thought you might be interested in them.

I have lots more stories of great flips, but will stop there. Maybe I should write a book?!?! Oh Wait - that has already been done....LOL ;)

I will definitely be keeping my eyes open for unusual books. I am still stunned at what some people will pay for things and I have been selling for 8 years on eBay. I have been selling things my dad has collected over the years of his buying at auctions. (thus my id) He thinks they aren't worth much and gets so excited when they sell and sometimes for high prices. Makes it even more fun when that happens.

Keep up the great work! O! I love your idea of meeting at eBay live! I hope to be going this year, since it is so close to home! I live about 2 hours away and figure if I can find a place to stay (with friends) I will just drive there everyday. I will be sure to check out your booth!!

Sorry for being so long!!

Have a GREAT week!

dee
Daddy's Attic on eBay
Books on Half.com


~


Hey Dee!

Great to hear from you again! It's always fun to hear from you and I remember your name. :) So great you are going to eBay Live! When I hear from enough subscribers, I may try to designate a mtg. place for us..something informal. Otherwise I will at least try to publish my schedule. I will be helping AuctionBytes cover it again. :)

Thx for the feedback on the books series...I will keep it up. :)

Those are wonderful flips! Military books..and esp. those very specific books, unique to certain battalions/units...can do very well. I haven't found anything that specific but some general books on the military in WWI and II have done well.

I've entered you into the Flip contest...whether you wanted it or not, I guess..lol!

Well thanks again for writing..I got your other email about eBay Live tips, and will be getting back to u soon.

Look fwd. to meeting u!!

Julia

~~


OK...now for the winner. Well, winners. See how much people win at Yard Salers?

John wins the grand prize of eBay cards and the pack of books by different authers, other than my humble self.

Dee wins whatever of my ebooks she doesn't already own..lol. (Dee, if you need either of my paperbacks as well, just say the word).

John and Dee (weren't you guys a 50s singing group?), please email me your physical mailing addresses so I can send you your fun stuff - juliawilk@aol.com.

Everyone, keep those entries coming for next week! And don't forget, send in your FLOPS too! If you want. We don't even need to know who you are.

*********************
4) Reader Mail
*********************


Secret Product Sources is now only $8.95, down from $39.99! Buy it from here if you want:

This one also comes with an mp3/audio download so you can listen to it from your computer or any device that plays mp3 files.
*********************


Letter from Sky-High Cookbookville

I can't use this person's whole letter, but I got a great tip from a reader who advises us not to overlook the cookbooks. This subscriber recently sold a cookbook for (hold on to your hat) $2,136 dollars.

They say that normally people like them "usually skip the cook books and garden books almost entirely because we don't think they're worth much."

So you never know. I can add about garden books, tho many of you may know this, flip through them and look for quality illustrated plates of flowers or other flora. Those can be very valuable.

*********************


Drive an insane amount of traffic to your site for less than $10 a month, using the new feature called eBay Classified Ads. Very little people know how to use this information and now you can be one of the few.
Buy Now or cut and paste: http://juliawilk.ecp00.hop.clickbank.net into your browser.
*********************


~~~
A "What You'd Like to See in Yard Salers" Letter that I Don't think I Ran Before

Hi Julia,

I love your newsletter. It has been helpful in many ways. So, thank you for providing it!

Things I'd like to see in 2008: 1. How about occasionally showcasing an auction that did really well on eBay, kind of dissecting it and offering your opinion on what made it so successful?

2. Tips on what kinds of items to sell that are currently hot. Maybe a special little section in each newsletter with a list of your favorites for that month.

3. I love interviews with successful sellers. So much to be learned and shared!

4. Maybe more photos?

Thanks for asking!
Kathy from Washington State


Hi Kathy!

Oh yikes..I don't know if I got to your letter as an entry! Thanks so much for the great ideas. I like the idea of dissecting a hot ebay auction. Glad to hear you want more photos too. I've been trying to include more, but maybe I should add even more. I hope everyone can see them!

You get to pick a free ebook of mine if u haven't already...just let me know what you'd like.

Thanks so much!

Julia

OK, people, that's it for this issue. In the next issue we'll talk more about eBay Live, discuss "A Book that Looks Like Nothing" -- more books from the list but also why they went for that much; and other stuff you're gonna have to tune in for. :-) My request: If you want me to analyze a type of item or niche (or service, or what have you), please email me at juliawilk@aol.com.

Have a great (and profitable) week, all!

*** end of Reader Mail **

*********************

BigCrumbs lets you earn money back not only on what you and your referrals spend on eBay, but over 200 retailers such as Target, Best Buy, and Peapod by Giant.
Make Money with Your Everyday Shopping with BigCrumbs


*********************
Secret Product Sources


Looking to find hot items to resell on eBay? Great news: we've sourced out a treasure trove of online (and a few offline) sources where you can find hot items to buy and resell on eBay for fast profits.
*********************
What's the PERFECT eBay product? Learn How To Make Money with information products on ebay.
*********************


Do you like this newsletter? Please forward it (in its entirety) to a friend! Just go to http://www.yardsalers.net and see the "Subscribe" box on top.


**Don't have five minutes to read the newsletter now? Print it out and read later.**
[For more writing and photos throughout the month, check out Julia's bidbits blog at http://juliawww.typepad.com/bidbits/.]

******************************
SUBSCRIBE TO BOOKTHINK'S QUARTERLY MARKET REPORT OF COMMON, PROFITABLE BOOKS.
New! Includes 100 easy-to-find books that sell for $30 and up. $49.99 annually or $19.99 for individual issues.
Click here to subscribe.
******************************

******************************

******************************
The eBay Seller's Guide to Finding Profitable Hidden Bargains at Garage Sales
Find out here.
*******************
Would you like your own fully customisable ebook website pulling in profits day after day, month after month, year after year, complete with video tutorials showing you EXACTLY how to get set up and running? Find out here.

That's it for this issue. Until next time! - Julia

------------------

Questions about My eBooks Ordering
You can certainly purchase from me directly, as can anyone. Most of my ebooks are now available via the website's bookstore at www.yardsalers.net/bookstore. Any others you have questions about, all you have to do is email me and let me know which ebook(s) you want, if you are a subscriber and thus eligible for the discount, and then PayPal me to my PayPal id at juliawilk@aol.com. I'll be tweaking and updating the ebooks page on my web site soon.

-----------------------------------------------

Do you have a Flip of the Week? I'd love to hear about it! Email me at juliawilk@aol.com and let me know.
-----------------------------------------------
Nonfiction Books that Sell for $50 - $250 on eBay:


or
Buy Now
*********************

I am always open to reader articles, so if you want to write about something relating to yard sale-ing and eBaying, just flag me down! I will of course give you credit, using your eBay ID, web site, or any other contact info.
------------------------------------
eBooks by Julia L. Wilkinson:
[All my ebooks are offered at 1/2 price from their regular prices to the subscribers of this newsletter. If interested in any of them, please email me at juliawilk@aol.com.]
- How to Spot Fakes: email me!
*********************

Blogs, Blogs, and More Blogs
Check out My amazon.com Author Blog

Those of you who just can't get enough of my writing (are there any of you?) will be happy to know I now have a new blog on amazon.com. Amazon.com has created an "author blog" tool for authors to...well, blog. You'll see it if you bring up either of my books on the amazon site, but for good measure, it's at: http://www.amazon.com/gp/product/1593270550. (Scroll down to "amazonConnect").
My TypePad Blog, "Bidbits"
You can also check out my typepad blog, "bidbits": bidbits

********************************

Do you have your copy of Julia's book, eBay Top 100 Simplified Tips & Tricks?

It's available on amazon.com and barnesandnoble.com. If you do want to order the book, I'd appreciate if you'd support Yard Salers and eBayers by using my affiliate link below.

********************************


----------------------
Copyright 2007 Julia L. Wilkinson
----------------------

Thank you for subscribing to Yard Salers. Yard Salers email newsletter may be freely distributed in its entirety, so please pass it on. You may reprint any of the articles in this newsletter for any purpose as long as no portion of the article is modified without permission, and this tagline is included:
Yard Salers, www.yardsalers.net
Publisher, Julia Wilkinson, author of the award-winning "eBay Price Guide." and "What Sells on eBay for What"

No part of this publication may be reproduced or stored in a retrieval system, in any form or by any means, electronic, mechanical, photocopy, recording, or otherwise, without the prior written permission of the publisher. Yard Salers makes diligent efforts to obtain accurate and timely information. However, Yard Salers disclaims any liability to any party for any loss or damage caused by errors or omissions in Yard Salers, whether or not such errors or omissions result from negligence, accident or any other cause.
End