ISSUE 50: Apr 2, 2008
Yard Salers: Apr 2: The Tape Issue, Flip of the Week 4 + Tip

Subscribe at: www.yardsalers.net

Please forward to a friend!
The extension has paid off for the 4th Flip of the Week contest. We got some super entries, one in an area we haven't trodden in much at all -- stamps; and another that comes complete with its own great estate sale-ing tip.
I got a suggestion from my friend Thom, who actually accompanies me to sales sometimes...he does very well overall, but selling as much as he does, it doesn't all work out hunky-dory. He sold a book last week for a disappointing (cue the sitcom "wah-wah" sound) $2, and this led him to suggest trying a -- get this -- "Flop" of the Week contest sometime.
So I'm throwing that out to my brilliant readership to see what you all think. Would that be a fun break from our successes? I think it could be fun to laugh at some of our failures. I think most of us who sell have come across some real dogs. It can be heartbreaking when we get all excited about something, but then we get it home, or up online, and see it's really a dud.
So let me know what you think and I'll try that as the contest one week. (In fact, go ahead and send me your duds now if you want). If we can't laugh at our own failures, maybe we can at least laugh at each others...haha! No seriously, it would all be in commiserating, empathetic fun.
But I promised you a Tape Issue, and we're doing a tape issue. We've got a feature article about tape, comments about tape, and photos about tape. And I welcome your thoughts and reader mail about tape.
And, as promised, for this week's "Flip of the Week" contest, now in its 4th week, the prize is not only a signed copy of my paperback book, "eBay Top 100 Simplified Tips & Tricks," but a package of eBay Live collectibles, including eBay Live pins, and a black eBay traveling bag/laptop bag. (Note about the pins: as I can't find my Boston pins at the moment, the winner will get something even more fun: Vegas pins!). And the black eBay traveling bag/laptop bag from the devcon.
And this coming week's prizes will be just as good: I've decided to give away a pack of eBay collectible trading cards, and a package of books about eBay by different authors.
One other thing that's gone on since the last issue is eBay has changed their policy toward listing digital items (such as ebooks). You will no longer be able to list downloadable items except in the classified ad format. While this change may not be great, I think the class. ad format is still an effective one; in some cases a more effective one, so I don't think this is necessarily a bad thing. A lot of sellers have been discussing ways of dealing with it. But more on that in another issue.
Now let's get to it!
Julia
*********************
We all like to *go* to yard sales, but are you *having* a sale? Then you need eye-catching, professional-looking signs. Luckily, Vito at salesigns.info is offering Yard Salers readers a discount on his signs: just use coupon code "yardsalers" when ordering to get *$5.00 off* a $30 purchase.
*********************
Julia's NEW special report is beefier than ever with top-selling Rock, Pop, Country, Classical and Blues prices: Make Big Bucks Selling Vinyl Records on eBay. Records expert spills his secrets!
Click here to find out more
or paste http://www.yardsalers.net/albums_subs.asp/ into your browser.

*************************
In This Issue:
*************************
1) All About Tape
2) Flip of the Week 4 Results: A Rooster, Ivory Framed Portraits, Ekko stamps, and an Hermes Pen
3) Reader Mail
*************************

*********************
1) All About Tape
*********************

Tape. You may not have strong opinions about it, or think you do, but if you pack and ship your own items, chances are you're coming into contact with it on a regular basis, if not daily.
After shipping some 1250 items, with the exception of a couple I took to have packed professionally, I can say I have opinions.
But first, let's run the letter from reader Connie, eBay ID welcome2myhome, who came up with the idea of doing a tape issue..she has great tips including Walgreen's BOGO (buy-one-get-one-free) tape sale. (Or re-run as may be the case; I can't remember if I already ran it, so please bear with me here). I've moved a few of the paragraphs around to put the tape stuff up closer to the beginning..hope ya don't mind, Connie! :)
Julia,

Wow again - so nice to really hear from you :) You must get zillions of emails.
I bet we could do a whole newsletter about tape! Tape and toilet paper are two things I don't scrimp on - and I am very frugal! Nothing worse than lousy tape that sticks to itself or tears off in strips - life is too short.
Yes, I use the brown and clear too (clear to cover address labels for Parcel Post). Sometimes Walgreens has a coupon for buy one get one free and that's when I stock up on the good stuff (SCOTCH - but that's another whole story).
My comment had to do with the USPS no longer giving out their Priority Mail tape - used to be free on the website, but no longer. So now I have to find my favorite USPS employee on a slow day and sweet talk them into giving me a roll :)
Always helps to bring a box of Dunkin' Donuts around the holidays when they're really frazzled and need a sugar rush. Anyway, I wish the USPS website wouldn't be so stingy with their tape - I mean, I do use it on their packages! Still, if that's the worst of my problems, I won't complain too much - just nice to gripe to someone.
Anyway, someone in your newsletter had mentioned the 2 label 8 1/2 x 11 sheets from USPS - must have been right around the time I sent you this email.
I don't care for Paypal labels - my printer is squirrelly and sometimes it's PayPal - seems it just never works out for me and charges/reversals are a hassle. I love USPS - do all my labels at their website - FREE delivery confirmation (which is up to 75 cents on Parcel Post)
I always add 1 or 2 dollars to my calculated shipping costs and sometimes will switch people to Priority because it's only 70 or 80 cents more (it amazes me how cheap some people can be when buying a high ticket item!) - and the DC would cost me that. And I NEVER send without DC - haven't ever needed to use it, but the peace of mind is so worth it to me!
I take my packages to the PO myself and pay there even if I have to wait in line for 10 or 15 minutes - that's my "free" time. And, being from a small town, I may even run into an interesting neighbor. At Christmas, I take a magazine - why be frustrated when you can catch up on some reading :)
Well, you can see why I don't write too often - I always want to enter your contests and things - but I have a job, ebay and a family - YIKES - I get carried away once I start "talking".
Still, your letter is one I'll always read - even save it for a reward. When this email came up I was surprised. Just today I treated myself to reading the Feb 5th issue - and was surprised to find another so quickly. But then it turned out to be the real you! Thanks for making my night and sharing my thoughts - hope we can have a one on one again sometime - hey, did you ever think of creating an "advisory panel" - I'd love to be on it (I must have 15 spare minutes somewhere. :)
My ebay ID is welcome2myhome and my email (other than family) is [an email address that starts with "finderskeepers"]. My name says it all - I'm a yard sale/rummage sale junkie and love to find things - could care less about keeping them, and enjoy sending stuff around the world and connecting people to lost treasures.
But I need to make money too - lots of it - and that's hard to do, so finding someone like you (like me) is like having a friend - thanks :) I guess it would be easier to buy 100 widgets for 1 dollar each and sell them for 3 dollars each and make $200 - but that's so boring!!!! Problem is the time spent on each and every single item - then again, I know more about some really obscure stuff than 95% of people - and isn't that interesting! Such is our lot in life - nice to share some secrets and get some good hints to keep the machinery well oiled.
Well - I could say so much more to you but I better pack up that last auction so I can run it to the PO in the morning before I go to work.
If only I had some of that free tape...
Bye!
Connie
Connie is right about the USPS Priority Mail tape...it's not free from their web site anymore. It's really great, strong tape...although it does like to stick to itself easily and is so feathery light that it does every chance it gets. Here is what it looks like: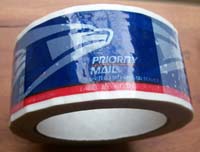 I only use that tape for special occasions, though. And, of course, it's only supposed to be used for priority mail. I don't mess with it for international mail. There are too many other things to worry about with international mail.
Next up, my hands-down fave is the ever-popular light-brown, glossy-finish Scotch brand packaging tape. It's high performance! It holds well, and I use it to cover the creases in the cardboard boxes. The bottom of that box ain't gonna blow out on this tape's watch. Unh-unh. Sometimes I even double-and triple- tape 'em.
In fact, I suspect that the ladies at the post office think I go overboard on the taping sometimes..that perhaps I have a tape problem.
Then there's Scotch Mailing & Storage Tape, clear, with a dispenser. This is a must-have, too, because you need that clear tape for things such as labels. You may want to tape over the address so it is protected but still visible. Word of caution though: one of my postal carriers told me to NOT use clear tape over stamps...it makes them un-cancel-able!
There is also a clear tear-by-hand tape which is OK; I prefer dispensers. But...there is this other kind of tape which you cannot tear by and, and has no dispenser, sometimes referred to as...
The *evil spawn of Satan*. It is simply Scotch Packaging tape. You need to use scissors to cut it, methinks, at least I do..and all while holding it..and then getting it to start again is fun. I read in Heloise that some people use toothpicks to hold their tape place, but more likely it will come off in thin, tapey strips, wasting your time, patience, and much of your fingernail.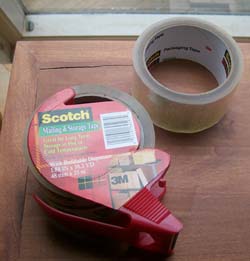 [Scotch mailing & storage tape, and the other one that you can't tear by hand...agh!]
Then there are the little tapes -- good old Scotch Magic Tape. Always good to have for the little jobs. I'm not going to go into other kinds of tapes here, but I am going to invite reader comments and other Deep Tape Thoughts for the Son of the Tape Issue. Please send them in to julia@aol.com.
Oh..and did you know you can make a whole package from tape? Just cover styrofoam with it. Here's one such creature that came to me from Asia: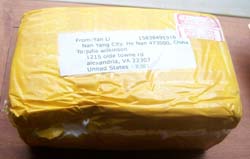 ************************
2) Flip of the Week Contest Week 4: Roosters, an Hermes pen, ekko stamps *************************

Here comes our fourth Flip of the Week Contest! Or should I say..."Here comes the rooster?" Hmm..read on:
Julia,
Here is my entry for flip of the week. This one was actually my wife's flip(s) so she gets all the credit.
At a local estate sale we picked up a few different items in our weekly "thrill of the hunt" garage sale/chase.
Two items that turned out pretty good were 2 ivory miniature portraits that were $4 each, and a bronze wall hanging that nobody seemed to even be looking at (as it hung on the garage wall).
My wife did a little research and then listed the items.
Well, the first miniature portrait was listed as a buy it now at $175 (item # 170196871755) and it sold rather quickly.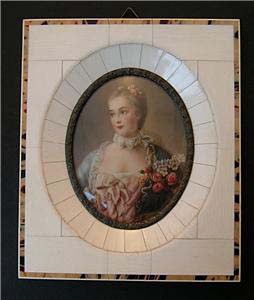 The second was listed with an auction format and ended up selling for $272 (item # 170196872542).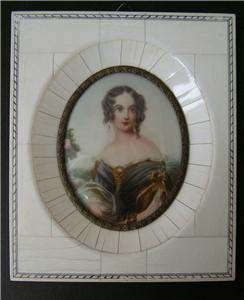 These were smaller measuring about 5" w x 6" tall.
As far as the bronze wall hanging, it was found to be a framed Giovanni Schoeman mixed media wall relief bronze rooster, being popular in the 1970's.
We paid $7 for this and it ended up selling for $228.73 and was shipped to the buyer from the UK ($69 ship!!). These turned a nice tidy little profit from some out-of-the-norm items. The rooster is below:

This brings me to a tip (at least I think so) that I wanted to pass on. I have noticed when at estate sales, mainly, that people don't seem to pay attention to things hanging on the wall and often times boxes that are under tables. I have noticed this at garage sales too. Some seem to hurry by with a quick glance at the displayed items and rush off to the next sale (or room).
Often we have come across good items by paying attention to what's right under our nose!!! As was the case with the wall bronze wall relief mentioned in the prior paragraph (which hung there till most early birds had paid and left).
Just something to keep in mind when you are out at the next local sale, slow down and smell the roses (or look at the walls and in the boxes hidden under the table right by your feet).
Snow is finally melting out here and there are one or two sales a week now. That old cabin fever has broke and we are ready to sale...sale...sale... (and sell). LOL.
Jon
Hey there Jon!
Always great to hear from u. :)
Wow...I looove these..not just for the gorgeous pieces of art you found, but the great tip about looking on the walls and also under boxes. I think you're totally right about how you don't necessarily have to be an early bird to get the good stuff.
Another point, I think, is that once you wade into the art world, people get intimidated and don't tread there. But I must say you got those items at a fabulous price!
They remind me of the New Jersey depression scrip I found for $5 hanging on the bathroom wall at the one sale..they sold for like $50, I think it was..I told that story in a recent newsletter I think. Your finds are so much better tho!
Thanks again..you are def. in the running for winner! :-)
Julia
~~~
Hi,
I have been reading your newsletter for a few weeks now and I have just been amazed by the profitable ebay flips people are reporting. Here?s one of my own. I bought this odd-shaped silver Hermes ergonomic pen at a yard sale for $5. I later sold it on ebay for $89. I attached a picture.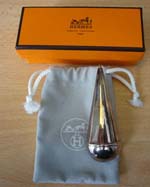 I?m also interested in getting a copy of your ?what sells on ebay for what? ebook at the newsletter subscriber discount you mentioned in the newsletter. Let me know how I can do that.
Thanks,
Charles
Hi Charles,
Thanks for subscribing!
Wow...it's hard to find an Hermes anything at a yard sale, much less for $5. Excellent find! And it came with the box and everything. Love it.
Sure, I'll attach "What Sells" to this...the 1/2 price for subscribers is $8.95..you can just paypal me at juliawilk@aol.com whenever u get a chance. If u need ms word format instead just et me know.
(On that note, I know I need to set up a page on the yardsalers.net site where subscribers can go buy all the ebooks at 1/2 prices, without having to email me. I'm working on it). :-)
Thanks again for entering and good luck in the contest! :)
Julia
~~~
Hi Julia,
I have been hesitant about sending my flip in because it is a little specialized. Today I thought, "Oh well, I'll let Julia decide."
I am a stamp collector and my item (or items) are EKKO Radio Verification stamps.
These are not postage stamps but considered souvenir stamps or "cinderella" stamps since they are not valid for postage. These were printed and used in the 1920s to 1930s as a promotion to get folks to listen to different radio stations across the country.
Here's a little history on them: This collecting craze started in 1925. For only $1.75, the EKKO Company offered an album to the collector of new stamps. The album contains pages preprinted with an outline of each of the stamps currently available, a listing of broadcast station call letters and wavelengths, and a nice map on the inside cover showing the locations of these stations. Spaces were also left for stations not yet participating, or stations that were just coming on the air.
In addition, there was space to jot down up to four dial settings at your own time of reception. "Proof of Reception" cards were furnished with the album. Listeners needed only to send a few facts on these cards about when and where on the dial they had heard a broadcast, plus ten cents to cover mailing costs, to the station. There the card was checked against the station log for accuracy, and the listener was mailed a stamp with the station's call letters and design upon it.
This leads me up to my flip. I attended an Estate Sale in Omaha, Nebraska. Besides the regular-priced items, several lots were taking bid offers. One of the items was an album of these stamps. It was organized by states and was pretty full.
I had never seen these stamps before but instantly fell in love with them due to their attractiveness. The book of stamps was listed at $75 or highest bid. I decided to go ahead and pay the $75 even though at the time I thought it was a bit high at the time. I enjoyed these stamps for about two years during which I researched them and found out that they were pretty collectible.
Then I started watching them sell on eBay and seeing them go for pretty good prices. So, I started selling pages from my book by states.
To make an already too long story short, I sold 25 states worth for a total of about $1500 on eBay! During that time I also ran across other collectors including one from Kansas who also collected QSL cards. I ended up selling the rest of the states that I had (about 20) for $1,000.

[Note from Julia: Here area couple recent individual ekko stamp sales on ebay. Remember, Howard's sales were for whole pages of stamps from an album.]

I have since bought more EKKO stamps but have never gotten such a deal as I did at that Estate Sale.

Howard in Texas

Hi Howard!

Great to hear from you again! I remember your name from before.

I think that flip is great..actually, I've been wanting to do more with stamps...to be honest, I don't know much about them, but my attitude is, you can always learn. I've learned a lot about so many areas since starting out with this whole ebay thing.

The EKKO stamps sound fascinating..and what a great return! I looked on eBay now and there was an album that had sold for $360.99. However there were several stamps missing on the page shown, so sounds like yours was much more full.

So that's a wonderful find and you're definitely in the running for this week's contest!

If you have any more stories or insight about stamps, feel free to pass on..that is def. one of my weak areas.

Thanks again, Julia

~~


OK...now for the winner. Or, winners, really...it's always so hard for me to decide.

OK, here's how it's going to go this week:

Grand prize of the eBay Devcon laptop bag/travel bag plus eBay Live collectible pins goes to Howard for his big-dollar ekko stamp sales, and for teaching us something new about stamps.

Second prize, but still winning a signed copy of eBay Top 100 Simplified Tips & Tricks, my Wiley book, is Jon, with his fabulous art finds and great estate sale tips.

And honorable mention, for the lovely Hermes (pronounced "air-maze") pen, and winning a pack of my ebooks of his choice, goes to new subscriber, Charles.

Howard and Jon, please email me your physical mailing addresses so I can send you the signed book - juliawilk@aol.com.

Charles, please email me which of my ebooks you'd like. You can find them at the yardsalers.net bookstore.

Everyone, keep those entries coming for next week! And don't forget, send in your FLOPS too!

*********************
3) Reader Mail
*********************


Secret Product Sources is now only $8.95, down from $39.99! Buy it from here if you want:


or cut and paste http://www.yardsalers.net/secretproductsources into your browser.

This one also comes with an mp3/audio download so you can listen to it from your computer or any device that plays mp3 files.

But...don't wait to get it, if you've been thinking of getting it, because I can't guarantee I'll keep it at that price forever. :-)
*********************
Drive an insane amount of traffic to your site for less than $10 a month, using the new feature called eBay Classified Ads. Very little people know how to use this information and now you can be one of the few.
Buy Now or cut and paste: http://juliawilk.ecp00.hop.clickbank.net into your browser.
*********************


The following message was posted on the MySilentTeam discussion forum, and I wanted to share it all with you here. It's about getting your ebay listing to show up on google.

As an aside, I wrote a while back about the MySilentTeam membership site, run my "Silent Sales Machine Hiding on eBay" author and all-around eBay and ebook guru Jim Cockrum, and I think it's a great resource. If you want to join, it is $19.95 a month, but if you're serious about building your business, I think it's a good value. There are also all kinds of free bonuses and special reports. You can subscribe via my affiliate link by clicking the below image:
Subj: re: Getting eBay listing showing up on google
AnnieH wrote:
From my post under eBay Research Tool... This could be very helpful in choosing keywords that are more likely to come up in Google.


https://adwords.google.com/select/KeywordToolExternal
This is a free keyword research tool.


Put in a phrase, or a portion of your eBay listing title, and see what comes up.

The first column tells you how many people are using a particular phrase in google adword campaigns. That means those sellers think these are good search terms.

The second column tells you how much those words were used in an internet search in the last month.

The third column tells you, on average, how much those words were used in internet searches.

I sure wouldn't pick any words that show 0% searches.

If you have more popular search terms in your eBay title, your listing many show up when shoppers search on the internet.

If the words are popular search terms on the internet, you can bet they are being used on eBay too.

Just another thought...Annie

~~~
More on American Artists and References

Julia,

Thanks for all the tips. I hope you include some of them in your newsletter for other to read as well.

But wait a few days so I can buy the reference books you recommended before they scoop them all up.

And thanks for taking so much time to research the questions.

After I sent you the letter with the questions, I was thinking that I would put together my own reference for the artists that sell in my range, i.e. 50 to 500 dollars, and then keep adding on to it with results from auctions on Ebay and other sites--even Shopgoodwill.com.

But, then I thought that it would take quite some time to do. Maybe I'll do it when I retire in a few years and have more time.

With the huge number of people that read your newsletter, maybe there could be a way for everyone to contribute some data on various American artists -- maybe each person could do a few artists and send the results (small biography and what the most recent works sold for, etc) to a central point and someone else could consolidate the results and you could publish a .doc like your other very valuable listings. And we could keep adding to the list as time goes by.

Thanks again for all your tips and help, Bob

Hey Bob,

Sorry for the delay. Thx for the great ideas. That sounds wonderful. I invite people to send me that info, and I'll compile the results. We can then all use it as a reference as we go out and about.

I am thinking about doing an ebook about art but getting reader help would be great. I'd love to run your letter below if it's OK. It mentions shopgoodwill for one thing, which i just found out about myself recently.

Thx again and pls. keep me posted how it goes for u..esp. about art! :)

Julia

More on "A Book That Looks Like Nothing"

I believe the thread is titled "A Book that Looks Like Nothing." In the last issue, I listed a sampling of the book titles edited from the thread "A Book That Looks Like Nothing" on the eBay message boards.

I was wondering if you all found that valuable, and if so if you'd like me to post more. We only barely scratched the surface of titles.

I could delve into *why* these titles are desirable, as well.

That's it for this issue! See you next week.

Julia

*** end of Reader Mail **

*********************

BigCrumbs lets you earn money back not only on what you and your referrals spend on eBay, but over 200 retailers such as Target, Best Buy, and Peapod by Giant.
Make Money with Your Everyday Shopping with BigCrumbs


*********************
Secret Product Sources


Looking to find hot items to resell on eBay? Great news: we've sourced out a treasure trove of online (and a few offline) sources where you can find hot items to buy and resell on eBay for fast profits.
*********************
What's the PERFECT eBay product? Learn How To Make Money with information products on ebay.
*********************


Do you like this newsletter? Please forward it (in its entirety) to a friend! Just go to http://www.yardsalers.net and see the "Subscribe" box on top.


**Don't have five minutes to read the newsletter now? Print it out and read later.**
[For more writing and photos throughout the month, check out Julia's bidbits blog at http://juliawww.typepad.com/bidbits/.]

******************************
SUBSCRIBE TO BOOKTHINK'S QUARTERLY MARKET REPORT OF COMMON, PROFITABLE BOOKS.
New! Includes 100 easy-to-find books that sell for $30 and up. $49.99 annually or $19.99 for individual issues.
Click here to subscribe.
******************************

******************************
The eBay Seller's Guide to Finding Profitable Hidden Bargains at Garage Sales
Find out here.
*******************
Would you like your own fully customisable ebook website pulling in profits day after day, month after month, year after year, complete with video tutorials showing you EXACTLY how to get set up and running? Find out here.


That's it for this issue. Until next time! - Julia


------------------


Questions about My eBooks Ordering

You can certainly purchase from me directly, as can anyone. Most of my ebooks are now available via the website's bookstore at www.yardsalers.net/bookstore. Any others you have questions about, all you have to do is email me and let me know which ebook(s) you want, if you are a subscriber and thus eligible for the discount, and then PayPal me to my PayPal id at juliawilk@aol.com. I'll be tweaking and updating the ebooks page on my web site soon.


-----------------------------------------------


Do you have a Flip of the Week? I'd love to hear about it! Email me at juliawilk@aol.com and let me know.
-----------------------------------------------
Nonfiction Books that Sell for $50 - $250 on eBay:


or
Buy Now
*********************

I am always open to reader articles, so if you want to write about something relating to yard sale-ing and eBaying, just flag me down! I will of course give you credit, using your eBay ID, web site, or any other contact info.
------------------------------------
eBooks by Julia L. Wilkinson:
[All my ebooks are offered at 1/2 price from their regular prices to the subscribers of this newsletter. If interested in any of them, please email me at juliawilk@aol.com.]
- How to Spot Fakes: email me!
*********************

Blogs, Blogs, and More Blogs
Check out My amazon.com Author Blog

Those of you who just can't get enough of my writing (are there any of you?) will be happy to know I now have a new blog on amazon.com. Amazon.com has created an "author blog" tool for authors to...well, blog. You'll see it if you bring up either of my books on the amazon site, but for good measure, it's at: http://www.amazon.com/gp/product/1593270550. (Scroll down to "amazonConnect").
My TypePad Blog, "Bidbits"
You can also check out my typepad blog, "bidbits": bidbits

********************************

Do you have your copy of Julia's book, eBay Top 100 Simplified Tips & Tricks?

It's available on amazon.com and barnesandnoble.com. If you do want to order the book, I'd appreciate if you'd support Yard Salers and eBayers by using my affiliate link below.

********************************


----------------------
Copyright 2007 Julia L. Wilkinson
----------------------

Thank you for subscribing to Yard Salers. Yard Salers email newsletter may be freely distributed in its entirety, so please pass it on. You may reprint any of the articles in this newsletter for any purpose as long as no portion of the article is modified without permission, and this tagline is included:
Yard Salers, www.yardsalers.net
Publisher, Julia Wilkinson, author of the award-winning "eBay Price Guide." and "What Sells on eBay for What"

No part of this publication may be reproduced or stored in a retrieval system, in any form or by any means, electronic, mechanical, photocopy, recording, or otherwise, without the prior written permission of the publisher. Yard Salers makes diligent efforts to obtain accurate and timely information. However, Yard Salers disclaims any liability to any party for any loss or damage caused by errors or omissions in Yard Salers, whether or not such errors or omissions result from negligence, accident or any other cause.
End