ISSUE 46: Feb 5, 2008
Yard Salers: Feb 5: More Feedback Fallout, Meissen, & More

Subscribe at: www.yardsalers.net

Hello, all!
The letters have continued pouring in over the eBay fee and feedback changes. Although, I must say, the biggest issue with most people, including myself, is the feedback change. Everyone is worried that they will be held hostage, as it were, by buyers with unreasonable demands.
In the interview that AuctionBytes did last week with incoming eBay CEO John Donahoe and new President of eBay Marketplaces, Lorrie Norrington, Lorrie states that "...with this new policy, we're going to put new processes in place and can we comment on every edge case? Absolutely not. What we need to do is make sure that if we've got accurate descriptions with sellers. That seller are being very clear about what is being offered to the buyer, that we make sure that the buyer and the seller both have a vehicle to be able to express their satisfaction with the transaction, and to do that in an accurate way, and that's what our role is."
Well, we'll see. I hope they really do put these processes in place, but I wonder if they'll have the customer support (as in seller support) resources to do that, if every seller who has a buyer who they feel has left unfair feedback or is making unreasonable demands needs to contact someone at eBay.
Just this past week, I sold an item internationally. I got an email from the buyer asking if I could report the item as a gift on the customs form, and also declare its value as a lot less than it was really worth. I had to refuse, of course, though I try to honor any reasonable buyer request..but if it breaks rules, it's a different kettle of fish.
I hope this buyer will be happy with my level of service overall and not leave me a negative for refusing this request, but it's this kind of thing that hangs over sellers' heads before they see the feedback, even if they don't get dinged ultimately.
In terms of the fee changes, Ina Steiner and co. at AuctionBytes put together a calculator/spreadsheet where you can estimate whether your eBay costs will go down or up under the new fees: [Please give the page a moment to load.]
http://www.auctionbytes.com/cab/pages/feecalc

Well, life goes on...in the meantime, we all have to make a living, and keep selling, wherever it may be. I want to remind everyone I am doing a "Flip of the Week" contest. For a limited time, the winner of this contest will win a free paperback copy of "The eBay Price Guide." I need to get rid of what copies I have left in the house. Ha!
Email me your recent good flip to juliawilk@aol.com. Please mention what the item is, what you paid for it, and what you sold it for. A photo would be great too, if you can swing it. But not mandatory. I'll feature one flip per week.
This coming week I'm going to try something new, something I've been wanting to do for a while since I read about it in our local rag, The Washington Post, and also in great reader mail from folks such as Yard Salers' own Rhonda: I'm going to an offline auction house! That's right folks..I'm going to wield an actual paddle. I think there's a paddle involved, anyway.
Hopefully I won't spend the entire nest egg and get caught up in crazy bidding, returning home with something like a giant Nefertiti head ("Look honey, I cashed in my retirement account for this great statue...isn't it fabulous?").
Seriously..my goal is to find some diamonds-in-the-rough that I can flip for decent dough. See article #1.
We also have a nice bunch of reader mail this week, including one belated contest entry.
Well, there's a lot to get to, so let's get to it!
*********************
What's the PERFECT eBay product? Learn How To Make Money with information products on ebay.
*********************

***********************
In This Issue:
***********************
1) My Flip of the Week: Meissen Figurine
2) Reader Mail: More Reaction to eBay's Changes
***********************

*************************************
BigCrumbs lets you earn money back not only on what you and your referrals spend on eBay, but over 200 retailers such as Target, Best Buy, and Peapod by Giant.
Make Money with Your Everyday Shopping with BigCrumbs

*********************
1) My Flip of the Week: Meissen Figurine
*********************

What better way to kick off the "Flip of the Week" contest than to feature this lovely little figurine made of Meissen china?
Here's a picture: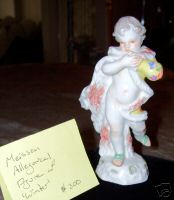 I have written about Meissen in this newsletter before, it being the oldest china in Europe. I've been wanting to buy Meissen at an estate sale for over a year now or so. It goes quickly: at one sale last summer, at the estate of a gracious Southern lady, the Meissen got all snapped up the first day.
But my goal here is to buy it to resell it, so I could not just fall all over it for a retail-like price.
What is a retail-like price? To my mind, that's the price an item is selling for on eBay. Perhaps it would be better to call it a "going rate." It's best to have several such completed prices so you can get an average sort of price in your head as to what a similar item may go for, bearing in mind a margin of error.
This particular figurine was described at the estate sale where I found it as an "allegorical figure of Winter," and is a little cherub in a flowing yellow robe. It had an asking price of $300 on it the first couple days of the sale.
So, I did not buy it right away, knowing I could always go back to this sale. I went home and looked the thing up on eBay.
Sure enough, the similar-looking figurines were all going for right around $300. That meant that in order for me to flip the thing for a profit, I could not buy it at the estate sale's beginning asking price, but if the item was still there on their half-price day, I would snap it up like a moray eel.
So on half-price day I rolled back into the sale. I should stipulate that I was not a good little early bird and I did not show up at the very opening of half-price day at 9 a.m. So I'm lucky the thing was still there. Granted, someone had already snapped up the Meissen monkey band...one of the most popular Meissen figurine series with these adorable little monkeys all dressed up in courtier clothing, playing instruments (well, you have to see it).
But my little cherub was still there. I had to make sure he did not have any chips or flaws; as two of the figurines still left in the case stated they did.
(At this point, I think the sales people were tired, and not pushing the stuff as they may have been at full price, because when I asked the guy helping me "Does it have any flaws?" he replied in a blase voice, "I don't know. You'll have to examine it.")
They were also out of bubble wrap. I figured they were, because the living room where they kept it was looking pretty empty, but when I got to the register, the lady urged me to go back in there and ask for it.
So I went ahead and asked, "Do you guys have any more bubble wrap?"
"Nope. We're out."
Alrighty, then. I'll just scrounge some Safeway bags for my $300 figurine. Don't fall all over me with service or anything.
Well, I can't complain. This is the same sale where I got the $35 necklace I resold for $305, several belts that sold for $106 in one lot of four, and several purses, one of which I just sold for $56.
But the point I'm making here is, you may not always know the value of something you see at an estate sale, but you can always go home and research it. If it's priced too high for resale, there's a good chance no one else will buy it at full price either.
(I also think we can make more money buying higher-end items. This, of course, is contingent on getting them at the right price. But the buyers just come out of the woodwork for these things. Meissen and Chanel have a built-in fan base. It's nice to tap into that.)
Then, go on half price day and try to snap it up, if you can make money at that price. (Although, I do recommend you try to get there at the very beginning of half price day, as I may not have been so lucky).
*********************
The Myspace Cash Machine: Did you know that once you learn the formula for Myspace success you can begin to rake in cash by marketing any opportunity you choose to a captive audience? See what I'm talking about right now...
Click here to find out more
or paste https://paydotcom.com/r/9120/juliawilk/2991911/ into your browser.
*********************

*********************
2) Reader Mail: More Reaction to eBay's Changes
*********************

*********************
Drive an insane amount of traffic to your site for less than $10 a month, using the new feature called eBay Classified Ads. Very little people know how to use this information and now you can be one of the few.
Buy Now or cut and paste: http://juliawilk.ecp00.hop.clickbank.net into your browser.
*********************

The letters have continued flowing in about the eBay fee and feedback changes. Most of the mail is about the feedback change of sellers no longer being able to leave negative feedback. I've posted some of the letters to my "bidbits" blog, so check there if you want to read more. One letter was from a buyer who did not like the changes. I haven't received many in support of the change but I did get one, and dutifully posted it to the blog. I want to represent all viewpoints, so if you want to voice an opinion on either side, feel free to pipe up.
Here are more letters, last names edited out:
Hi Julia:
Just couldn't believe it either. Had to read it three times thinking that I must have misunderstood! What are they thinking?????
I sent a note to ebay on this but have not heard back yet.
It is unthinkable that we, as sellers, will not have the feedback to rely upon when selling/negotiating with a buyer!
Don't know what I am going to do yet..For one thing...no more auctions...only store items.
Thanks for letting me vent!
marina

~~~

My feelings over ebay, I am a buyer...HORRIBLE
Buyers are not comprehending how this will severely effect us as well. There are many indicators showing this will be disastrous for the buying community. I have been buying weekly for over 7 years on eBay. The clues are very clear.
What negatively effects the good sellers will also negatively effect the good buyers. eBay is in fact throwing the baby out with the bathwater.
******Good buyers will no longer stand out among the bad. This means every seller will be leery of every buyer, going into every sale, and rightfully so. The greens we have worked so hard for will mean absolutely nothing since the greens will have to be given to anyone no matter how little they deserved it.
*******Who is wearing a good guy dot?? As a buyer, I will no longer be able to see the true indicators and decide for myself who is telling the truth and who is just retaliating in spite with no warrant. The new system will make it impossible to see both sides of the story. IT IS NOT HARD to read through both sides, red & green, and come up with a clear view of the whole picture.
In 7 years I have had very few truly bad experiences as a buyer but while shopping and checking fb, I see retaliatory feedback from BUYERS daily over things that give no reason to neg the seller. Just because a seller leaved fb second does not mean it is in retaliation. A large percentage of the time it means the seller was negged first for something they could not control or blamed for the buyer's stupidity and now there is reason to warn the rest of the eBay community.
It always was the only seller recourse. This whole system will make it quite hard to see the truth. eBay is trying to say this will promote honesty , it will produce anything but. Buyers will not truly be able to see who is in fact *bad.* Why????…..
As a buyer, when I go in to leave feedback and use eBay's "Detailed Seller Rating Stars=DSR", which was implemented recently. Not only does that system not tell the seller what they could have possibly done wrong, so they can fix their behavior or show if there is merit to the claim, it allows buyers to ding anyone they want no matter what. And now, if a seller does not give a buyer their little green dot as fast as the buyer wants it, whether they deserved it or not, there is no reason to hold back by the buyer. Every buyer can easily neg a seller just for that without seller recourse. This is not only unfair, the new ratings eBay has sellers meet are totally unrealistic.
Sellers are now calculated on DSR, feedback, including neutrals and percentage of sales. Sellers have to uphold a 95% satisfaction rate calculated over 30 days. WHAT business in the world succeeds at this??
Small, good sellers, we want to buy from will now be very easy targets for scamming buyers and we, the buyer lose out. When I click my choices out of 5 stars, if I give a seller ratings that equals = good communication, as advertised, reasonable shipping / handling charges and quick shipping = this equals 4 stars. This sounds to me like a very good seller. This should sound like a very good seller in any market. This seller delivered everything as advertised, emailed great, did not scam me on shipping, and packed my widget just fine, PERFECT…not so according to eBay…
**** The new ratings set good sellers up for failure. eBay is telling buyers and sellers that a 4 star rating is very bad. eBay is making sellers adhere to a 4.5 rating at the least or their account can be flagged and power sellers will not qualify for discounts on fees unless they keep 4.6 or 4.8 and higher. How is this at all realistic? Any business model, having a 90% customer satisfaction rate is actually quite good. But eBay has set sellers up to an unattainable goal while being the target for buyer mood, which will give a totally false view on the seller's intentions and performance making it very difficult to truly find the good sellers.
***** Good Mom & Pops will be gone taking their service and goods with them. Do you like buying from mom & pops? Low volume sellers are an easy target. A bad mood buyer can see one neg and use that against the seller knowing two can possibly freeze the seller's account The new rules have also set small time good sellers up to fail so severely many good sellers we buy from will not be able to compete and stay, making the discounts we currently rely on gone, which will effect our wallets and quality of life. I frequently buy high quality goods on eBay at 65% off or more for my family and friends. Those days can easily be numbered and it will effect my entire family community. I find it interesting that the majority of sellers people claim about most are high volume power sellers, but there are exactly the type of sellers who will be able to stay, pushing all the good, small sellers out quickly. Yes, there are many high volume power sellers that will be forced to leave…but along with them are the low volume, one of a kind sellers we have grown to love.
***** Prices will go up to cover losses. Many sellers will also be forced to raise their prices to make up for the fee increases. While high dollar
figure sales many not be effected much, this has crippled the $15 and under items which add up to millions of sales each day. Millions of buyers come to eBay to find that great deal or hard to find widget. These new rules will squeeze those out. Buyers will be forced to find their widgets in town or other venues they are not familiar using.
***** Hard to find collectibles will be expensive and even more hard to find. With all the above in place; hard to find widgets will go up in price. If many sellers leave, that means the items are going with them, which means there will be fewer to choose from, which means the prices to us will increase. Start planning on paying $250 at an Antique Mall again for that Bauer bowl you could buy for $40 on eBay over the past two years.
This will affect many collectible markets and buyer pockets.
***** Forget about ever selling. Are you buyers thinking of selling? It will be too expensive, too risky, to stressful to even consider selling for buyers. New sellers will automatically go into the new stricter rules, with all sellers under 100 feedback automatically having to take Paypal or CC merchant with your account on aware status. Paypal is also raising their fees as well. You are automatically looked at as a fraud. This has not only maybe put a damper on bad new sellers, this has put a damper on all good low volume, new sellers as well.
***** The convenience of paying easily will be gone. Many good sellers who will fear the arbitrary Paypal rules will go back to money orders only again due to eBay's new Paypal freezes and open season on fraud charge backs which is very high in the credit card world. If a seller account is flagged / Paypal account fund frozen, even for an undue reason, sellers will be required to take Paypal or other cc venue, but then they are open to more charge backs and more account freezing. This will be their only way to accept pay. It is a no win situation. Sellers will have no recourse for this. While big business can figure in loss, most of the sellers I buy from are family run side things and they offer great stuff... which means less easy buying for us buyers.
This new systems put the BAD buyers at a very clear advantage over ALL OF US, buyers included. This is a horrible system and if eBay does not retract, I will take my business for my family of 6 elsewhere.
Lisa
~~~

Dear Julia,
I saw your name and picture on a CNN site. At this point we are grasping at straws and contacting all we can.
I have spent the last 3 days unable to even think. Spending time trying to find every article, searching the ebay seller boards and everyone is absolutely fuming.
We have watched ebay change over the years. We have adapted we have done well. We have watched ebay sellers come and go. THIS IS IT.
I am done.
No, the fees are fine. It is all the other one sided asinine rules ebay is implementing that will only create a totally unsafe marketplace. My email would be 10 feet long if I let it all out. But this blog that I found sums up a lot of it:
http://blog.wired.com/business/2008/01/ebay-sellers-ri.html?cid=99256568#comment-99256568
I buy almost as much as I sell and in 7 years I have only had 3 terrible sellers. Two are off ebay. As a buyer, I am furious that now my green marks mean nothing and I will not stand out from the bad buyers. As a seller, HOW IN THE WORLD??? We have no way of warning others AT ALL now. Sellers will have to treat all green marked buyers with severe caution never knowing who is honest and who isn't.
That is our main way of telling who is bad!
We suffer with 2-3 non paying buyers a month, we just had a guy switch items on us and we are out $300. Buyer fraud happens monthly now.
And we do not sell in high fraud categories!
We are set up to fail with ebay's new detailed rating systems and requirements.l When a 4.0 means fast shipping, good communication, reasonable prices and as advertised..WHY are we supposed to measure up to a 4.,5 or higher???
Any buyer in any mood can ding a good seller and the the following buyer can use it against them. This is TOTALLY whacked.
PLEASE...YOU have a voice..read the blogs, get the word out there. THESE CHANGES ARE NOT GOOD FOR ANYONE WHO IS AN HONEST EBAYER!!
"Please sign the petition to get Google Auctions Running
Ebay has finally pushed us all over the edge. Sellers & Buyers NEED an alternative!
~~~

Well, speaking of alternate venues, I checked in with reader Margaret, who had set up shop on RubyLane. She's been humming along quite nicely, thank you. Here's her last two letters:
re: RubyLane
Hi Julia –
My store at Ruby Lane has been doing pretty well – I've made 22 sales in about 2 ½ months so I can get the "silver" designation pretty soon, which takes 25 sales. The sales have mostly been small stuff – almost all under $20 with a few $25 to $30. The more expensive stuff probably takes much longer to sell.
---

Hi Julia – thanks for your email and the information below! I've already sold 2 items (1 @ 15% discount to another seller there) but neither were particularly high priced – around $18 each. Here's my shop's link:
http://www.rubylane.com/shops/margaretscattycorner
I'll be adding new items as soon as possible. There's a lot to learn over there! Ironically, I've got an auction going now for my 4 year old digital camera & accessories & it's doing better than I had ever thought it would! I'll still sell on eBay but I may stick with Ruby Lane for awhile for older stuff & see how it goes.
Regards,
Margaret
~~~

Hi. I tried to send this to you about 2 weeks ago, but I forgot the "l" in your last name, and it was returned to me.
In addition to the ideas for yardsalers, I wanted to chime in about ebay's feedback changes. I agree w/ you. I had to read the line twice to make sure I was seeing it correctly that sellers cannot leave neutral or negative feedback for buyers. As someone who had a VERY vindictive buyer last summer, I feel this is completely unfair!!! If the buyer feels they have such an advantage over the seller, the system will be vastly flawed in the other direction from where ebay feels the flaws are now.
This buyer I am speaking of: I read his feedback, but after I had shipped off his package (my mistake). I should have read it first. He has the habit of not paying, and then when a nonpayment charge is filed against him, he does pay, but then causes no end of problems after that such as: damaging items himself once they arrive and then wanting a refund, filing disputes with paypal credit, leaving horrific negative feedback, and contacting other potential buyers of other items to try and discredit the seller. I myself filed numerous disputes against him with ebay's trust department, especially over this last-mentioned item, as that is illegal. I do not know if they ever did anything or not. As far as I know, he is still selling.
Anyway, below is my original message to you. Marcia
Hi Julia! I read in one of your recent enewsletter issues that someone was requesting that you not overlook the small business person, one who does not have an ebay store, but simply sells items on ebay as a hobby or part time job, etc. I am such a person.
I also would like to see more tips for those of us who do not have an ebay store. For example, I would like to see info on: What are some key buzzwords to use in listing titles to attract potential buyers? What are other ways to draw people to my auctions? What are some tips on good locations to search out interesting items to sell? Do you have any good strategies for drawing a good price for items selling on craigslist? and Other than books and jewelry, what are some types of items you have found sell well? Thanks for your consideration!!
Marcia
PS - I do enjoy your newsletter, and have incorporated some of the tips you have mentioned over time into my listings, strategies, etc. Keep up the good work!
I thanked Marcia for her letter and asked her to choose a free ebook of he choice. I will take her suggestions to heart. I agree it will be good to try all those things. And while I myself sell mostly books, jewelry, pottery and such, I'd love to branch out to write more about other types of items. I always welcome guest articles as well!
*** end of Reader Mail **
------

Do you like this newsletter? Please forward it (in its entirety) to a friend! Just go to http://www.yardsalers.net and see the "Subscribe" box on top.

**Don't have five minutes to read the newsletter now? Print it out and read later.**
[For more writing and photos throughout the month, check out Julia's bidbits blog at http://juliawww.typepad.com/bidbits/.]
******************************
SUBSCRIBE TO BOOKTHINK'S QUARTERLY MARKET REPORT OF COMMON, PROFITABLE BOOKS.
New! Includes 100 easy-to-find books that sell for $30 and up. $49.99 annually or $19.99 for individual issues.
Click here to subscribe.
******************************

******************************
The eBay Seller's Guide to Finding Profitable Hidden Bargains at Garage Sales
Find out here.
*******************
Would you like your own fully customisable ebook website pulling in profits day after day, month after month, year after year, complete with video tutorials showing you EXACTLY how to get set up and running? Find out here.

That's it for this issue. Until next time! - Julia

------------------

Questions about My eBooks Ordering
You can certainly purchase from me directly, as can anyone. Most of my ebooks are now available via the website's bookstore at www.yardsalers.net/bookstore. Any others you have questions about, all you have to do is email me and let me know which ebook(s) you want, if you are a subscriber and thus eligible for the discount, and then PayPal me to my PayPal id at juliawilk@aol.com. I'll be tweaking and updating the ebooks page on my web site soon.

-----------------------------------------------

Do you have a Flip of the Week? I'd love to hear about it! Email me at juliawilk@aol.com and let me know.
-----------------------------------------------
Nonfiction Books that Sell for $50 - $250 on eBay:


or
Buy Now
*********************

I am always open to reader articles, so if you want to write about something relating to yard sale-ing and eBaying, just flag me down! I will of course give you credit, using your eBay ID, web site, or any other contact info.
------------------------------------
eBooks by Julia L. Wilkinson:
[All my ebooks are offered at 1/2 price from their regular prices to the subscribers of this newsletter. If interested in any of them, please email me at juliawilk@aol.com.]
- How to Spot Fakes: email me!
*********************

Blogs, Blogs, and More Blogs
Check out My amazon.com Author Blog

Those of you who just can't get enough of my writing (are there any of you?) will be happy to know I now have a new blog on amazon.com. Amazon.com has created an "author blog" tool for authors to...well, blog. You'll see it if you bring up either of my books on the amazon site, but for good measure, it's at: http://www.amazon.com/gp/product/1593270550. (Scroll down to "amazonConnect").
My TypePad Blog, "Bidbits"
You can also check out my typepad blog, "bidbits": bidbits

********************************

Do you have your copy of Julia's book, eBay Top 100 Simplified Tips & Tricks?

It's available on amazon.com and barnesandnoble.com. If you do want to order the book, I'd appreciate if you'd support Yard Salers and eBayers by using my affiliate link below.

********************************


----------------------
Copyright 2007 Julia L. Wilkinson
----------------------

Thank you for subscribing to Yard Salers. Yard Salers email newsletter may be freely distributed in its entirety, so please pass it on. You may reprint any of the articles in this newsletter for any purpose as long as no portion of the article is modified without permission, and this tagline is included:
Yard Salers, www.yardsalers.net
Publisher, Julia Wilkinson, author of the award-winning "eBay Price Guide." and "What Sells on eBay for What"

No part of this publication may be reproduced or stored in a retrieval system, in any form or by any means, electronic, mechanical, photocopy, recording, or otherwise, without the prior written permission of the publisher. Yard Salers makes diligent efforts to obtain accurate and timely information. However, Yard Salers disclaims any liability to any party for any loss or damage caused by errors or omissions in Yard Salers, whether or not such errors or omissions result from negligence, accident or any other cause.
End