ISSUE 45: Jan. 28, 2008
Yard Salers: Mon., Jan. 28: eBay's Big Feedback Change and Flip of the Week - Jan. 28, 2008

Subscribe at: www.yardsalers.net

Hello, all!
OK, this newsletter was originally going to start with my Flip of the Week. But today some news came out of eBay which I couldn't ignore: among other changes, including the fee changes, some of which I think may be a good thing, was this doozy:
"Sellers may only leave positive feedback for buyers (at the seller's option)."
In other news, sellers can no longer leave buyers negative or neutral feedback.
I have to say, when I first read that, I wasn't sure I was seeing it correctly.
OK, well, as you may guess, this worries me. I blogged about it today, and I've pasted the text of the blog post below as article no. 2. I'd love to hear your feedback on this. Please email me at juliawilk@aol.com and let me know what you think. I'll share your thoughts, if you want, with everyone in the next issue.
All right, back to the original newsletter.
There is good news and bad news about my auctions this past week. And in a couple cases I learned some lessons I will pass on to you so they may help you. The good news first: my Chanel vintage necklace sold for a healthy $305 - not bad for a $35 investment.
The interesting thing about Chanel costume jewelry -- and this is a piece of costume jewelry, made of gold heavy metal with a mirror on one side of the crossed-C's pendant -- is some say it was nicer than the fine jewelry of its time. In fact, Coco Chanel, who founded the company, preferred wearing some of her costume/fake pieces over her many pieces of fine jewelry.
The other thing is the quality of their costume jewelry is so good, it seems like it's fine. I guess I already said that. At this point you're thinking I'm stalling on the bad news, and that would probably be right.
The bad news is, my gorgeous Christopher Ross belt with its large wonderful coyote head buckle only sold for $21.95. I must say I was surprised it did not go for more; especially given some 5 or 6 people were watching the auction for several days.
What lesson did I learn? If you think you have something special, be careful what minimum bid you put up. Some people live by the $9.95 opening bid strategy, because their listing fees will be a bit smaller, but if you miss out on $10, $20, $30 of a sale or more, it's not worth it. I realize now I should have put a healthier opening bid on there and the person who won it would have paid more. And just because several people are watching an auction, doesn't necessarily mean they will all bid.
I was so confident that one week of an auction would make the right market for this belt, but I was wrong on that point. It occurred to me too that some of the people who may have wanted the belt simply may not have been on eBay that week. With specialty items, you can afford to be more patient.
Of course, it's hard to Monday-morning quarterback these things. Theoretically you put everything up at a dollar and the market will make the right price for you. But I think all of us who've sold something at a disappointing $9,95, then spent 15 minutes to half an hour packing, weighing and stamping the thing, know that it's taking a risk.
On the other hand, as Tevye says in "Fiddler on the Roof," it's possible the belt wasn't quite as fabulous as I thought it was. But, when all is said and done, I am happy with the way my auctions for the week ended. And I didn't even get to listing all of the stuff I found.
Here's a picture of the Chanel necklace: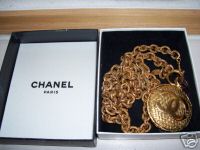 I am toying with adding a new feature, along the lines of some of the feedback I got from you in the contest...a "Flip of the Week." So, my best find of the week would be the Chanel necklace. I'm putting it up on the web site with a photo as "Flip of the Week."
Do you have a Flip of the Week? I'd love to hear about it! Email me at juliawilk@aol.com and let me know.
Well, there's a lot to get to, so let's get to it!
*********************
Nonfiction Books that Sell for $50 - $250 on eBay:


or
Buy Now
*********************

***********************
In This Issue:
***********************
1) eBay Sellers Can No Longer Leave Negative or Neutral Feedback: Come on People!
2) The End of the Meg Era at eBay
3) Reader Mail
***********************

*************************************
BigCrumbs lets you earn money back not only on what you and your referrals spend on eBay, but over 200 retailers such as Target, Best Buy, and Peapod by Giant.
Make Money with Your Everyday Shopping with BigCrumbs

*********************
1) eBay Sellers Can No Longer Leave Negative or Neutral Feedback: Come on People!
*********************

[Reprinted from my "Bidbits" blog]
OK, wow. I don't always blog about the eBay News right away, but this one I could not pass up. I couldn't believe it when I read it: nestled cozily among eBay's various fee changes (some of which I think are a good idea), was this little gem:
"Sellers may only leave positive feedback for buyers (at the seller's option)."
Wow again. OK, I really try to be fair and objective when writing about eBay. I am not only an ebay seller, but a frequent buyer, and a shareholder. So I understand they are running a business and want to succeed. And they see the buyer experience as bad now, or in need of fixing.
But this? To quote Bill Cosby, Come on, people.
I do need to think this one through more...but right now my gut reaction is that this is way overboard. To not let sellers, the people who are the backbone of eBay's business, who provide the cake inside the icing that is eBay's framework, have a say in feedback is just unfair.
I'll paste the details of the feedback part of the announcement below, in case you want to read it. I know they're concerned about retaliatory feedback. But I'm not sure this is the way to solve it. I'm going to think about that one.
But this way, I feel that buyers (not all buyers of course, most of mine are great, but in any group you get a few problematic people) will essentially be able to hijack sellers into jumping through all kinds of hoops, and will in some cases leave negatives that are way undeserved.
Here's just one example of how this could play out: a Buyer asks a seller to sell something at auction to him right away. "Can you put a buy it now on this?" Seller says no; they want it to run its course in the auction.
Buyer then promptly goes and bids on something else the seller is offering..maybe something cheap. The threat of a negative now hangs over the seller's head. And maybe it gets left for some reason.
What reason? Who cares? Feedbacks are inherently subjective and buyers could make up any reason.
"Package smelled bad.." Neg. "Slow shipping." (Let's say they bought media mail and don't know it takes up to 10 days or more). Neg. "I don't like your packing peanuts." Neg.
OK, well, as I said, I need to think this through more. Maybe I need to live with the new system to really make up my mind. But most likely the almighty dollar will decide this anyway. If sellers leave eBay in droves, I think eBay will rethink it. If sellers grumble, then go about their business and most of them stay on eBay, the new policy will probably remain.
Details from the announcement about feedback below. Meantime, I'd love to hear what you think! Email me at juliawilk@aol.com, or post a comment on my blog at: http://juliawww.typepad.com/

--
"I know this is a huge change, but we're also putting into place protections that sellers have wanted for years. In addition to holding buyers accountable via non-public seller reporting tools, such as Unpaid Item reports, we are planning a number of other Seller Protections against inaccurate feedback:
* We will remove, not just de-score, negative and neutral feedback when a buyer doesn't respond to the Unpaid Item process
* We will remove all negative and neutral feedback and comments when a buyer (or seller) is suspended. We will also do this retroactively - which means any negatives and neutrals you've received from members we've ever suspended will be removed.
* For sellers with an established track record, we'll prevent negative and neutral feedback within 3 days of listing end to promote communication.
* We're going to reduce the number of days a member can leave feedback from 90 to 60 days.
* We'll increase block bidder list capacity from 1,000 to 5,000 user IDs.
* We'll increase our monitoring, and take action based on seller reports of buyers behaving very badly.
* Feedback percentage will be based on the last 12 months, although the total count remains lifetime. This means that any negative or neutral feedback left for you more than 12 months ago will no longer affect your percent positive.
For more details, please see our information page."
Repeat Feedback Credit..." [I am not posting the bit about repeat Feedback credit here; pls. see eBay's announcement if you want to read about that.]
*********************
The Myspace Cash Machine: Did you know that once you learn the formula for Myspace success you can begin to rake in cash by marketing any opportunity you choose to a captive audience? See what I'm talking about right now...
Click here to find out more
or paste https://paydotcom.com/r/9120/juliawilk/2991911/ into your browser.
*********************

*********************
2) The End of the Meg Era at eBay
*********************

The End of the Meg Era at eBay
As you probably heard in the news this week, Meg Whitman announced she will be stepping down as CEO of eBay. Her supposedly hand-picked successor, John Donahoe, will replace her as CEO. Donahoe, incidentally, worked with Whitman at Bain Capital, otherwise known as the firm presidential candidate Mitt Romney founded. (There's been some talk of Meg being made secretary of commerce if Romney wins).
"Dogged by slowing momentum on its flagship auction site, eBay is trying to reinvigorate its oldest and most lucrative business, which allows individuals to sell items online to the highest bidder or at a fixed price. Mr. Donahoe, 47, has spent the last three years wrestling with this problem and could make more drastic changes as he assumes the helm," wrote Mylene Mangalindan in The Wall Street Journal on Tues Jan 24.
eBay is also about to announce fee changes this week: "In the next few weeks, eBay plans to reduce the fee it charges merchants to list a product for sale and will increase the fee it collects when a sale closes," according to the article.
The thing that worries me about Donahoe is that he compared eBay to a "flea market" -- and this in a negative way: "A year ago, we had 14 per cent of global e-commerce, we're the largest e-commerce provider, and our home page still looks like a flea market," he says. "The world around us had changed. In particular our buyers' experience hadn't kept up."
Well, if he has a big problem with a lot of the type of stuff on eBay -- the antiques, collectibles, even the funky and the weird -- maybe especially the funky and the weird -- he may have a problem with what I think makes eBay special. It's the place where you can find stuff you can't find anywhere else. I don't think that's a bad thing, tho granted, the term "flea market" probably has one of the most negative connotations of all the offline businesses eBay could be compared to. But even flea markets have their charms.
However, if he was instead critiquing the design of the site, maybe I am being too harsh here. I guess time will tell.
One thing that we do know is eBay is going to jack up the sales commission on auctions, although they will be reducing listing fees. Well, let's not get too excited.
One reason eBay is doing this is they are evidently not making the money on auction fees they used to, because the proportion of fixed-price listings vs. auction listings has gone up: "One of those realities is that auctions, while still the largest part of its business, are no longer so dominant. In the past three years, fixed-price sales have risen from 28 to 41 per cent of the total," Mr Donahoe has said.
"To adjust, Ebay is looking at moving away from its traditional initial listing fees and instead taking a bigger commission on a sale."
Would I rather see higher final sales commissions from eBay than higher listing fees? I don't know that I can answer that until I deal with it. My sense is the listing fees going up would be more painful, so if they have to raise something it's better that the do it the way they're planning..to up the commissions. Not that I'd be happy about paying more to eBay. (Which begs the question, will the reduction in listing fees make up for the sales commission increase? This is of course going to vary from seller to seller.).
But that is not to say it's going to be a success. How all this will play out, how sellers will react, whether some will actually up and leave, or maybe they will suck it up and find it preferable to listing fee hikes, remains to be seen.
Meantime, if you have thoughts, please email me at juliawilk@aol.com or post a comment on my bidbits blog. I'd love to hear your opinion.
Oh yes..a few more not inconsequential things: according to the WSJ piece, "Rajiv Dutta, president of PayPal, will succeed Mr. Donahoe as president of the auction business and will join eBay's board. Bill Cobb, president of eBay's North America business, is retiring at the end of the year. Scott Thompson, PayPal's chief technology officer, will become president of PayPal."
I think Dutta in that job will be a good thing. I was impressed with him at the last convention when he talked about PayPal. I also will miss Cobb and his affable speeches at the conventions. He would say in many cases that eBay was going to look at things and take suggestions away from the sellers at the conventions. He was also not afraid to admit when eBay was wrong. Finally, I enjoyed the fact that he was also a Monkees fan, like me. And I'll always appreciate him giving us Davy Jones as entertainment.
*********************
Drive an insane amount of traffic to your site for less than $10 a month, using the new feature called eBay Classified Ads. Very little people know how to use this information and now you can be one of the few.
Buy Now or cut and paste: http://juliawilk.ecp00.hop.clickbank.net into your browser.
*********************
Amazing Ways You Can Make Money from the Public Domain: Avril Harper's new ebook comes with rights to resell it. Only $4.95!
or Buy Now
*********************
3) Reader Mail
*********************

Note about Reader Mail from Julia: I have a little bit of a backlog of Reader Mail, but I'm going to run several in each issue until we get caught up. So if you have written me and have not yet seen an answer, please watch this space, and my apologies. - Julia
Hi Julia: I had the pleasure of reading about you in this months Bottom Line Newsletter.
I am interested in any programs or sites that are available that would enable me to list the best-selling cars and highest bidder rate on Ebay. Does this exist?
Thanks. Pat
Hi Pat,
Super! Thanks so much!
Selling cars is great if you can do it..much more lucrative than many other sales.
Do you mean how can you pull statistics on the best-selling cars and who bids the most? Yes, you can do that with the Hammertap program. Here's a link to it:
http://www.hammertap.com/
They have a 10-day free trial if u're not sure u want to pay for it. You can also do a "completed item" search on ebay for free, but it's more tedious.
Meantime, if there are specific types of cars you want me to research, I can feature it in my next newsletter.
Thanks and good luck!
~~~

Someone sent me this info about the site HaggleMe. I haven't personally used it, but if you have experience with it and are willing to share, pls. email me at juliawilk@aol.com and let me know.
Places to Haggle: Flea markets, garage sales, craft fairs, and www.HaggleMe.com
Although major department stores and online commerce sites usually don't have the flexibility to negotiate prices, HaggleMe.com is different. We offer our customers the opportunity to "Haggle" a deal. So come on in and HaggleMe at
http://www.HaggleMe.com
HaggleMe.com is currently purchasing the following items, or anything else of value. Location and Condition is not important.
Cars running or not, the older the better. Motor Homes, Boats, RV's, 4 Wheelers, Tractors and Farm Implements, Heavy Equipment, Real Estate, Antiques, Coins, Collections of Anything, or anything else of value. Contact Sales@HaggleMe.com and if you have a picture be sure to send it.
~~~

This doesn't necessarily fit here, but I've been meaning to write in the newsletter for a while that I was a guest on the Harry Rinker show a while back. It was a reader who suggested I be on his show, so I'd like the thank them again for the idea.
http://www.harryrinker.com/guests07.html
Harry does a radio show which you can hear from his web site, at http://www.harryrinker.com/.
Whatcha Got with Harry L. Rinker is Sunday Mornings at: 5am - 7am (Pacific)
8am – 10am (Eastern)

You can hear the mp3 of my bit on the show by choosing the July 29 2007 seegment from Harry's download page at ftp://ftp.goldenradionetwork.com/Harry%20Rinker/

~~~

Hi Julia.
I just came across your blog and I thought it would be a good idea to clue you in one of our clients who I thought might be of interest to you given the fact that they're saving consumers, families and women a significant amount of time and money in regards to online shopping. Maybe you can check out this website and comment about it.
CouponCabin.com (www.couponcabin.com) is a leading online site for consumers trying to find the best deals and coupons. I know you've already wrapped up your holiday season, but thought that CouponCabin.com and founder Scott Kluth might be a valuable resource to you on future online shopping stories and ultimately your audience.
Here are a couple great examples of statistics/trends that might be of interest:
In September, CouponCabin.com visitors spent $6.2 million using 754,000 coupons and saving a total of $486,000
CouponCabin.com represents savings and coupons for more than 800 retailers – up 25 percent compared to 2005
The top 5 coupon categories hit by CouponCabin.com visitors in September were:
Women's Apparel (169,376 clicks) Home & Garden (151,146 clicks) Baby, Kids & Toys (146,091 clicks) Men's Apparel (133,253 clicks) Electronics (101,622 clicks)
Keep in mind that January/February are very popular times for online shopping as many have made returns after the holiday season and are browsing for post-holiday shopping deals offered by many retailers.
Thanks for your consideration and look forward to hearing back from you.
Best Regards,
Kevin Johnson, Media Relations Manager (for CouponCabin)
~~~

*** end of Reader Mail **
------

Do you like this newsletter? Please forward it (in its entirety) to a friend! Just go to http://www.yardsalers.net and see the "Subscribe" box on top.

**Don't have five minutes to read the newsletter now? Print it out and read later.**
[For more writing and photos throughout the month, check out Julia's bidbits blog at http://juliawww.typepad.com/bidbits/.]
******************************
SUBSCRIBE TO BOOKTHINK'S QUARTERLY MARKET REPORT OF COMMON, PROFITABLE BOOKS.
New! Includes 100 easy-to-find books that sell for $30 and up. $49.99 annually or $19.99 for individual issues.
Click here to subscribe.
******************************

******************************
The eBay Seller's Guide to Finding Profitable Hidden Bargains at Garage Sales
Find out here.
*******************
Would you like your own fully customisable ebook website pulling in profits day after day, month after month, year after year, complete with video tutorials showing you EXACTLY how to get set up and running? Find out here.

That's it for this issue. Until next time! - Julia

------------------

Questions about My eBooks Ordering
You can certainly purchase from me directly, as can anyone. Most of my ebooks are now available via the website's bookstore at www.yardsalers.net/bookstore. Any others you have questions about, all you have to do is email me and let me know which ebook(s) you want, if you are a subscriber and thus eligible for the discount, and then PayPal me to my PayPal id at juliawilk@aol.com. I'll be tweaking and updating the ebooks page on my web site soon.
-----------------------------------------------
YOUR FEEDBACK WANTED: What Else Do You Want to See in Yard Salers?
-----------------------------------------------

I am always open to reader articles, so if you want to write about something relating to yard sale-ing and eBaying, just flag me down! I will of course give you credit, using your eBay ID, web site, or any other contact info.
------------------------------------
eBooks by Julia L. Wilkinson:
[All my ebooks are offered at 1/2 price from their regular prices to the subscribers of this newsletter. If interested in any of them, please email me at juliawilk@aol.com.]
- How to Spot Fakes: email me!

*********************

Blogs, Blogs, and More Blogs
Check out My amazon.com Author Blog

Those of you who just can't get enough of my writing (are there any of you?) will be happy to know I now have a new blog on amazon.com. Amazon.com has created an "author blog" tool for authors to...well, blog. You'll see it if you bring up either of my books on the amazon site, but for good measure, it's at: http://www.amazon.com/gp/product/1593270550. (Scroll down to "amazonConnect").
My TypePad Blog, "Bidbits"
You can also check out my typepad blog, "bidbits": bidbits

********************************

Do you have your copy of Julia's book, eBay Top 100 Simplified Tips & Tricks?

It's available on amazon.com and barnesandnoble.com. If you do want to order the book, I'd appreciate if you'd support Yard Salers and eBayers by using my affiliate link below.

********************************


----------------------
Copyright 2007 Julia L. Wilkinson
----------------------

Thank you for subscribing to Yard Salers. Yard Salers email newsletter may be freely distributed in its entirety, so please pass it on. You may reprint any of the articles in this newsletter for any purpose as long as no portion of the article is modified without permission, and this tagline is included:
Yard Salers, www.yardsalers.net
Publisher, Julia Wilkinson, author of the award-winning "eBay Price Guide." and "What Sells on eBay for What"

No part of this publication may be reproduced or stored in a retrieval system, in any form or by any means, electronic, mechanical, photocopy, recording, or otherwise, without the prior written permission of the publisher. Yard Salers makes diligent efforts to obtain accurate and timely information. However, Yard Salers disclaims any liability to any party for any loss or damage caused by errors or omissions in Yard Salers, whether or not such errors or omissions result from negligence, accident or any other cause.
End