ISSUE 44: Jan. 22, 2008
Yard Salers: Tues., Jan. 22: Art, Belts as a Niche, and More - Jan. 22, 2008

Subscribe at: www.yardsalers.net

Hello, all!
This issue is a couple days later than I would have liked, but that's because I've been running around like a chicken with its head cut off all weekend at two really wonderful estate sales. They were so good I went back to them both a second time.
We've been talking about art as a niche lately. A lot of you want to know more about art, how to identify the different media -- lithographs vs. prints, etc.
Well, the one estate sale this weekend was an art lover's dream -- three Picasso pieces of pottery (he painted a lot of pottery, which I didn't realize until I started researching it for this sale); some original Tarkays, and many other wonderful modern pieces.
It was also a sale where you did not want to trip over and break anything. There was a whole cabinet full of Meissen figurines and other china.
Meissen, if you are not familiar with it, is among the earliest of European porcelain, china having been made in, well, China, for centuries before. The Meissen company started in the early 1700s and in 1720 its crossed swords, one of the oldest trademarks in existence, according to wikipedia, came into being.
Among the Meissen pieces available at this sale were the famous figurines in the set known as the "monkey band." Let's pull up a few recent examples on eBay and see what they look like and what they're going for:

If you cannot see that image, it shows a single monkey band figurine at a starting asking price of $40, and the 12-piece monkey band with an opening price of $1800. Both auctions went unsold, but it gives you an idea of the prices for these items.
The prices of the Picassos and the Meissens were too high on the first day to justify buying them to turn around for a profit. But on the second day of the sale, prices had been marked down a third, and the monkey band marched right out of the sale, pronto.
However, I found another type of item at this sale that I wound up buying, unexpectedly. These things are an under-the-radar niche and the basis for this week's focus of eBay prices: belts. More about that in the feature article.
A quick note about last week's newsletter: the link to the Nonfiction Books that Sell for $50 - $250 on eBay did not work, so I'm running the corrected link here: again, the half price for subscribers is $4.50; it retails at $8.95.
or Buy Now
Yard Salers in the News: here's something I've been meaning to mention for a while. An Orlando Sentinel reporter, Daphne Sashin, who is an Osceola County Reporter, contacted me about an article she was doing on community yard sales. I (of course) thought it was a great story idea, and you can read the article and my quote in it here if you want: http://www.orlandosentinel.com/community/news/celebration/orl-yardsales0607nov06,0,5140932.story

Daphne, if you are reading this, thanks again.
Also, I recently wrote a piece for AuctionBytes about a fun site for collectors called iTaggit at iTaggit.com. You can post photos of your collections, ask the community what your items are worth, do social networking, and more. The piece is at http://www.auctionbytes.com/cab/abu/y208/m01/abu0207/s03 if you want to read it.
OK, having said that, Reader Mail is also back in this issue. So let's get to it!
In This Issue:
***********************
1) Just Cinch It: Belts as a Niche on eBay
2) Reader Mail
***********************

*************************************
BigCrumbs lets you earn money back not only on what you and your referrals spend on eBay, but over 200 retailers such as Target, Best Buy, and Peapod by Giant.
Make Money with Your Everyday Shopping with BigCrumbs

*********************
1) Just Cinch It: Belts as a Niche on eBay
*********************

I've said before, you don't always have to be an early bird at an estate sale to get great stuff. And the stuff I found on Saturday at this one sale proves that point. While there had been a feeding frenzy on Friday morning, the first day of the sale, over the lady's purses, when I sauntered into the sale around 10:30 a.m. Saturday, there were two big boxes of belts in the bathroom, along with many boxes of perfume and other items on the vanity.
Belts are an example of an under-the-radar niche to sell on eBay, because they go forgotten at many sales. And true, as resale items on eBay, many of them are not worth the time it takes to buckle them.
But quality designer belts, even old ones, can be highly collectible. And this lady had fabulous belts in spades. One had the largest buckle I'd ever seen: a giant coyote head with glass eyes, that was signed by the maker in the back. It wasn't anyone I'd ever heard of, but I didn't need ot have heard of him to know this buckle was something special. It wasn't my cup of tea, but I had a hunch there was somewhere out there collecting this type of belt, and I was right.
Turns out the coyote head was by a designer named Christopher Ross, and I found completed auctions on eBay for a cat head buckle he'd done that has an asking price of $149. Granted, this is not a completed price, but it gives you an idea of the buckles' worth. Here's a look at the Ross buckles up on eBay now and their asking prices:

Other designer belts I found included two Judith Leibers, several Oscar de la Rentas, and some lesser name brands but several genuine snakeskin. This lady really had a thing for snakeskin! There were also a couple of Chico's brand name, which sell very well on eBay. I'm tempted to keep those for myself!
Judith Leiber is known more for her evening bags these days than belts. One of the belts I found showed a hint of the stylings you see in today's popular bags of hers: sleek metal striping adorned the buckle in front.
Here's a look at recent Leiber belt sales prices: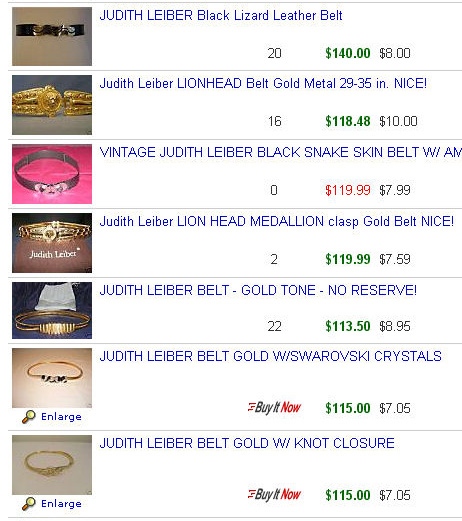 Even if you don't know your designers, just look for interesting buckles with quality workmanship or intricate details. Bold is fine. Just because you wouldn't wear it doesn't mean one of the millions of people out there on eBay wouldn't. And someone probably even collects it.
When I was doing belt price research for this article to dig up the Ross and Leiber prices, I was a bit surprised that the top selling belt in that price sample was not a brand new belt, but a vintage one..an Hermes belt. And behind that were several other older belts. Let's look at them:
HERMES Belt MEDOR COLLIER DE CHIEN BLACK CROC VINTAGE RARE 80's superb, highly collectible crocodile A+ 1 $3,999.00
This belt went unsold, but is worth noting because it was the second-highest price in the completed listings, and because it's by our friend Leiber:
Judith Leiber Gems & Crystal Double Frog Belt-Vintage!! 0 $2,200.00
The belts I found were nowhere near this gorgeous, but I am eager to see how they do.
A few other top ladies' belt sales:
Kieselstein Cord Sterling Silver Alligator Belt Buckle 28 $1,375.00
[Note: remember Kieselstein Cord from Yard Salers reader Susan, who found a handbag by him at a church sale and flipped it for around $800?]
** ALAIA ** F/W 07 Patent Leather Corset Belt NWT Sz 85 1 $849.99
Authentic CHANEL gem stone belt 9 $791.00
I'm not even going into men's belts in this issue, but suffice to say for now they don't tend to sell as well as women's..though they can still command several hundred and even over a thousand dollars. At one glance, the top recent sellers in men's belts were Hermes, Dior, John Lobb crocodile, all around $350-$400.
In sum...next time you are out trolling, don't forget the belts. You could be cinching your way to a tidy little profit.
*********************
Drive an insane amount of traffic to your site for less than $10 a month, using the new feature called eBay Classified Ads. Very little people know how to use this information and now you can be one of the few.
Buy Now or cut and paste: http://juliawilk.ecp00.hop.clickbank.net into your browser.
*********************
Amazing Ways You Can Make Money from the Public Domain: Avril Harper's new ebook comes with rights to resell it. Only $4.95!
or Buy Now
*********************
2) Reader Mail
*********************

Note about Reader Mail from Julia: I have a little bit of a backlog of Reader Mail, but I'm going to run several in each issue until we get caught up. So if you have written me and have not et seen an answer, please watch this space, and my apologies. - Julia
Julia: someone commented that they don't know how to contact a real person at ebay, but you can. We had a problem where ebay shut down our ebay auctions and store because one of our customers in our physical store bid on an item we had up for auction without our knowledge right in the store during the business day.
Ebay watches this very closely. Anyway, I sent an email to griff@ebay.com and received an answer from an actual person. It came from "the office of the president". He was very nice and helpful but very firm. I explained that we did not know it had happened in the first place but we were responsible for monitoring our computers so we had to password protect our computers so no one could sign on.
Anyhow, I'm saying you can talk to someone and another way is to listen to ebay radio on Tuesday afternoons, 2-5 pm. eastern time where Griff has a call in segment where he will take questions and if they are unusual he will have them researched and get back to the person.
You can find it at wsradio.com. Hope this may be of some help. I really enjoy the newsletter. I've written my first e-book and am trying to get it out there.
Rosemary
~~~

Hi Rosemary!
Thanks so much for your letter.
It's interesting to me that you wrote Griff and got such good results. I've always been a fan of Griff and I wonder if one would get better luck going via him than other eBay channels. But of course I haven't tested this.
Also I think your suggestion of eBay radio is great...I've been meaning to listen to Internet radio more. My husband and I just bought a new radio that is supposed to receive Internet stations..I also have a "Chumby" device which is supposed to receive Internet radio at some point. I haven't tried it lately. (Of course one can always play Internet radio from one's pc; but I am looking for more solutions throughout the house).
[I also encouraged Rosemary to finish the ebook and offered to help her sell it; an offer I extend to all you readers who want to write an ebook and have an area of expertise.]
Thanks again for the great advice!
Take care,
Julia
~~~

I can't remember if I ran the below letter before..sorry. :) So if you've already read it, consider it extra reinforcement. It's edited for brevity. Actually the tool it talks about, sellathon, is so good, it can't hurt to hear about it twice. I'd also like to throw the question about the weak dollar and international bidding out to folks..are you seeing more bidding from other countries? Are they coming in high? Any feedback appreciated.
Julia,
Thanks for the great idea about international buyers and the weak dollar. I also have an art print on auction Seller atq1.
How do you find out who is watching your item ie. your Great Britain person?
Thanks a lot,
Todd
http://www.GinaQuartermaine.com
~~~

Hi Todd,
Thanks so much!
The item I was writing about was a book of prints by MK Ciurlionis. I actually have a really low starting price on that, considering it's for 32 beautiful prints. But I'm counting on the market to make a fair price for me. We'll see. I also have a lot of info about the artist from wikipedia so am hoping that brings in people.
The tool that lets me see where people are is called sellathon, at sellathon.com, and I recommend it highly. It's not expensive..off the top of my head I think it's $4.95 a month, but don't quote me on that price..it's worth it to know where your people are coming from and what they're searching on.
thanks and good luck!
Julia
~~~

Ruby Lane
Hi - do you happen to know anyone who has sold antiques and collectibles, e.g., plates, figurines, on RubyLane? Does it compare favorably with tias.com? I have sold some on eBay but am discouraged by the low prices there.
Thanks,
Margaret
Hi Margaret,
I don't know anyone personally who has sold on there. Nosing around on the site, I see they have a top 50 list of sellers who are doing well at:
http://www.rubylane.com/court/topten.html
Also Barb Crews wrote about RubyLane and compared them with other sites on About.com here:
http://collectibles.about.com/library/articles/blcompareonlinemalls-htm.htm
I'll nose around some more and see what I can come up with. Readers, have any of you used Ruby Lane and what do you think?
Thanks, Margaret, and best of luck! Please keep me posted as to how you do.
Julia
*** end of Reader Mail **
------

Do you like this newsletter? Please forward it (in its entirety) to a friend! Just go to http://www.yardsalers.net and see the "Subscribe" box on top.

**Don't have five minutes to read the newsletter now? Print it out and read later.**
[For more writing and photos throughout the month, check out Julia's bidbits blog at http://juliawww.typepad.com/bidbits/.]
******************************
SUBSCRIBE TO BOOKTHINK'S QUARTERLY MARKET REPORT OF COMMON, PROFITABLE BOOKS.
New! Includes 100 easy-to-find books that sell for $30 and up. $49.99 annually or $19.99 for individual issues.
Click here to subscribe.
******************************

******************************
The eBay Seller's Guide to Finding Profitable Hidden Bargains at Garage Sales
Find out here.
*******************
Would you like your own fully customisable ebook website pulling in profits day after day, month after month, year after year, complete with video tutorials showing you EXACTLY how to get set up and running? Find out here.

That's it for this issue. Until next time! - Julia

------------------

Questions about My eBooks Ordering
You can certainly purchase from me directly, as can anyone. Most of my ebooks are now available via the website's bookstore at www.yardsalers.net/bookstore. Any others you have questions about, all you have to do is email me and let me know which ebook(s) you want, if you are a subscriber and thus eligible for the discount, and then PayPal me to my PayPal id at juliawilk@aol.com. I'll be tweaking and updating the ebooks page on my web site soon.
-----------------------------------------------
YOUR FEEDBACK WANTED: What Else Do You Want to See in Yard Salers?
-----------------------------------------------

I am always open to reader articles, so if you want to write about something relating to yard sale-ing and eBaying, just flag me down! I will of course give you credit, using your eBay ID, web site, or any other contact info.
------------------------------------
eBooks by Julia L. Wilkinson:
[All my ebooks are offered at 1/2 price from their regular prices to the subscribers of this newsletter. If interested in any of them, please email me at juliawilk@aol.com.]
- How to Spot Fakes: email me!

*********************

Blogs, Blogs, and More Blogs
Check out My amazon.com Author Blog

Those of you who just can't get enough of my writing (are there any of you?) will be happy to know I now have a new blog on amazon.com. Amazon.com has created an "author blog" tool for authors to...well, blog. You'll see it if you bring up either of my books on the amazon site, but for good measure, it's at: http://www.amazon.com/gp/product/1593270550. (Scroll down to "amazonConnect").
My TypePad Blog, "Bidbits"
You can also check out my typepad blog, "bidbits": bidbits

********************************

Do you have your copy of Julia's book, eBay Top 100 Simplified Tips & Tricks?

It's available on amazon.com and barnesandnoble.com. If you do want to order the book, I'd appreciate if you'd support Yard Salers and eBayers by using my affiliate link below.

********************************


----------------------
Copyright 2007 Julia L. Wilkinson
----------------------

Thank you for subscribing to Yard Salers. Yard Salers email newsletter may be freely distributed in its entirety, so please pass it on. You may reprint any of the articles in this newsletter for any purpose as long as no portion of the article is modified without permission, and this tagline is included:
Yard Salers, www.yardsalers.net
Publisher, Julia Wilkinson, author of the award-winning "eBay Price Guide." and "What Sells on eBay for What"

No part of this publication may be reproduced or stored in a retrieval system, in any form or by any means, electronic, mechanical, photocopy, recording, or otherwise, without the prior written permission of the publisher. Yard Salers makes diligent efforts to obtain accurate and timely information. However, Yard Salers disclaims any liability to any party for any loss or damage caused by errors or omissions in Yard Salers, whether or not such errors or omissions result from negligence, accident or any other cause.
End