ISSUE 30: June 2007
Yard Salers: Issue 30! eBay Live Wrap-Up, a Yard Saler's $775 Find, a 4-Hour Workweek? - June 07
Subscribe at: www.yardsalers.net
Please forward this to a friend!
Hello, all!
I'm back from eBay Live and DevCon and have a been very energized. Those of you who read the eBay Live coverage on AuctionBytes and also checked out my blog at http://juliawww.typepad.com/bidbits/ will already know a lot about what happened and what was announced, but if you didn't, I'm going to do a big wrap-up in this issue with links to more info if you want it.
One of the biggest thrills for me was getting to meet one of you, my fabulous readers. I met Yard Saler Susan, who was one of the first subscribers to this newsletter, at my eBay Price Guide book signing at the Hammertap Booth. And..she came armed with a great story about flipping a bag she found at a church sale on eBay for $775! It's by a designer named Barry Kieselstein Cord, who I will write more about in the second article in this issue, along with a link to a photo of the bag.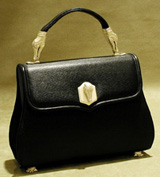 But perhaps the biggest news in this issue is that my flagship ebook, What Sells on eBay for What, is on the cusp of being ready. I'll send out a short email announcements with how to get the book for the standard half-price discount for subscribers. The base price on the book will be $24.95, and half price will be $12.45.
A lot of time and research has gone into this latest update, and I think you will find it a great value, but as always I offer a 100% complete satisfaction guarantee or your money will be refunded.
Speaking of books, I'm reading a great one right now that I want to recommend to you all. It's called The 4 Hour Workweek, by entrepreneur and Princeton grad Tim Ferriss.
I had it recommended to me while I was sitting on a bench outside the eBay Live gala, shooting the breeze with a guy with a British accent.
Finally, a reminder that I've decided to go to the World's Longest Yard Sale this year, Aug 2-5. (Also known as the Highway 127 Corridor Sale). I'll be reporting in the August issue about that. I'd love to hear from anyone who's gone, is planning to go, or is selling things or has sold things along the route.
So without further ado, let's get to it!
*********************
Who are you listening to for eBay and Internet success advice? Click here to get a live team of experts that have DONE IT.
*********************
Julia's Make Money Selling Kids' Clothes on eBay ebook has been updated for 2007! Now 42 pages,it's jam-packed with brand analyses; high, median and low prices; and tips about where to find the best children's clothes to resell. Buy it!.
*********************


*********************
The New York Public Library just named The eBay Price Guide: What Sells for What (in Every Category!) among its "Best of Reference" for 2007.
**********************
FROM A PAPER CLIP TO A HOUSE: How did one man trade up from a single red paper clip to a his own house? With craigslist. How can craigslist benefit you? For success stories and ideas about how to get the most out of craigslist, click here!
**********************
The eBay Seller's News is the largest Opt-In, FREE monthly newsletter for professional eBay sellers.
**********************

Do you like this newsletter? Please forward it (in its entirety) to a friend! Just go to http://www.yardsalers.net and see the "Subscribe" box on top.
**Don't have five minutes to read the newsletter now? Print it out and read later.**

***************************
In This Issue:
1) eBay Live 2007: Roundup of Events
2) Yard Saler Success Story; Susan's $775 Bag
3) A 4 Hour Workweek? Lessons this Bestseller has for You
** What Sells and Reader Mail will return in the next issue **
***************************

-------------------------------------------------
1) eBay Live 2007 Wrap-Up
-------------------------------------------------

From the DevCon to eBay Live! itself, much was announced and there was lots of news and things to chew on for eBayers. So as not to overwhelm you, I'm going to list what I consider the highlights below, and then link to a longer article or blog post so you can get more information on the things you want.
From the Developers' Conference:
- San Dimas interface announced: http://juliawww.typepad.com/bidbits/2007/06/ebay_devcon_kic.html
Think of it like iTunes for eBay. "San Dimas" is the new ebay desktop interface based on Adobe Air technology. As I write in the blog, "It's eBay with a very cool new look and feel, and the ability to flip photos in a listing, see charts of bidders' bids, get alerts, and in general look at eBay in a whole new way." For a pic, see the link above.
eBay Factoids:
- eBay is now up to 233 million users
- 588 million listings in Q1 07
- GMV of $14.28 billion in Q1 '07

- eBay Affilates Program

From the DevCon to the regular eBay Live conference, we heard a lot about eBay's affiliates program and the whole concept of affiliates in general.

AuctionAds is a service you should consider signing up for if you want to be an eBay affiliate. The word is it makes signing up easy and also enables you to make more money because you're part of a network of affiliates where the guys at the top are on the top of the payout hierarchy. They then share some of their higher profits down the food chain.

I interviewed Shoemoney, the guy who founded AuctionAds and won a Star Developer award for it along w/ David Dellanave, for AuctionBytes and also blogged about it:
http://juliawww.typepad.com/bidbits/2007/06/jeremy_shoemone.html

The article for AuctionBytes will be running in an upcoming Sunday Update.

- "eBay Anywhere" and the Chumby - Will Chumby Be Your Chum?

One of the ongoing initiatives at ebay is its "eBay Anywhere" concept. eBay will be available from all kinds of devices, mobile and other. One of them particularly intrigues me - the Chumby. It's a cute little round wireless device that enables you to get eBay, Internet radio, etc. etc anywhere in the house. I think this is going to be a great way for people to listen to podcasts while they are doing all sorts of things in the house, and should be a boon for Internet radio broadcasts to get more listeners. See what it looks like and read more here:

http://juliawww.typepad.com/bidbits/2007/06/will_chumby_be_.html

eBay Live!
- eBay Live Keynote:
- PayPal Security Key: They announced they are bringing the PayPal security key out of beta -- it's a small electronic device, which adds an extra layer of security. It will be available to eBay customers.

- Payment review is launching, highlighting those transactions that may pose a risk. "You'll be protected, 100% guaranteed," said PayPal's head Rajiv Dutta, to much applause.

- Goal to make every address confirmed: And while PayPal has expanded confirmed addresses by 50%, "I'm committing PayPal will deliver we'll make every address in the system confirmed." This got even more applause.

- There will be no increases in selling fees this July.

- eBay is now holding some items most favored by criminals before they go into the search.

- they already eliminated private feedback [much applause].
For my full keynote blog post, go to http://juliawww.typepad.com/bidbits/2007/06/ebay_live_2007_.html

- eBay's new ad campaign is called "Windorphins" (in case you don't know what the heck that means, I believe it's a pun on "endorphins," those feel-good chemicals in the brain; and "win," as in winning an eBay auction.

- There will be new features such as visual navigation, and a cool thing called eBay countdown that has a more graphical representation of the bidding interface. For the visual, see the blog post at the url above.
- a feature is coming where you can place a bid WITHOUT HAVING TO WAIT FOR YOUR COMPUTER TO REFRESH! (Cobb's emphasis).

- Anchor Stores will be discounted $200 to $299.95.

- eBay will offer customer support to top buyers who buy 50% of merchandise on the service.

- They're testing "Pricing and Shipping sort" - so it can sort search results according to the shipping and handling.

- UPS is announcing savings up of to 31% on UPS ground and air by as much as 22%.

- The PowerSeller program - will be based now on both unit volume and dollar amounts, and they'll offer the option to high-level seasonal sellers on a seasonal basis.

- Starting in August, powerseller status will come with a "rebate" for unpaid item fees.

For a lot more about eBay Live, including my pieces on Seth Godin and Suze Orman, see AuctionBytes' coverage at
http://www.auctionbytes.com/cab/ebaylive2007

For images from Friday Madness, the Town Hall, and even a pic of me and Pierre Omidyar (OK so I must admit it's one of my favorites), see the June posts on my blog at http://juliawww.typepad.com/bidbits/.
----------------------------------------------
2) Yard Saler Success Story; Susan's $775 Bag
----------------------------------------------

OK, let's get back to some fun stories about yard saling and flipping stuff on eBay for big money. :-)
As I mentioned, I met one of Yard Salers' very own at eBay Live, Susan, north19thstreet on eBay. And she came armed with a great story. I'll let her tell it:
Hi Julia,
I was so happy that I remembered to stop by Hammertap on Friday to meet you! I've been receiving your emails and ebooks for years, so it was great to meet you and shake your hand as you've brought me hours of fun and useful information.

You asked me to write my story, so here it is--my biggest ever sale on Ebay in the 8 years I've been selling.

I went to a small Church run flea market a few weeks ago and spotted a pretty and unusual purse on a table. Nice leather, suede inside, very luxe. The name inside was Barry Keiselstein-Cord, and the name was familiar to me only because somewhere in this old brain I remembered that he makes very high end jewelry. Bought the purse for $5.00. Came home, went to the website and the purse online was so expensive that you actually had to call the company rep for the price! Lo and behold, it was current stock, and retailed for $1400!!! Yikes!
[Julia's note: here is a link to a picture of the bag..it sure is a looker: ]

I sold it for $755 on Ebay and bought my daughter and husband each an iPod with some of the money!

Again, great to meet you, and I hope to see you next year in Chicago. This was my first Ebay Live and it was Fantastic!!
Susan
(north19thstreet)

WOW! That's quite a story..congrats! Thanks so much, Susan! It was great to meet you too. And I really appreciate you sharing your story with us all..you're an inspiration!
I look fwd. to seeing you in Chicago next year and around the Yard Salers boards until then. :)
- Julia
----------------------------------------------
3) A 4 Hour Workweek? Lessons this Bestseller has for You
----------------------------------------------

If you haven't heard about this book yet you probably will soon. It's called "The 4 Hour Workweek" and its by "productivity guru" Tim Ferriss.
It's currently #11 on amazon.com and #9 on the New York Times Advice Nonfiction Bestseller list, so it's already getting a lot of attention. Perhaps more impressive, it already has 222 reviews on amazon.com. Wow.
Ferriss discusses the phenomenon of the "New Rich" ("NR"), where businesses are largely automated so you only have to deal with them a small number of hours per week. You "remove yourself as a bottleneck," get processes in place and empower employees to make problem-solving decisions, and the things largely run themselves.
You, then, are free to do things like learn tango in Buenos Aires, ski in the Andes, or race motorcycles in Europe, all things Ferriss has taken chunks of time off to do.
While the promise of the four-hour workweek may seem farfetched for many, even people who won't leave a 40-hour a week "day job" can learn to be more efficient and free up time with Ferriss's advice.
For example, he talks about "batching" similar tasks in one group so you can get more done and not waste time transitioning from one to the other. As example of this in an eBay business is to take all your photographs in one session, then do all the listing in a separate session, etc., rather than toggling back and forth in between photographing and listing.
He also discusses specific businesses, mostly online businesses but he talks about print ads as well, that can be gotten to a point where they largely run themselves. His own business (one of them) is a vitamin/brain supplement targeted to student athletes called BrainQUICKEN and makes him $40-$80K a month. That's month, not year.
Many specific examples, steps, resources and funny anecdotes are given. I forgot to mention it but the book is very funny as well.
So check it out. If you want to buy it from amazon, here's a link:

The 4-Hour Workweek: Escape 9-5, Live Anywhere, and Join the New Rich
*******************************
Still haven't read my bestselling eBay book, "What Sells on eBay for What"! You can buy it and download it instantly -- click What Sells on eBay for What or go to www.aolmemorabilia.com/whatsells.
******************************
SUBSCRIBE TO BOOKTHINK'S QUARTERLY MARKET REPORT OF COMMON, PROFITABLE BOOKS.
New! Includes 100 easy-to-find books that sell for $30 and up. Links to images and detailed annotations for each featured title.
Start making more money today. $49.99 annually or $19.99 for individual issues.
Click here to subscribe.
******************************

******************************
Lynn Dralle's famous "boot camp" is now in a box! "My success was no accident...It has taken me eight years to perfect my system and hit the six-figure sales level on eBay. I've done it and so can you. And now I'm doing the unthinkable -- I am sharing all of my secrets - step by step, in my eBay Boot Camp in a Box!" Click here for Lynn's Boot Camp in a Box!
**********************
Put eBay on AUTOPILOT! Earn a serious income with a part-time effort. **********************

That's it for this issue. Until next time! - Julia

------------------

Questions about My eBooks Ordering
You can certainly purchase from me directly, as can anyone. All you have to do is email me and let me know which ebook(s) you want, if you are a subscriber and thus eligible for the discount, and then PayPal me to my PayPal id at juliawilk@aol.com. I'll be tweaking and updating the ebooks page on my web site soon.
-----------------------------------------------
YOUR FEEDBACK WANTED: What Else Do You Want to See in Yardsalers?
-----------------------------------------------

I am always open to reader articles, so if you want to write about something relating to yard sale-ing and eBaying, just flag me down! I will of course give you credit, using your eBay ID, web site, or any other contact info.
------------------------------------
eBooks by Julia L. Wilkinson:
[All my ebooks are offered at 1/2 price from their regular prices to the subscribers of this newsletter. If interested in any of them, please email me at juliawilk@aol.com.]

- Making Big Bucks off Catalogs on eBay:
http://www.aolmemorabilia.com/clkslcat.html

- Over 100 Books that Sell for $50-$100 on eBay
http://www.aolmemorabilia.com/100bkclkslsub.html

- Selling Kids Clothes on eBay: email me!
(these last two will be available for purchase via my site soon).

- How to Spot Fakes: email me!

Julia Classic:

What Sells on eBay for What: $8.95, 1/2 price from the $17.95 retail price.

http://www.aolmemorabilia.com/whatsells

My Life at AOL (available at amazon.com, booklocker.com, and 1stbooks.com)

*********************
Blogs, Blogs, and More Blogs
Check out My amazon.com Author Blog

Those of you who just can't get enough of my writing (are there any of you?) will be happy to know I now have a new blog on amazon.com. Amazon.com has created an "author blog" tool for authors to...well, blog. You'll see it if you bring up either of my books on the amazon site, but for good measure, it's at: http://www.amazon.com/gp/product/1593270550. (Scroll down to "amazonConnect").
My GoWholesale Blog
You can also check out my typepad blog, "bidbits": bidbits

********************************

Do you have your copy of Julia's book, eBay Top 100 Simplified Tips & Tricks?

It's available on amazon.com and barnesandnoble.com. If you do want to order the book, I'd appreciate if you'd support Yard Salers and eBayers by using my affiliate link below.

********************************


----------------------
Copyright 2007 Julia L. Wilkinson
----------------------

Thank you for subscribing to Yard Salers and eBayers. Yard Salers and eBayers email newsletter may be freely distributed in its entirety, so please pass it on. You may reprint any of the articles in this newsletter for any purpose as long as no portion of the article is modified without permission, and this tagline is included:
Yard Salers, www.yardsalers.net
Publisher, Julia Wilkinson, author of the award-winning "eBay Price Guide" and "What Sells on eBay for What"

No part of this publication may be reproduced or stored in a retrieval system, in any form or by any means, electronic, mechanical, photocopy, recording, or otherwise, without the prior written permission of the publisher. Yard Salers and eBayers makes diligent efforts to obtain accurate and timely information. However, Yard Salers and eBayers disclaims any liability to any party for any loss or damage caused by errors or omissions in Yard Salers and eBayers, whether or not such errors or omissions result from negligence, accident or any other cause.
End